Thanks to Experience Kissimmee for hosting our girls' trip and to Alaska Air for flying us to Orlando. As always, all opinions are my own.
Often when tourists think of visiting the Orlando area, they think of theme park destinations. Did you know that you can spend time in the great outdoors exercising and participating in adventure activities in Kissimmee, Florida? I spent three days in Kissimmee recently with two of my best girl blogging buddies doing all things adventure and we had a blast. Here's what Carol, Beeb, and I did as we adventured in Kissimmee.
Orlando Tree Trek
I love ziplining. It's one of my favorite pastimes. In fact, if you ask any of my friends or family, you'd know that I like to find zip lines in just as many places as I do karaoke bars. I'm slowly checking off cities, states, and countries I've done both in, and now I can add Kissimmee to the list of places I've ziplined.
Orlando Tree Trek offers an adventure ropes course and ziplining adventure for all ages and abilities. Whether you're adventuring with your gal pals for a girls' trip to Kissimmee or you're taking a day trip with your family, you'll have a blast. My friend Beeb even conquered some of her fear of heights on this course!
Climb and soar with Tarzan swings, nets, ropes, trapeze, and more. Test your limits on their challenging bridges, each one taking you higher into the forest canopy until you're 50-feet atop the pine tree forest. Fly to a breathtaking finish on a pair of 425-foot plunging zip lines.
The course is designed to be able to be navigated for anyone who's never done a ropes course before at all with their "click it" magnet system to ensure safety at all steps of the way, but fun for even the most experienced adventure ropes course connoisseur. We had a blast on the easiest and most challenging elements of the course, testing our strength and agility, all while giggling and laughing at ourselves. After all, what fun is it if you can't laugh on a girl's trip?
Kayaking on Shingle Creek
Kayaking is a great way to see the wildlife and area around you. It may seem leisurely but it is one heck of an upper body workout (and makes doing a ropes course later a touch extra challenging). The Paddling Center at Shingle Creek offers kayaking, canoeing, stand-up paddle boards rentals tours, and more. They're located just minutes from the main gates of major area attractions. Shingle Creek is headwaters of the Florida Everglades and was recently rated one of the top paddling trails in Florida.
We took out tandem kayaks and kayaked along Shingle Creek in search of wildlife. The alligator we saw may have been a bit too close for comfort, but the rest was beautiful! Florida Cooters, herons, and more.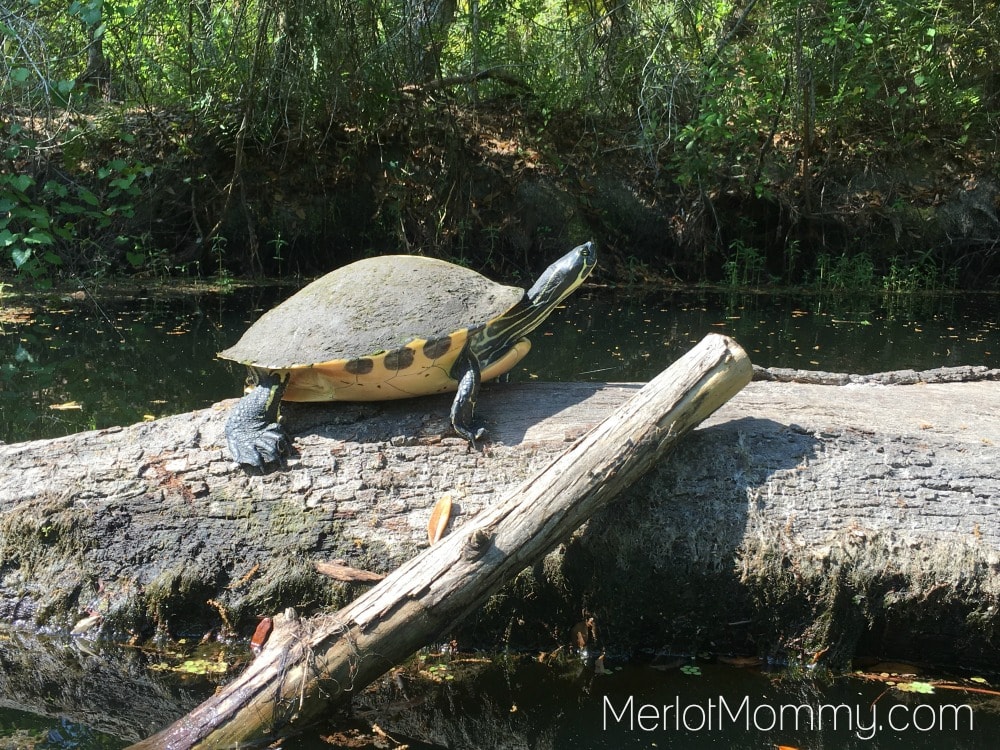 Upon our return, Beeb and I even tried our hand at stand-up paddleboarding (SUP), although standing up wasn't really much of what we did. It's cool, I'll try anything once.

Bicycle through Celebration Florida
Celebration Florida is a planned community that Walt Disney envision before he passed. If you've never been, it's definitely worth a visit, and biking through Celebration is the way to do it. Celebration Bike Rental will hook you up with bikes or trikes and you can pedal your way through this beautiful planned community with a tour guide to give you the history.
Celebration is a master-planned community located near Walt Disney World Resort originally developed by The Walt Disney Company. This utopian town is situated on 11 square miles of land created with a New Urbanism model in mind, designed to combat sprawl and create compact downtowns, walkable streets, diverse housing stock, and plentiful public spaces.
We biked a little over 6 miles on our tour of the community, learning the history, seeing the town, and spotting some wildlife while we were at it. We even had some gangster trike shenanigans to boot.