This Marvel FanGirl had the pleasure of visiting with the cast of "Marvel's Agents of S.H.I.E.L.D." and getting a set tour while in LA for the new Avengers: Age of Ultron press tour earlier this month. Visiting an active set is always a challenge because it's a busy place! We were fortunate enough to get to meet and interview Iain De Caestecker (Leo Fitz), Elizabeth Henstridge (Jemma Simmons), Brett Dalton (Grant Ward), Henry Simmons (Alphonso 'Mack' Mackenzie), and Adrianne Palicki (Bobbi Morse).
Walking around the set is a dream for a Marvel FanGirl. This is my favorite Marvel production. Seeing the Bus, Lola, the lab, SSR, and then visiting the costuming department and seeing behind-the-scenes and watching the show be filmed: simply amazing.
Watching the cast interact is incredible. They're like a family. The chemistry you see on screen you see off screen, too. They joked and kidded just like the friends you'd hope the cast of your favorite series would be. Iain and Elizabeth finish their sentences the same way Fitz and Simmons do on the show. It was mesmerizing to watch two people be so in tune with one another as friends and actors. In a way it reminded me of the way twins talk to each other when they are little, kind of talking to one another without actually talking. It kind of made me thing they had super powers, like maybe they're on the S.H.I.E.L.D. Index somewhere and we just don't know it yet.
During the interview, there was lots of laughing between the cast and with us. Somehow when the cast took their seats for the interview, there was a good versus evil, S.H.I.E.L.D versus HYDRA playing out.
MARVEL'S AGENTS OF S.H.I.E.L.D. Cast Interviews: HENRY SIMMONS, BRETT DALTON, ELIZABETH HENSTRIDGE, IAIN DE CAESTECKER (ABC/Adam Taylor)
On Ward being HYDRA
Brett Dalton: No, I didn't know before. They let me know like the episode before so there wasn't a lot of heads up on that. I appreciate the Wikipedia entry where somebody said that they let me know in the beginning of the season, so I could subtly play it every scene. I don't know who wrote that but I was like, "Oh, thank you for the credit in something I did not do." It was a big change, but I think it really rounded out the character in a way, you know. Prior to that he had kind of a mask that he was showing to the rest of the team. And then after that you get all of the back story underneath it and all of the pain, danger in there. It really fleshed him out, made him really fun to play.
Elizabeth Henstridge: We were all mortified. We were shocked. And we could only speak to each other about it so we just had to call up, be like, how you doing? I don't know, today's hard. It was tricky.
Iain De Caestecker: Nothing. It's still a pretty hard subject for me, so, I don't want to bring back up the past.
On Being Evil
Henry Simmons: I don't see my guy as evil. I think he's doing what he thinks is best for S.H.I.E.L.D., the real S.H.I.E.L.D. But I don't see him as being evil. But, I guess evil people don't see themselves evil.
Brett Dalton: Yeah, ditto. We're playing these characters so we can't go like, "Oh, this guy's a jerk. Here he goes again trying to take over the world or whatever." I don't know. I feel that he's also not an evil guy. He's just made certain choices along the way. Some of those choices some people might frown on. But I really think that this guy's had a really hard life and he's doing the best that he can to move his life forward. And even taking some other people under his wing, as well. So it's not just me twirling my mustache and petting a kitten—that will happen next season—but this season, I'm trying to move other people's lives forward in the way that I have, as well.
MARVEL'S AGENTS OF S.H.I.E.L.D. Cast Interviews: HENRY SIMMONS, BRETT DALTON, ELIZABETH HENSTRIDGE, IAIN DE CAESTECKER (ABC/Adam Taylor)
Intervention Time
We asked Iain De Caestecker this question:
Fitz's character has had some serious trust issues with Simmons, Ward, and Mack this season. Which character would he most likely be able to repair a relationship with?
Apparently it turned into a bit of an intervention with Brett Dalton…
Iain De Caestecker: Oh, I think probably Simmons.
Brett Dalton: Anything can be solved with a cup of tea, right?
Elizabeth Henstridge: There we go.
Iain: Still does have a good side, yeah. Probably Simmons. I mean, he's got the most history with Simmons and even when they fight and stuff, and they've fought a lot this season, quite seriously, I think. I can't ever see them being out of each other's lives, really.
Elizabeth: [In the episode that aired on 4/14 Fitz and Simmons are back to working together]…and you see that they still have that relationship where they get how each other's thinking. Fitz knew that Simmons wasn't just doing what she said she was doing, and she was giving him kind of coded messages through what she as doing, and he was picking up the cue. You can't just wipe out history with someone, and these two have been together for years.
Iain: The relationship with Ward is irreparable. As much as Ward would like to be friends once again, it's just not gonna happen.
Brett: Oh great. In front of everybody?
Iain: With Mack. That's an interesting one, actually. I mean it depends what's gonna happen exactly with that storyline, I suppose. For example, with Ward, I think the reason that's kind of irreparable is because he's done some unforgivable things and there's no real scene that [shows] the background and what's happened to him, like some of the things that he's done.
[Brett gives Iain this "look"…]
Iain: I'm just being honest.
Elizabeth: It's a safe space.
Iain: It's a safe space. This is actually an intervention, Brett, this is an intervention, right now. We need to get everything out.
Where as Mack—maybe he's been misguided or misjudged—but he's not done anything, you know, gone out and killed someone in cold blood like you have. I don't mean to keep on going on about it. You have. They shocked him, man.
Brett: A couple of times.
Iain: The first step is admittance. Yeah.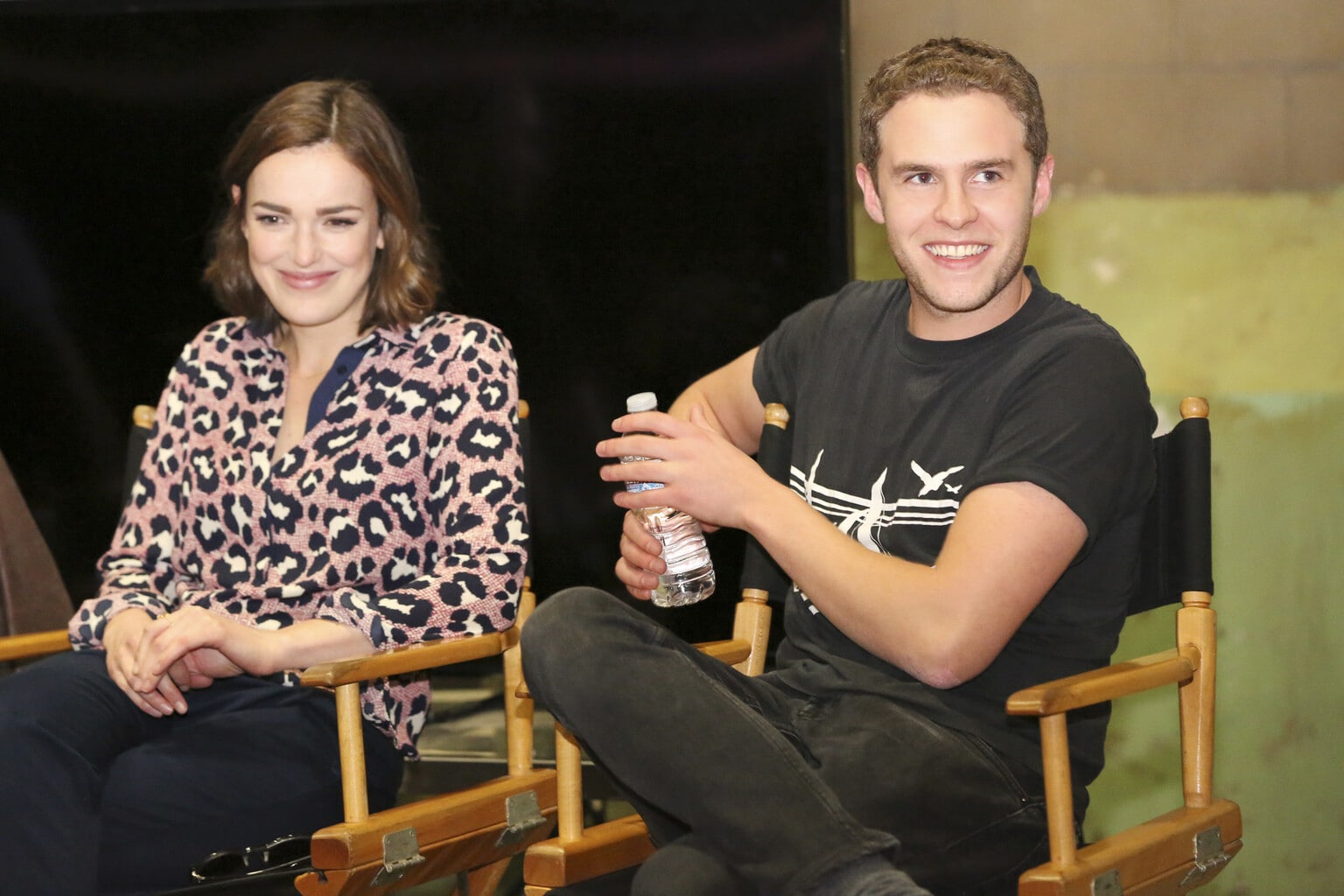 MARVEL'S AGENTS OF S.H.I.E.L.D. Cast Interviews: ELIZABETH HENSTRIDGE and IAIN DE CAESTECKER (ABC/Adam Taylor)
On whether or not S.H.I.E.L.D. would take Ward Back or if he would want to go back to S.H.I.E.L.D
Brett Dalton: I don't know what their policy is. I mean, it wasn't just like some like nondescript agents that I took out, either. I did take out Hand. She was up there on the list. So…
Iain De Caestecker: This is it. Come on, come on. Get it all out.
Brett: Okay. All right, all right. Is there a couch?
Iain: Say it. My name's Ward, and I'm a killer.
Brett: He seems to be on his own path this season. We're not sure exactly where that path is headed, or why he's doing the things that he's doing. But, you know, he's making some choices along the way that, will lead somewhere. And hopefully at the end of the season there'll be a kind of clarity about, "Oh, that's why he went down to see his brother again. That's why he did the thing with Whitehall. Oh that's why he shaved his head. That's why he shaved his beard. Ah."
Elizabeth Henstridge: Do you think he misses the team? Think he misses us?
Brett: Hmm. Yes. I do. Because his weakness, as Agent Garrett has always said, is that he has compassion, is that he is sensitive, as much as he pretends that he's not. And does things that, his actions don't exactly…
Elizabeth: He always wants to belong, doesn't he? Beause he didn't as a child. Right? So you miss Mack, us.
Brett: It's true. And I'm glad that we're getting this out. I think this has been really good so far.
Elizabeth: For everyone.
Brett: Really good for me. Good.
So what's more difficult? The scientific dialogue or the stunts?
Elizabeth Henstridge: I haven't done one, stunts.
Iain De Caestecker: We haven't done any stunts.
Brett Dalton: The scientific dialogue.
Iain: Henry probably has both, you've kind of got mechanical stuff and then you've also got stunts.
Henry Simmons: I mean I haven't had scientific dialogue. I mean the stunts are too easy. Well, I don't like heights, so I just put that out there. Only had a problem one time, I was like oh no. No-no-no-no-no. That was tough, but generally it's all right.
For Henry: How hard was it to keep a straight face when you are playing an alien when you go into the temple in that scene? How hard was it to play that part?
Henry Simmons: It was pretty easy because there was so much choreography that had to be done in terms of fight scenes, the bombing, and all that kind of stuff. It was pretty easy to stay in there and keep focused. The thing is, too, especially when we do stunts, we're moving fast, and it's one o'clock, we gotta get things done. That was a lot of fun, actually. I actually liked that whole possessed character.
Iain De Caestecker: That set was pretty cool as well. You actually felt like you're in that tunnel they built, so it was pretty dark and scary when you were in it, really.
Elizabeth Henstridge: Yeah, we had to act scared in that scene, so that takes a lot of focus too, doesn't it, just to be really scared.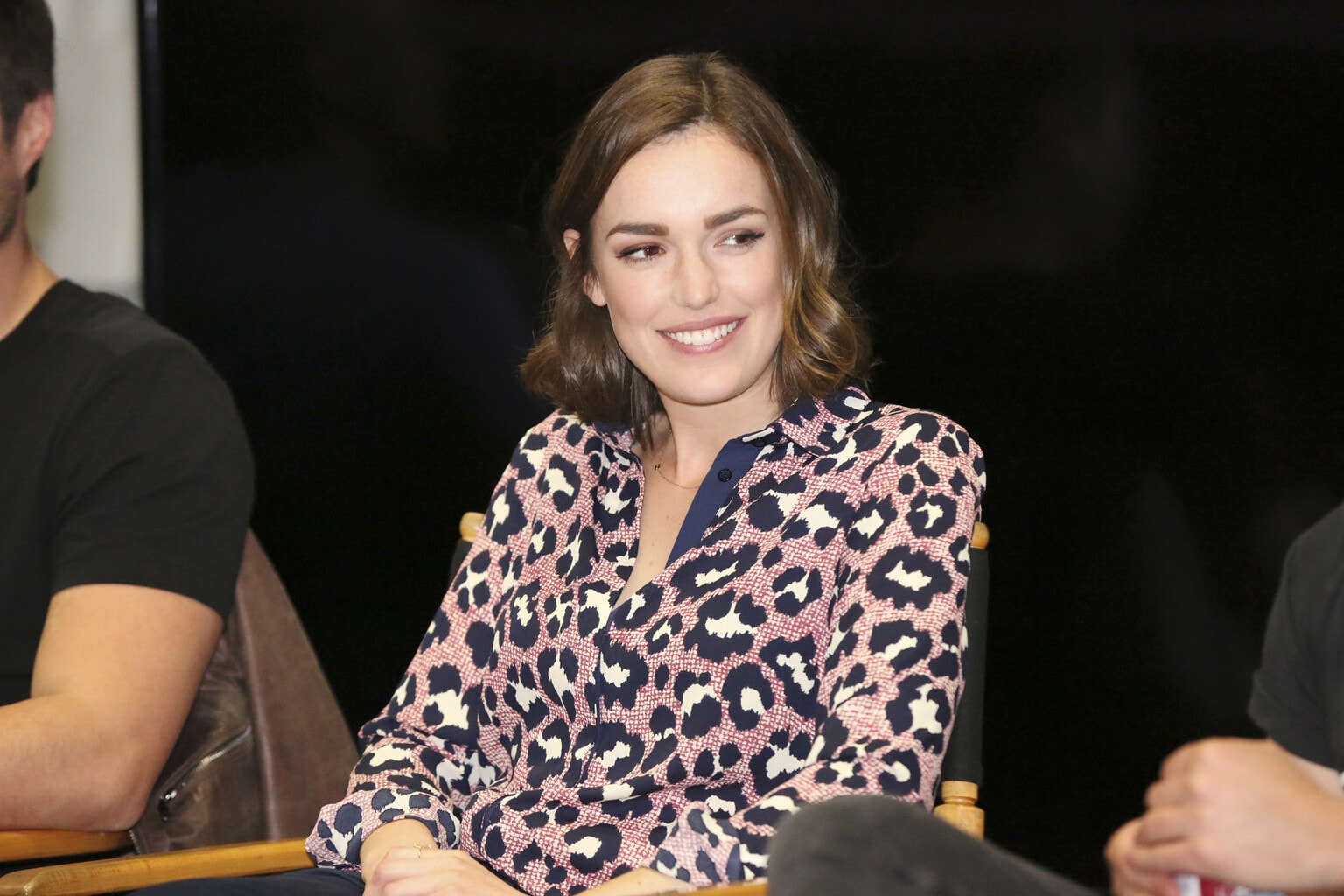 MARVEL'S AGENTS OF S.H.I.E.L.D. Cast Interviews: ELIZABETH HENSTRIDGE (ABC/Adam Taylor)
On their favorite scenes
Brett Dalton: I do, but you haven't seen it yet. I can't say. (It's in Episode 219)
Elizabeth Henstridge: I always remember the scene that was really early on in Season 1. I think it was episode 2 or episode it could have been the pilot. We were all sitting on the back of the Bus and we were watching the first O84 go up and explode. And that was the first time that, for I think, as a character and an actor, I was like, "Oh my God, I'm here. Oh, this is happening. Like we're filming a TV show." That for me, and that's still my favorite. Don't know what that says about this season. Clearly having a good time.
Yeah, Iain, what's your favorite? Is it one with me?
Iain De Caestecker: You're probably Top 5. Whether or not you're Number 1…I can't think. Usually every episode I have a new favorite scene, so I couldn't name one. There's too many to name.
MARVEL'S AGENTS OF S.H.I.E.L.D. Cast Interviews (ABC/Adam Taylor) ELIZABETH HENSTRIDGE, HENRY SIMMONS, ADRIANNE PALICKI, BRETT DALTON, IAIN DE CAESTECKER
A One-on-One with Adrianne Palicki
Because of the way the filming was happening, we got a few minutes with Adrianne Palicki, too, but not with the rest of the group.
On her relationship with Lance Hunter: will they get back together?
Adrianne Palicki: That's kind of the thing with them, is that they're this on-again, off-again entity. She's done a really big thing, which is, lied to him massively for a long period of time. So there's definitely going to be a lot of mending before anything can happen. But it's a possibility.
On her confliction and position between the two S.H.I.E.L.D.s
Adrianne: Listen, I have my own views as well, but she's torn. She's been part of this other S.H.I.E.L.D. since the beginning, and she's been with Gonzales. She saved his life, you all saw that, but at the same time she cares about these people. She doesn't think Coulson is a bad person, she is just concerned about where some of his loyalties stand, some concerns that we might all have a little bit of. We don't know where he's going with all that [alien blood], but she cares about these people.
So she's definitely conflicted, and she's trying to find her path through all that. At the end of the day, she's a soldier and she's been thinking that she's been doing the right thing the whole time, so now she's starting to feel like maybe these people aren't being treated the way that they should be treated. You know she's a little concerned. I think you're going to see that girl a little bit more.
On being brought on to the show and kept in the dark about being on the "other side"
Adrianne: I had been on for quite a few episodes, and we started talking about this secret. I'm like, "What is this secret?" They would not tell me the secret! I was like, "Okay, you guys, as an actor, I need to know." They're like, "You're not bad, you're not HYDRA." And I was like, "Well, that doesn't tell me anything. What does that mean? What am I?" I didn't know until about an episode before we shot the coming out of what it was. Keeps it interesting.
On stunt work
Adrianne: I do the majority of my own stunts. There's stuff obviously I can't do because there's insurance problems, like jumping through a plate glass window, flipping through a door, or what not. But the fight stuff is definitely what I like to do. I love Garry Brown, our producer, and also our second unit director, he prefers that the actors are doing the stunt work, because from every angle it is that actor—they can really get up close and personal with them in the fight. So for me it's a ton of fun.
On martial arts and other training
Adrianne: Right, I did learn Jujitsu for John Wick so I did a lot of that, I take Muay Thai and box myself. I've been doing a lot of action shows, movies, for a very long time, so I've been very lucky to be trained by Navy SEALS and whatnot as I've gone through and gun training, and now it was the batons—I had never worked with those before, so that was my new form of training for this—which has been and again, super awesome.
On her character and real-life self parallels
Adrianne: Well I don't walk around kicking people's asses even though I'd like to sometimes. That's the thing I love about Bobbi is she's a real human being and she has real feelings. She's a soldier; she wants to do everything right, but she does have emotion. She is a female. She's a strong female, but she's still vulnerable. Any of those elements, I definitely understand. You know what I mean, she's just trying to find—constantly as we all do as humans—trying to find the right path, and navigate it. So I kind of I see that with her.
On joining a cast mid-season and fitting in with that exisiting chemistry
Adrianne: It was nerve wracking because you're ultimately coming into high school, you know, second year and everybody is already friends.
It's a huge cast, I don't know how people are going to be with me. And I honestly from day one it was the most giving loving cast. It was a table read where I met everyone, and like hugs everywhere, everybody was so genuine and sweet and happy to have me on the show. And I'd say probably it took me about an episode to feel like I had been there forever. And so now there's so much trust here and friendships. I'm going to miss these guys for two months. You know. We'll probably see each other anyway.
On her favorite scene
Adrianne: When Fitz confronts Ward. I honestly think that he should be nominated for an Emmy for that scene. I bawl every time I see it. I think that Iain is one of the best actors I've ever worked with and that scene is just beyond for me.
[Have you seen that scene? She's not kidding. Tears. Like a baby. Season 2, Episode 203 "Making Friends and Influencing People."]
Watch Tonight's Episode, 218 "The Frenemy of My Enemy"
CLARK GREGG, BRETT DALTON (ABC/Kelsey McNeal)
Don't forget to watch tonight's episode, 218 "The Frenemy of My Enemy," in which a dangerous new alliance is formed as Coulson and Hunter turn to the last person anyone would expect—Grant Ward! As the war between S.H.I.E.L.D. factions continues, Skye and Lincoln will find themselves drawn into this conflict. Tonight, 4/21, 9/8c on ABC
BRETT DALTON, MAYA STOJAN, J. AUGUST RICHARDS, CLARK GREGG (ABC/Kelsey McNeal)