Disney Pixar's latest hit is in theaters now. Ever since Boo handed Sulley a toy Nemo in Monsters, Inc., nearly 2 years before Finding Nemo was released, Pixar has built a beautiful tradition of including hidden nods to past and future films. Read on to see all the Elemental Easter Eggs we caught.
All the Easter Eggs in Pixar's Elemental
Spoiler alert: This post contains spoilers for Pixar's Elemental. If you haven't seen the film, stop reading.

Disney Cruise Lines
One of the ships is named the Royal Garden Lines, a nod to both Royal Caribbean and Disney Cruise Lines.
Finding Nemo Submarine Voyage
The Salty Sea is a yellow ship that resembles Disneyland's Finding Nemo Submarine Voyage.
Hidden Mickeys
As soon as Bernie and Cinder enter Element City, to the left of the buildings you can see a Hidden Mickey after the door opens.
There is also a Hidden Mickey in the logs on the truck Ember drives around during her deliveries later on.
Pixar Short "Partly Cloudy"
The Cloud People feature the same design as the ones in the Pixar Short "Partly Cloudy," which was also directed by Peter Sohn.
At the movie theatre, there is a movie poster for "Partly Cloudy."
The Good Dinosaur
Inside the Fireplace, Bernie and Cinder's shop, there are several books for sale. One has a picture of Arlo from The Good Dinosaur, Elemental's director Peter Sohn also directed that film.
Outside the movie theater later on there are movie posters including The Good Element, another nod to The Good Dinosaur.
Flintstones
Another book is titled Flints and Stones, a nod to the Flintstones cartoon.
Rock, Paper, Scissors
Another book reads Rock Paper Scissors, a nod to the hand game.
The Incredibles
On the boxes Ember is delivering, you can see the word KAPOW. This is one of the words that pops up on the screen with Mr. Incredible in The Incredibles.
Pizza Planet Truck
Also during Ember's deliveries, we see her drive around a Treeyota, the Pizza Planet Truck.
Eat at Ralph's
As Ember gets off the train in Element city, we see a sign that says "Eat at Ralph's. Two Cents." This is a nod to Pixar animator and designer Ralph Eggleston, who died in 2022 from pancreatic cancer. Peter Sohn considered Eggleston his mentor. Eggleston gave Peter Sohn his first job at Pixar, in the art department on Finding Nemo.
Eggleston is one of six individuals to whose memory Elemental is dedicated, along with fellow Pixar employees Thomas Gonzales, Amber Martorelli, and J. Garrett Sheldrew, as well as Sohn's parents, Yung Tahk Sohn and Hea Ja Sohn.
"The joke is that Ralph was such a film encyclopedia. He just knew every movie. And if you asked him about a new movie, he would sort of complain about it and say, 'That's just my two cents'," Sohn has explained. "So, we have that little love in there for him."
A113
Gale's office is A113, a nod to the classroom at CalArts that many Pixar artists spent a lot of time in.
There's also a much more subtle inclusion of the A113 reference. The "Wetro" transit sign for Element City includes three symbols for its train lines: A, H, and Al. A is in a circle and H and Al are in squares.
H is the atomic symbol for Hydrogen. On the Periodic Table of Elements, it has an atomic number of 1. Al is the atomic symbol for Aluminum, which has an atomic number 13. See where this is headed? That sign is coded with an A113 if you know how to decode it. Given that Director Peter Sohn said in a press interview that the genesis for the film's concept came about in part because of his love of the periodic table as a student, this nerdy Easter egg feels very on track.
Sohn said he used to imagine the periodic table was a series of apartment buildings where the individual apartments such as Cobalt would live next door to Nickel.
Wetro Schedule
The Wetro transit schedule has a similar shape to the Periodic Table of Elements.
Periodic Park
Periodic Park has a grassy grid that is reminiscent of the periodic table, another nod to Sohn's love for the Periodic Table of Elements
Cropdusters
At the Airball game, the two teams playing are the Windbreakers vs Cropdusters. Cropdusters is a nod to Dusty Crophopper, the cropduster from Planes and Planes Fire & Rescue.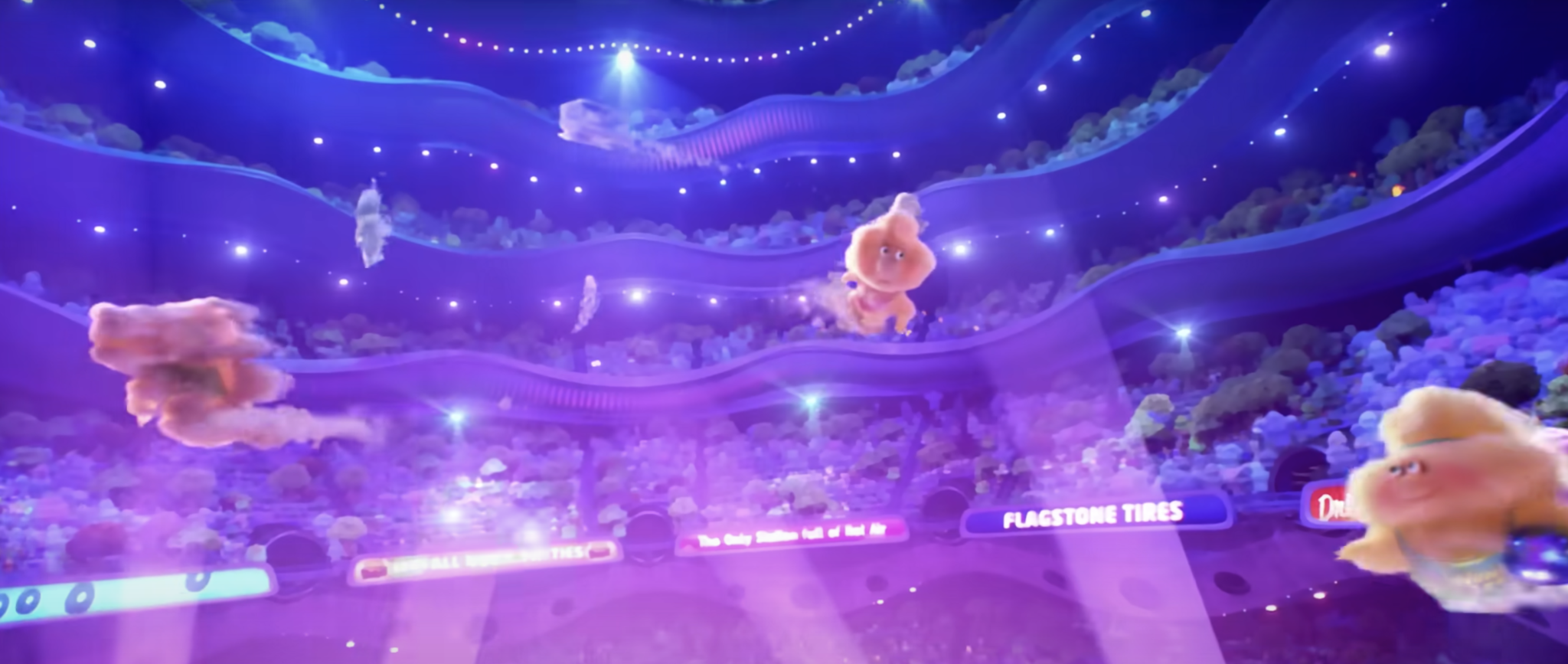 Flagstone Tires
One of the sponsors at the Airball Game is Flagstone Tires, which is a nod to the Cars franchise.
Pride and Prejudice
Ember and Wade go to the movies to see Tide and Prejudice starring Hudson River and Stormy Day, as shown on the marquee. A cute pun, but also a nod to the way in which Elemental is in some ways a water-themed Pride and Prejudice, with Ember the Elizabeth Bennet and Wade a very emotional Mr. Darcy.
Inside Out
Wade's home features artwork that resembles deconstructed Inside Out characters, similar to the design of Joy and Sadness in the danger area.
Marco Polo
Wade's nephews are named Marco and Polo, Marco Polo being a childhood pool game.
Ghibli Girlfriend
While minimal representation of the LGBTQ community, it's still something for our community.
Wade's non-binary sibling and their girlfriend have minimal dialogue but are present.
The girlfriend's name is Ghibli, a nod to the beloved anime production company Studio Ghibli.
Pete Docter and others at Pixar have long expressed their love of Studio Ghibli and the films of Hayao Miyazaki. A toy Totoro made a cameo in Toy Story 3.
Joe Pera
Comedian Joe Pera, best known for his Adult Swim series "Joe Pera Talks With You," voices Earth element Fern Grouchwood
Dug
An Earth version of Dug appears in the film. His fur has been replaced with grass, but we didn't spot him yet.
Elio
Elemental was teased in Lightyear when Wade appeared as a mascot on the "Wade Water" water bottles in the Lightyear vending machine.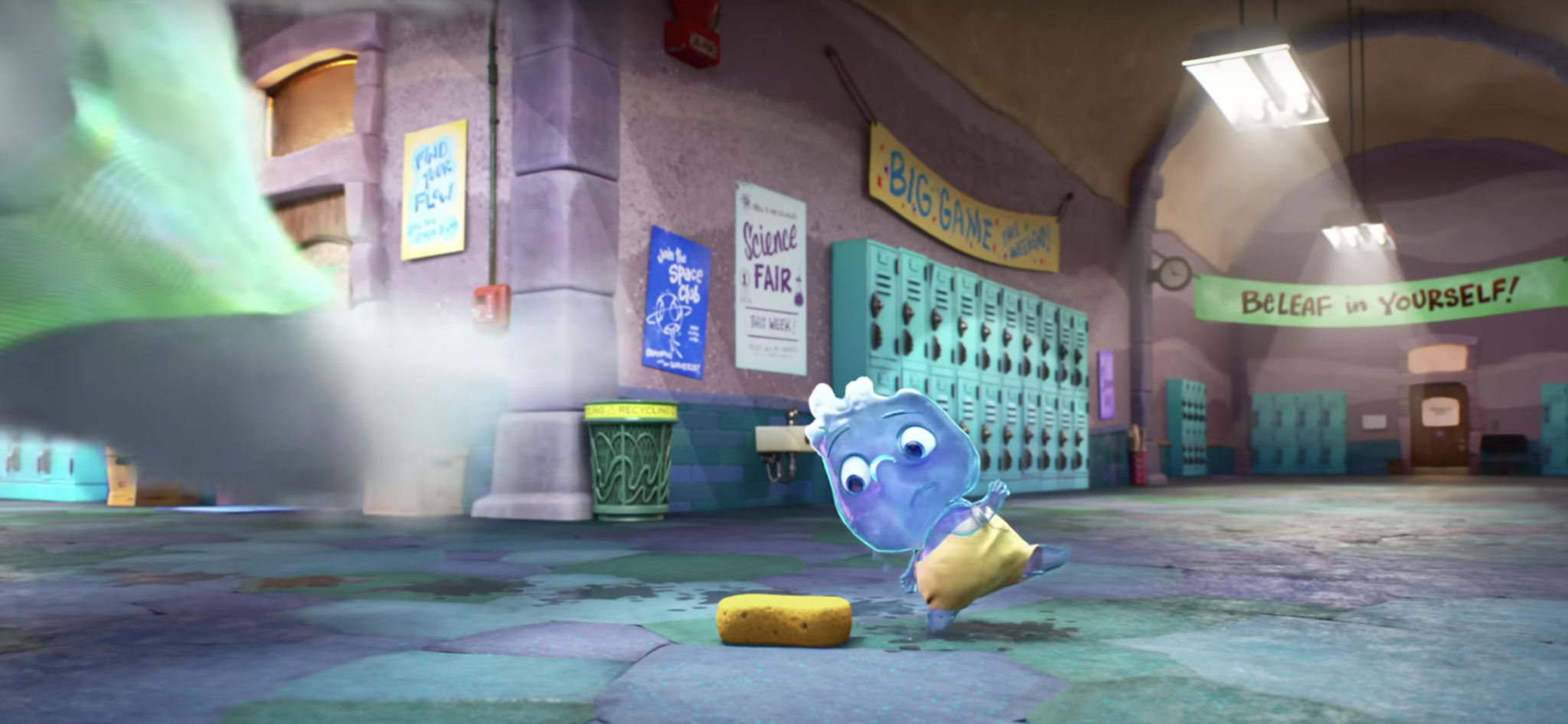 Pixar's 2024 film Elio also has an easter egg in Elemental. In a flashback scene, we see young Wade get sucked into a sponge in the hallway of his school and there is a poster that reads "Join the Space Club," featuring an image of a planet with a rig and tentacles that has already been revealed in the concept art for Elio.
Did we miss any Easter Eggs in Pixar's Elemental? Let us know in the comments below!
About Elemental
ELEMENTAL is an all-new, original feature film set in Element City, where Fire-, Water-, Earth- and Air-residents live together. The story introduces Ember, a tough, quick-witted, and fiery young woman, whose friendship with a fun, sappy, go-with-the-flow guy named Wade challenges her beliefs about the world they live in. Directed by Peter Sohn, produced by Denise Ream, p.g.a., and executive produced by Pete Docter, ELEMENTAL features a screenplay by John Hoberg & Kat Likkel and Brenda Hsueh with story by Sohn, Hoberg & Likkel and Hsueh. The film's original score was composed and conducted by Thomas Newman.
Rating: PG
Runtime: 103 minutes
Director: Peter Sohn
Executive Producer: Pete Docter
Producer: Denise Ream, p.g.a.
Associate Producers: Krissy Cababa, Becky Neiman-Cobb
Screenplay: John Hoberg, Kat Likkel, Brenda Hsueh
Story by: Peter Sohn, John Hoberg, Kat Likkel
Original Score: Thomas Newman
Cast: Leah Lewis, Mamoudou Athie, Ronnie Del Carmen, Shila Ommi, Wendi Mclendon-Covey, Catherine O'Hara, Mason Wertheimer, Ronobir Lahiri, Wilma Bonet, Joe Pera, Matt Yang King, Clara Linding, Regan To, Jeff Lapensee, Ben Morris, Jonathan Adams, Alex Kapp, P.L. Brown
ELEMENTAL is now in theaters. Pixar short "Carl's Date" plays before it.