It's finally here: TEEN WOLF: THE MOVIE! And we've pulled together all the Easter Eggs inTEEN WOLF: THE MOVIE we could find—all the callbacks, nods, cameos, and Easter Eggs from the MTV "Teen Wolf" series.
Read our TEEN WOLF: THE MOVIE Review.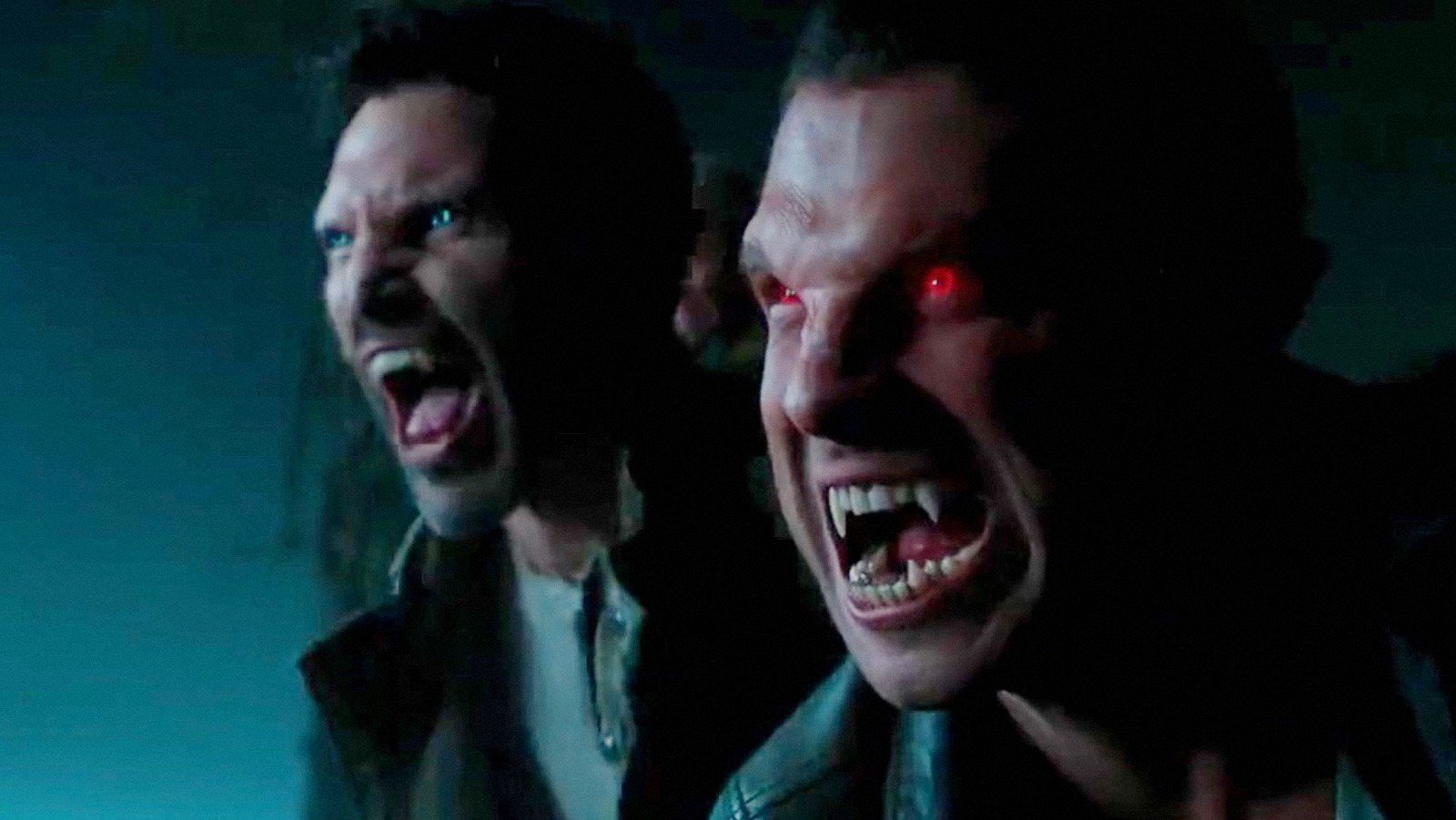 If you haven't yet watched TEEN WOLF: THE MOVIE, this post contains major contextual spoilers. Proceed with caution.
All the Easter Eggs in TEEN WOLF: THE MOVIE
Thanks to our contributor Erika for her "Teen Wolf " knowledge contribution to this post!
"When is a door not a door?"
This riddle is a call back to Season 3 Episode 21 where Noshiko retells her story of summoning the void Kitsune trickster.
Triskelion Jar
The Triskelion Jar the hooded stranger is in search of is the jar that contains Talia Hale's claws following her death in the Hale House Fire. The box was made by Alan Deaton using wood harvested from the Nemeton, making it a powerful container for an equally powerful set of claws. According to Derek, her claws were the only part of Talia that remained after the fire.
Nogitsune flies
The Nogitsune flies were seen during Seasons 3 and 4 of the series, but the first instance of the Nogitsune flies being used was in Season 3 Episode 3B "Galvanize" when William Barrow was revealed to have a tumor of the flies during surgery and was controlled by the Nogitsune to trick Kira into using her foxfire.
Allison at the Vet Clinic
When Allison appears at the vet clinic door and Scott answers, that is a direct call back to Season 1 Episode 1 "Wolf Moon" when Scott first meets Allison. She has hit a dog with her car, in the rain, and shows up at the clinic where Scott is locking up for the night looking for help with the wounded dog.
Lydia Writing Visions
Lydia drawing her visions at her desk is a direct callback to Season 2 Episode 5 "Venomous" when Lydia has a hallucination and writes "Someone Help Me" backward several times on the blackboard during class.
Malia & Parrish
We guessed Malia wouldn't be with Scott still since we saw Allison in the trailer. We knew Malia's time
as a coyote affected her personality in ways that made it difficult for her to relate to people emotionally. We see this with Parrish. We see it later when she first sees Scott, after the ceremony at Bardo, etc.
Camp Oak Creek
Camp Oak Creek was an internment camp (aka relocation camp), located on the outskirts of Beacon Hills, in which Japanese immigrants and Japanese-American citizens were forced to stay after the events of the Pearl Harbor attack in World War II. We first see the camp in Season 3 Episode 21 "The Fox and the Wolf" and it's the site where the pack faces a battle where Allison dies in Season 3 Episode 23 "Insatiable."
Scott & Allison
What to say other than we are here for this SHIP to be back.
Mason as a Deputy
In the TV series, Mason always took the role of protector, trying to protect his friends. It's not surprising to see Mason in a more advanced protector role.
Road Flare
Allison uses a road flare to burn the wolfsbane out of Scott. This is a callback to the "Motel California" Season 3 Episode 6 when Jennifer telekinetically rolled a lighted road flare toward a pool of gasoline in an attempt to immolate Scott McCall and Stiles Stilinski.
Green Smoke
The green smoke is a callback to the green smoke as seen with the Ghost Riders, part of the myth of the Wild Hunt as seen in Ghost Riders Season 6 (though yes, Lydia first finds the book with the lore in Season 5 Episode 10 "Status Asthmaticus").
"That's Greenburg!"
During the final lacrosse match when Scott and Eli suit up and join the team, the coach of the opposing team asks Coach Finstock who one of the players is (Scott) noting that he looks like he's 30. Finstock replies, "That's Greenburg!"
That's a call back to the series and a running joke of Coach Finstock. Greenberg is a student/member of the lacrosse team who often catches flack/ire from Coach Finstock, but he's never seen. For 4 seasons, Finstock blames the team's failings on a student who is never identified or seen playing and mocks his poor skills as a student in the classroom, as well.
#11
The lacrosse number that Eli wears (11) is the one that Scott wore when he played at Beacon Hills High
Lack of Playing Time
The parallels between Stiles and Eli are many, but one obvious one is the lack of playing time on the field. Both are ON the lacrosse team but basically as bench warmers.
"Delinquent"
When Sheriff Stalinski talks to Eli at the high school right before the lacrosse game and threatens him on Derek's behalf, he calls him a delinquent, something he used to call Stiles often in the "Teen Wolf" series, including in the very first episode when he finds him at Derek's burned out house.
Mountain Ash
Mountain Ash, also known as Sorbus americana, is the ash created by burning the wood from a Rowan tree, and it possesses the ability to protect against the supernatural by preventing them from coming into contact with it. The lore of the mountain ash is first seen in Season 1 Episode 11 "Formality" when Druid Emissary Alan Deaton reveals he has lined his animal clinic with both the wood of the tree and the mountain ash to prevent any supernatural clients from doing harm inside. It plays a major part in the series and in the movie.
Eichen House, the McCall House, and the boathouse in the Martin family lake house are also lined with mountain ash. While the Eichen House is lined to prevent its supernatural inmates from escaping, the other two are lined to protect those inside the houses from supernatural threats, especially those of the human variety.
In real-world mythology, Rowan is believed to ward off evil beings.
"No such thing as fate." "No such thing as werewolves."
When Scott is trying to help Allison remember who she is, he reminds her what he said and she said in return, which is a callback to Season 2 Episode 12 "Master Plan." Allison says, "There's no such thing as fate," to which Scott replies, "There's no such thing as werewolves."
"Good Photo"
When Scott is trying to help Allison remember who she is, Scott shows her the photo that her dad gave him when she died. All these years Scott kept the "good photo" of them (the one where his eyes not changing because of the flash), which was taken in Season 2 Episode 3 "Ice Pick."
Forced Change/Forced Healing
Scott forces Eli to heal by roaring at him. This is a callback to the knowledge he first gained in Season 1 Episode 7 "Night School" when the Alpha forces Scott to transform when he roars.
Hand in Hand
As Scott's bare hand and Allison's gloved hand come together during the final battle, it's a nod to Season 2 Episode 12 "Master Plan" when they realize Gerard is evil and Scott had a plan all along, just like Scott did in the movie.
Breaking the Illusion
When the supes all have to come together to break the illusion created by the Nogitsune, it is a callback to Season 3 Episode 24 "The Divine Move" when Scott breaks through the Nogitsune's illusion.
Derek's Redemption
When Derek sacrifices himself for Eli and his friends/family and entrusts Eil in Scott's care during the final battle, Derek's eyes change color as he passes, from blue back to red, symbolizing he was simply the Alpha, and not that he had killed someone.
Derek always hated his blue eyes after he killed Paige when she was suffering in Season 3 Episode 8 "Visionary."
While Derek already redeemed himself in the series from the angry, violent, and arrogant younger Derek to a true team player, friend, and protector, his sacrifice as self was a testament to his current character.
We all got gut punched when Derek died and again at the funeral when Scott gave the eulogy. It seems as though Eli will end up being the child Scott didn't have the opportunity to have.
Roscoe the Jeep
Eli's obsession with the 1980 CJ5 Robin's egg-blue Jeep, which was Stiles' in the series, is a beautiful connection that they've made from the TV series to TEEN WOLF: THE MOVIE that will carry to the "Wolf Pack" series.
The Jeep was Stiles' connection with his mom ("Teen Wolf" series) and it's now Eli's connection with his dad (Derek). However, Derek protecting and fixing up the Jeep is symbolic of Derek upholding the connection between Stiles and his mother, a metaphor for Derek missing his own mother while raising a child.
John Posey cameo
Tyler Posey's dad, John Posey, reprising his role as Dr. Conrad Fenris from Eichen House is a fitting placement for Harris: to end up in a mountain ash cell surrounded by creatures he despises, though the jury is still out on whether or not he is supernatural himself.
Did we miss any Easter Eggs? What was your favorite? Let us know in the comments below!
About TEEN WOLF: THE MOVIE
A terrifying evil has emerged, and the wolves howl once again. Only a Werewolf like Scott McCall can gather both new allies and reunite trusted friends to fight back against what could be the most powerful and deadliest enemy.
Rating: TV-MA
Runtime: 137 mins
Director: Russell Mulcahy
Producers: Tyler Posey, Tyler Hoechlin
Cast: Tyler Posey, Crystal Reed, Tyler Hoechlin, Holland Roden, Dylan Sprayberry, Shelley Hennig, Vince Mattis, Colton Haynes, Benjamin Wadsworth, Ian Bohen, Ryan Kelley, Melissa Ponzio, JR Bourne, Orny Adams, Seth Gilliam, Linden Ashby, Khylin Rhambo
TEEN WOLF: THE MOVIE is on Paramount+ January 26, 2023.
"Wolf Pack" series is on Paramount+ January 26, 2023.