Marvel Studios' Ant-Man and the Wasp Quantumania is now in theaters and we're spending some more time in the Quantum Realm in this installment of the Ant-Man films.
We live for the Easter eggs, callbacks, and cameos and there were plenty in Ant-Man and the Wasp Quantumania.
Let's break down these Ant-Man and the Wasp Quantumania Easter eggs, callbacks, and cameos.
WARNING: Spoilers ahead if you have not seen Ant-Man and the Wasp: Quantumania.
Ant-Man and the Wasp Quantumania Easter eggs, callbacks, and cameos
Marvel Studios Logo Update
Kang is seen in the "A" of the Marvel Studios logo.
Ant-Man Mural
As Scott is walking down the street, there is a mural on the wall with a heart and an Ant-Man helmet in it.
Ruben Rabasa cameo
Scott walks into a coffee shop and the owner, Ruben, mistakes him for Spider-Man. The shop owner is played by Ruben Rabasa, who also portrayed Mr. Cardozo on Agents of S.H.I.E.L.D. Season 1.
At the end of the film, Rueben now knows which bug superhero Scott Lang is but starts charging him for his coffee.
Agent Jimmy Woo
Last seen in WandaVision on Disney+, Agent Jimmy Woo (Randall Park) makes an ever-so-brief appearance. We saw lots of Agent Woo in Ant-Man and the Wasp when Woo was the agent in charge of Scott while he was on house arrest.
Ant-Man Merch
Scott high-fives a kid holding an Ant-Man backpack.
Baskin-Robbins
Scott is awarded "Employee of the Century" by his former Baskin-Robbins manager Dale, played by Gregg Turkington.
At the end of the film, Dale goes back to work as a cake maker for one day to make a Baskin-Robbins birthday cake for Cassie.
Humanitarian Work
Hope receives the "Humanitarian Global Services Award" for her work in helping to help combat deforestation to the climate change crisis.
City Lights Bookstore and "Look Out For The Little Guy"
Scott reads from his memoir, "Look Out For The Little Guy" at the City Lights Bookstore.
City Lights Bookstore Is a real bookstore in San Francisco and Scott's book is a real book that can be pre-ordered on Amazon.
"Why is Jail Calling?"
Scott gets a call from the San Francisco County Jail. It's Cassie. Like father, like daughter.
Shrunken Vehicles
After Scott bails Cassie out of jail, one of the releasing officers demands she returns something she took.
Cassie pulls out a shrunken cop car with the number #5138.
Homelessness and The Blip
Cassie was arrested during a peaceful protest at a homeless encampment for trying to help the homeless who lost everything after The Blip. This issue is also explored in "Falcon and The Winter Soldier."
Lectures
Scott lectures Cassie about the tech and suit she was using and the ramifications of losing the suit (he didn't even know she had a suit).
The argument is a nod to Ant-Man and the Wasp when Hank was upset with Scott for getting arrested after the events of Captain America: Civil War.
"A Bee Tried to Kill Me"
Scott tells Cassie he wishes she could have a normal life. Cassie's reply? "A guy dressed like a bee tried to kill me in my room when I was 6. I've never had a normal life."
This is a callback to the fight with Yellowjacket from Ant-Man in Cassie's room.
Avengers Endgame callbacks
Hope turns on music, but instead of music, it's Scott's book as an audiobook.
Scott recalls when the Hulk turned him into a baby and he met a Raccoon from space (Rocket).
Break out with Ants
At Hank and Janet's home, there's a discussion about how Janet was in the Quantum Realm for 30 years. This is a bit of foreshadowing for the final battle in the movie.
Discussing Cassie's most recent jail stint, Hank tells Cassie he could've "broken you out with ants."
This is a callback to Ant-Man when Hank broke Scott out of jail using the ants and also to Ant-Man and the Wasp when Scott did the same for Hank and Hope.
Germany
Cassie reminds Scott of what he did to VistaCorp and his time spent in Germany, which is a callback to Captain America: Civil War.
"Your daughter built a subatomic Hubble telescope in the basement."
But Cassie's tech glitches and everyone, including Hank's ants, gets sucked into the Quantum Realm.
Giant-Man
Scott turns into Giant-Man to save Cassie. We've seen Giant-Man in the previous two Ant-Man movies and in the comics.
"I don't think that's a sun."
Cassie and Scott see what looks like a dun and Cassie asks if it's moving. In a very "That's no moon" Star Wars kind of way, Scott says, "I don't think that's a sun."
Nexus
Janet explains to Hank and Hope that the Quantum Realm is outside of space and time. "Through void and the subatomic there are worlds and worlds here," she tells them. "It's a secret universe beneath ours."
In the Marvel comics, the "Nexus of all Realities," or simply a Nexus, is a cross-dimensional gateway that provides a pathway to any and all possible realities, including realities between realities.
Hank as Ant-Man
Janet calls Hank "Ant-Man."
Hank Pym is the OG Ant-Man both in the comics and the MCU.
Freedom Fighters
In the QR, Scott and Cassie are confronted by Jentorra (played by Katy M. O'Brian) and the Freedom Fighters. Jentorra is the leader of the Freedom Fighters, residents of the Quantum Realm who have been displaced by Kang's conquests.
In the comics, Jentorra is the niece of the late Queen Jarella of the planet K'ai. She is royalty, the trained apprentice of the Sorcerer Triad, and part of the Micronauts, a superhero team in the Microverse (aka the Quantum Realm).
Telepath Quaz (played by William Jackson Harper) is Jentorra's number-one helper.
Quaz doesn't have a direct comic tie-in, though he may be a nod to the Micronauts leader Quasar, who is also a telepath.
Hole-obsessed Veb, full of ooze is voiced by David Dastmalchian. Dastmalcian played Entourage member Kurt in the first two Ant-Man movies.
Cantina
Janet takes Hank and Hope to meet a friend and they end up in a cantina that reminds us of the Creature Cantina in Star Wars: A New Hope.
Krylar, played by Bill Murray, is also from the planet K'ai in the comics. A resident of Pitll Pawob, the isle of assassins, Krylar was part of a plan to overthrow Queen Jarella before he was killed by his leader Visis.
"I was down here for 30 years. I had needs."
Janet and Hank have an awkward exchange about meeting their "needs" during the 30-year absence while Janet was trapped in the QR. Hope is visibly and verbally grossed out.
Hank makes a reference to a Linda he saw while Janet was trapped in the QR. Janet asks him what happened. Hank replies, "She wasn't you baby," a sweet nod to their undying love after all these years.
Linda's last name isn't revealed but it could be a deep-cut reference to the Night Nurse Linda Carter, a comic character Hank spent time within an illusion.
Cassie's Stinger Suit
In the comics, Cassie goes by several personas (including Stinger and Stature), none of which are ever named in Quantumania. However, the suit she wears is purple like her comic Stinger suit. The Stature suit in the comics is red and black like her father's Ant-Man suit
M.O.D.O.K.
We finally meet M.O.D.O.K., which stands for a few things in the comics but the acronym it is used for here is "Mechanized Weapon Designed Only for Killing." Of course, Scott has a beef with the acronym.
M.O.D.O.K. is "the hunter" Krylar refers to at the cantina, the one Kang has sent after Cassie and Scott.
In the comics, M.O.D.O.K. also stands for "Mental/Mobile/Mechanized Organism Designed Only for Killing" depending on its instance.
Yellowjacket
M.O.D.O.K. is revealed to be Darren Cross aka Yellowjacket. We see a flashback to a scene from the first Ant-Man when Cross disappears into the Quantum Realm.
M.O.D.O.K. takes them to Chronopolis, Kang's city.
Kang's Time Chair
We flashback to when Janet first meets Kang. Kang claims to be a traveler who crashed into the QR and needs help restoring his Time Chair.
In the comics, Kang's Time Chair is a time-drive chair created by Kang the Conqueror that allows him to travel through space and time and is fitted with advanced laser weapons and a forcefield to fend off attacks. It was first seen in Avengers #8 (July 1964).
In the comics, Kang once used it to go back in time to study Steve Rogers during World War II. In an episode of "Avengers: Earth's Mightiest Heroes" (animated series) Season 1 Ep 12, Kang attacked the Avengers and brought them to an unnamed universe where Earth and its inhabitants had been destroyed. Iron Man hacked the chair, revealing to Kang that his 41st-century technology was based on very old 21st-century Stark Industries technology. Iron Man brought the team and Kang back to their own timeline and Kang and the Time Chair were recalled by Damocles Base for repairs and treatment.
While Janet helps Kang fix the chair, she touches it and sees Kang's memories of his traveled timelines and destruction. The is also a callback to "Loki" Season 1 when we see the timeline graphic.
Multiversal Engine Core
Janet destroys the Multiversal Engine Core, the power core, trapping Kang in the Quantum Realm.
Kang tells Scott he needs his help to fix the Multiversal Engine Core Janet destroyed all those years ago in order to stop what is coming—himself. Kang variants will destroy the multiverse if he isn't stopped.
This is a nod to the warning He Who Remains gave Loki and Sylvie about this in "Loki" episode 6.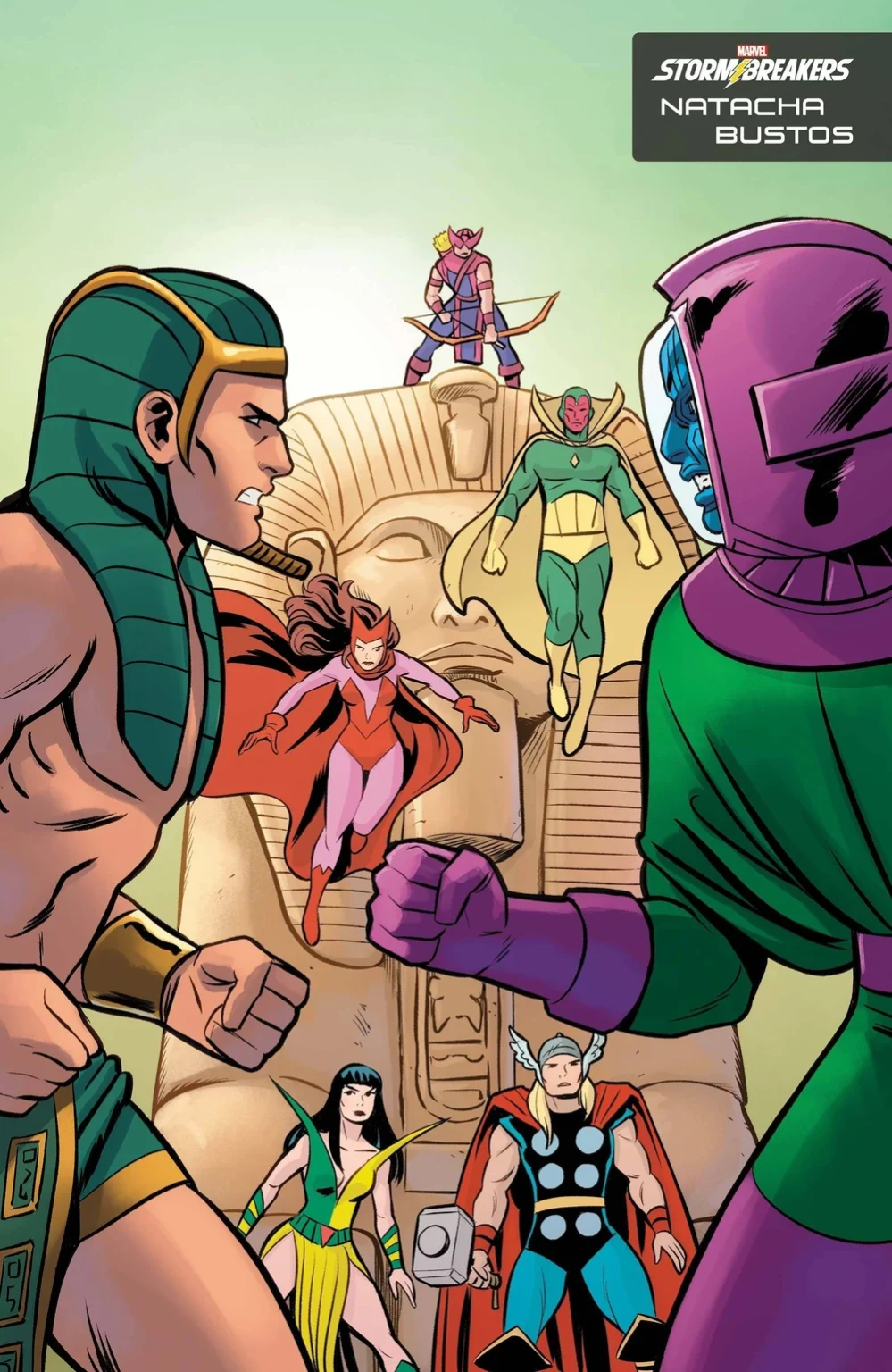 Kang's Comic Suit
Kang dons his green and purple suit, like the one in the comic.
"Have I killed you before?"
In another nod to the destruction of timelines in the comics and possibly foreshadowing in Phase 5, as Scott approaches Kang, Scott tells Kang he told the Avengers about him and they are on their way. Kang's response, "Have I killed you before?" Kang asks if Scott's the one with the hammer, obviously referring to Thor.
"I love you Peanut."
This is a nod to the first two Ant-man movies. Scott says this twice in the movie.
Peanut is Scott's special name for his daughter Cassie.
Schrödinger's Box / Schrödinger's Cat Paradox
As Scott shrinks down to help Kang in order to save Cassie's life, he enters a probability storm with infinite versions of himself.
M.O.D.O.K. refers to this probability storm Schrödinger's box and Scott as the cat.
Inside the probability storm, Scott sees infinite variants of himself including Giant-Man and his Baskin-Robbins employee variant. The Baskin-Robbins Scott variant wears the name tag that reads "Jack." Jack is Paul Rudd's son.
Schrödinger's box is from the comics. First seen in Supreme Power #8 (October 2005), scientist Arcanna Jones, author of "Quantum Physics: The New Reality," possessed Quantum Reality Manipulation, the ability to perceive and influence parallel quantum dimensions.
Jones, known as "the ultimate observer," could see all the quantum possibilities and then choose which would become reality. To explain it, Arcanna evoked Schrödinger's Cat paradox—if a cat in a box has a 50% chance of being killed, it is neither alive nor dead (or both alive and dead) until the box is opened and the cat is observed.
Child Cassie Lang
Cassie calls out to her dad. As it did in the first Ant-Man film, it is Cassie's voice that helps him pull through.
Mound of Ants
The millions of Scott variants work together and form a mound, like ants in real life, to get him back to Cassie.
Wasp Swarm
Inside the probability storm, we see Wasp with a swarm of wasps behind her, just as wasps travel in reality.
Jellybean
Kang calls Hope "Jellybean" when he meets her. This is a callback to the nickname that Janet used for Hope in Ant-Man and the Wasp.
Saved by the Ants
Just like in the previous two Ant-Man films, the ants save the day. This time, Hank is saved by the ants.
Quantum Bands
When Kang powers up the city, it looks very similar to the stylization in both color and pattern as the Quantum Bands seen in "Ms. Marvel" and Shang-Chi.
Code 18147
The bridge code is 18147.
Captain America Shield Usage
Scott uses a shield the same way his good pal Cap does. He must have learned a trick or two in Germany fighting with Captain America.
Giant Cassie
Cassie grows into Giant Cassie.
In the comics, Cassie Lang could grow in height to about 40 feet tall and shrink down to about the size of an ant, though Cassie struggled with the shrinking in the comics.
Citrus
When Cassie grows to be a giant, she tells Scott she's starving and craving lime. Scott comments about craving citrus, which is what he is always craving when he grows into Giant Ant-Man in the first two movies.
Opening Scene Narrating Callback
After defeating Kang, Scott Lang is seen walking the streets of San Francisco and telling the story of what happened. This is a callback to the opening scene of the film, which this echoes, and a nod to Luis' storytelling in Ant-Man.
"Everything is Probably Fine"
As Scott is walking down the street, he pauses to reevaluate the events of the Quantum Realm and their defeat of Kang and decides "Everything is probably fine" as he ponders whether or not he sealed the fate of the universe.
ANT-MAN THE WASP POST-CREDIT SCENES
Mid-Credit Scene: Millions of Kang
In the mid-credit scene, millions of Kang variants are gathered together and we see their leaders, The Council of Kangs—comprised of Rama-Tut, Immortus, and a third who could be possibly Iron Lad or Kid Immortus—discussing the death of the exiled.
End-Credit Scene: Looks to be a scene from "Loki" Season 2.
Set in the past (with a sepia tone), Loki and Mobius attend a magic show held by Victor Timely, a Kang variant. Loki tells Mobius this is who he has been warning him about. "It's him," Loki says, terrified.
Ant-Man and the Wasp: Quantumania is now playing in theaters now.