I grew up in a rural town in the middle of nowhere Northern NY. We didn't have access to much, but we did have access to the arts and education because of a few colleges nearby. Growing up in an economically-depressed area of the country, having access to the arts and educational opportunities are wildly important for kids and community as a whole. Bentonville, Arkansas, is a surprising little cradle of incredible art and culture. You wouldn't expect to find some of the works of art you do in this Mayberry-esque town, but you'll be pleasantly surprised at the works of art hidden inside of Bentonville, Arkansas. If Art in Bentonville, Arkansas, is on your list, you won't be disappointed.
Thanks to Visit Bentonville for sponsoring my trip. As always, all opinions are my own.
I can't wait for my next trip back to Bentonville. I barely scratched the surface of the street art in downtown Bentonville, but it is THE place to visit for the arts—and almost all are free!

Crystal Bridges Museum of American Art
Is "Rosie the Riveter" on your coveted list of art to see? Then a stop in Bentonville, AR, is a must. At the top of the arts in Bentonville, Arkansas is a stop at the free Crystal Bridges Museum of American Art.
The mission of Crystal Bridges Museum of American Art is to welcome all to celebrate the American spirit in a setting that unites the power of art with the beauty of nature. It takes its name from a nearby natural spring and the bridge construction incorporated in the building by a renowned architect. Sculptures and walking trails connect Crystal Bridges'120-acre park to downtown Bentonville, Arkansas—a perfect segue to the street art of Bentonville.
If you're interested in seeing famous works of art, you can peek at a few famous works all under one roof. Norman Rockwell's "Rosie the Riveter" and "Sick Puppy" both live at Crystal Bridges Museum of American Art, as well as numerous Andy Warhol's including "Dolly Parton." Fredric Remington's "Cowpuncher's Lullaby" and several Georgia O'Keeffe pieces, including "Jimson Weed/White Flower No. 1" and "Radiator Building—Night, New York," also find their home at Crystal Bridges Museum of American Art. And they have Dale Chihuly! He's a personal favorite.
Also, the Frank Lloyd Wright house is a sight to be seen. Known as the Bachman-Wilson House, this work is an example of his classic "Usonian" architecture, a word derived from an abbreviation of "United States of North America." Wright created this term to describe a distinctly American style of residential architecture he developed during the Great Depression to be within the reach of the average middle-class American family.
Originally built for Gloria and Abraham Wilson, this 1956 home was built along the Millstone River in New Jersey. In 1988, the home was purchased and restored by architect/designer team Lawrence and Sharon Tarantino. The house was repeatedly flooded, and the Tarantinos decided that in order to preserve it, they should sell the house to an institution willing to relocate it. In 2013, Crystal Bridges acquired the house. The entire house was then taken apart, and each piece was labeled, packed, and moved to Crystal Bridges, where it was reconstructed in 2015. You can walk through the reconstructed home to get a sense of Frank Lloyd Wright's work.



21c Museum Hotel
Over 12,000 square feet of exhibition space with unique modern art, 21c Museum Hotel offers nothing you've ever seen in a museum. Walk up to the museum and you'll be greeted by two large dramatic life-size pieces: "Orange Tree," a large-scale sculpture, and "Making Change," a Fleetwood Cadillac limousine covered in thousands of coins.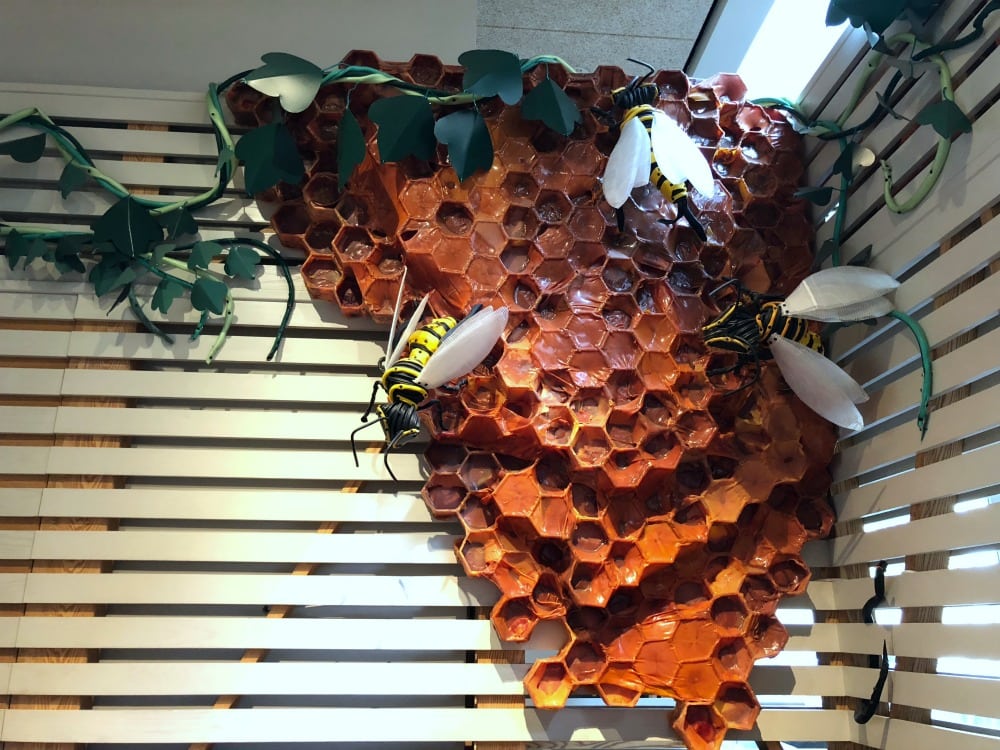 Inside you'll find an exhibit entitled "BuzzKill," an aptly named immersive installation at The Hive restaurant.
Did you know the 21c Museum Hotel in each town has brightly colored penguins that greet you? No two 21c Museum Hotels share the same color penguins. Bentonville's are green. Exhibits at the 21c Museum and Hotel are free and change frequently.


Amazeum
As both a mom and child/grandchild of educators, I'm a sucker for a good hands-on science museum. I think it's in my blood.
The Scott Family Amazeum in Bentonville, Arkansas, is a hands-on, interactive museum for children and families. This museum with a foundation in the arts and sciences encourages creativity, curiosity, and community through exhibits, educational collaboration, and programs, workshops, and camps. The Amazeum experiences are numerous and include a climbable tree canopy, indoor cave, tinkering hub, nearly one acre of outdoor space, water play area, the coolest blacklight wall experience I've ever seen, tornado simulator, homestead cabin and farm, Hershey's Lab, and outdoor playscape, art studio, and ever-evolving daily pop-up activities.
As adults, we played at the Amazeum for an afternoon and got to experience much of what it has to offer. I could have spent much more time than we had there.
The Amazeum offers a family membership rate, but kids 2 and under are free and kids and adults are $9.50/day to visit.

Bentonville Street Art
I love great street art and murals. Downtown Bentonville had loads of street art, murals, and random art finds floating around the downtown area and town square. I spent part of an afternoon and another morning just hunting for fun street art with some friends. Mural hunting is one of my favorite things to do in new cities. The street art in Bentonville, Arkansas, did not disappoint. I found some great murals in Bentonville, Arkansas.
Do you love looking for culture and arts when you travel? Is there something you always look for in new places?
For more information on the arts and cultural scene in Bentonville, visit the Walton Family Foundation.