We love the back and forth banter Sam and Bucky have. They've always had a bit of disdain toward one another, but Steve was the glue that held them together. With the loss of Steve, the two have to navigate their grief and identities in "The Falcon and The Winter Soldier," now streaming on Disney+—and that means more opportunities for fantastic quips and great quotes from Sam and Bucky. We've curated a list of the Best Falcon and Winter Soldier Quotes for you.
Best Quotes from "The Falcon and The Winter Soldier" on Disney+

"The Falcon and The Winter Soldier" Best Quotes
Best Quotes from "The Falcon and The Winter Soldier" S1 E1: New World Order
(March 19, 2021)
It feels like it belongs to someone else. –Sam
Sam, This has to be Subtle. –Major
Subtle. Got it. –Sam
I'll be your boots on the ground, sir. –First Lt. Torres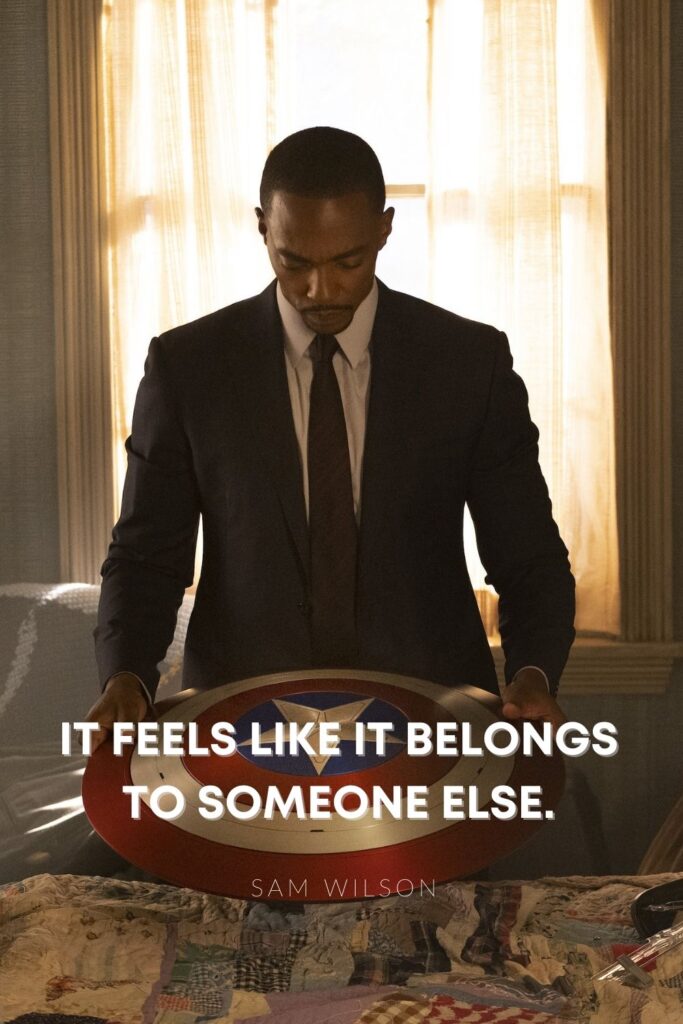 They've already hijacked the plane. –Sam
Uh, we're gonna need to call some people. –First Lt. Torres
Hey, stop his flopping. He's like a fish, right? Maybe we should gut him here. [in French] –Georges Batroc
Redwing, get him off our a**. –Sam
Head's up! You're about to fly into Libyan airspace. –First Lt. Torres
And I assume they have a problem with that? –Sam
Uh, yeah a big problem, a big problem. –First Lt. Torres
Sam, we gotta call it off, we gotta find another way! –First Lt. Torres
I just did. –Sam
Could you not? I've been working with the airforce for 6 months now. Every time ops touches something, it gets all glitchy. –Sam
Well, you know, those poor techs can't keep up with a billion returning IP addresses and your sick-ass Stark-level tech. –First Lt. Torres
These are the guys you gotta worry about. I've been stumbling onto their manifestos on message boards. They call themselves the Flag Smashers. –Torres
Is that a new thing? Bad guys give themselves bad names? –Sam
There's a lot worse names than that one. Basically, they think that the world was better during The Blip. Trust me, it wasn't. –Torres
Trust me. Every time something gets better for one group, it gets worse for another. –Sam
Yeah. Essentially, these people, they want a world that's unified without borders. So you can see why a lot of people are into that. –Torres
Yeah, but keep an eye on it. If anything gets serious, you let me know. –Sam
I do gotta ask you though, 'cause online there's just been a lot of stuff about Steve, actually. Um, crazy, crazy conspiracy theories. So, some people…Some people, they think that he's in a secret base on the moon looking down over us. –Torres
Yeah, well I can assure you, those people, you don't have to take seriously. –Sam
But you'd, like… fly him to the moon? –Torres
Nah. –Sam
Had to check. –Torres
So where are you off to? –Torres
Washington. –Sam
What are you doin' there? –Torres
Moon stuff. –Sam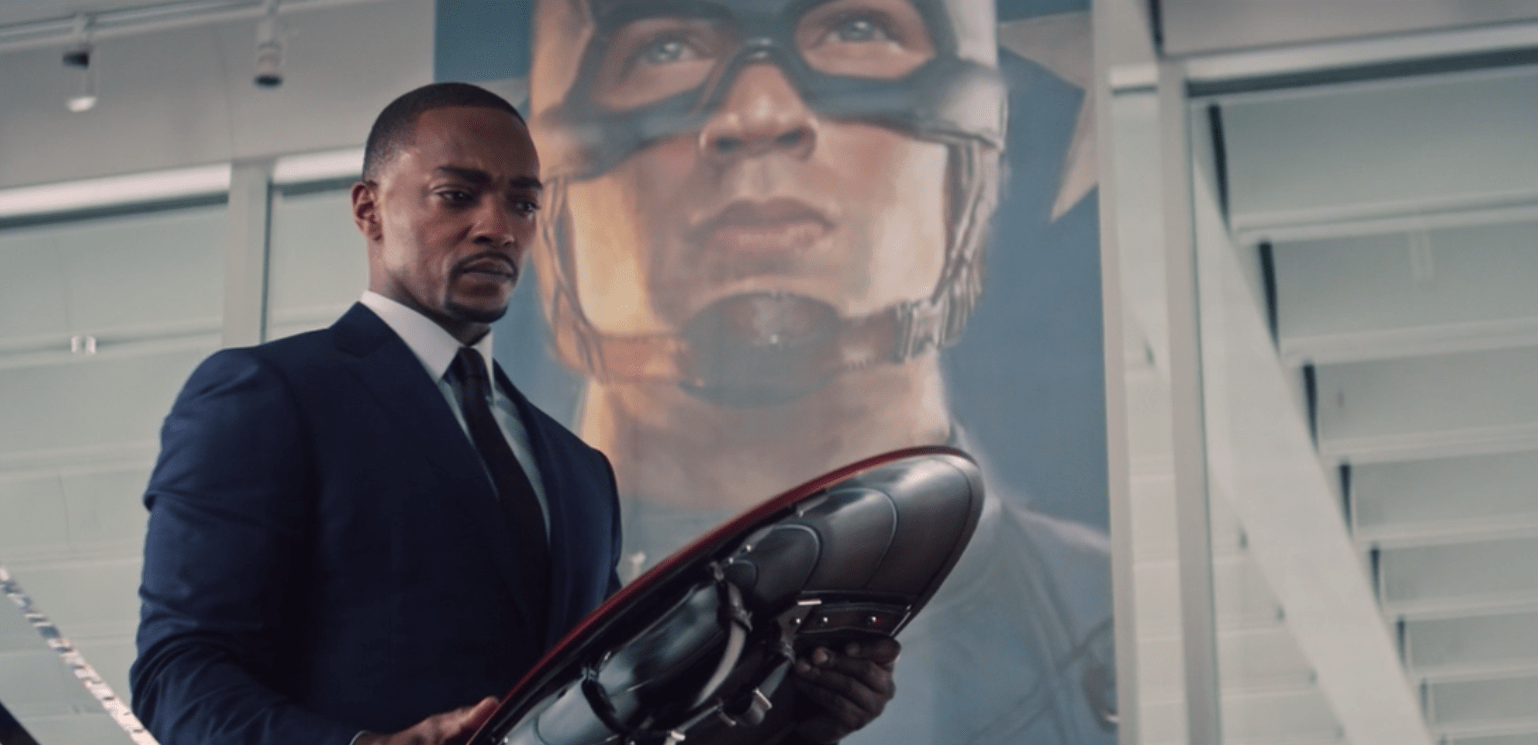 Steve represented the best in all of us. Courageous, righteous, hopeful. And he mastered posing stoically. The world has been forever changed…We need new heroes. Ones suited for the time we're in. –Sam
Symbols are nothing without the women and men that give them meaning. –Sam
And this thing…I don't know if there's ever been a greater symbol. But it's more about the man who propped it up, and he's gone. So today we honor Steve's legacy. But we also look to the future. So, Thank you, Captain America. This belongs to you. –Sam
So are you going to make me ask? Why didn't you take up the mantle? –James Rhodes
When Steve first told me about the shield, the first words I said were, "It feels like it belongs to someone else." That someone else is Steve. –Sam
World's a crazy place right now. People are…well, nobody's stable. Allies are now enemies. Alliances are all torn apart. The world's broken. Everybody's just looking for somebody to fix it. –Rhodes
Yeah. –Sam
It's a new day, brother. I'll be in touch. –Rhodes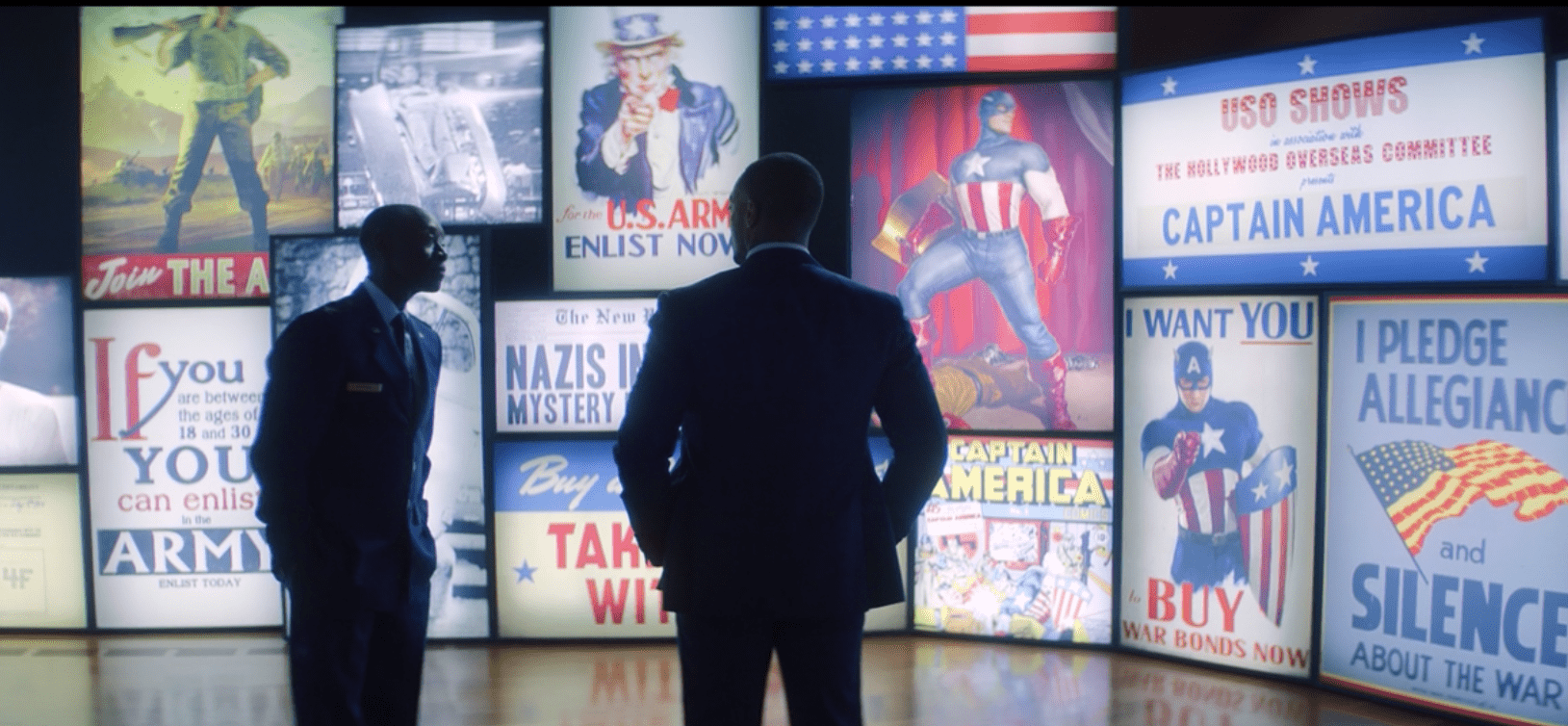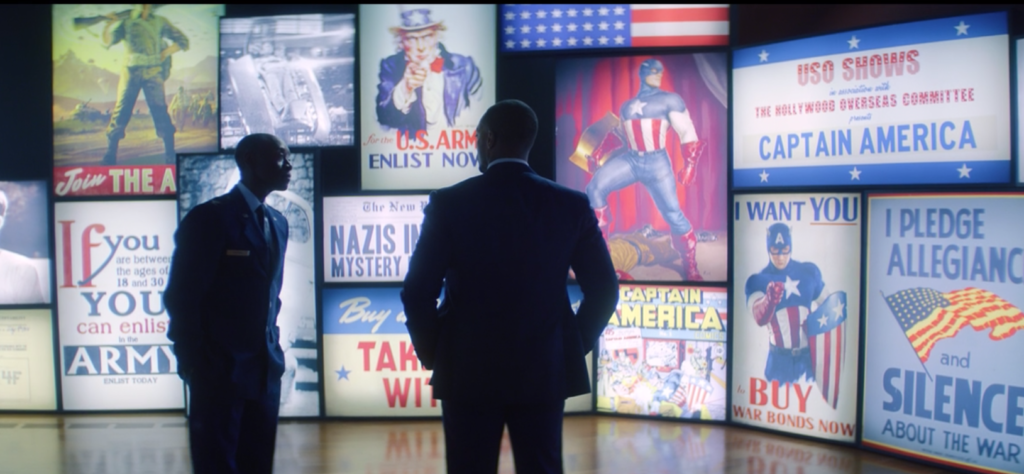 Hail HDYRA. –The Winter Soldier
Mr, Barnes., are you still having nightmares? James, I asked you a question. Are you still having nightmares? –Dr. Raynor
No. –Bucky
We've been doing this long enough I can tell when you're lying. You seem a little off today. Did something happen recently? –Dr. Raynor
No. –Bucky
You're a civilian now. With your history, the government needs to know that you're not gonna…It's a condition of your pardon. So, tell me about your recent nightmare. –Dr. Raynor
I didn't have a nightmare. –Bucky
Oh, come on. Really? You're gonna do the notebook thing? Why. It's passive-aggressive. –Bucky
You don't talk, I write. –Dr. Raynor
Okay. Okay. I crossed a name off the list of my amends yesterday. Don't worry. I used all your three rules. Senator Atwood. She was a HYDRA pawn for years. Helped her get into office when I was the Winter Soldier. And after HYDRA disbanded, she continued to abuse the power I gave her. –Bucky
So, rule number one, you can't do anything illegal. –Dr. Raynor
All I did was give some intel to the aide to convict her. And I wasn't involved in anything else. –Bucky
Rule number two?–Dr. Raynor
What was rule number two? –Bucky
Nobody gets hurt. It's a big one. –Dr. Raynor
Then why isn't it rule number one? I didn't hurt anybody. I promise. –Bucky
And what about rule number three? The whole point of making amends is to fulfill rule number three. –Dr. Raynor
You know, you're a cynic, Doc. Of course, I completed rule number three. I am no longer the Winter Soldier. I am James Bucky Barnes…and you're part of my efforts to make amends. –Bucky
So you did it all right, but it didn't help with the nightmares. –Dr. Raynor
Well, like I said, I didn't have any. –Bucky
Look…one day, you're gonna have to open up and understand that some people really do want to help you and that they can be trusted. –Dr. Raynor
I trust people. –Bucky
Yeah? Give me your phone. You don't have 10 phone numbers in this thing. Oh, and you've been ignoring the texts from Sam. Look, you've gotta nurture friendships. I am the only person you have called all week. That is so sad. You're alone. You're a hundred years old. You have no history, no family… –Dr. Raynor
Are you lashing out at me, Doc? Because that's really unprofessional, you know? When did that start? Yelling at your clients? The notebook. That's great. All right, give me a great. I'm trying, okay? This isn't…This is new for me. I didn't have a moment to deal with anything, you know? I had a little calm in Wakanda. And other than that, I just went from one fight to another for 90 years. –Bucky
So now that you've stopped fighting, what do you want? –Dr. Raynor
Peace. –Bucky
That is utter bullshit. –Dr. Raynor
You're a terrible shrink. –Bucky
I was an excellent soldier, so I saw a lot of dead bodies, and I know how that can shut you down. And if you are alone, that is the quietest, most personal hell. And, James, it is very hard to escape. Look, I know that you have been through a lot, but you've got your mind back, you are being pardoned. I mean, these are good things. You're free. –Dr. Raynor
To do what? –Bucky
Nobody made it past 90 this week. –Yori
So young, such a shame. –Bucky
There's a dance to these things. You can't…you gotta warm-up and I haven't danced since 1943…it feels like. –Bucky
Have you dated much since half the fish in the sea came back? –Leah
Not really. I, um, tried the whole online dating thing. It's pretty crazy. A lot of weird pictures. –Bucky
What kind of weird? –Leah
I mean, tiger photos? Half the time I don't even know what I'm looking at. It's…It's a lot. –Bucky
You sound like my dad. –Leah
Mmmm. –Bucky
Wait, how old are you? –Leah
A hundred and six. –Bucky
What's up with your gloves? –Leah
I, um, have, um, poor circulation. –Bucky
What are you doing? –Bucky
I'm reading your mind. –Leah
Please don't. –Bucky
B-8, sucker. –Leah
Uh, hit. –Bucky
Drink. Come on, Drink! –Leah
All right. Okay. –Bucky
Wow. You really can drink. –Leah
Yeah, well… –Bucky
Do you have any siblings? –Leah
I have a sister. F-4. –Bucky
Miss. Drink. Are you close with your parents? –Leah
I was. They passed away. Um, D-5. –Bucky
I'm sorry. Um, miss. I think it's really sweet you're spending time with Yori. It's been hard for him since his son died. I think not knowing how it happened is the hardest part for him. It really messed him up. You know you call a guy whose wife died a widower. Or if your parents die, you're an orphan. You know, there's no word for someone whose kids die. Because it's the worst thing that could happen. –Leah
There's no such thing as on time. You're either early or late. Pick one. –Sam


Sorry, I keep thinking. Did you use to play for LSU? Do I know you from somewhere? –Loan Officer
I don't know. Do you? –Sam
I do, but where? –Loan Officer
Come on. –Sam
I knew it. Falcon! –Loan Officer
Yeah! –Sam
Yes! Yes! Man! Oh… –Loan Officer
I didn't want to say anything. You know… –Sam
I always wanted to be an Avenger. –Loan Officer
Oh, man, it's a dream come true, you know? –Sam
That's amazing. –Loan Officer
Like, keeping my family's business afloat by changin' to a fishin' and charter model. –Sam
I've always wondered…how do you guys make a living? –Loan Officer
Those guys or the guy sitting in front of you tryin' to get a loan? –Sarah
Both. –Loan Officer
I mean, your financials are all over the place. Is there some kind of fund for heroes? Or did Stark pay you when he was around? My condolences, by the way. –Loan Officer
Thank you, but no, it doesn't really work like that. There's a tremendous amount of goodwill, and because of that people are inclined to help, which applies to the business. –Sam
Yeah, right. But were you living off of goodwill this whole time? –Loan Officer
I don't get what you're going for here? Are you trying to help us or indict us? –Sarah
You have no income over the last 5 years. –Loan Officer
How can you have income if you don't exist? –Sarah
Sarah. –Sam
Uh, I've been gone like several billion other people. But, if you look at our plan, I have government contracts, so that's proof of earnings. And I know for a fact that we qualify for a SBA loan. –Sam
Under the old terms, sure. But these days, what, with everyone just showing up, well, things tightened up. –Loan Officer
Funny things always tighten around us. –Sarah
Whoa, easy there. Look, I'm on your side. After all, he's a hero. Is there any chance, and you could say no, that I could get a selfie with your arms out? –Loan Officer
Are you serious? –Sam
Mr. Wilson, Mrs. Wilson… –Loan Officer
Ms. Wilson. I'm a widow. –Sarah
Ms. Wilson. I know your family has banked with us for generations, but we cannot approve you. I'm truly sorry. –Loan Officer
That's what life is, dealing with things. –Sam
You had to go off and fight armies and monsters. –Sarah
So this is the leader of the Flag Smashers, huh? –Sam
Yeah, real nice guy. –Torres
I thought you were supposed to be monitoring them online? –Sam
I was. I did. But you know, sometimes you gotta get your hands dirty, or a broken orbital. –Torres
You're lucky that's all you got. He's strong. –Sam
He was. I mean, bro, they went dark as soon as it was all over. But that's their M. O. We gotta keep our eyes and ears to the ground till they pop up again. –Torres
Anything else happen outside the video? –Sam
No, man. My face was in the dirt before I knew what was happening. Why what are you thinking? –Torres
Nothin'. –Sam
Wait, you don't think he could be a…–Torres
Look, I'll circle back to you. Let's keep this between me and you, okay? –Sam
Unrest, in the wake of recent events, has left us vulnerable. Every day Americans feel it. While we live heroes who put their lives on the line to defend Earth, we also need a hero to defend this country. We need a real person who embodies America's greatest values. We need someone to inspire us again, someone who can be a symbol for all of us. So, on behalf of the Department of Defense and our Commander-in-Chief, it is with great honor that we announce here today that the United States of America has a new hero. Join me in welcoming your new Captain America. –Government Official

Best Quotes from "The Falcon and The Winter Soldier" S1 E2: Star-Spangled Man
(March 26, 2021)
Everybody in the world expects me to be something. And I don't wanna fail them. –John Walker
And that's where you failed drama class –Hoskins
I just want to do the job. –John Walker
This is the job, John. –Hoskins
Listen, this suit comes with expectations. –Hoskins
It's the greatest honor of my life. –John Walker
What I do have, is guts. –John Walker
I have big shoes to fill. –John Walker
Shouldn't have given up the shield. –Bucky
You think it didn't break my heart to see them march him out there and call him the new Captain America? –Sam
This isn't what Steve wanted. –Bucky
So what, you want me to call America and tell 'em I changed my mind? Great reunion, Buddy, be well.–Sam
You had no right to give up the shield, Sam. –Bucky
Hey. This is not what you're gonna do. You're not gonna come here in your overextended life and tell me about my rights. It's over, Bucky. –Sam
Besides, I have bigger things to deal with. –Sam
What could be bigger than this? –Bucky
This guy. His connections with rebel organizations all over Eastern and Central Europe, and he's strong. Too strong. –Sam
And? –Bucky
Well, he's been connected to this online group called the Flag Smashers. Now Redwing traced them to a building somewhere outside of Munich. So that's where I'm going.–Sam
Well, I don't trust Redwing.–Bucky
You don't have to trust Redwing. But Imma go see if he's right. 'Cause I have a feeling they might be one of the big three. –Sam
What "Big Three?"–Bucky
Androids, aliens, and wizards. –Sam
That's not a thing. –Bucky
Every time we fight, we fight one of the three. –Sam
Who are you fighting now, Gandalf? –Bucky
How do you know about Gandalf? –Sam
I read The Hobbit in 1937 when it came out. –Bucky
So you see my point?–Sam
No, I don't. There are no wizards. –Bucky
Doctor Strange. –Sam
Is a sorcerer. –Bucky
Aah! A sorcerer is a wizard without a hat. Think about it, right? –Sam
But that's not the point. These guys aren't magical. They use brute force just like you, the incredibly annoying guy in front of me with the staring problem. –Sam
So what's our plan? Great, so no plan. –Bucky
Enjoy your ride, Buck. –Sam
No, you can't call me that. –Bucky
Why not? Steve did? –Sam
Because Steve knew me longer and Steve had a plan. –Bucky
And I have a plan. –Sam
15 seconds to drop. –Sam
So what's our plan? –Bucky
I have all of that on camera. –Sam
Get out of my face, Sam. Or I'll break it. –Bucky
I see a clear path, I'll take it. –Bucky
We're not assassins. –Sam
I'll see you inside. –Bucky
I was kidding! –Sam
That one time you go to Wakanda and you come out the White Panther. –Sam
It was actually White Wolf. –Bucky
Good of you to join the fight, Sam! –Bucky
That little girl kicked your ass. –Sam
Those were all super-soldiers, Sam. –Bucky
I know. You're welcome, by the way. –Sam
Sorry about Redwing. –Bucky
No, you're not. –Sam
What's going on in that big cyborg brain of yours? –Sam
We need to figure out where the super serum is coming from after 80 years. –Bucky
I'm not trying to be Steve, I'm just trying to be the best Captain America I can be. –John Walker
We're not playing anymore. We can't let the same a$$holes who were put back in power after The Blip win. –Karli
I need to know that you're committed. After tomorrow, there's no going back. –Karli
Let's take the shield and do this ourselves. –Bucky
Do you remember what happened the last time we stole it? Let me help you remember. Sharon was branded enemy of the state, and Steve and I were on the run for 2 years. –Sam
There is someone that you should meet. –Bucky
We're here to see Isaiah. –Bucky
If by met you, you mean a whupped your ass, then yeah. –Isaiah
I just wanted to see if he's gotten the arm back, or if he'd come to kill me. –Isaiah
I'm not a killer anymore. –Bucky
The reason we're here is because there's more of you and me out there and I need to know how. –Bucky
I get why you want me to talk to Freaky Magoo over here, but I'm 100% fine. –Sam
You leave me no choice. It's time for the soul gazing exercise? –Dr. Raynor
Face each other, get close. A little closer. You need to look at each other in the eyes. –Dr. Raynor
There, see? That wasn't so hard. Okay, what are you doing? Are you having a staring contest? Just blink. Sweet Jesus. –Dr. Raynor
James, why does Sam aggravate you? And don't say something childish –Dr. Raynor
Steve believed in you. It was his legacy and you threw it away like it was nothing. –Bucky
Maybe this is something you or Steve will never understand, but can you accept that I did what I thought was right? –Sam
Thanks, Doc for making it weird I feel much better. –Sam
I know that look, what's wrong. –Dr. Raynor
What was rule Number Two again? –Bucky
Don't hurt anyone. –Dr. Raynor
Goodbye Doc. –Bucky
Well, I feel better. –Sam
I feel awful. –Bucky
So you're just going to go sit in a room with Zemo? –Sam
Yes. –Bucky
Okay. we're going to go see Zemo. –Sam

Best Quotes from "The Falcon and The Winter Soldier" S1 E3: Power Broker
(April 2, 2021)
Do you know who I am?! –John Walker
Yes, I do. And I don't care. –German cafe owner
I'm gonna go in alone. Cuz you're an Avenger. You know how he feels about that. –Bucky
Look, it's not like you two were known for frolickin' in the sun together. –Sam
He was obsessed with HYDRA. We have a history together. Trust me. I got it. –Bucky
Longing. Rusted. Seventeen. –Baron Helmut Zemo
Those days are over. –Bucky
I know, I just wanted to see how the new you reacts to the old words. Something is still in there. At least you weren't conscious for much of your imprisonment. –Baron Helmut Zemo
That time wasn't exactly a picnic. –Bucky
For what it's worth, I'm sorry. It was never personal. You were simply a means to a necessary end. –Baron Helmut Zemo
Someone recreated the super-soldier serum. I need to find out who. –Bucky
You are assuming HYDRA has something to do with this, which is why you came to me, which means you are desperate. Lucky for you, I know where to begin. –Baron Helmut Zemo
What are you talking about you want to break Zemo out of jail? Where the hell are we? Buck, have you lost your mind? –Sam
We have no leads, no mobes, no nothing. –Bucky
What we have is one of the most dangerous men in the world behind bars. –Sam
And we also have 8 super soldiers that are loose. –Bucky
Zemo is gonna mess with our minds, especially yours, no offense. –Sam
Offense. Super soldiers go against everything he believes in. He is crazy, but he still has a code. –Bucky
I've been on the wrong side of the code Buck and so have you. He blew up the UN, he killed King T'Chaka, and framed you for it. Did you forget that? You think the Wakandans forgot about it? It's a rhetorical question. They didn't. I know why this matters to you but come on it's pushing you off the deep end. –Sam
Sam, we don't know how they're getting the serum. We don't even know how many of them there are. Look, let me just walk you through a hypothetical. Can I walk you through a hypothetical? –Bucky
What did you do? –Sam
I didn't do anything. –Bucky
What's the book you're reading? –Bucky
Machiavelli. –Zemo
The weakest point in any system isn't the software, the hardware, it's the meatware. The human element. Now, in this lock-up, it's 9:1, prisoners to guards. And if 2 prisoners start fighting, then the protocol says 4 guards have to respond. –Bucky
So why would 2 prisoners randomly start fighting at that moment? –Sam
Who knows? There could be many reasons…But the point is, these things escalate. Lockdown procedures would have to initiates, and with all those bodies flying around left and right, wouldn't be hard to slip down a hallway or two. And if a fire alarm got tripped while the prisoners were being separated…someone could use the chaos to their advantage. –Bucky
I don't like how casual you're being about this. This is unnatural, Are you…and where are we, man? Whoa. Whoa, Whoa. –Sam
No, listen. –Bucky
What are you doin' here? –Sam
I didn't want to tell you 'cause I knew you wouldn't let this happen, okay? –Bucky
What did you do? –Sam
We need him, Sam. –Bucky
You're going back to prison! –Sam
If I may… –Zemo
NO! –Bucky and Sam
Apologies. –Zemo
When Steve refused to sign the Sokovia Accords, you backed him. You broke the law and you stuck your neck out for me. I'm asking you to do it again. –Bucky
I really think I'm invaluable. –Zemo
Shut up. Okay. If we do this, you don't make a move without our permission. –Sam
Fair. –Zemo
Okay, Zemo, where do we start? –Sam
So our first move is Grand Theft Auto? –Sam
These are mine. Collected by family over the generations. I spent years hunting people HYDRA recruited to recreate the serum. Because once it's out there, someone can create an army of people…like the Avengers. I ended the Winter Soldier program once before. I have no intention to leave my work unfinished To do this, we'll have to scale a ladder of lowlifes. –Zemo
Well, join the party, we've already started. –Sam
First stop is a woman named Selby. Mid-level fence I still have a line on. From there, we climb. –Zemo
So all this time you've been rich? –Sam
I'm a Baron, Sam. My family was royalty until your friends destroyed my country. –Zemo
You don't know what it's like to be locked in a cell. Oh. That's right. You do. –Zemo
Why don't you tell us about where we're going. –Sam
I'm sorry. I was just fascinated by this. I don't know what to call it, but this part seems important. Who is Nakajima? –Zemo
If you touch that again, I'll kill you. –Bucky
I'm sorry. I understand that list of names. People you've wronged as the Winter Soldier. –Zemo
Don't push it. –Bucky
I've seen that book. It was Steve's when he came out of the ice. I told him about Trouble Man. He wrote it in that book. You hear it? What'd you think? –Sam
I like 40's music, so… –Bucky
You didn't like it?! –Sam
I liked it. –Bucky
It is a masterpiece, James. Complete. Comprehensive. It captures the African-American experience. –Zemo
He's out of line, but he's right. It's great. Everybody loves Marvin Gaye. –Sam
I love Marvin Gaye. –Bucky
Steve adored Marvin Gaye. –Sam
You must have really looked up to Steve, huh? But I realized something when I met him. The danger with people like him, America's Super Soldiers, is that we put them on pedestals. –Zemo
Watch your step Zemo. –Sam
They become symbols. Icons. And then we start to forget about their flaws. From there, cities fly, innocent people die. Movements are formed, wars are fought. You remember that right? As a young soldier sent to Germany to stop a mad icon. Do we want to live in a world full of people like the Red Skull? That is why we are going to Madripoor. –Zemo
What's up with Madripoor? You guys talk about it like it's a Skull Island. –Sam
It's an island nation in the Indonesian archipelago. It was a private sanctuary back in the 1800s. –Bucky
It's kept its lawless ways. But we cannot exactly walk in as ourselves. James, you will have to become someone you claim is gone. –Zemo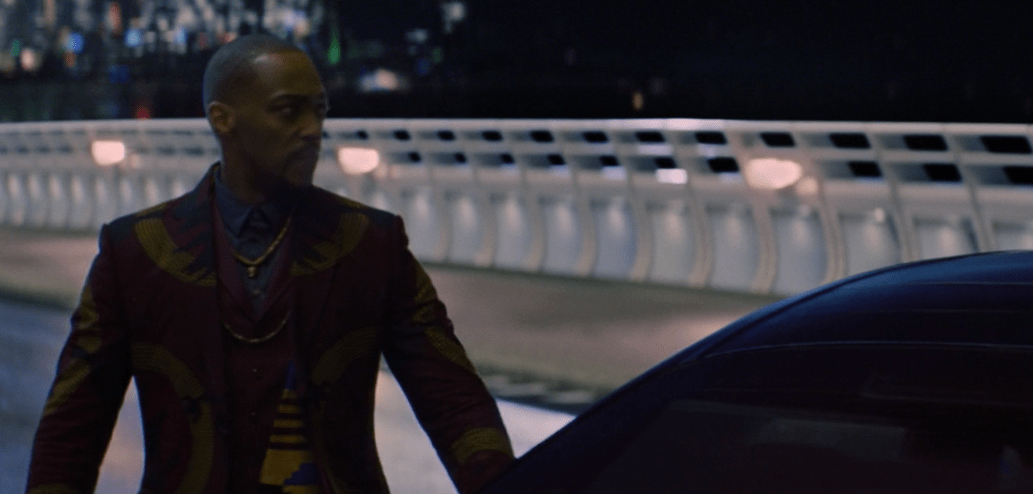 We have to do something about this. I'm the only one who looks like a pimp. –Sam
Only an American would assume a fashion-forward Black man looks like a pimp. You look exactly like the man you're supposed to be playing. The sophisticated, charming African rake named Conrad Mack, aka the Smiling Tiger. –Zemo
He even has a bad nickname. Hell, he does look like me though. –Sam
Let me guess. We don't have any friends in Hightown. –Sam
Hello, gentlemen. Wasn't expecting you, Smiling Tiger. –Bartender
His plans changed. We have business to do with Selby. –Zemo
Smiling Tiger, your favorite. –Zemo
I love these. –Sam
Cheers, Conrad. –Zemo
I got word from on high. You ain't welcome here. –Bouncer
I have no business with the Power Broker, but if he insists, he can either come and talk to me…or bring Selby for a chat. –Zemo
A Power Broker, really? –Bucky
Every kingdom needs its king. Let's just pray we stay under his radar. –Zemo
Do you know him? –Sam
Only by reputation. In Madripoor he is judge, jury, and executioner. –Zemo
You should know, Baron. People don't just come into my bar making demands. –Selby
Not a demand, an offer. –Zemo
A lot has changed since you were here last. By the way, I thought you were rotting away in a German prison. How did you escape? –Selby
People like us always find a way, don't we? I'm sure you've already figured out what I'm here for. –Zemo
You're taller than I'd heard, Smiling Tiger. What's the offer? –Selby
Tell us what you know about the super-soldier serum. And I give you him, along with the code words to control him, of course. He will do anything you want. –Zemo
Now that's the Zemo I remember. I'm glad I decided not to kill you immediately. Yeah, you were right to come to me. Arrogant, but right. The super-soldier serum is here in Madripoor. Dr. Wilfred Magel is the man you wanna thank. Or…condemn, depending on what side of this you're on. The Power Broker had him working on the serum, but…things didn't go as planned. –Selby
Is Nagel still in Madripoor? –Zemo
Oh. The breadcrumbs you can have for free, but the bakery is gonna cost you, Baron. And before you get all cute, don't think you can find Nagel without me. –Selby
We have a real problem now, so leave your weapons and follow my lead. This is not good. –Zemo
I can't run in these heels! –Sam
You seem to have a guardian angel. –Zemo
Well, this is too perfect. Drop it Zemo. –Sharon Carter
Sharon? –Bucky
You cost me everything. –Sharon Carter
Sharon, wait. Someone recreated the super-soldier serum and Zemo had a lead. –Sam
That explains why you guys are here, and Selby's dead. –Sharon Carter
So what are you doing here? –Bucky
I stole Steve's shield, remember? I also took the wings for your ass, so that you could save his ass, from his ass, and I didn't have the Avengers to back me up. So I'm off the grid in Madripoor. –Sharon Carter
Don't blow smoke. I was on the run, too. –Sam
Was. Is. Big difference. I don't speak to my family or anyone. I can't. My own father doesn't know where I am. –Sharon Carter
Listen…Sharon, we need your help. Please. –Bucky
This isn't over. I have a place in Hightown. You'll be safe there. –Sharon Carter
I thought if I had to hustle, I might as well enjoy the life of a real hustler. You know how much I can get for a real Monet? –Sharon Carter
Easy, deactivate your hustler mode. You sell fake Monets. –Sam
No, she means real. This gallery is specialized in stolen artwork. Monet. Van Gogh, Classics. –Zemo
It's true. You know, half the artwork in museums like the Louvre is fake. Real stuff sits in places like this. –Bucky
Okay, guys, I see what you're doing. You're more worldly than good old Sam. –Sam
Yeah, What's Google say? –Bucky
No sh!t! –Sam
Come on, you guys need to change. I'm hosting clients in an hour. –Sharon
What's going on, Sharon? You don't ever wanna come back home? –Sam
They'll lock me up if I set foot back in the States. Madripoor doesn't allow extradition. –Sharon
Look, I'm sorry I didn't call, but after The Blip and the chaos, I just… –Sam
Look, you know that whole hero thing is a joke, right? I mean, the way you gave you that shield, deep down, you must know it's all hypocrisy. –Sharon
He knows. And not so deep down. –Zemo
By the way, how is the new Cap? –Sharon
Don't get me started. –Bucky
Please. You buy into all that stars and stripes bullsh!t. Before you were his pet psychopath, you were Mr. America, Cap's best friend. –Sharon
Wow, she's kind of awful now. –Bucky
Karli Morgenthau and at least 7 others have taken the serum. –Sam
You guys really should steer clear of all of this for your own safety. –Sharon
We know it's a risk, but we're not gonna leave until we find the person who cracked the code. –Sam
We got a name. Wilfred Nagel. –Bucky
Nagel works for the Power Broker. –Sharon
We need your help, Sharon. I can get your name cleared. –Sam
You haggling with my life? –Sharon
Not like that. –Sam
I don't buy that. You pretending like you can clear my name. –Sharon
Okay, maybe it is hypocrisy. Maybe you're right. What happened to you. But I'm willing to try if you are. They learned the bionic staring machine, and he killed almost everybody he's met. –Sam
I heard that. –Bucky
I don't trust charity. –Sharon
Alright, a deal then. You help us out, and I get your name cleared. –Sam
Well, I sell to some pretty connected people. Lay low, blend in, enjoy the party. Try to stay outta trouble. I'll see what I can find. –Sharon
Trouble. –Zemo
You're not gonna move your seat up, are you? –Sam
No. –Bucky
That shield represents a lot of things to a lot of people. –Bucky
You dropped something. I was wondering when you were going to show up. –Bucky
I'm here for Zemo. –Ayo
Best Quotes from "The Falcon and The Winter Soldier" S1 E4: The Whole World is Watching
(April 9, 2021)
It is time. –Ayo
You sure about this? –Bucky
I won't let you hurt anymore. –Ayo
Longing. Rusted. Seventeen. –Ayo
It's not gonna work. –Bucky
Daybreak. Furnace. Nine. Benign. Homecoming. One. Freight Car. You are free. You are free. –Ayo
How could you free him? –Ayo
We need his help. –Bucky
With time, will, and the resources, the Winter Soldier programming was removed from you like a rotten fur. –Ayo
And I'm grateful for that. I'm grateful for everything you and Shuri have done… –Bucky
Zemo murdered our King T'Chaka at the U.N. The man who chose us. Who chose me to protect him. –Ayo
I understand. –Bucky
Very little, if anything, of our loss and our shame. –Ayo
He's a means to an end. –Bucky
Eight hours, White Wolf. Then we come for him. –Ayo
Well, the Wakandans are here. They want Zemo. Bought us some more time. –Bucky
Were you followed? –Sam
No. –Bucky
How can you be so sure? –Zemo
'Cause I know when I'm being followed. –Bucky
It was sweet of you to defend me at least. –Zemo
Hey, you shut it. No one's defending you. You killed Nagel. –Sam
Do we really have to litigate what may or may not have happened? –Zemo
There's nothing to litigate. You straight shot the man. –Sam
Hey Sam. Karli bombed a GRC supply depot. –Bucky
What? What's the damage? –Sam
Eleven injured, three dead. They have a list of demands and are promising more attacks if those demands aren't met in full. –Bucky
She's getting worse. I have the will to complete this mission. Do the two of you?. –Zemo
She's just a kid. –Sam
You see something in that isn't there. You're clouded by it. She's a supremacist. The very concept of a Super Soldier will always trouble people. It's that warped aspiration that led to Nazis, to Ultron, to the Avengers. –Zemo
You're talking about our friends. –Sam
The Avengers, not the Nazis. –Bucky
So Karli is radicalized, but there has to be a peaceful way to stop her. –Sam
The desire to become a superhuman cannot be separated from supremacist ideals. Anyone with that serum is inherently on that path. She will not stop. She will escalate until you kill her. Or she kills you. –Zemo
Maybe you're wrong, Zemo. The serum never corrupted Steve. –Bucky
Touché. But there has never been another Steve Rogers, has there? –Zemo
Well, maybe we should give him to the Wakandans right now. –Bucky
And you'll give up your tour guide? –Zemo
Yes. –Bucky
From my understanding, Donya is like a pillar of the community, right? When I was a kid, my TT passed away. –Sam
Your TT? –Bucky
Yeah, my TT, yeah. –Sam
Who is your TT? –Bucky
Fine, when I was a kid, my aunt passed away and the entire neighborhood got together for a ceremony. It was like a week long. Maybe they're doing the same thing for Donya. –Sam
Worth a shot. –Bucky
Your TT would be proud of you. Turkish Delight. Irresistible. –Zemo
Shame what's become of this place. When I was young, we used to come here for fabulous dinners and parties. I knew nothing of the politics of the time, of course, but I remember it being beautiful. –Zemo
We're not refugees. We have nothing to seek refuge from. We are internationally displaced persons, for what it's worth, and we don't trust outsiders. -IDP in Riga camp
Turkish delight. It was always my son's favorite. –Zemo
No one's talking about Donya. –Bucky
That's because Karli is the only one fighting for them. And she's not wrong. –Sam
What do you mean? –Bucky
For 5 years, people have been welcomes into countries that have kept them out using barbed wire. There were houses and jobs. Folks were happy to have people around to helo them rebuild. It wasn't just one community coming together, it was the entire world coming together. And then, boom. Just like that, it goes right back to the way it used to be. To them, at least Karli's doin' somethin'. –Sam
You really think her ends justify her means? Then, she's no different than him or anybody else we've fought. –Bucky
She's different. She's not motivated by the same things. –Sam
That little girl. What's she tell you? –Bucky
The funeral is this afternoon. –Zemo
You know the Dora's coming for you any minute. In fact, they're probably lurking outside right now. Keep talking. –Bucky
Leaving you to turn on me once we get to Karli. Hmm. I prefer to keep my leverage. –Zemo
You wanna see what someone can do with leverage? –Bucky
Take it easy. Don't engage him. He's just gonna extort you and do that stupid head tilt thing. Let me make a call. –Sam
Want some cherry blossom tea? –Zemo
No, you go ahead. –Bucky
Well, as nice as it is to hear a friendly voice, I can't help but feel a favor coming on. –Sharon
We found the camp. But no one here is tellin' us shit. Zemo found out the funeral's later today, but he's holdin' us hostage with the information. –Sam
And that surprises you? So you don't want to so into this blind. –Sharon
Sharon, listen, I know I owe you already, but we could use a trustworthy set of eyes on the camp. You got any more tricks in your bag? –Sam
I may or may not have access to a satellite or two. Let me see what I can do. –Sharon
Thank you. –Sam
Hey, Sam, you gotta play this out. If Karli disappears, we're not gonna find that serum until it's too late. The Power Broker went apeshit when he heard about Nagel. He wants the serum back. You killed the golden goose. Madrippor's about to get real nasty. –Sharon
I'm sorry. –Sam
Don't apologize. Just find Karli. –Sharon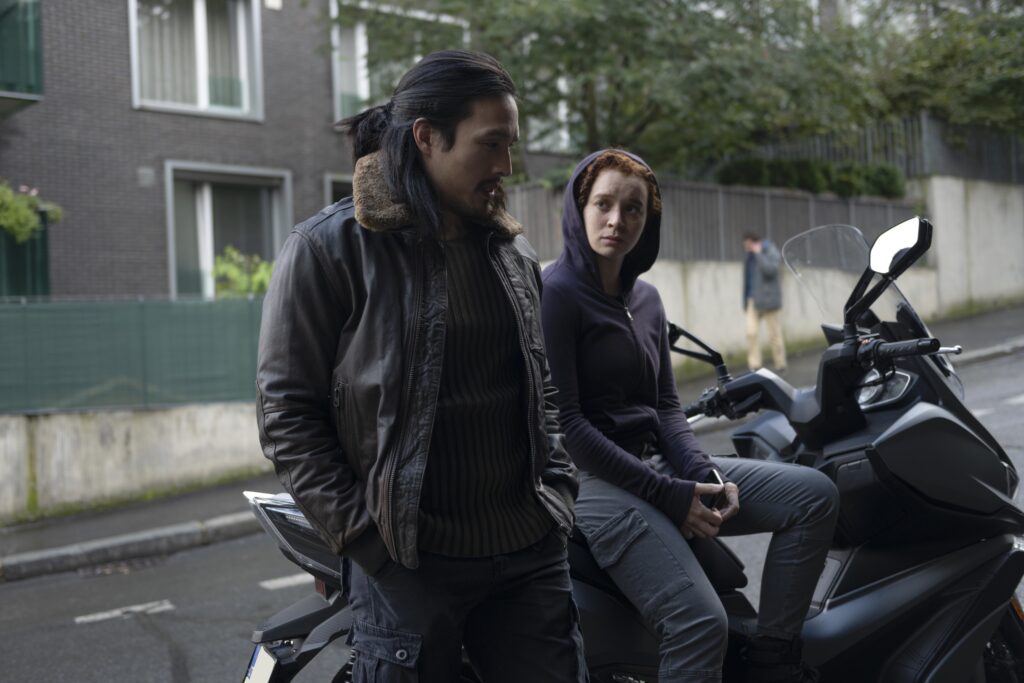 Do you think I'm making a mistake making more of us? –Karli
My grandfather, Lukasz, he was a WWII resistance fighter. He always used to tell me, "If you're doing somethin', and it makes you scared, it's probably because it's the right thing." And he fought Nazis, so... –Super Soldier
Seems like good advice. –Karli
You know, when I was a kid, I was actually a Captain America fan. –Super Soldier
I don't know if I should tease you about that yet or not. –Karli
He made me believe there were decent people in this world. I didn't think there could be another Captain America until I met you. You know, back then, there was just good and bad, but the world's more complicated now. People are lost. They need a leader who looks like them, who understands their pain. Someone who understands that today's heroes don't have the luxury of keeping their hands clean. What we're doing will outlive the legacy of that shield. –Super Soldier
That shield is a monument to a bygone era. A reminder of all the people history just left out. If anything, that shield should be destroyed. –Karli
This serum is how we make change. –Karli
Karli Morgenthau is too dangerous for you guys to be pulling this shit. –Walker
Ah! How'd you find us now? –Bucky
Come on. You really think two Avengers can walk around Latvia without drawing attention? –Hoskins
No more keeping us in the dark. You can start by telling us why you broke him out of prison. –Walker
He did that himself, technically. –Bucky
This better be an unbelievable explana… –Walker
Take it easy before it gets weird. –Sam
I know where Karli is. –Zemo
Well, where? –Walker
All we know is, it's a memorial. So we're going to intercept her there. –Sam
That means civilians. High risk of casualties. –Hoskins
All right, good, we'll move in fast. Take her by surprise. –Walker
No, I wanna talk to her alone. –Sam
I'm not losing her again. –Walker
Look, the person closest to her died, she's vulnerable. If there's any time to reason with her, it's now. –Sam
What? No. Wait, no! No! Stop. Hond on. Stop, okay? I think we're way past reasoning with her, unless you forgot that she blew up a building with people still in it. –Walker
Sam, you walk in there cold, she could kill you. –Hoskins
And if I go in hot and the op goes wrong, more people will die. –Sam
Are you gonna let him do this? Are you gonna let your partner walk into a room with a Super Soldier alone? –Walker
He's dealt with worse. And he's not my partner. –Bucky
I used to counsel soldiers dealing with trauma, okay? This is right in my wheelhouse. –Sam
Yeah, I know. And I know those soldiers, which is why I know this is a bad idea. –Walker
Wait, John. If he can talk her down, it might be worth a try. –Hoskins
We'll deal with you later. –Walker
I'm sure it will all come to an agreeable conclusion. My associate is just up ahead. –Zemo
Doesn't have to be a war. –Sam
My world doesn't matter to America. So why should I care about its mascot? –Sarah
We should do something. –Sam
Looking strong, John. –Bucky
Hey, you've got 10 minutes. Then we're doing things my way. –Walker
Aggressive. But I get it. –Zemo
I don't remember my mother or my father. Same goes for siblings, grandparents, cousins. What I do remember is brin' alone. Worse than bein' hungry or cold or scared. I was alone. Until Mama Donya. Like a lot of you here, Mama Donya saved me. She clothed me, fed me, loved me. She taught me that we have to do for each other be they won't. And we know who they are. The imposed struggle and hardship on us, then labeled us as criminals for pushing back. But the struggle is what brings us all together. People who have nothin' in common. For we are, after all, simply one world and one people. So live accordingly. –Karli
I'm sorry for your loss. –Sam
Don't condescend to me, I'm not a child. –Karli
I'm not condescending, I know what it feels like to lose someone, believe me. –Sam
No, you don't. Not like this.–Karli
Doesn't have to be a war. –Sam
They started a war as soon as they kicked us out of our new homes and onto the street. People all around the world need me. Millions of them. –Karli
I can't speak for millions, but I understand you. I understand your frustration. I understand your helplessness. –Sam
So you want me to stop because people are gettin' hurt, right?. But, Sam, what if I'm makin' the world a better place? –Karli
It's not a better place if you're killin" people. It's just different. –Sam
You're either brilliant or just hopelessly optimistic. –Karli
Well, can't I be a little bit of both? –Sam
This guy I know, who knows more about Super Soldiers than anyone else on the planet, he says…you're a supremacist. –Sam
Me? –Karli
Yeah. –Sam
That's ridiculous. Everything I do is to end supremacy. These corporations and the beasts who run them, they're the supremacists. –Karli
So, let me ask you. You have more serum, right? –Sam
So? –Karli
Are you going to increase your army? You're killin' innocent people. –Sam
They're not innocent. They're roadblocks in my journey and I'd kill them again if I had to. –Karli
Wow. –Sam
No, no. I didn't mean it like that. You tricked me into sounding like… –Karli
Like what? –Sam
The people I'm fightin' are trying to take your home, Sam. Why are you here instead of stopping them? –Karli
You know, my sister's waiting for that exact same answer. I'm not your enemy. I agree with your fight. I just can't get with the way you're fighting for it. And I'm sure she wouldn't either. –Sam
No. This is a bad idea. –Walker
It hasn't been 10 minutes, John. Just sit tight. –Bucky
Don't do that. Don't patronize me. –Walker
He knows what he's doing. –Bucky
I'm goin' in. –Walker
This is all really easy for you, isn't it? all that serum runnin' through your veins. Barnes, your partner needs backup in there. Do you really want his blood on your hands? –Walker
Karli Morgenthau, yo're under arrest. –Walker
So this is what that was? –Karli
No, wait… –Sam
Tricking me until your backup arrived? –Karli
No, I think we've had enough time to talk. –Walker
Nazi. –Karli
What did we miss? –Sam
Did you find the vials? –Karli
They've been destroyed. –Super Soldier
I waited too long. You know, when we first came together, what were the chances that we'd all be assigned to the same quarter? To find people I would've never met, people I would've been taught to hate somewhere else? I thought we'd been…Chosen. But now, I just wish there were a dozen more of us to fight. –Karli
We're still stronger than they are. We started this together and that's how it'll end. Can't function with them on our heels. We have to deal with them. Including Sam Wilson. –Super Soldier
"You play revolutionary on borrowed time, little girl. I want the serum back or…I will find you, and I will end you." –Power Broker
We cannot fight two wars and win. –Super Soldier
I'll deal with the Power Broker when the time comes. And I know how to deal with Sam without a direct flight. –Karli
Yeah? How do you propose we do that? –Super Soldier
We separate them. And then we kill Captain America. –Karli
Were you ever offered it? –Zemo
What? –Sam
The serum? –Zemo
No. –Sam
If you had been, hypothetically, that is, would you have taken it? –Zemo
No. –Sam
No hesitation. That's impressive. –Zemo
Sam, you can't hold out hope for Karli. No matter what you saw in her, she's gone. And we cannot allow she and her acolytes to become yet another faction of gods amongst real people. Super Soldiers cannot be allowed to exist. –Zemo
Superheroes cannot be allowed to exist. –Zemo
So, we're partners? –Sam
Co-workers. –Bucky
Not necessarily a team. –Sam
No. –Bucky
We look damn good though. –Sam
This world is ours. There's no going back. –Karli
We can't lose this fight. If we do this… –Sam
We're going to do it our own way. –Bucky
The world's upside down right now. –Bucky
Where do we start? –Sam
Here we go again, huh? –Sharon
Check back after each episode as we update this post with new quotes.
LOOKING FOR MORE QUOTES? CHECK OUT ALL OF OUR BEST QUOTES HERE.
On your left!
"The Falcon and The Winter Soldier" is streaming on Disney+
About "The Falcon and The Winter Soldier"
Marvel Studios' "The Falcon and The Winter Soldier" stars Anthony Mackie as Sam Wilson aka The Falcon, and Sebastian Stan as Bucky Barnes aka The Winter Soldier. The pair, who came together in the final moments of Avengers: Endgame, team up on a global adventure that tests their abilities—and their patience. Directed by Kari Skogland with Malcolm Spellman serving as head writer, the series also stars Daniel Brühl as Zemo, Emily VanCamp as Sharon Carter, and Wyatt Russell as John Walker.