After putting a stop to 1963's doomsday, the Umbrella Academy return home to the present, convinced they prevented the initial apocalypse and fixed the timeline once and for all. We're here with the best quotes from "Umbrella Academy" Season 3.
Best Quotes Umbrella Academy Season 3
After a brief moment of celebration, they realize things aren't exactly (okay, not at all) how they left them. Enter the Sparrow Academy. Smart, stylish, and about as warm as a sea of icebergs, the Sparrows immediately clash with the Umbrellas in a violent dance-off that turns out to be the least of everyone's concerns. Navigating challenges, losses, and surprises of their own—and dealing with an unidentified destructive entity wreaking havoc in the Universe (something they may have caused)—now all they need to do is convince Dad's new family to help them put right what their arrival made wrong. Will they find a way back to their pre-apocalyptic lives? Or is this new world about to reveal more than just a hiccup in the timeline?
"Umbrella Academy" Best Quotes
I hate your family. –Sloane
That's fine. I'm not a super fan of yours right now. –Luther
We're you at part of that? –Sloane
Of what? –Luther
Ambushing is with Superman's grandpa? –Sloan
Sloane, my family can't decide whether or not to put mushrooms on a pizza. I have no idea who that old guy is. He just showed up. –Luther
You expect me to believe that? –Sloane
You attacked us. –Luther
I tried to warn you. –Sloane
Yeah at the last second. You almost took us out. –Luther
But we didn't. And your stupid family is fine and half of mine is dead. –Sloane
We're all we have. We have to trust each other. –Luther
You missed a spot. –Klaus
You missed a spot on your face. –Stan
Did you get in a lot of trouble when you were my age? –Stan
Truancy? Larceny? A lot of things that weren't even legal. Have you heard of Klaus' law? –Klaus
Maybe this whole new timeline is a blessing in disguise except for you. –Five
I thought you were supposed to be the fun uncle? –Stan
No, I mean I can't let you go, you're a hostage. –Luther
She said you saved her life. She never stopped thinking about you. –Harlan
We thought you'd be safer away from me. I should have stayed. –Viktor
How do we know we can trust gravity Barbie? –Allison
Do you want to talk about it? I'm a great therapist. People call me Dr. Fuego. –Diego
No one calls you that. –Allison
I'm so angry and I don't know where to put any of it. –Allison
We could go in there, get a drink, see if those people start something, and make damn sure we finish it. Or we could just go home. –Diego
I could sure use another drink. –Allison
Bring us the man who killed our siblings and this will all be over. –Ben
I guess you're essential personal. –Lila
Kugelblitz. It's an extra kinky kind of black hole. –Five
This is between me and myself, so stay out of it. –Five
Looks like freaking Indiana Jones in here. –Stan
Uncle Klaus!! –Stan
Oh great you again. –Klaus
I could tear you to atoms. –Harlan
Try it. –Viktor
Hey chatty Cathy's, cut the chit chat we need to have a family meeting. –Five
You were gonna dissolve the body?!? –Diego
A little advice from someone who has been there
Don't do the math. that equation does not exist. There's no "save five Harlans for every two Claires" formula. People like us, we will never save enough lives to make up for the ones that we take. –Five
I don't accept that. –Viktor
Then you'll drown. –Five
This is the price of being powerful. Sometimes we step on ants. The sooner you face that, the safer we'll all be. –Five
What is that supposed to mean? –Viktor
It means you're very dangerous, Viktor Hargreeves. The decisions you make impact the entire world. So no matter how benevolent they may seem, you don't get to make them alone. –Five
You know what they call a superhero who works alone and doesn't listen to anybody? A villain. –Five
I am not a villain, Five. –Viktor
And Viktor, I hope to god you never will be, but that remains to be seen. No more going rogue. If you ever need anything, I'm always here for you. But lie to us again…Viktor, I'll like you myself. –Five
So we kill them in the morning? –Fei
You can't go in there guns a-blazin' daddio. –Klaus
Long story short, I'm immortal now. –Klaus
Clearly, he's the only one doing any thinking. –Dr. Hargreeves
You guys are gorgeous. Amazing. Send me your registry. –Klaus
Lila, I choose you. –Diego
Why don't we try a little small talk before we go full Stalin? –Klaus
Luther has the voice of an angel. –Klaus
It's official, my ears are broken and the idiot with knives can't sing. –Ben
Congratulations, Ben, you're Number One…of one. –Sloane
Let's get this over before I die of cringe. –Ben
Viva Apocalypse! –Klaus
This is officially worse than the Apocalypse! –Five
My only plan for tonight is to get f*cked up beyond all recognition. –Five
Just try to be civil, for me? –Sloane
How did you end up with this one? –Dr. Hargreeves
We met in a mental hospital. –Lila
No doubt. –Dr. Hargreeves
This one's for all the party people in the place. –Dr. Hargreeves
Tonight is all I ever really wanted—everyone coming together when it really matters. One big family. –Luther
And your day is about to get worse. –Dr. Hargreeves
How is a guardian and bells any crazier than time-traveling assassins with briefcases and cartoon masks? –Allison
Let's go save the bloody universe! –Lila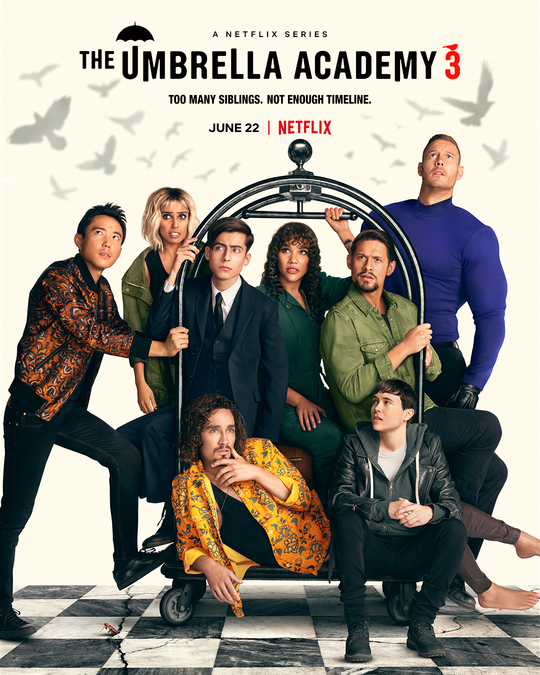 About "Umbrella Academy" on Netflix
Genre: Action/Sci-Fi
Created for Television by: Steve Blackman
Producers: Steve Blackman (Showrunner/EP), Jeff F. King (EP/D), Jesse McKeown (EP), Mike Richardson (EP), Keith Goldberg (EP), Scott Stuber (EP), Beau Bauman (EP), Jeremy Webb (EP, 301), Gerard Way (Co-EP), Gabriel Bá (Co-EP), Michelle Lovretta (Co-EP), Steve Wakefield (Producer, 301-307), DJ Carson (Producer, 308-310)
Cast: Elliot Page, Tom Hopper, David Castañeda, Emmy Raver-Lampman, Robert Sheehan, Aidan Gallagher, Justin H. Min, Colm Feore, Ritu Arya, Justin Cornwell, Britne Oldford, Jake Epstein, Genesis Rodriguez, Cazzie David, Javon 'Wanna' Walton, Jordan Claire Robbins