For on-the-go parents and kids, convenience is key—and that includes convenience with vitamins!
Superior Source Vitamins are the Best Vitamins for Travelers and Kids. Their NEW Kids Clean Melts contain up to 96% less sugar than your average gummy and are MicroLingual!
Best Vitamins for Travelers and Kids
Superior Source Vitamins are UNIQUE because they are clean, pure, and simple! Thanks to Superior Source Vitamins for sponsoring this post. As always, all opinions are my own.
Superior Source Vitamins are MicroLingual. Their "Under the Tongue Technology" works fast, as they are quickly absorbed into the body, dissolving in seconds. This is perfect for travelers and kids as there are NO pills to swallow and water needed! By swallowing supplements, as much as 50% of the potency is lost in the high-acid environment of the stomach.
Clean Melts are just pure ingredients, with no glucose syrup, cane sugar, gelatin, artificial sweeteners, or sugar alcohols. No fillers, no additives, no excipients and no Magnesium Stearate or Silica. Non-GMO, gluten-free, preservative-free, and dye free. Other vitamins require lots of binders to hold them together.
Their Micro tablets only contain pure active nutrients and other necessary natural ingredients. Plus the Kids Clean Melts have up to 96% less sugar than the average gummy, which means you don't have to worry about your child consuming too much sugar in their daily supplements.
Clean Melts mean no pills to swallow and require no water. These melts dissolve instantly with no pills to swallow. Superior Source pioneered the world's best delivery system of sublingual vitamins that melt fast under the tongue and give maximum absorption to the body.
Right now, Kids Clean Melts are on sale at Amazon and Superior Source Vitamins are on sale at Walmart.com, 15% to 30% OFF excusing the Kids Clean Melts.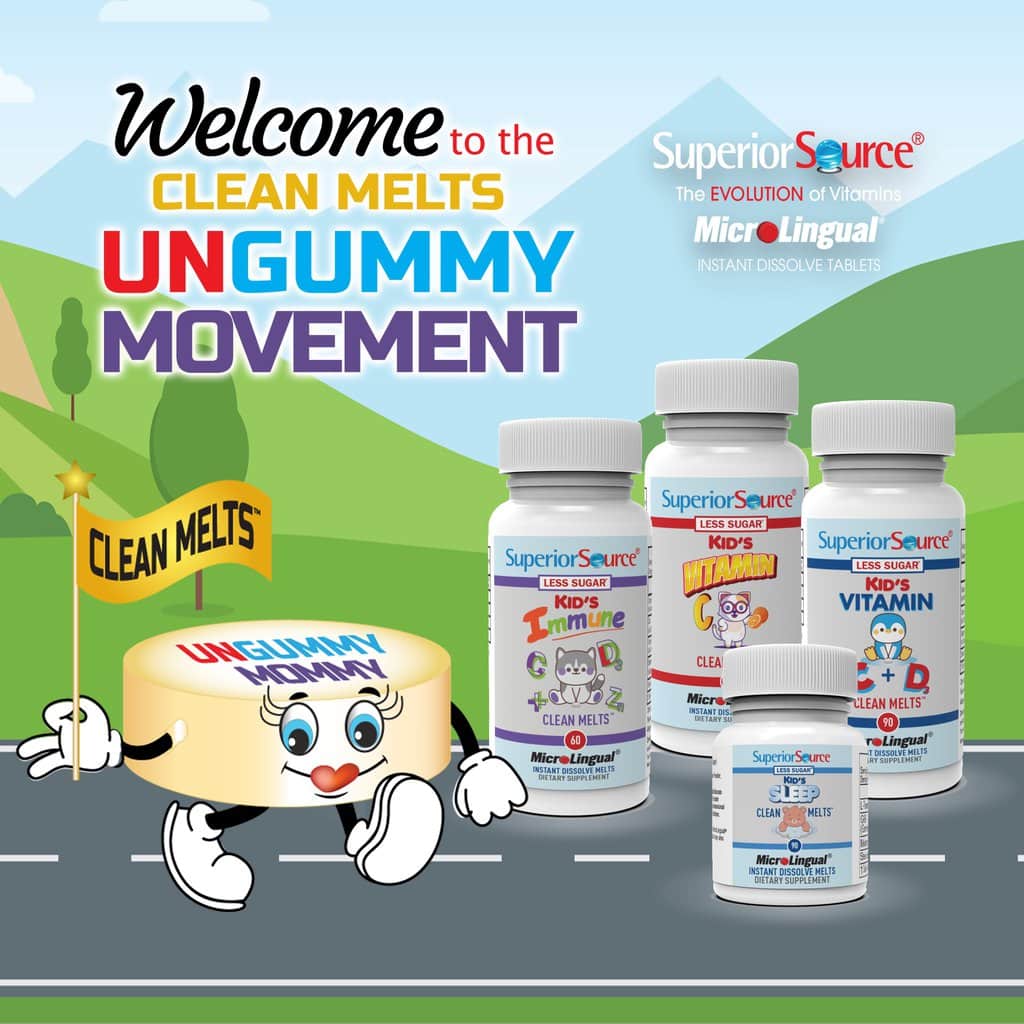 Enter the Clean Melts Giveaway
Leave a comment below and tell us your favorite feature of the Superior Source Vitamins and one lucky reader will win ONE SSV 4-Pack of Kid's Clean Melts ($60 Value)
• Kid's Clean Melts – Immune
• Kid's Clean Melts – Vitamin C
• Kid's Clean Melts – C + D3
• Kid's Clean Melts – Sleep
Contest ends 3/2. Entrants must be 18+ and U.S. residents to enter to win.