From nods to Madripoor to 90s callbacks, Black Panther to comic accurate super suit, we've found dozens of Black Widow Easter Eggs you may have missed.
Set on the heels of the events in Captain America: Civil War, Black Widow tells the story of Natasha Romanoff's time between the end of Civil War and the film's post-credit Raft breakout. With that, we also get some glimpses of Nat's past. As with every Marvel movie, we have another film laden with easter eggs. We've compiled all the Black Widow Easter Eggs we could find.
Warning: Spoilers ahead for Black Widow.
Every Black Widow Easter Egg You May Have Missed
Black Widow is the first theatrical release in Phase 4 of the Marvel Cinematic Universe and it features lots of Easter eggs and callbacks to previous MCU films and Marvel comics.
Authentic 90s at its finest
As the camera pans through the home in the opening scene, Ohio 1995, nothing screams middle-class America more than a lived-in home with a sunken living area. The tiled kitchen island is complete with Corning and Pyrex storage, mixing, and cookware dating from the 70s and 80s. If you didn't have that in your home, you have to leave me a comment below. I literally have the same Corning dish that Melina is serving corn in and the Pyrex storage bowl that the salad is in. Natasha has a LEGO creation at the table. There's even a Thom McAn shoebox on the table as Yelena picks up the bullets Alexei drops.
Sunny Delight, Pop-Tarts, Pepsi & Fruit Roll-Ups
Gotta love 90s food references and vintage styling. There's a hat with the Sunny D logo on the kitchen counter of the family home, Pop-Tarts on top of the fridge, Alexei grabs a Pepsi from the fridge, and then tells the girls there are Fruit Roll-Ups in the car they are packing to flee after Alexei has stolen intel from people who want him dead and the information back that he has stolen.
Duck Tales
The TV in the background is playing the original "Duck Tales" as the family is fleeing their Ohio home.
In the training montage that follows, the Red Room trainees are seen taking notes while watching TV anding with Huey, Dewey, and Louie, as they are learning to be undercover agents.
The Americans
The opening scene of the movie draws close parallels to the FX show "The Americans," which follows a family of KGB agents living in America during the Cold War.
Hamilton County, Ohio
The Ford truck has an Ohio license plate with a Hamilton County plate. Hamilton County is the county where Cincinnati is located. Marvel comics don't have a lot of action in Cincinnati. However, in Avengers (Vol. 3) #1 (1998), across the world, several former members of the Avengers are spontaneously attacked by monsters that all vanish after short battles—one location is the outskirts of Cincinnati where Hercules was attacked by a dragon.
American Pie
In the car, as the family leaves their house, Yelena tells Alexei she wants her favorite song. He pushes in a tape and "American Pie" begins to play. Don McClean's song of mourning the American Dream was written in the wake of JFK's death. It's an appropriate soundtrack for the scene as we see Natasha watching her own American dream die.
S.H.I.E.L.D. Vehicles
As Natasha and her family flee their Ohio family home in 1995, they are pursued by a caravan of S.H.I.E.L.D. vehicles, likely sent by the North Institute.
My Little Pony
Yelena is seen holding a My Little Pony stuffed animal—Twilight Sparkle if we want to be specific—in the plane as they lift off and again more clearly as Melina is on the stretcher after they land in Cuba.
Dreykov
Dreykov meets the spy family in Cuba to get the disk of intel from Alexei.
Dreykov also appears in several photos in the credits sequence alongside historical figures such as Jimmy Carter, Vladimir Putin, and Bill Clinton. Natasha is also seen in the background of some photos.
Iomega Zip Disk
The disk of intel that Alexei first shows to Melina and later hands to Dreykov is an Iomega Zip Disk.
The Iomega Zip Disk was an enhanced iteration of the floppy drive introduced in 1994 that used its own propriety drive. The disks were available in 100- and 250-MB storage sizes. I probably shouldn't tell you that I just sent my old drive and disks to the electronics recycling bin when we moved last summer. My nerd heart loved this Black Widow Easter Egg.
458
The plane on the runway in Cuba has the number 458. This may be a reference to Thor Vol 1 #458 (1993), in which Hercules is featured. This is the second nod to Hercules, who has comics ties to Secret Invasion and Guardians of the Galaxy storylines. The best tie-in: he's a supporting character in Journey into Mystery Annual #1 (1965). Just this past week on Marvel's Loki on Disney+, one of the big Loki Episode 5 Easter Eggs was that the episode title, "Journey Into Mystery" ties into the comics of the same name.
"Smells Like Teen Spirit"
Seriously, the best cover of Nirvana's "Smells Like Teen Spirit" EVER plays during the training montage in the opening credits of the movie. You need this in your life.
While an epic Nirvana cover, this '90s grunge anthem of defiance and self-expression are some of the very attributes being "trained" out of the young girls in Red Room.

Madripoor
We get our first callback to "The Falcon and the Winter Soldier" in the opening credits as we see children being trafficked for the Red Room in shipping containers through Madripoor.
Sokovia Accords
General Thaddeus Ross tells his team Natasha is "in violation of the Sokovia Accords" and "assaulted the King of Wakanda."
Both of these callback to Captain America: Civil War, when Black Widow refused to sign the Sokovia Accords and switched sides from Team Iron Man (which included Black Panther, the King of Wakanda) to Team Cap. Team Cap and allies refused to sign the Accords, which were intended to be a PR play but also ensure that the government oversight the superheroes received was managed by Ross.

The Incredible Shrinking Convict
During a phone call with Ross, he refers to Ant-Man/Scott Lang as "the incredible shrinking convict," an insult and nod to The Incredible Shrinking Man. The 1957 sci-fi classic was based on Richard Matheson's novel The Shrinking Man. Fun fact: Matheson's "The Twilight Zone" episode "Little Girl Lost" inspired some of the concepts for Ant-Man's Quantum Realm, so this is a double Easter egg.
Based on this entire conversation, we know that Black Widow takes place on the heels of the events of Captain America: Civil War but before the post-credit scene prison breakout on the Raft.
Yelena's Knife Trick in Morocco
Yelena uses a knife trick to kill her first target in Morocco that echoes Bucky Barnes' knife trick from Captain America: The Winter Soldier, which also similarly echoes Arya Stark's killing of The Night King in the final season of Game of Thrones.
This is a nod to the comics and the fact that the Black Widows and the Winter Soldier were both products of the same training: Winter Soldier was actually brought in as part of Natasha's training.
Later we see Taskmaster mimic Bucky's knife trick, as well.
Black Widow Serum
Much of the film revolves around Natasha and Yelena keeping the Black Widow Serum out of Dreykov's hands.
The serum was developed by a rogue Black Widow to free other Red Room victims from Dreykov's mind control.
In the comics, Natasha was given the Red Room's version of the Super-Soldier Serum to enhance her physical and mental abilities, though not to the same extent as Captain America. The Widows who came after her were enhanced, and this storyline with the Widows being chemically enhanced is a nod to that comic storyline.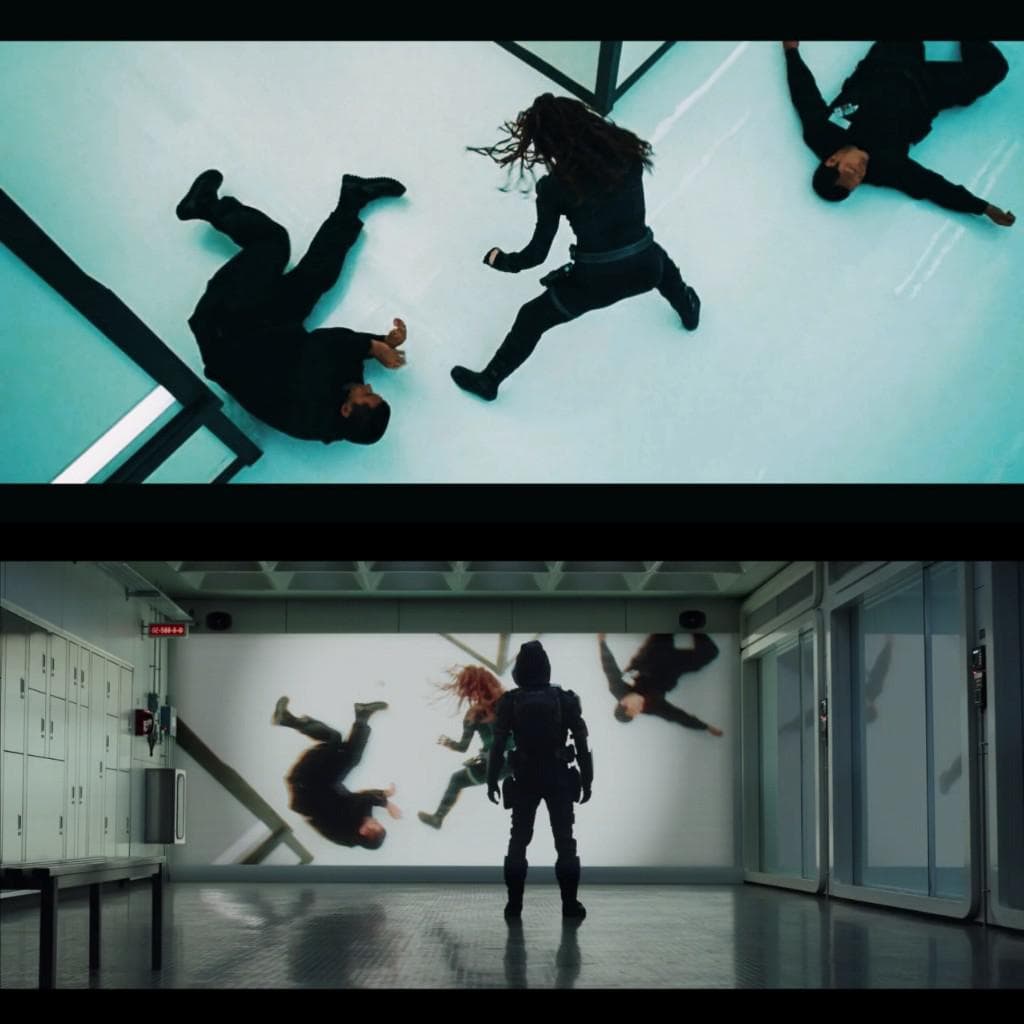 Taskmaster's Photogenic Moves
We see Taskmaster studying footage from Iron Man 2.
Taskmaster has the ability to mimic the moves of any person they see. Some of the fighting styles mimicked include those of Black Panther, Captain America, Falcon, Hawkeye, Spider-Man, and of course, Black Widow.
Nat's Arrow Necklace
Natasha is wearing the arrow necklace she's had since Captain America: The Winter Soldier.
"The Avengers Getting Divorced?"
Mason asks Nat if she's okay because he hears things, "Something about the Avengers getting divorced?" this is another quippy callback to Captain America: Civil War when the teams took sides because of the division over the Sokovia Accords.
Going Blonde
Natasha buys blonde hair dye while on the run. This is a nod and foreshadowing to Natasha's hair color in Avengers: Infinity War.
Moonraker
We love some good foreshadowing and parallels.
While chilling in her trailer, Natasha is watching James Bond and Moonraker (1979)—a Roger Moore James Bond film (the 11th produced by Eon Productions). The name was originally simply Moonraker but later changed to avoid confusion with the novel that is its namesake.
James Bond and Moonraker is a spy film about double agents taking on power-seeking villains with their own secret armies trained on secret bases in outer space. Sound familiar?
Moonraker could also be a nod to the comic character Moonraker, who first appeared in Force Works #16 (1995). He mysteriously appeared with Force Works one day, acting as though he had been with them all along. TL;DR you'll never guess who Moonraker is affiliated to the comics: Kang.
Taskmaster Takes a Cue from Winter Soldier
Taskmaster's dramatic entrance is similar to that of The Winter Soldier's when he takes out Fury's car.
Taskmaster's shield is from Alexei's Red Guardian suit. No wonder Dreykov won't give his suit back in Cuba.
Taskmaster's sword is used frequently along with the shield in the comics. In the film, the sword appears similar to the one the Black Knight wields. We'll see Black Knight in the Eternals, directed by Chloe Zhao, November 5, 2021.
"Dreykov's Daughter"
In The Avengers (2012), during the scene between Loki and Natasha in the S.H.I.E.L.D. helicarrier where she is interrogating him, Natasha tells Loki she owes Hawkeye a debt. Loki goads her, "Can you wipe out that much red? Dreykov's daughter. São Paulo. The hospital fire. Barton told me everything."
General Dreykov is the Black Widow villain who runs the Red Room, where the girls are controlled and trained to be Black Widow assassins.
THIS is the reason Marvel is so good at storytelling and details and keeps their fans wanting more. DC doesn't hold a candle to Marvel when it comes to creating these details and weaving these stories.
Budapest
We've been dying to know what happened in Budapest for nearly a decade now.
Mason brings mail and some other personal items to Natasha that were at the Budapest safe house.
While in the Budapest safe house talking with Yelena, we see arrow "holes" on the wall that Yelena mistakenly took for bulletholes.
As mentioned above, Loki eludes to "What happened in Budapest" in Avengers (2012), which turns out to be a special op to take out Dreykov. We hear Hawkeye ("Barton" on the captions) asking Nat to confirm that Dreykov was in the building and that they are clear. Nat says the daughter was taken out during the attack as collateral damage, though they assumed there were no bodies to check. She and Hawkeye hid out for 10 days before they were able to leave the country. We see this during a flashback of this scene.
Die Vögel
On the wall in the Budapest safe house is a poster for the opera Die Vögel. Die Vögel (The Birds), Op. 30, is an opera by Walter Braunfels and is a free adaptation of Aristophanes' 414 BC comedy The Birds.
Braunfels interpretation was fueled by his sociopolitical and religious beliefs, as well as events between 1913–1919 when he was writing his adaptation. The first act is about conviction while the second act focuses on the importance of obedience. In his interpretation, ultimately the humans reject humanity to live among the society of birds. The story of defection and identity and the inclusion of the society above the clouds draw parallels to the Red Room.
The Red Room
Straight from comic canon, the Red Room is where all the brainwashing and training for the Black Widow Ops program happens, but it wasn't introduced in the comics until 1998 in Shadows and Light #1.
Natasha Romanova was introduced much earlier—Tales of Suspense #52 (1964)—as a Russian spy who infiltrated Stark Industries before eventually defecting to the United States and joining S.H.I.E.L.D.
In the early 2000s, her origin story was retconned to include her Red Room training history.
Poser!
Sisterly love. I'm so familiar with it myself. Yelena pokes fun at Natasha on more than one occasion for her overly dramatic "posed" superhero landings.
Toward the end of the film, Yelena lands her own 3-point superhero pose as she jumps from a vent and then quickly remarks, "That was disgusting." The landing's moment is even funnier when you realize this is also a callback to Iron Man 2, as Yelena's landing looks almost identical to the one Natasha made in her debut film.
Alexei's Tattoos
When we see Alexei in the prison, he has loads of tattoos. Three of his tattoos say "Natasha, Yelena, and Melina." Maybe his "fake family" didn't mean so little to him after all.
Ursa Major
Also in the prison scene, Alexei breaks the wrist of a man named Ursa Major. In the comics, Ursa Major was a mutant man bear who was part of the Soviet Super Soldier program. After Alexei beats him he calls him a "bear."

Comic Accurate Suits
Alexei dons his comic accurate Red Guardian suit.
Black Widow's white suit is based on the 4-part comic series Black Widow: Deadly Origin (2009–2010) by Paul Cornell.
In Melina's home, Natasha is wearing her iconic black and gold Black Widow costume also featured in the Black Widow: Deadly Origin comic run.
The North Institute
Melina tells us the North Institute was a S.H.I.E.L.D. front—through technically run by HYDRA at the time—in conjunction with the Winter Soldier Program.
In Captain America: The Winter Soldier, we learn S.H.I.E.L.D. had been infiltrated by HYDRA decades earlier and brainwashed James Buchanan "Bucky" Barnes through the use of the Winter Soldier Program, turning him into their own programmable assassin.
The North Institute is presumably named after Oliver North as a nod to his scandalous government projects (*cough* Iran-Contra affair) since it, too, was operating nefariously as a mind-control research facility. The project the family was stealing intel for was a nod to MKUltra, a failed CIA attempt to develop a mind-control protocol.
In the comics, the North Institute is slightly different—it appeared as part of a Black Widow storyline where it sent killers to hunt and assassinate former Red Room trainees, including Natasha.
Crimson Dynamo
The only thing you care about are your stupid glory days as the Crimson Dynamo and no one wants to hear about it!

–Yelena Belova
During a rescue mission, Alexei Shostakov/Red Guardian gets put in his place after he continues to rant about how awesome he was back in the day.
The Crimson Dynamo is a reference to another (though there are dozens of iterations over the years!) Marvel Russian super-villain who dons a red suit. Crimson Dynamo has been known to clash with Iron Man over the years in the comics.
Iron Maiden
In Melina's home, we see an Iron Maiden mask in the background. In the comics, Melina is also known as the villain Iron Maiden.
Look-a-Likes
In the Red Room to gain access to Dreykov, Nat, and Melina use Nat's facial disguise tech that she first used in Captain America: Winter Soldier (and Sharon Carter later used in "The Falcon and The Winter Soldier").
Yelena's Green Vest
In the final heroes' fight against Thanos in Avengers: Infinity War, Natasha can be seen wearing the green vest Yelena is pictured wearing above.
Yelena tells Natasha the vest is the first piece of clothing she ever bought herself, she loves how many pockets it has, and she has made some modifications. She said it made her feel like she finally had control of something over something in her life.
As Ross arrives, Yelena gives Nat her vest because she knows how much she likes it.
Black Widow Whistle
The movie starts with Nat whistling to Yelena, Yelena falls tumbling, and Nat tells her she's "upside down." At the end of the final battle scene, Yelena is on the ground and Nat tells her she's upside down. Yelena walks off and gives the Black Widow Whistle.
Mid-Credit Scene: Quinjet
Mason gets Nat a Quinjet…way better than the generator that died after 6 hours. Previously he brings her a helicopter and she says that it doesn't look like a jet and he responds that he needs more time and money for a jet.
We hear the Avengers Theme as Nat tells Mason she's going to break some friends out of prison, which we know to be the Raft from the post-credit scene in Captain America: Civil War. This is the same Quinjet that she, Steve, and Sam will go on to use in Avengers: Infinity War.
Post-Credit Scene: "Come on, Fanny!"
We love our post-credit scenes.
First, YES to another Contessa Valentina Allegra de Fontaine sighting. We are HERE for Julia Louis-Dreyfus' character from "The Falcon and the Winter Soldier."
In this post-credits scene, we are present day. Yelena is visiting Natasha's grave with her dog, Fanny. That's a callback to two earlier points in the film: when Mason gives Natasha a wad of fake IDs that includes an alias "Fanny Longbottom" and when Yelena tells Natasha she wants a dog during their discussion about life post-Red Room.
Contessa arrives to recruit another superhero for her yet-to-be-announced group with an assignment that ties in directly to a future Disney+ series: Hawkeye.
How many Black Widow Easter Eggs did you find? Did we miss any? Let us know in the comments!
Marvel's Black Widow is in theatres and on Disney+ with premiere access on July 9th.