A nice view from your hotel room is always a bonus, but when your room overlooks the water theme park you're visiting? YES! Thanks to Universal's Cabana Bay Beach Resort for hosting us so we could see all of what their resort has to offer.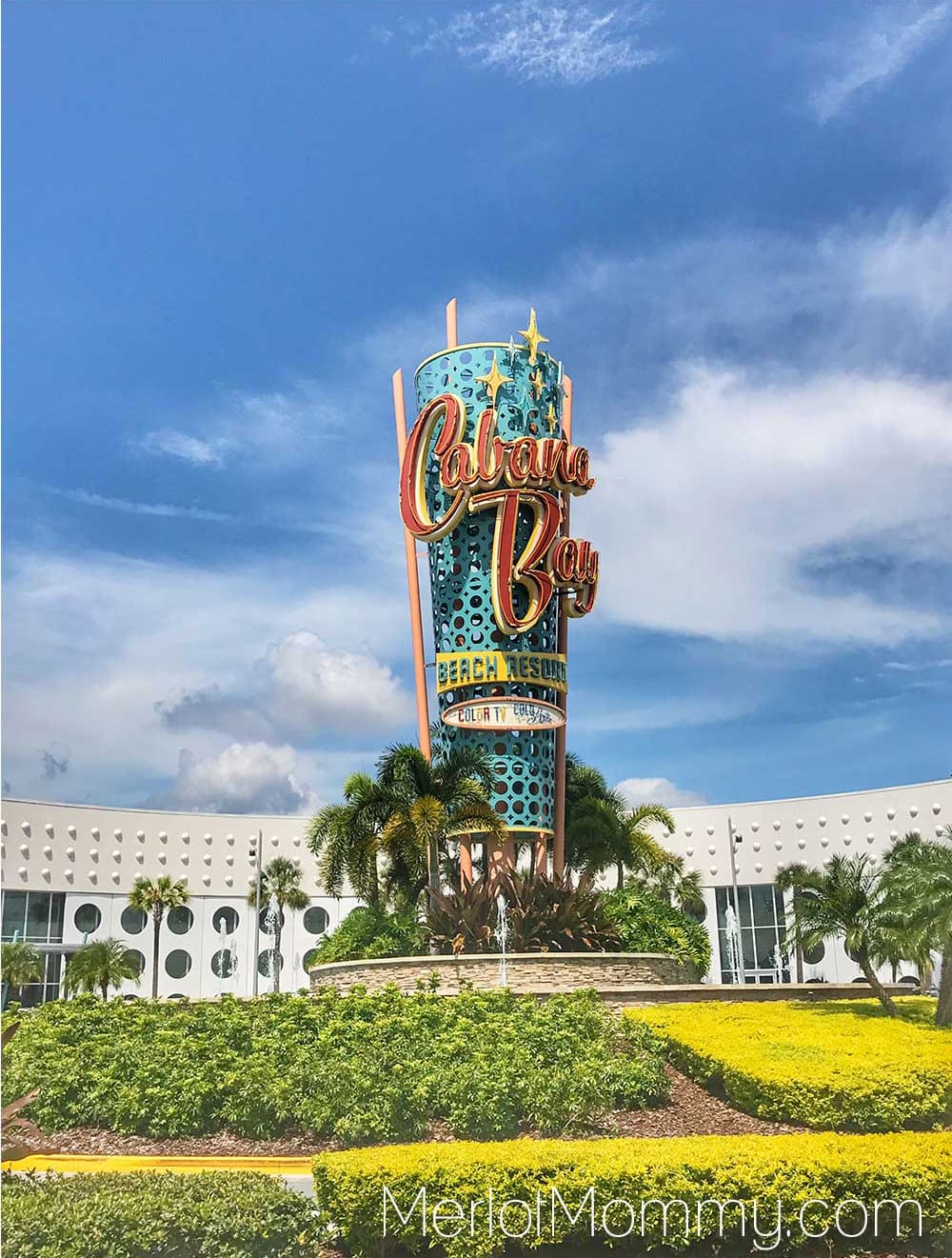 Our tower room at Universal's Cabana Bay Beach Resort overlooked Universal Orlando Resort's Volcano Bay—what a view! It was my daughter's favorite feature. Her second favorite feature? The Starbucks in the lobby.
My favorite feature was the location to Universal Orlando Resort's Volcano Bay. As you exited the tower of the Cabana Bay Beach Resort, you cross the driveway, and you were at the entrance of Volcano Bay—it doesn't get any closer than that for staying on property. The convenience is ridiculously fantastic! It was so easy and convenient to get back and forth from the hotel to Volcano Bay.
The rooms are reminiscent of retro 1950s and 1960 family beach club vibe. They are so much fun. Teal and orange is one of my favorite color combos, and the mix is perfect. They have the options of standard rooms or family suites that sleep up to 6 (perfect for a family like ours) with a kitchenette.
Cabana Bay Beach Resort offers so many other great amenities, too.
Pools and Lazy River
Any family resort that has a fantastic pool space is a win for me. The Cabana Bay Beach Resort offers two huge pools and a winding lazy river.
The Cabana Courtyard and Pool has a dive tower, themed water slide, cabanas to rent, picnic tables, poolside bar, and fire pit.
The Lazy River and Courtyard and Pool offer a second pool with a winding lazy river, sand beach, poolside bar and grill, two fire pits, and lots of outdoor seating.
Dining at Cabana Bay Beach Resort
We loved the variety of dining at the Cabana Bay Beach Resort. Bayliner Diner is a great stop for the kids with pizza, burgers, salads, and desserts in this convenient food court.
The Galaxy Bowl Restaurant is a fun way to spend an afternoon or evening bowling and eating with the family, noshing on burgers, pizza, wings, and more (there's a bar, too). Galaxy Bowl features 10 lanes of 10-pin bowling for the whole family.
For the parents who need a little caffeine fix, Starbucks is the spot to be. I certainly won't complain that my favorite coffee chain was available for my daily fix, and my tween was really excited to find her favorite provider of crème frappuccino treats in a retro-inspired version of their café.
If pizza is your vice, Delizioso Pizza will deliver pizza, salads, and desserts anywhere you are within the Cabana Bay Beach Resort. This is a really nice option when you're exhausted and you want to have dinner delivered to your room after a long day out.
Want something not available at the Cabana Bay Beach Resort? They offer a Hotel Dining Shuttle. Verify the details upon arrival and daily in the hotel lobby, but at the timing of publishing, the shuttle runs daily from 6 pm to 10 pm about every 30 minutes. It provides transportation to and from their on-site hotel restaurants so you can eat an another hotel resort restaurant.
Adult Get Getaways
As a parent, it's really nice to have options to grab a drink with my husband or friends that are 21+. The Hideaway Bar & Grill is a nice spot just steps away from the lazy river where you can grab snacks and meals, frozen drinks, cocktails, beer, and wine poolside. Atomic Tonic is a sweet shaded bar at the Cabana Courtyard pool deck offering beer, wine, and cocktails (they also service non-alcoholic beverages, too). Swizzle Lounge is my favorite spot. Located in the main lobby, you can grab a cocktail and snack in a retro inspired lounge.
Perks of Staying at Cabana Bay Beach Resort
Staying at Cabana Bay Beach Resort offers perks and privileges for those planning to visit Universal Orlando Resorts. You get Early Park Admission to the Wizarding World of Harry Potter and Universal Orlando Resort's Volcano Bay one hour before the park opens with your valid theme park admission.
There are walking paths and roads that connect Cabana Bay Beach Resort to Universal Studios Florida, Universal Islands of Adventure, and Universal City Walk, as well as complimentary on-site shuttles for use by hotel guests.
Some of the little perks like my room key that lets me charge throughout the resort or shopping that is delivered to my room for free just makes my life easier.
Pro tip: If you plan to visit Volcano Bay, this hotel offers a dedicated walking path that is a very short walk to the resort.