We were treated to a day at Enchanted Forest to experience the magic for ourselves. As always, all opinions are our own.
Full of storybook charm, Enchanted Forest, located in Turner, Oregon, has been delighting families since 1971. We embarked on our day's journey by entering this quaint amusement park through the fairytale castle followed by a stroll through Storybook Lane. We moved onto Tofteville Western Town and then the English Village. My children traveled down Alice's Rabbit Hole, screamed through the Haunted House, panned for treasure, and rode their favorite rides.
The Frog Hopper ride was a group favorite. All four kids would ride (hop?), and when the ride was finished, they would turn around and get right back in line to get on again. I think we must have spent two hours riding rides in the kids' section, between the Frog Hopper, Kiddy Ferris Wheel, Kiddy Bumper Boats, and Tiny Tune Train.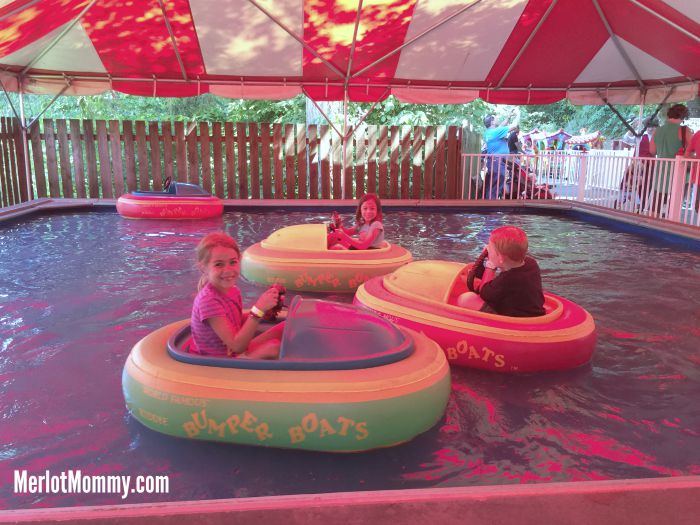 Even on a cooler summer day, the Big Timber Log Ride was a huge hit. The kids kept repeating the 40-foot drop to experience the thrill, followed by the giant splash. They loved getting wet. The Ice Mountain Bobsled Roller Coaster was another favorite. They would finish the ride, get off, and then get right back in line to ride again, much like they did with the Frog Hopper and Big Timber Log Ride.
When it was time to eat, my kids loved that they could dine in private little cottages in the picnic area. What a fun way to continue the imagination of the day! There were plenty of food options, too, from hot dogs and chicken strips to pizzas and Caesar salads. We finished our meals with ice cones and then coffee for the grownups.
We arrived at the park's open and basically closed the park down. We thought for sure the kids might be done part way through the day, but not so. They wanted to stay longer, even when the park was closing—apparently 8 hours wasn't enough for them. From magical storybook characters to games in Western Town to rides, there is something at Enchanted Forest for everyone.
Watch the kids Pan for Treasure at Enchanted Forest
In Tofteville Western Town the kids can Pan for Treasure. It makes a great souvenir as well as a fun activity.