Attending a red carpet premiere is something most people only ever dream of doing. I was fortunate enough to be invited to have my Cinderella moment for the world premiere of Cinderella on March 1 at the El Capitan Theatre. After attending the VIP Glam Ball where we had our Cinderella transformations, we walked the red carpet and attended the premiere party for Disney's Cinderella opening March 13. What a fun evening, despite the fact that it was pouring rain in LA.
Walking down the red carpet is fun, glitzy, glamorous—and leaves you little dazed and confused your first time. So many lights and cameras! And while the evening seemed to last forever, I look back and feel as though I barely remember a thing!
Celebrity spotting is always a fun way to spend some time at a red carpet event. Without being unprofessional or creepy, we saw a few people, mostly with their families. Jeremy Sisto, Molly Ringwald, Josh Gad, Grumpy Cat, Darcy Rose Byrnes, Jason Priestly, Ian Ziering, Mario Lopez, Toni Collette, Chloe Bennet, Elizabeth Henstridge, and many more. I was able to sneak a few shots to share but not many. Again, as much fun as I wanted to have, my job was to have fun while being professional, not creepy.
The reception featured stations to entertain kids and adults: silhouette cuttings by Disneyland artists, crafts, manicures, dancing, photo booths, and more. There were drinks, sweets, and food. The reception was fun. By the end I wished I'd had more time for some of the activities.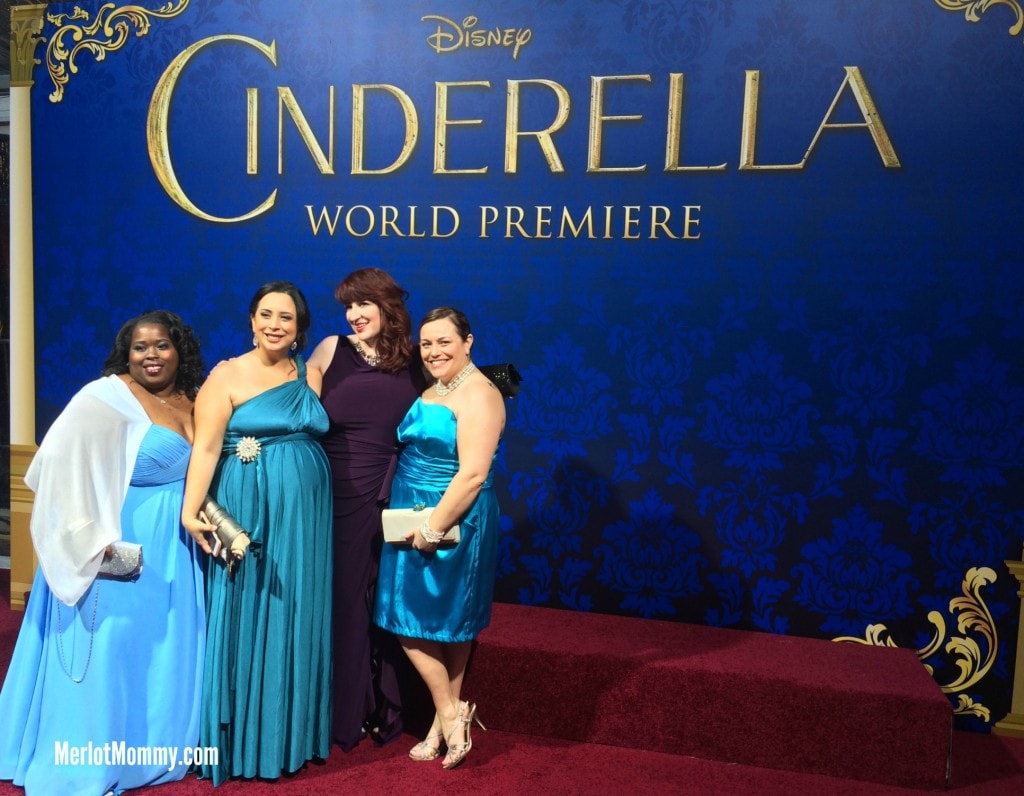 By the time the reception was over, my feet were actually soaked. The carpet in the back section of the party was drenched from the pouring rain. Fortunately I had a short dress so my dress didn't get wet. Mushy shoes was a small drag but oh well. Thank goodness it was toward the end of the party and I could kick them off for the movie.
While we were waiting to go into the El Capitan Theatre, I was chatting with our Disney publicist and Lily James walked right behind me. She brushed into me with her beautiful dress. Had I not been paying attention I could have easily stepped back into her and that stunning dress!
Just moments before I was able to have a quick photo taken with Josh Gad and my pal Christy from GiveawayTrain.com.
My friend Carol from AllMommyWants.com and I ran into Darcy Rose Byrnes (Princess Amber from Sofia the First) after the movie on our way back to the hotel. She stopped us to tell us how beautiful we looked and we chatted about how our girls love Sofia the First and complimented her on her amazing dress (she looked beautiful).
Two other photos from the evening: