Disclaimer: I received compensation for this post and for creating a
Shout®team to participate in The Color Run™. All opinions are my own.
Earlier this month, Team Shout® had fun and got a little colorful at the "The Happiest 5K on the Planet," The Color Run™ in Portland, OR, for the 2015 Shine Tour. A few of my teammates were with me onsite last year and were so excited to participate again. We totally feel like this race is the ultimate inspiration for happiness and encourages everyone to try something new, even if it means getting a little messy. I mean, it's hard to be anything but happy when you're covered in color from head to toe!
Yet, half of Americans let the fear of getting out stains prevent them from having fun, according to a recent Shout® survey, but my team wasn't about to let a little color ruin their fun at this race.
My team took its place at the start line and enjoyed the music coming from the DJ, who was pumping up the whole crowd as we waited for the start of the race. Once the team reached the first color station, there was no stopping them. Everyone powered through the remaining color stations and were fully-caked in colors by the end. The kids had so much fun getting doused in colors at all the different stations—and that festival area at the end just might be the best part with the group color throws. As a parent, I know a messy kid is a happy kid, and boy were they happy!
After the race, Team Shout® spent time getting messy at all-new attractions at the finish festival, taking glamorous photo ops, and experiencing the new shine elements. The highlight for them was leading the crowd in the Shout® orange color throw! If you can imagine what it's like to be inside of a cloud (an orange one in this case), that's kind of like experiencing a color throw. The DJ counted everyone down from 10, and my team let loose! They splashed the crowd and themselves in orange powder until everyone was covered in it.
Looking at my kids dressed in every color of the rainbow, I realized how different this generation of stains really are. When I was a kid, it was a little more on the simple side like grass, mud and ketchup stains. With my kid's generation, things like The Color Run™, are my laundry reality.
Some of my friends were worried about restoring their clothes to their original white color after the race. Have no fear, Shout® products are here! From the Shout® Trigger Triple-Acting Stain Remover and Shout® Advanced Gel, to the Shout® Color Catcher®, and Shout® Wipes, Shout® products were lifesavers when it came to cleaning up after having messy fun with family and friends. My friend and teammate Bridget even commented how she was sure her son's clothes were cleaner after the race than before since she was using the Shout® products to clean up her son's color-stained outfit.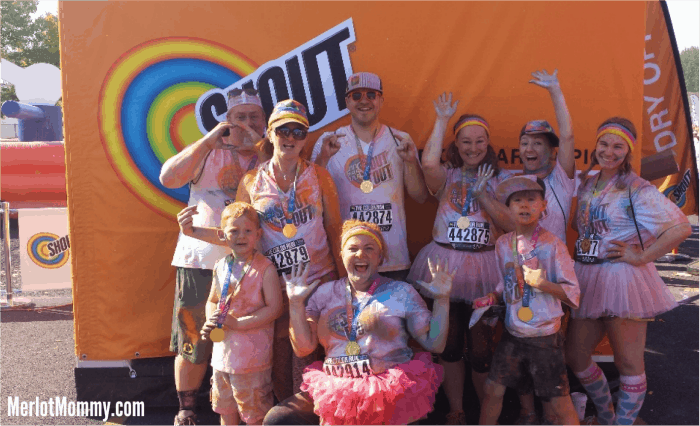 To learn more about Shout®, visit ShoutItOut.com, the official Facebook Page at http://www.facebook.com/shoutlaundry, and engage with Shout® on Twitter at http://www.twitter.com/shout, and Instagram at http://instagram.com/shout by using the hashtag #ShoutItOut.