Cruella and Maleficent have long battled for the top villain spot in my life. After seeing Disney's Cruella, there's no doubt in my mind which one comes out on top. After all, there's only one who can pull off that stunning (Cruella) red dress look!
Warning: This post may contain minor spoilers. If you haven't seen Disney's Cruella, turn back now.
Cruella's Red Dress Look: The Perfect Fiery Cruella Red Dress Disneybound
If you've seen Cruella, you know why she's my spirit animal. If you haven't but plan to see the movie, you'll soon understand why.
For those of you who have been around awhile, you've certainly seen some Disneybounds and cosplay on my Instagram account. If you're new here, welcome.
In the Cruella clip below, we see Cruella make her grand entrance at the Baroness' dinner party—and what an entrance it is. Uninvited, in a white cloak, she asks someone for a light, and the cloak goes up in flames, revealing a stunning red dress. You'll have to watch the movie to get the backstory on the dress.
The moment I saw this clip and other promotional materials I knew I needed a Cruella Red Dress Disneybound. How could I not?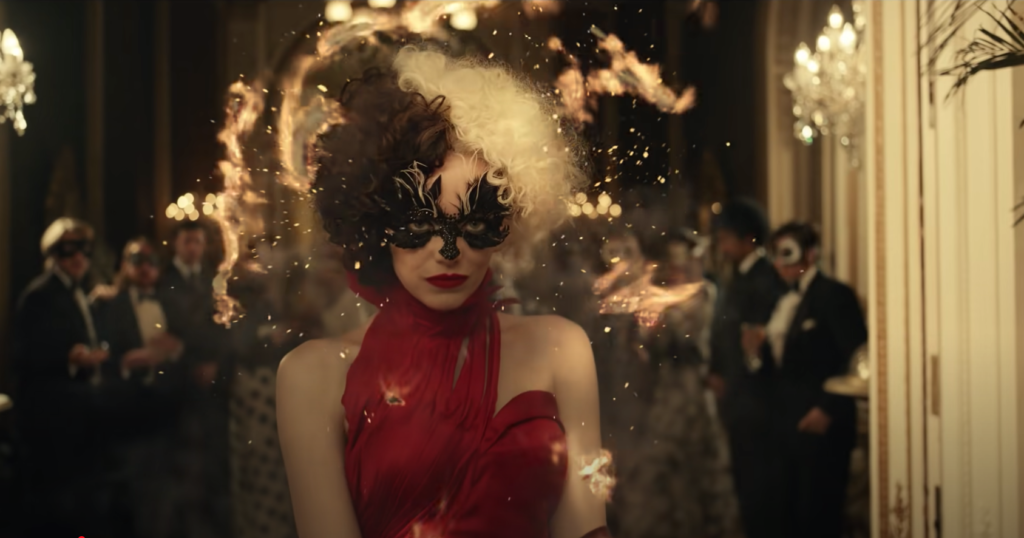 How to Get Cruella's Red Dress Look "Do You Have a Light" – Cruella Disneybound
Thankfully, shopDisney and Her Universe helped with the actual dress by coming out with a Cruella Evening Dress for Adults by Her Universe based on the new live-action movie.
However, there are still so many other details. Below, I've created a list of items used to create Cruella's Red Dress Look in the "Do You Have a Light?" clip.
Notes about the Cruella Red Dress Disneybound
I've added notes about the Cruella Red Dress Disneybound to items within the list below. I didn't add in black eyeliner, mascara, or eyebrow pencil, or red lipstick as they don't require anything special other than a lot of each.
Cruella Disneybound - Cruella's Red Dress Look
We love a good Disneybound or cosplay, so we're sharing the items we found to make our latest Instagram reel in Instagram--Cruella!
This post contains affiliate links.
Photo Credit: www.shopdisney.com
Bedeviled divas will step out on the town in this dramatic off-the-shoulder evening dress. Inspired by the dress worn by Cruella in Disney's live-action movie, it features a ''tattered'' bias-cut hem and collar with attached panel that drapes around the neck. Inspired by Disney's live-action film Cruella.
Black and White Wig with Wavy Texture,
Best Heat Resistant Synthetic Fibers, Natural Look and Soft Touch
Can be restyled into another look
comes with a wig cap
If you need extra wig caps, this 4 pack is good quality nylon with great elastic.
One size fits most hairstyles and sizes.
A thick and wide elastic band protects your skin from the itchy lace front and slippage.
Secure a fabulous style with Goody Aluminum Sectioning Clips! These secure hold clips are great for pinning hair back while you style, blow-dry or give a fabulous new haircut.
Designed with Smart-Stretch Cores making it 40% stronger
Ouchless elastics smart stretch core extends the lifespan of each hairband
No metal parts take the pain out of wearing ponytails
Easy wear that won't snag or pull hair
Photo Credit: www.walmart.com
36" wood dowel 1/2" or 5/8" diameter will work. Just shy of $1.00 at our local Walmart.
We painted the dowel with black acrylic paint and VOILA! A cane!
We also used a touch of white acrylic paint on the ends, but had some and didn't buy more.
Photo Credit: www.walmart.com
Any paintbrush will do, but if you don't need precision, foam brushes are the perfect applicator for the painting needed for this.
This is the paint we used for both the shoes and the dowel.
Apple Barrel 16 fl oz Black Acrylic Craft Paint is a pigment-rich acrylic paint base that smooths and glides on easily for less friction during every brushstroke. This quick-dry acrylic paint is water-based and non-toxic, so it's easy to clean up spills and can be used around children.
Photo Credit: www.walmart.com
These not-so-glamorous shoes were on clearance for $1.00 at our local store. My daughter painted them black and they turned out perfect. We originally had them for Estella's Maid outfit and I ended up wearing them for all 3.
This worked pretty well as a primer. We mixed it with a super pale foundation (my sister practically glows in the dark), and the two made a great base. This has enough pigment to make a nice even base.
Matte putty primer that smooths over imperfections
Provides a poreless, shine-free, matte complexion
Infused with kaolin and white charcoal to absorbs excess oil
Velvety texture grips makeup for all-day wear
100% Vegan and Cruelty-Free
Photo Credit: www.walmart.com
This was the perfect add-on to the white base we started. And because it's buildable it didn't get cakey or nasty. It added a little reflectiveness, which worked fine with the sun but was mostly masked by the finishing powder.
Hard Candy Cosmetics introduces Just Glow Highlighter in shade Fix My Halo, an all-over refined-pearl, bouncy highlighter, which provides a beautiful angelic glow. This ultra-reflective "Stay Glassy" highlighter has a lightweight, creamy texture that applies seamlessly and provides the ultimate frosted, glassy-glow sheen. The bouncy-to-the-touch shimmery formula is just like a winter wonderland in a compact.
This was the perfect finishing powder to smooth out the whites we used to make me look very Cruell
The e.l.f. Perfect Finish HD Powder fills in fine lines and blur imperfections, giving your skin a soft, smooth finish. Use anytime, anywhere with the convenient, portable compact.