We're so excited to attend the Food and Wine Festival at Disneyland again this year. I've spent the last two days eating and drinking my way through the 2020 Disney California Food and Wine Festival at Disney's California Adventure Park.

Complete Guide to Disney California Food and Wine Festival 2020
We've tasted our way through the 13 marketplace kiosks of the Festival Marketplaces at the 2020 Disney California Adventure Food & Wine Festival to let you know the best of the best so you can hit the park running and grab the best eats at the 2020 wine and food festival.
Between our bites and sips, we rode all the rides and used the Disneyland MaxPass to maximize our time in the parks.
Thanks to Disneyland for providing a Sip & Savor pass and reserved seating to presentations so I could experience the 2020 Disney California Food and Wine Festival. This post contains affiliate links.
Disney California Food and Wine Festival 2020 Dates
From February 28 through April 21, 2020, you can celebrate the bounty of California with irresistible cuisine, beverages, entertainment, and more!
There are 13 marketplace kiosks in the Festival Marketplaces at the 2020 Disney California Adventure Food & Wine Festival to sample California-inspired dishes.
Disney California Food and Wine Festival 2020 Marketplace Kiosks
Wander through the Festival Marketplaces, exploring varied and vibrant cuisine. Visit Disney California Adventure Park for the festival's events and taste irresistible small plates and beverages for sale at different outdoor Marketplaces.
Each marketplace menu is inspired by fresh, California-grown ingredients such as avocado, artichokes, melon, berries, peppers, or artisanal cheese. You'll also discover an array of locally brewed craft beers and wines from all over the Golden State.
Brews, flights, wines, and specialty beverages will be available at select marketplace kiosks.
The Festival Beer Garden (located in Paradise Gardens), will offer a variety of local craft and brewed beers.
Cocktails @ Sonoma Terrace will feature specialty beverages, brews, and bites.
Festival Marketplace Kiosk Offerings
Avocado Time – Indulge in the rich, creamy goodness of this fleshy fruit.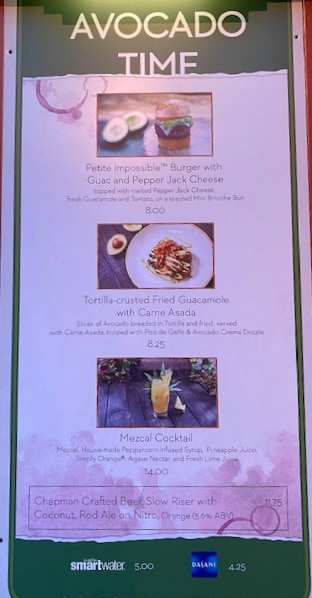 Berry Patch – Say "yes" to berries in a big new way!
California Craft Brews – Quench that thirst with craft beer and appetizing bites.
Cluck-a-Doodle-Moo – Sink your teeth into finger-lickin' bliss!
Garlic Kissed – All hail the stinking rose!
Golden Dreams – Please palates with well-seasoned eats.
I Heart Artichokes – Feast on cuisine featuring this thorny thistle!
LA Style – Gobble up some of the southland's food-truck faves.
Nuts About Cheese – Celebrate California's bounty with taste bud-teasing cuisine.
Off the Cob – Refuel with flavorful medleys that make your mouth sing!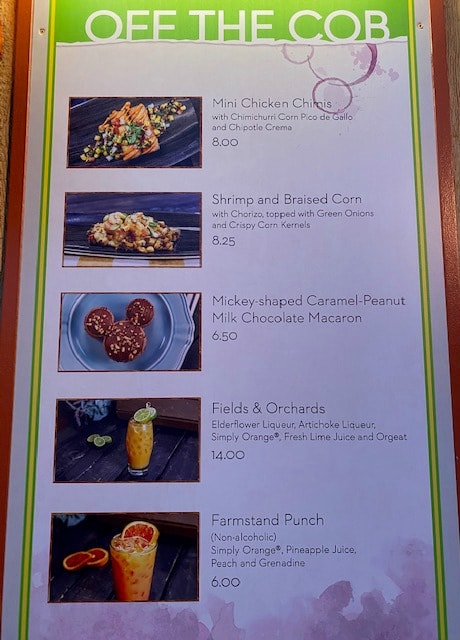 One in a Melon – Nosh on nature's super-juicy treat!
Peppers Cali-ente – Snack on hot 'n' spicy fare with a California twist.
Uncork California – Discover the Golden State's wine-making artistry!

Disney California Food and Wine Festival 2020 Menu
Each kiosk offers an average of 3–4 items.
Avocado Time – Petite Impossible Burger with Guac and Pepper Jack Cheese, Tortilla-crusted Fried Guacamole with Carne Asada, Mezcal Cocktail, Chapman Crafted Beer Slow Riser with Coconut Red Ale on Nitro
Berry Patch – Oikos Greek Yogurt and California Berries Summer Pudding, Raspberry-Lychee-Rose Custard, Blue Marble Hard Seltzer with Premium Vodka & Sparkling Water
California Craft Brews – Pepperoni Pizza Egg Rolls, Triple B Beer Cocktail, Fun with Flavor Beer Flight, Bigger & Bolder Beer Flight, Bright Beer Selections, Hoppy Beer Selections, Wine & Kombucha Selections
Cluck-a-Doodle-Moo – Ranch Fried Chicken Wings, French Onion Beef Tenderloin Slider, Chocolate Hazlenut Crunch, Craft Micheladas and Beers
Garlic Kissed – Black Garlic Soy-Braised Pork Belly Banh Mi, Carbonara Garlic Mac & Cheese with Nueske's Bacon, Aperol Cocktail
Golden Dreams – Brunch Fried Chicken & Waffle Sandwich, Seared Valrossa Salmon, Strawberry Rose Lemonade, Fig & Lavender Cold Brew
I Heart Artichokes – Fried Artichoke with Lemon Aioli, Artichoke Toast, Lolea Red Sangria, Brooklyn Brewery Special Effects Hoppy Lager
LA Style – Asian-style Beef Barcacoa Street Tacos, Smoked Bacon Barbecue Beef Loco Moco, Monkey Bread, Amaretto Stout-Cream Cold Brew, Blue Angeleno Cocktail
Nuts About Cheese – Fiscalini White Cheddar Lager Soup, Impossible Cheeseburger Mac & Cheese, Oikos Greek Yogurt Banoffee Tart, Honey Bourbon Lemonade
Off the Cob – Mini Chicken Chimis, Shrimp and Braised Corn, Mickey-shaped Caramel-Peanut Milk Chocolate Macaron, Fields & Orchards Cocktail, Farmstand Punch
One in a Melon – Compressed Watermelon and Tomato with Whipped Ricotta and Lemon Olive Oil, Poke-style Watermelon with Cucumber, Pabana Cream Puff, Berry Mule, House-made Watermelon Agua Fresca
Peppers Cali-ente – Creamy Poblano Pepper Pasta, Grilled Shrimp Tacos, Cantarito-style Paloma
Uncork California – California Artisan Cheese Selection, White Wine Flight, Red Wine Flight, Road Trip Mimosa, Chandon Brut Sparkling Wine

Disney California Food and Wine Festival 2020 Cost
The 2020 Disney California Food and Wine Festival is included in your standard park admission.
Restaurant-sized tastes of food and drink will cost you extra. The main dishes samples at the food marketplace kiosks run about $6–$8, desserts and drinks between $4–$6. Alcoholic beverages range between $7–$16.
The Sip and Savor Pass is just $56 for 8 tasting tickets for all items, excluding alcohol. Annual Passholders can buy a Sip and Savor pass for $51.

Disney California Food and Wine Festival 2020 Tips
If you plan to drink alcoholic beverages at the festival, don't forget to bring your photo ID!
The marketplace kiosk lines can get quite long. However, they move pretty quickly. Even with long lines, we didn't wait more than about 10 minutes. To avoid long lines, avoid standard meal times such as lunch and dinner rush. The festival kiosks open at 10:30 am and close at 9 pm.
This year, you have the option to order your item at any kiosk and then redeem your receipt for the purchased item at the corresponding window. NOTE: Ask at the kiosk before waiting in line because while they advertise that this is an option, they have not been doing this throughout the day, all day long, and it is not being communicated.
If you have your heart set on a specific food or beverage item at a kiosk, consider asking at the register or window before getting in line. We had a few instances where we discovered they were out of an ingredient for a dish (like a condiment for a dish) or item (like a whole drink) after waiting in line and getting to the register to order. That said, they may have it as you get in line and then run out by the time you get to the window.
How it works: stand in line, order your item, pay, hand your receipt to the server at the window, receive your item. Photograph all the things on the cute new Instagram walls on the kiosks.
Be prepared to stand to eat your treats. Many kiosks have some standing tables available nearby where you can eat your food, but not all do. Seating options: The Hollywood Backlot area has some seating benches in front of the stage; you can also take your food and beverages to the Paradise Garden Grill/Festival Beer Garden where there are quite a few tables (and beer!).
Allergy warning: while most main ingredients are noted on the kiosk signs, not all are. Previously, we ordered the Meyer Lemon Macaron at two festivals in a row and discovered it had a berry filling. After tracking down a cast member who called in to find out what the filling was, it turned out to be blueberry. As someone with an anaphylactic allergy to black currants, while I will never eat anything without knowing, I would have never guessed that the sign that simply said "Meyer Lemon Macaron" had a blueberry filling until we bit into it to find a surprise.
Soarin' Over California is back through the duration of the festival
Disneyland California Food and Wine Festival is Kid-friendly. There are lots of food and drink items at Disneyland California Food and Wine Festival that are kid-friendly dining options and the portions are sized just right for kids.