Disney's Jungle Cruise Interview with Dwayne Johnson, Emily Blunt, Jack Whitehall, and Edgar Ramirez
Go Behind-the-Scenes with Disney's Jungle Cruise Cast
Ghosting The Rock
During recent press interviews with the cast of Disney's Jungle Cruise, we learned that Emily Blunt ghosted Dwayne Johnson, aka The Rock when he first approached her for the role of Dr. Lily Houghton.
DWAYNE JOHNSON: Let's talk about the ghosting.
EMILY BLUNT: I just wanted to play a little bit hard to get, and that's fine.
DJ: Well, let me give our friends here just some context as to what happened. So our director, Jaume Collet-Serra [PH], was flying to New York to meet Emily to hand-deliver the Jungle Cruise script.
EB: Yes.
DJ: And he delivered it to her, and as he went, I said, "Listen, I'm gonna send you a video, and just give her the video from me." So I gave her this video. Maybe a minute, two minutes. But in the video, I said…
EB: 10 minutes long.
DJ: It was 25 minutes long, guys.
EB: Epically.
DJ: I said, "Emily…"
EB: Persuasive video.
DJ: "…you are the only one who can do this movie."
EB: I was very touched.
DJ: And she was very touched. And she…
EB: Very touched. Jack attests to this as a British person.
JACK WHITEHALL: Yup.
EB: If someone comes on too strong…
DJ: I wasn't too strong.
EB: It's just better to go, "Okay…" Just tone it-tone it down.
JW: Coming in a little keen.
DJ: First of all…
JW: Just back that up.
EB: Came on a little bit keen…
DJ: Okay, Jack.
EB: So I just needed to back it up a little bit.
DJ: [LAUGH] I wasn't coming on too strong.
EB: And I needed to script.
JW: Yeah.
EB: Didn't I, Jack?
JW: Yeah.
EB: Right? He gets it.
DJ: No, I get it. So that's a-it's a British thing, is that it?
JW: Yeah.
DJ: Yeah.
EB: Bad manners, yes.
DJ: Well, sure. Well, a humanity thing, as you respond… [LAUGH] okay?
EB: I did love your video.
DJ: She did, yes.
EB: I really loved it.
DJ: And by the way, eventually she said yes, so.
Instant Chemistry
When you see Jungle Cruise, you'll know what I mean by chemistry. Dwayne Johnson and Emily Blunt need to do all the movies together and have Jack Whitehall as a sidekick. It's a winning team and ensures that laughter will ensue.
When Emily Blunt and Dwayne Johnson finally met IRL, Emily Blunt said, "It was instant," about the chemistry.
EMILY BLUNT: We were pals for life immediately.
DWAYNE JOHNSON: Immediately yeah.
EB: It was like, I knew when we met. We had this rapport that, like, ping pong back and forth so quickly.
DJ: Yeah.
EB: And I just thought we're gonna have a good time. I knew it.
DJ: It's very true. It's very true. And then, you know, you hope to get lucky. I feel like I should talk to everybody, but you hope to get lucky, with your cast, and try to have some chemistry and Emily and I have been talking a lot about chemistry these past couple of weeks doing press, and at times, you fake it, you know, 'cause you're acting, but…
EB: He's been faking it for years.
DJ: I have been faking. I will continue to fake it too. Big faker. Especially with us. I got… never mind.
On Why Dwayne Johnson Said YES Immediately when he saw the Project
DWAYNE JOHNSON: The script was in a really good place, and I immediately just saw the potential of the opportunity. And that opportunity was to take a beloved and iconic Disney ride, since 1955 when the park opened. This was Walt Disney's baby. And there were a lot of elements that I felt comfortable with saying yes, I will come on board, I'll partner with you guys, and we will develop this thing.
And we got it to a really great place. And, again, to bring it back around to Emily, the next step after Jaume, finding our director, was finding my co-star. The female Indiana Jones over here.
Which she hates that I…
EMILY BLUNT: …yeah, 'cause you set me up to fail.
DJ: It's a setup.
EB: Set me up. It's too much pressure.
Jack's One-Liners
Jack Whitehall had one line in Frozen (which ended up being cut). Clearly, he has a few more than that in Jungle Cruise and there are some zingers! He's now a one-line wonder and an incredible side-kick who provided tons of improv for the movie.
JACK WHITEHALL: Yes, post the Frozen experience of having my one line cut from Frozen, I felt like this was just the case of throwing enough stuff at the wall and something sticking.
'Cause I was just desperate to not be cut from it completely.
The fact that there's even a single line is an improvement on the Frozen debacle, and I'm so excited to actually be a speaking part in a Disney film.
There was a fair amount of improv. The script was amazing, but then also, we were given the space to kind of improvise and add stuff to it, and these two created this environment where we were able to do that and it felt like such a safe space. And…you know, there were probably a few jokes that ended up on the cutting room floor for the right reasons.
Some of the great moments that you see in the film are genuine moments that we sort of came up with in the moment, and Jaume was so good at encouraging that as well.
The cast discussed that Director Jaume Collet-Serra mentioned in a previous interview there was so much material left on the cutting room floor they could make a whole second or third movie of riffs alone, some of which were not PG-13, including one when they were removing the sword from Frank's chest.
EMILY BLUNT: That one was like, we could've gone on; you should have heard…
DWAYNE JOHNSON: The innuendo, and then the…
EB: …was appalling.
DJ: …the direct…
JW: [LAUGH] It was so…
EB: It was appalling.
DJ: Dark web jokes…
EB: I think we shot that scene all day. It was just too fun.
DJ: Yeah.
EB: Too funny.
On Being in a Disney Film for the First Time
Edgar Ramirez is a Disney newbie and stars as the iconic Captain Aguirre, a misunderstood villain with a vandetta.
EDGAR RAMIREZ: I was very happy that those snakes weren't anywhere near me during the shoot, 'cause I'm super-afraid of snakes, and we encountered some of them when we're shooting in Atlanta. We shot in real locations, and we dressed them to look like the Amazon. It's incredible. I come from an Amazonian country, and I saw the movie for the first time 2 days ago at the premiere. And guys…I'm so happy. I loved it. I adore the movie.
EMILY BLUNT: I love that you were this operatic bad guy.
ER: That's what I want, it's the opera of Aguirre.
Aguirre was a beautiful character to play. What I love about the Conquistadors, and Aguirre specifically, is that it really puts you on a journey into the past.
EB: 'Cause I remember when we were shooting it, and you were like, "My mother is gonna be so upset when she sees me be this bad guy."
ER: And she was.
As it turns out, Ramirez's mother was at the premiere, and while she doesn't like seeing her son portray the bad guy, she likes snakes even less. She's afraid of them. But she was happy to see her son on screen.
ER: She said, "Why didn't you tell me? I missed half of your performance because I couldn't look at you with all those snakes. But I'm very, very happy."
To be in a movie that is based on the most iconic attraction from the most iconic entertainment universe in history, such as Disney, it's so special. And to be with these amazing people, it's incredible. I love everything you did.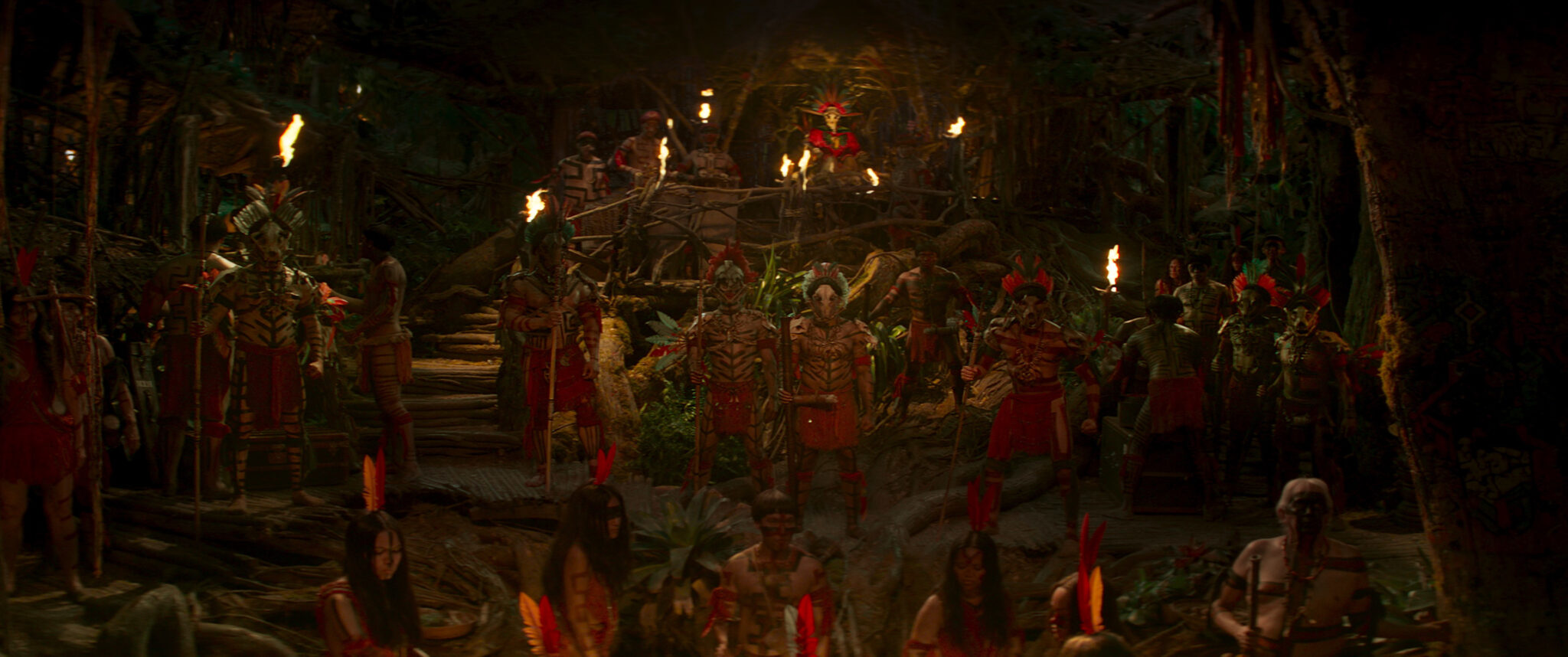 Most Difficult Stunt
Emily Blunt shared that hands down the rope swing/vine swing was the stunt she found most challenging because they couldn't do it in one take.
EMILY BLUNT: He pushed it so far every time to try and make me laugh on that vine swing. We shot that all day. We didn't get one straight one.
DWAYNE JOHNSON: It was that heroic vine swing that you think you know where the hero grabs the lady, with that intention…
EB: Takes off.
DJ: …and takes off and goes to save the day. And then of course it just goes to hell because I don't save the day. And the one who thinks he's a hero, actually, is trying to save the real hero.
EB: But every time, I was like, just tell me what you're gonna say this time, just so I can be prepared. And…
DJ: I wouldn't tell her.
EB: …every time he'd throw in some awful improv that would make me laugh, and so I don't know how many times we must have shot that.
Dwayne Johnson shared that for him, the most challenging stunt was the action with the Conquistadors with Edgar and his partners. Johnson said that was really pretty challenging because of the costumes.
DWAYNE JOHNSON: …but also fighting men who can't die. You know, as I give the movie away. So they fight in a different way. There's a different energy.
Jungle Cruise floats into theaters and to Disney+ Premier Access on July 30. It is rated PG-13 (for adventure violence) and has a runtime of 2 hours and 7 minutes. Tickets are available now.