This weekend I'm headed back to Los Angeles to attend Disney's Moana Red Carpet Event and interviewing celebrities. Thanks to Disney for bringing me out again for an exciting weekend of press coverage.
Moana
There are so many exciting things happening I don't even know where to start. We start the weekend with Disney's Moana. I had the pleasure of interviewing Moana herself voiced by Auli'i Cravalho this summer and I get to interview her again, along with Dwayne Johnson (the voice of Maui), and Nicole Scherzinger (the voice of Sina). We also get to sit down for interviews with producer Osnat Shurer and legendary Directors Ron Clements & John Musker. And last but not least, musicians Opetaia Foa'i and Lin-Manuel Miranda (seriously, my inner Broadway nerd can't even handle this one. I'm going to sing and rap all my questions…just you wait, just you wait). 
Moana Trailer
MOANA arrives in theatres everywhere on November 23rd!
Facebook | Twitter | Instagram | Tumblr | Website
Inner Workings: Animated Short
We'll be seeing the newest animated short film Inner Workings and a presentation by Director Leo Matsuda and Producer Sean Lurie.
Then we get to attend the Red Carpet Premiere and party of Moana. Red Carpet events are always so much fun! I can't wait for that.
The BFG
We're going to have brunch with The BFG. Okay, well not exactly. But we are going to have brunch with author Roald Dahl's daughter, Lucy Dahl and talk all things BFG to celebrate the release of The BFG to Blu-Ray/DVD on November 29, 2016.
The BFG Trailer
Facebook | Twitter  | RoaldDahl.com 
"Speechless"
We'll get a chance to do a set visit and meet and greet with available cast members and an exclusive behind-the-scenes experience on the set of "Speechless."
Watch "Speechless" on ABC Wednesday 8:30|7:30c
"Dr. Ken."
Do you watch "Dr. Ken" on ABC? Well, you probably should start if you don't. He's hilarious. We'll be doing a meet and greet and set visit with Executive Producer and star Ken Jeong and other cast members from "Dr. Ken."
Watch "Dr. Ken" on ABC Fridays 8:30|7:30c
"Stuck in the Middle"
We end of fun weekend with a special screening of Disney Channel's  "Stuck in the Middle" series followed by a Q&A and photos with Jenna Ortega ("Harley Diaz"), Ronni Hawk ("Rachel Diaz"), Isaak Presley ("Ethan Diaz"), Ariana Greenblatt ("Daphne Diaz"), Kayla Maisonet ("Georgie Diaz"), Malachi Barton ("Beast Diaz"), Nicholas Bechtel ("Lewie Diaz"), Cerina Vincent ("Suzy Diaz"), and Joe Nieves ("Tom Diaz").
Watch "Stuck in the Middle" on the Disney Channel.
Make sure to follow me during #MoanaEvent on Facebook, Twitter, and Instagram for a behind-the-scenes look at all of my Moana Coverage. You can find all things Moana here.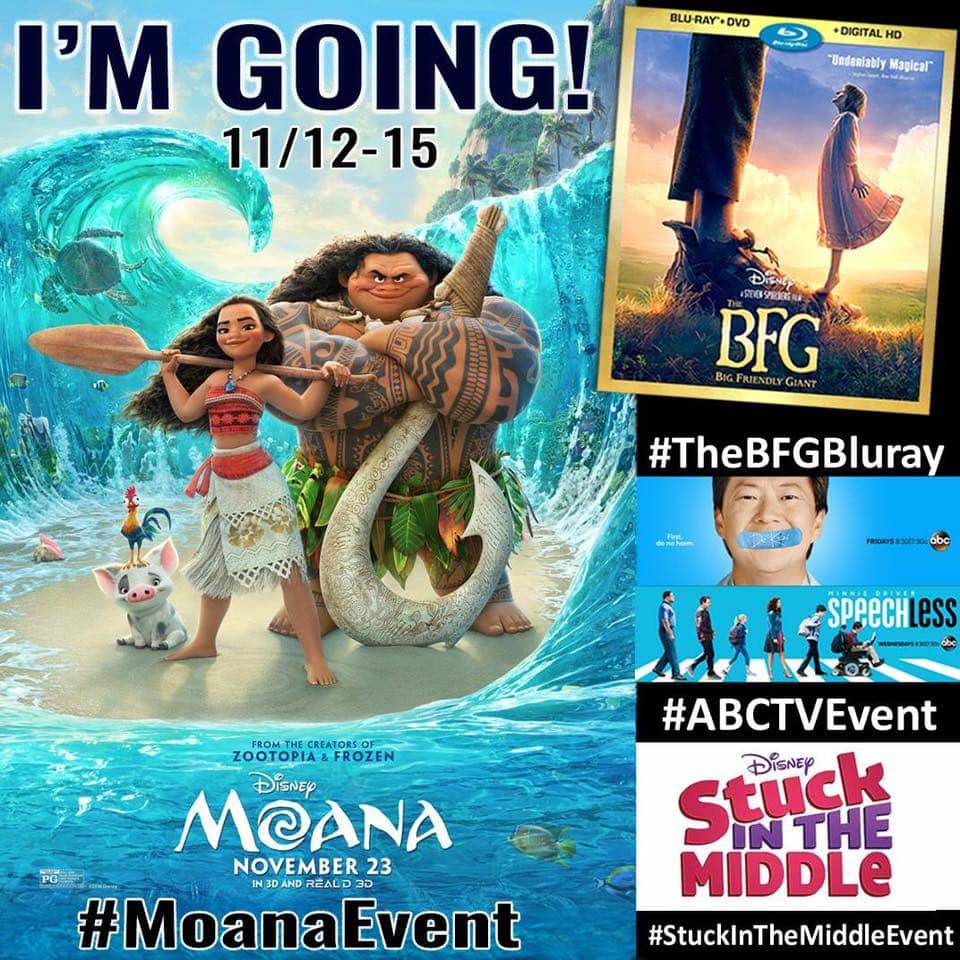 I've been invited to an all-expenses paid trip to Los Angeles. As always, all opinions are my own.