Whether you play DUNGEONS & DRAGONS or have never seen a polyhedral die, the new DUNGEONS & DRAGONS: HONOR AMONG THIEVES movie is an epic adventure-packed film based on the fiercely beloved Dungeons & Dragons game by HASBRO that anyone can enjoy.
DUNGEONS & DRAGONS: HONOR AMONG THIEVES Review
DUNGEONS & DRAGONS: HONOR AMONG THIEVES was a super lively movie with well-choreographed fight scenes, excellent chemistry, and great D&D Easter Eggs—but the best part of the film is that you absolutely don't need to be a D&D fan to love this film.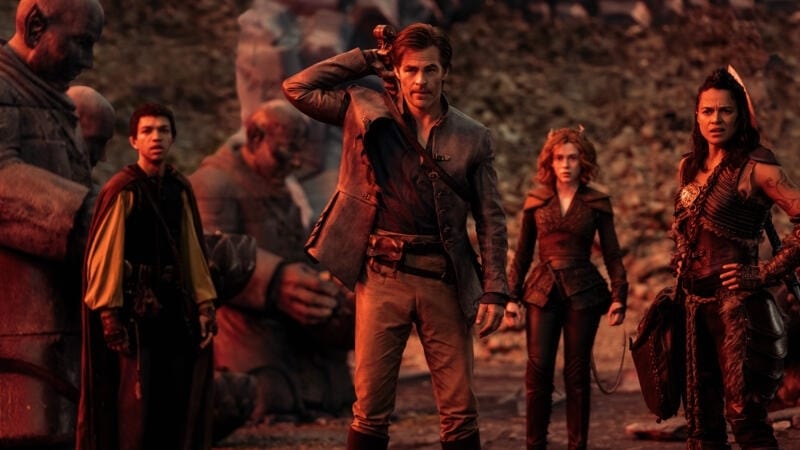 Whether you own a set of polyhedral dice or you're a total D&D noob, DUNGEONS & DRAGONS: HONOR AMONG THIEVES offers something for everyone. The film delivers excellent storytelling, world-building, cast with chemistry, humor, and loads of heart.
Jonathan Goldstein and John Francis Daley tell a tight story of a charming band of thieves who set off on an epic adventure to recover an ancient magical relic that goes amuck when they get caught up with the wrong set of baddies. Working together, the band of thieves thwart the baddies and save the day all while bettering the magical fantasy world in which they live.
The rich versatile cast of DUNGEONS & DRAGONS: HONOR AMONG THIEVES will draw you in with their chemistry.
Bard Edgin Darvis (Chris Pine) is an entertaining entertainer. Edgin and Human Barbarian Holga Kilgore (Michelle Rodriguez) make an unlikely comedic duo.
Paladin Xenk Yendar (Regé-Jean Page) as any true paladin, follows his oath to promote and fight for their beliefs and values, battle the forces of evil, and defend justice—in this case with the iconic Regé-Jean Page smolder.
Half-Elf Sorcerer Simon Aumar (Justice Smith) and Tiefling Druid Doric (Sophia Lillis) are another duo you didn't know you needed. Simon is forever disappointing us yet still making us laugh with his poorly developed-sorcery spells. Doric is a snarky Druid. Whether she's canting an evocation or shapeshifting into an Owlbear, Doric is charming us with her Tiefling ways. Simon's innocence paired with Doric's quick-witted snark is comedy at its best.
Those familiar with the classic DUNGEONS & DRAGONS RPG game will recognize the Red Wizards of Thay, of which Sofina (Daisy Head) is a member in DUNGEONS & DRAGONS: HONOR AMONG THIEVES. Forge Fitzwilliam (Hugh Grant) was the quintessential rogue, a master of wit and cunning to manipulate his prey. Head and Grant play well off one another. Some humorous moments ensue when it is obvious one of the duo is unaware of what the other is doing.
While much of the film is beautifully rendered CGI, the animatronics are incredible and the cinematography excellent. Who doesn't want to run off on an adventure in Neverwinter when it looks like it does in this film? The practical use of puppets and animatronics also makes the scenes feel more realistic when the cast is acting to a giant animatronic versus a tennis ball on a stick.
About DUNGEONS & DRAGONS: HONOR AMONG THIEVES
A charming thief and a band of unlikely adventurers undertake an epic heist to retrieve a lost relic, but things go dangerously awry when they run afoul of the wrong people. Dungeons & Dragons: Honor Among Thieves brings the rich world and playful spirit of the legendary roleplaying game to the big screen in a hilarious and action-packed adventure.
Runtime: 134 mins.
Rating: PG-13, for fantasy action/violence and some language
Directed by: Jonathan Goldstein & John Francis Daley
Screenplay by: Jonathan Goldstein & John Francis Daley and Michael Gilio
Story by: Chris McKay & Michael Gilio; Based on HASBRO'S DUNGEONS & DRAGONS
Produced by: Jeremy Latcham, p.g.a., Brian Goldner, Nick Meyer
Executive Producers: Denis L. Stewart, Jonathan Goldstein, John Francis Daley, Chris Pine, Zev Foreman, Greg Mooradian
Cast: Chris Pine, Michelle Rodriguez, Regé-Jean Page, Justice Smith, Sophia Lillis, Chloe Coleman, Daisy Head, and Hugh Grant
DUNGEONS & DRAGONS: HONOR AMONG THIEVES is in theatres MARCH 31, 2023