This post about How to Create an Easy DIY Picnic is sponsored by The National Frozen & Refrigerated Foods Association (NFRA). All opinions are my own. For more inspiration during #JuneDairyMonth, be sure to check out delicious ideas from NFRA at EasyHomeMeals.com #JDM2019
As a busy working parent of four kids, it's not always easy to make time for myself. I welcome the opportunity to spend an afternoon at the park or go for a hike. Sometimes, I simply want to sit and enjoy the peace and quiet and discover the outdoors with a nice picnic. An Easy DIY Picnic is the perfect option for a busy day when you need a quick moment to savor the day.
You can create an Easy DIY Picnic out of anything you want to snack on. I love a simple picnic from a wine and cheese snack, paired with some crackers and meat (basic charcuterie).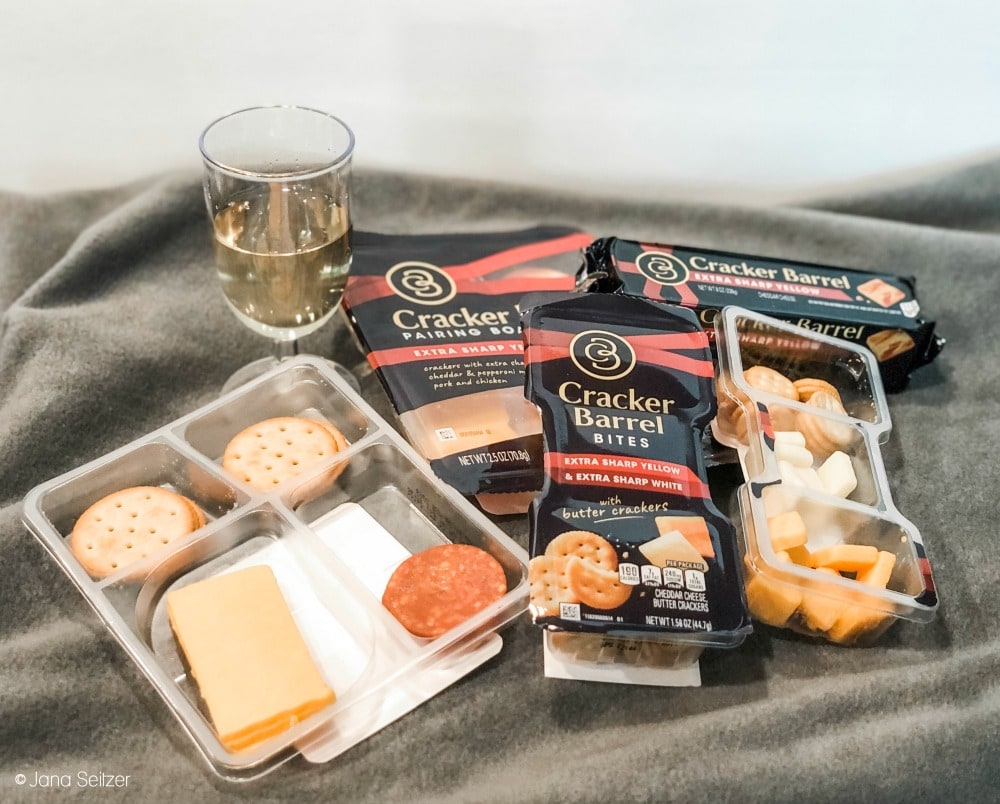 Cracker Barrel Cheese has the best products for my Easy DIY Picnic (that is, if I can keep them out of the hands of my kids for their lunches!). Everyone in my house is in love with the Cracker Barrel Pairing Boards and Cracker Barrel Bites because they are made with real Cracker Barrel cheese. The packaging of the Cracker Barrel Pairing Boards and Cracker Barrel Bites is so convenient (my kids love taking them for lunch and snacks). We love having a snack of cheese and crackers or cheese/crackers/meat all ready to go!
And it's not surprising since the new Cracker Barrel packaging is just as elevated and discerning as their cheese is—elegant black packaging with a ribbon (red for Extra Sharp Cheddar or another color depending on the variety). Whether you pick up the Cracker Barrel Cheese Blocks, Cracker Barrel Pairing Boards, or Cracker Barrel Bites, the new look means your elegant packaging matches the quality of the product you're eating.
Cracker Barrel makes it so easy to have a snack with a glass of wine, a way to make the every day less "every day." Their cheeses are so rich and bold, sharp in taste with a creamy texture—perfect for pairing or eating alone! Grab a picnic, get outside, soak up the sun, and savor the day, even if it's in your own yard!

What You Need for an Easy DIY Picnic
Blanket
Basket
Picnic Set: Plates, Utensils, Napkins, Plastic Glasses
Wine
Cracker Barrel Chunks
Cracker Barrel Pairing Boards
Cracker Barrel Bites
Whatever else you want to snack on
How to Have an Easy DIY Picnic
You don't need instructions for this, right? You know what to do. Enjoy!
Visit Easy Home Meals for great recipe and meal solutions and to enter the June Dairy Month Sweepstakes for a chance to win up to $10,000 in prizes!