Marvel has done something I thought impossible: make me both love and be highly irritated with a movie, near equally, in one sitting.
Marvel has delved into the depths of its comic book lore to create a stunning story of immortal heroes trying to save humanity by staving off its most evil predators.
Marvel's Eternals is about a group of Celestial immortal heroes sent to Earth thousands of years ago to eliminate Earth's oldest enemy, the Deviants. Once they eliminated the threat, they were to go their separate ways, waiting in the wings if you will, in case the Deviants should return.
As you guessed, the Deviants returned and the Eternals regroup to fend them off once again to save humankind.
Marvel's Eternals Review: The Good, The Bad, and the Ugly
Eternals begins in 5000 BC when they were sent to Earth by the Celestial Arishem to protect Earth and its humans from the alien predator species the Deviants. Throughout Earth's history, the team continues their mission, battling Deviants until they're all extinct. With the mission completed, their leader, Ajak, sends them to go live their lives while awaiting new directives from Arishem, whether that is an opportunity to return home or live a life on Earth.
What works with the Eternals – Review
Fast forward to the present day, and several of the Eternals have noticed some changes as the Deviants have returned to Earth. The team has to reconvene to eliminate this new batch of Deviants. As the team begins scouring up the teammates one by one, we get a glimpse of each character's past, their skills, why they are important to the team, and a bit more world-building and backstory of the Eternals and who they are.
While the storytelling is sometimes flawed in Marvel movies, that is not the case with Eternals, as it is nearly all storytelling and character development.
The Eternals uses a nonlinear narrative structure, which is a unique way of telling the story as each time they jump the timeline, a new character's backstory is being focused on. We go on a journey everywhere from a village in 5000 BC to present-day London the smoldering remains of 1945 Hiroshima.
Marvel Casting in On Point
As usual, Marvel's casting is spot-on.
We love seeing such a diverse cast, and the inclusion of ASL in the movie is a wonderfully welcome addition, as is Brian Tyree Henry's Phastos and his husband and son. We're here for that kiss and an LGTBQ+ family.
Makkari's character being deaf makes her interesting and exciting to watch. I love that many of the cast also use ASL with her in the movie. Certainly fans of AMC's "The Walking Dead" are comfortable seeing Lauren Ridloff on screen.
Gemma Chan's Sersi is sweet, likable, and sympathetic. Her centuries-long relationship with Ikaris is complicated, at best.
Barry Keoghan's Druig is more than convincing with his dissension regarding his inability to interfere with human conflict.
Kumail Nanjiani as Kingo steals the show in most of his scenes. Fans of Nanjini's role of Dinesh on "Silicon Valley" will be pleased to see him shine as Kingo. Plus, his banter with his valet Karun (portrayed by Harish Patel) is a welcome comic relief at some tense moments.
While Angelina Jolie (Thena), Salma Hayek (Ajak), and Richard Madden (Ikaris) are bigger household names than the rest of the Eternals, the ensemble is well-balanced and has unbelievable chemistry given its size.
Don Lee's Gilgamesh is such a beautiful balance to Jolie's Thena. It's clear very early on the two have a strong bond. Thena works through some trauma in this story, and while it's explored, it doesn't expropriate the story. Their platonic love for one another spans centuries and it is heartening.
Lia McHugh's Sprite is the same age as the other Eternals, but she was given the body of a teen. Just as in the comics, she wishes to be human, be able to grow old, and have a family, yet she loves her Eternals family. McHugh carries that duplexity well in her role.
Kit Harrington's Dane Whitman. Fans of Jon Snow will be please to see him in Eternals, though they won't get a whole lot of him. If you are familiar with Dane Whitman from the comics, then you know you'll see him again in the MCU in the not too distant future
For those unfamiliar with the source material, the addition of Easter eggs and references to the larger Marvel Cinematic Universe—such as mentions of the Avengers, the Snap, and Thanos—makes the movie more relatable.
Zhao opts for on-location filming with natural light as much as feasible in lieu of green screens and CGI. Often she chooses backgrounds with subdued palettes (such as deserts, forests, and mountains), which in this case lends itself to making each of the vibrant colorful Eternals stand out in their Jack Kirby comic-inspired suits with metallic orbs and rings.
The inside of the Domo, the Eternals ship, were practical sets and many fights were shot in the real world.
As a comic book reader, it's nice to see the nods to the comics, but it's also nice to see that the story is somewhat new and original. While there are many facets of the characters and plotlines pulled from the comics, they are woven into a new story,
If the Eternals storyline is completely new to you, you still won't walk out bewildered. Eternals does an excellent job of introducing each of the Eternals and how they work together.
What doesn't work with the Eternals – Review
Eternals is not an archetypal Marvel movie. It is less centered in storytelling and more keen to fill in the background of the universe, which may or may not be a bad thing depending on the kind of movie you are expecting.
While the Eternals plot is intriguing, clocking in at 157 minutes is a bit long for a movie that isn't 100% action but is 100% new characters. It's a lot to absorb and process. Eternals is a movie I would highly recommend seeing more than once if you care to actually remember the importance of the story and how it fits into the narrative and timeline of the MCU.
Almost 3 hours is far too long. We get it; 7,000 years is a lot to cover in a little under 3 hours. However, the movie isn't fast-enough paced to go that long and be unnoticed, unlike Avengers: Endgame, which felt as though it flew by.
Introducing the number of new origin stories as Zhao did in Eternals would be a challenge for any filmmaker. With 11 new characters, Zhao cleverly wove their stories together in a way that works as well as one could imagine they could work given budget and time constraints, considering Eternals is already lengthy.
Fortunately, Zhao also had a cast with great chemistry. Even for comic book readers, the source material is convoluted and challenging, so the task to bring this to life was no small feat. It was far from perfect, but also far from the worst film or even the worst Marvel film.
Speaking of chemistry. Yes, you know we're going here. Since when did Marvel movies start having sex scenes? Completely unnecessary ones? And why? Scenes that do nothing to move the story forward, but just make the whole thing awkward, unnecessary, and make the PG-13 rating closer to an R rating.
That sex on the beach scene made the Eternals go from family-friendly to now I have to make my kids leave or close their eyes or skip it altogether, for literally zero added. We already know they had chemistry. We could feel it. We knew. The sex is unnecessary, but thank you Marvel for making the first sex scene in a movie so that I can't show it to non-teenagers.
Eliminating that scene also could have tightened the movie up a little and made it shorter.
Overall thoughts about Eternals
While it isn't at the top of my favorite Marvel movies, Eternals also isn't at the bottom of the list. It may look and feel unusual for a Marvel movie, but from a birds-eye view, Eternals gives the fans what they expect from one: great cast, action, some humor, stunning landscapes, a lead-in to what's to come, and two baller post-credit scenes.
As far as being progressive, while seemingly a bit forced, let's remember the source material has Phastos as a gay man in the comics, so that kiss is a natural progression of events given the circumstances at hand.
We're here for the diversity and the possibilities the movie had introduced for the future of the MCU. It looks to be at least 6 new properties that have been teased based on this movie, and that is the end goal of all of this world-building right? The future of the MCU.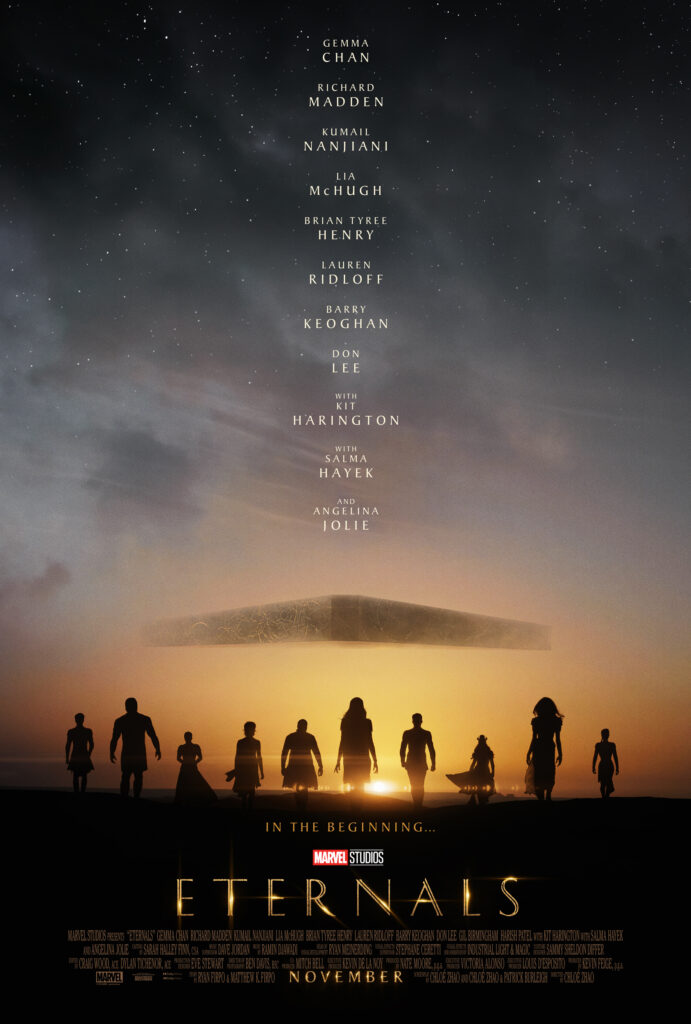 About Eternals
Marvel Studios' Eternals follows a group of heroes from beyond the stars who had protected the Earth since the dawn of man. When monstrous creatures called the Deviants, long thought lost to history, mysteriously return, the Eternals are forced to reunite in order to defend humanity once again.
The outstanding ensemble cast includes Gemma Chan as humankind-loving Sersi, Richard Madden as the all-powerful Ikaris, Kumail Nanjiani as cosmic-powered Kingo, Lia McHugh as the eternally young, old-soul Sprite, Brian Tyree Henry as the intelligent inventor Phastos, Lauren Ridloff as the super-fast Makkari, Barry Keoghan as aloof loner Druig, Don Lee as the powerful Gilgamesh, with Kit Harington as Dane Whitman, with Salma Hayek as the wise and spiritual leader Ajak, and Angelina Jolie as the fierce warrior Thena.
Eternals is in theaters now.
Runtime: 157 minutes
Rating: PG-13 (for fantasy violence and action, some language, and brief sexuality)
Director: Chloe Zhao
Producers: Kevin Feige, Nate Moore
Executive Producers: Louis D'Esposito, Victoria Alonso, Kevin de la Noy
Story by: Ryan Firpo & Kaz Firpo
Screenplay by: Chloé Zhao and Chloé Zhao & Patrick Burleigh and Ryan Firpo & Kaz Firpo
Cast: Gemma Chan, Richard Madden, Kumail Nanjiani, Lia McHugh, Brian Tyree Henry, Lauren Ridloff, Barry Keoghan, Don Lee, with Kit Harington, with Salma Hayek, and Angelina Jolie
Have you seen Marvel's Eternals? Leave us your thoughts below!