Our incredible interview with Lin-Manuel Miranda was so lengthy, I've split it into two posts for your reading pleasure.
Lin-Manuel Miranda is one of the musical geniuses behind the soundtrack of the new hit movie Moana. In case you live under a rock (a rock, not The Rock), Miranda is also known for his Broadway hits "Hamilton" and "In the Heights," among other things. He worked with Mark Mancina (Disney musician legend) and Opetaia Foa'i (Polynesian musician of the band Te Vaka) on the soundtrack, which features a hip-hop-Polynesian fusion sound. In my opinion, it's going to be bigger than Frozen. Just you wait.
Lin-Manuel Miranda is nothing if not animated. He's energetic and lively. His energy filled the room the moment he walked in. He joked that we looked like a "really nice version of that scene from The Godfather." His story telling is so vibrant and visual. I could have listened to him talk about his experiences working on Moana for hours. This interview focuses on his Disney-specific question and answers.
It's no secret Lin-Manuel Miranda is a huge Disney fan and many of his influences come from Disney. He talked to us a bit about what it's like being a part of the Disney Family.
It's pretty dope. I'm waiting 'til my son gets a little older to cash the one-time here's your guided tour, go to the front-of-the-lines, at Disneyland thing. But it's amazing. I mean, from the first moment, I think the most exciting part for a Disney geek like me, was the story meetings. I've had a little Hollywood experience, and there's nothing like the Disney story experience. You sit at a table, a lot like this, except it's perfectly round, and the notes are not from execs, the notes are from Jen Lee, the co-director of Frozen, from Pete Docter, who's working on Inside Out, and did Big Hero 6.

Like, everyone who actually makes the thing are the ones who are kicking the tires on your story, and making it better. And that was my favorite part of the process. And getting to meekly raise my hand, and being like, 'I think a song could do that better.' That was my way into the room. So it, it's been a real joy.
When Lin-Manuel Miranda talked to us about who inspires him musically and his favorite written lyrics, he gave us a half a second glimpse into a live performance of 'Hamilton' and sang Disney music for us.
It's so many. If I were to limit it just to Disney, I could talk to you for 3 hours about it. I think that's how you figure out who you are, is you chase your heroes. You know, I chased Ashman Menken, I chased Sondheim. I chased Jonathan Larson, I chased Biggie, I chased Tupac. And in falling short of all of those, I end up with that style that is an accent I can't hear. With Disney in particular, for me, Howard Ashman is sort of the master of the lyric that is both iconic and conversational.

You know, I think of 'Part of Your World' and 'look at this stuff' as she's stumbling and trying to find the words, you know? 'Dancing around on those, what do you call 'em? Feet.' You know, that kind of, that, you know, or Belle in Beauty and the Beast, saying, 'it's my favorite part, because you'll see'—you know, interrupting her thought to say something else, because she's so excited. Those are the moments you chase, as a songwriter, because they're the ones that really feel real. I chase that in 'Hamilton' when 'Pardon me, are you Aaron Burr, sir?' 'That depends who's asking.' 'Oh, well, sure.'

It just feels like the way people talk. That's always what I'm chasing in a really good lyric. Because it just feels like the way people actually speak. And then helps you bridge that divide of these people bursting into song. That's an impossible leap for a lot of people. People who don't like musicals, like, 'Why are they singing? Why aren't they just talking?' If you make the lyric feel really conversational, it's much easier for them to bridge that gap.
I laughed inside so hard when he talked about people who don't get musicals. THAT is my husband. You know how they say people complement each other? That's us. Night and day. Opposites attract. My husband doesn't get musicals. At all. I can't tell you how many times in 20 years he's said something to the effect of , "Why can't they say it instead of sing it." And so funny that there are people out there who WRITE to those people who don't get it, which is why I think I love his musical genius so much, because there are very few works ('Hamilton' being one) that my hubby actually will tolerate because of that conversational lyric that is done so well and more modern.
If you've done much reading about Lin-Manuel Miranda or you've read this far in the interview, you know he's a huge Disney fan. We talked a bit about his favorite Disney movie.
The Little Mermaid is like, the number one. That movie came out when I was 9 years old. I saw it when I was on a play date with my friend. So I went with a friend. It was not with my family. It was my friend, Alex Sarland. And you know, this crab starts singing a Caribbean calypso tune. And I was never the same again. I used to get up on my desk in fourth grade and sing it. I remember calling in sick from school, on March 19th, because that was the day it came out on VHS, and I didn't want to wait 'til school ended. I wanted to go to the drug store that morning, 'cause remember the soft covers? The white border?

I wanted to get it that day, and I wasn't going to wait. So I was sick, and I had a stomach ache! And I saw Little Mermaid at 10 a.m. I even remember—I'm really going deep cut for y'all. I remember getting the Disney sing-a-long songs, which came out before the movie.

Where they just had "Kiss The Girl" and "Under The Sea". And then like, nautical themed Disney movies throughout time. So I know all the words to 'Whale of a Tale', from 20,000 Leagues Under The Sea. 'Cause it was on my Little Mermaid sing-a-long songs. So it's sort of that level, obsession. And really, I think because of that Sebastian the Crab, that song was unlike any other Disney tune I heard. I was like, that has a Caribbean rhythm to it. I'm from the Caribbean. And it just felt like, 'Ooh, you can go anywhere.' I think, probably my desire to sort of start writing stuff, I think, began with that movie.
Is your son's name an adage to that?
It is a nod to that. It's not the only reason. I don't think my wife would let that fly. Mainly my son's name, because Sebastian's one of the great bilingual names. Like, Sebastian, en Español, is a bad ass name. But it helps that I already had great affection for the name since my youth.
At the end of the interview, Lin-Manuel Miranda said, "I've got to take a photo for Twitter." And he Did. "Tag Yourselves." So much fun. We almost broke the internet that morning. And when we saw him in the hallway a couple of hours later he said, "Hey squad!" Great memories.
My first interview was all these delightful women. Tag yourselves! pic.twitter.com/UXv8pf5Nl6

— Lin-Manuel Miranda (@Lin_Manuel) November 13, 2016
MOANA TRAILER
MOANA arrives in theatres everywhere on November 23rd!
Facebook | Twitter | Instagram | Tumblr | Website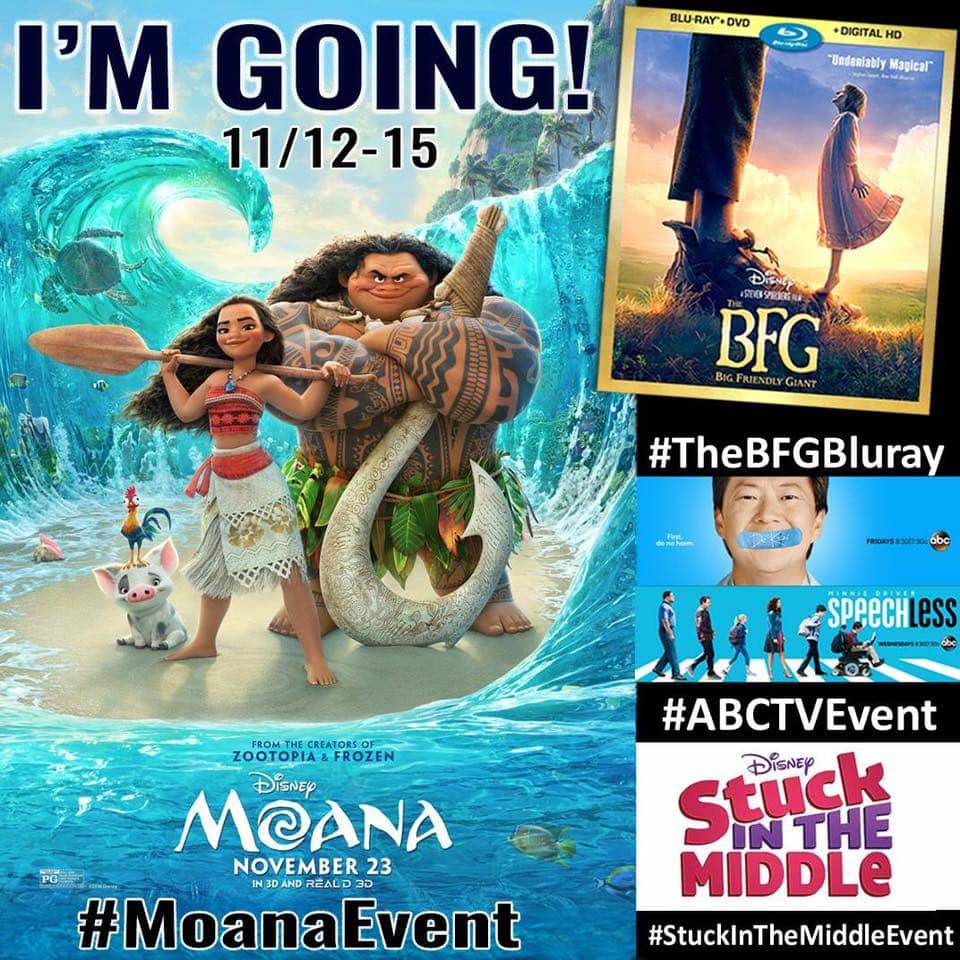 I've been invited to an all-expenses paid trip to Los Angeles. As always, all opinions are my own.