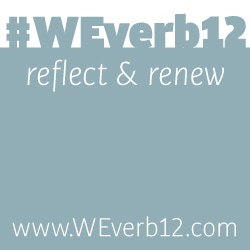 #WEverb12 prompt: fellowship [HOPE]: What community has engaged you most this year and what did it you get out of your participation?
Five years ago, a close girlfriend started a happy hour cocktail event to raise fund for American Cancer Society's Making Strides Against Breast Cancer. Her mom had been diagnosed with breast cancer, and a fundraising event was something she could do—could control—in a whirlwind that she couldn't. It's a cause I believe in, so since the first year, I have been helping with little things (logo, marketing). This year, I was a full-fledged board member (along with 5 others) of Cocktails Curing Cancer.
This event started out in the small downstairs room of a local lounge, and has twice outgrown its space. This cause is such a good one. Knowing many breast cancer survivors, and knowing many have not survived, motivates me to help raise awareness and funds for research. Knowing that I have three daughters who could someday afflicted with breast cancer, or another form of cancer, also motivates me. Helping with this organization means I am making a difference, giving back to my community, and supporting my friend.