Thank you to Neutrogena and the Motherhood for sponsoring this important conversation about sunscreen and sun protection.
Despite all we know about sunscreen use and sun protection, skin cancer continues to be a health epidemic in the U.S., even though skin cancer is one of the most preventable cancers. In fact, melanoma rates in Oregon are on the rise and have increased 50% in the past 10 years. Did you know that on average, more than 350 Americans are diagnosed with skin cancer every hour?
This year, Neutrogena® is leading a campaign to change the sun protection conversation with their #MimicMommy campaign, rallying moms to use sunscreen in front of their kids to demonstrate the importance of daily sunscreen use. Studies show that kids are more likely to adopt healthy habits, like applying sunscreen. We all know kids learn by doing and seeing, so if they see their moms (and dads) applying sunscreen on themselves, they are more likely to do the same.
As a mom, I always thought it was enough to make sure I get sunscreen ON my kids before heading out the door, but now I realize that I need to set the example and make sure they are seeing me apply sunscreen on MYSELF to really make it a life-long habit. No more simply applying my sunscreen in my bathroom when I get ready for the day. I need to apply it in front of them, too. Sparking this simple, healthy behavior change early on may ultimately help reduce the likelihood of developing skin cancer later in life. That's a no-brainer as a parent.
Did you know that just a 1 or 2 bad sunburns as a child almost DOUBLES the risk of skin cancer? Yep. Doubles. I bet you had 1 or 2 as a kid. I know I did. Oh, the things I wish my parents really knew back in the day and the conversations I would have had with my teenage self about sun protection!
I am committed to instilling safe sun behaviors in the next generation of children, so I have "the talk" with my kids about sun protection and always make sure they see me applying sunscreen on myself first to set the right example. We put on sunscreen anytime we are out in the sun and keep it with us for any time we are outdoors (we even keep a stick of Neutrogena Ultra Sheer Face + Body Stick Sunscreen Broad Spectrum SPF 70 in our car just in case!). When we hit the pool or the beach, we include shirts with shoulders and/or long sleeves, hats, and sunglasses in addition to our traditional beachwear. SPF and UV protection are where it's at to reduce sun exposure and risk of skin cancer.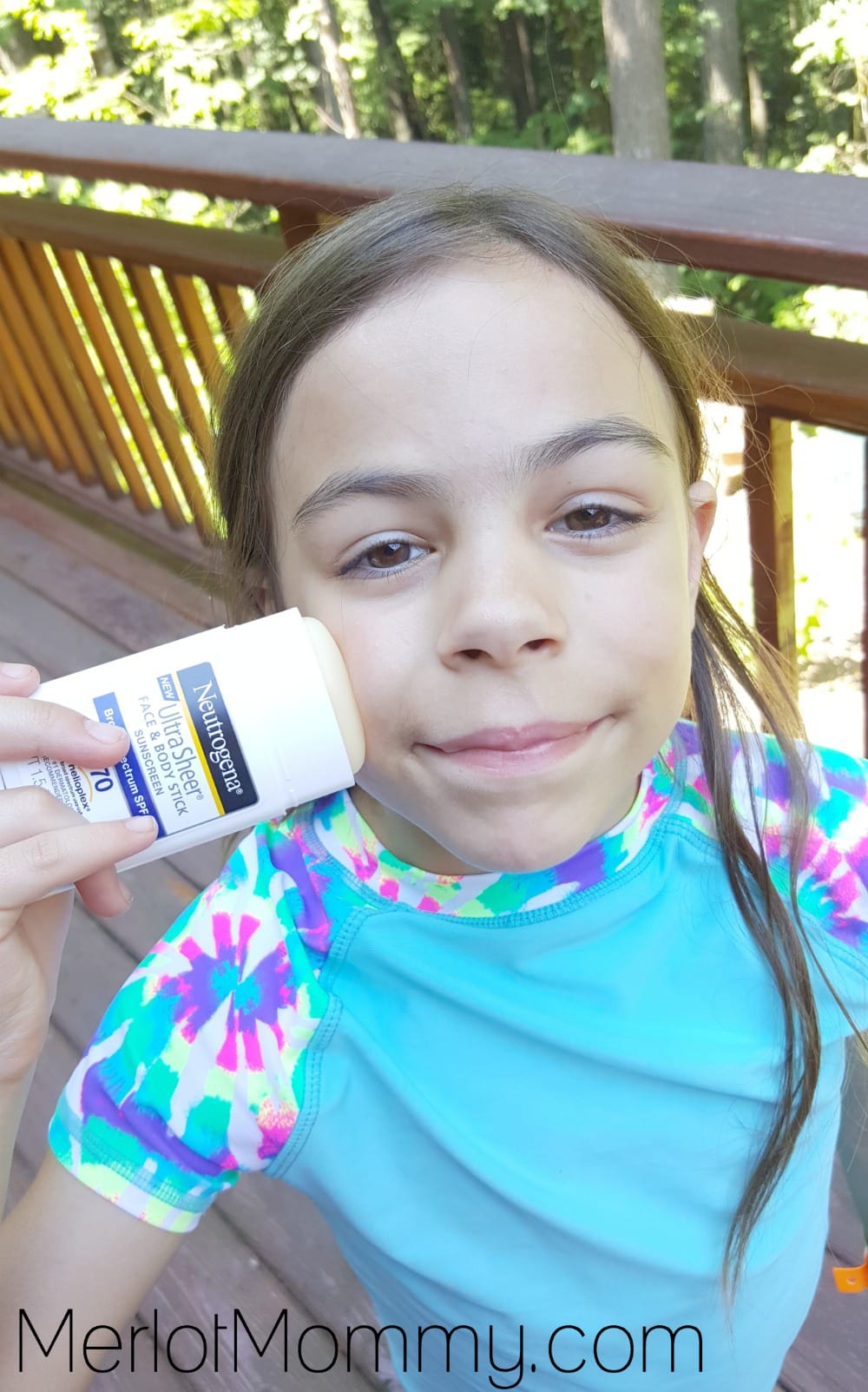 My daughter and I even made a cute video to talk about why we put on our sun protection every day!
The #MimicMommy campaign launched with "The Talk,"  a hilarious (and relatable) look at how Kristen Bell starts the conversation around this important topic and sets a sun safe example for her two kids. We use two of Kristen's favorite products in our house, as well. The Neutrogena Ultra Sheer Face + Body Stick Sunscreen Broad Spectrum SPF 70 delivers powerful sun protection in a breakthrough lightweight stick that glides on easily for a hands-free, no-mess application, which as a mom on the go, you HAVE to love. I can take with me everywhere and it's virtually mess free while effective because the weightless and non-shiny formula provides beach strength broad spectrum UVA/UVB sun protection (it's water resistant for up to 80 minutes). As a frequent traveler, it's also a perfect size to be TSA approved (LOVE) so that makes me happy, too!
Our other fave is the Neutrogena Wet Skin Kids Sunscreen Spray Broad Spectrum SPF 70+, which is the first line of sunscreen specifically formulated to work with wet skin. It instantly cuts through water, providing broad spectrum protection with every application. It's formulated with HELIOPLEX Technology, a breadth of stabilized technologies that delivers superior protection from the sun. Just like the stick, it's also water resistant for up to 80 minutes.
Share "The Talk" video below for a good cause! For every video share, Neutrogena® will donate $1 to the Children's Melanoma Prevention Foundation, a non-profit educational organization committed to preventing skin cancer through comprehensive sun safety and melanoma awareness programs for families.
https://youtube.com/watch?v=epbmxtEDRZw
Enter to win 1 of 3 Mimic Mommy Sunscreen Kits from Neutrogena!
Our Mimic Mommy Sunscreen kits include the following products:
For Moms:

Neutrogena Ultra Sheer Face + Body Stick Sunscreen Broad Spectrum SPF 70 (Kristen Bell's Favorite)
Neutrogena CoolDry Sport Sunscreen Stick Broad Spectrum SPF 50+

For Kids:

Neutrogena Wet Skin Kids Sunscreen Spray Broad Spectrum SPF 70+ (Kristen Bell's Favorite)
Neutrogena Pure & Free Baby Sunscreen Lotion Broad Spectrum SPF 60+
Here's how to enter!
Share how you talk to your kids about sun protection. Share photos or videos of you and your children applying sunscreen together.
Tag @Neutrogena, use #MimicMommy and #Sweeps, and link to "The Talk" video (http://bit.ly/1X0YRrF) to enter into a product reader giveaway.
All entrants are required to post on a public social media account to be eligible for the giveaway.
Once you have done the above, please enter the link to your public photo share using the Rafflecopter below.
Entrants may enter once daily.