Christmas came early for Marvel nerds as Marvel Studios' Hawkeye dropped on Disney+ on November 24. The new series—heavily inspired by the Matt Fraction/David Aja comic series—is riddled with nods to the comic run as well Easter eggs and references to other MCU properties. Here are all Hawkeye Episode 1 Easter eggs we found.
Hawkeye Episode 1 Easter Eggs – "Never Meet Your Heroes"
*SPOILER WARNING* IF YOU HAVEN'T WATCHED HAWKEYE ON DISNEY+, THIS IS YOUR SPOILER ALERT.

Battle of New York
Just minutes into the show, we get a clear view of Earth's Mightiest Marksman during the events of 2012 in a flashback. We see the Chitauri Leviathan outside Kate's room. As her penthouse wall is destroyed, we see Stark Tower in the distance, as well as Hawkeye jumping from building to building taking out Chitauri as he goes.
Eleanor Bishop
We meet Kate's mom, Eleanor Bishop. In the comics, Eleanor is a vampire (and technically dead) before revealing that she was working for Madame Masque. While Eleanor doesn't specifically appear in the Fraction/Aja comic run that the "Hawkeye" series is largely inspired by, Eleanor IS a part of Kate's story in "Hawkeye" #20. Kate and Lucky go to Los Angeles after she and Clint have a fight, and Kate investigates some of her own mysteries, finding out her dad has ties to Madame Masque. My theory is that Eleanor will turn out to be the villain (Madame Masque) rather than someone simply doing her bidding.

Opening Credits Montage
The opening credits montage is styled after the Matt Fraction/David Aja 2012–2015 Hawkeye comic series.

Stane Tower
Present-day Kate is breaking into Stane Tower at her school's campus on a bet in order to make the clock tower's bell ring via arrow. Stane Tower is a nod to Obadiah Stane.
The bet is with schoolmate "Greer" as seen on her phone. This is likely a nod to Greer Grant Nelson who becomes Tigra in the comics and is a founding member of the West Coast Avengers.
As the tower crumbles, Kate mutters, "This is bad." This is similar to the "This looks bad" line Clint says frequently in the Fraction/Aja comic series.
"Christmas is the Season of the Bells" is the song playing in the next scene after Kate destroys the bell in Stane Tower and is home for the holiday.
"Rogers The Musical"
We first see Clint and his 3 kids at a Broadway show, "Rogers The Musical," a tribute to the Avengers. The musical also includes Ant-Man, who Clint points out to his daughter Lila, "You know who wasn't there? THAT GUY."
The musical number we see is "Save the City." We hear the line "I Can Do This All Day" repeated in the chorus, which is a reference to one of Captain America's famous lines, and also includes lyrics that are nods to other Avengers moments/items such as Hulk Smash, Tesseract, Chitauri, "Eat Schwarma," and so on.
Bet let's talk about Ant-Man and "I Can Do This All Day." In the original Battle of New York, Ant-Man wasn't there. and Steve never says his now-famous line, but he did say it in the final battle of Captain America: Civil War. Facts.
So, is the line just a fun nod for Captain America fans? Did Ant-Man write the musical? Are we talking about altered timelines that never reset when the team went back to the 2012 Battle of New York? Do people remember Ant-Man being in New York City during the time travel back to 2012 in Adventures: Endgame? So many questions.
A girl dressed like Black Widow waves to Clint.
In the men's bathroom, Clint sees, "Thanos was right" written on the urinal.
Advertisements for the show line the Lunt-Fontanne Theatre. Posters for "Rogers' is a soaring, smashing, flying, fighting, musical triumph" and "5 Stars Captures the heart of a hero" can be seen covering the theatre. Lunt-Fontanne Theatre, located at 205 West 46th Street (46th and Broadway) in the heart of Times Square in Midtown Manhattan, is across the street from The Richard Roger's Theatre (current home of Hamilton!). The very first show ever performed at the Lunt-Fontanne Theatre was "The Echo" Likely not an accident in name/location choice.
"Did you turn off your hearing aid again?"
Clint has turned down his hearing aid and Lila calls him out on it.
Clint Barton wasn't always deaf in the comics but he is often depicted as deaf in later comics, including in the Fraction/Aja series. In Hawkeye #4 (1983), Barton suffers a temporary hearing loss in his first solo miniseries comic by Mark Gruenwald after intentionally deafening himself to avoid Crossfire's sonic brainwashing device.
Barton's hearing loss wasn't a disability that was explored again in the comics until the Avenger's Annual (2001) in the Onslaught crossover events when Franklin Richards used his powers to restore Barton's hearing.
In 2014, Matt Fraction's "Hawkeye" series depicted Barton as deaf as a result of early childhood trauma from his dad beating him and his brother, Barney. The comic used ASL to tell much of the dialogue Barton "hears." He uses hearing aids to hear. In "Hawkeye" #19, Clown (of the Tracksuit Draculas) stabs Barton in his ears with two arrows, leaving Barton completely deaf.
We see Clint use ASL with his youngest son in this Episode.
Disney+ "Hawkeye" Episode 2 will reveal he lost his hearing because of all of the explosions while fighting as an Avenger.
6 Days Until Christmas
The Barton family is finishing up their dinner as they get a call from Laura/mom. Laura says she'll see them in 6 days for Christmas. Clint asks the kids what they want to do for their days leading up to Christmas. Gingerbread houses, holiday movie marathons, and ugly sweaters top the list. 6 days till Christmas. 6 episodes of the "Hawkeye" series. Certainly not a coincidence?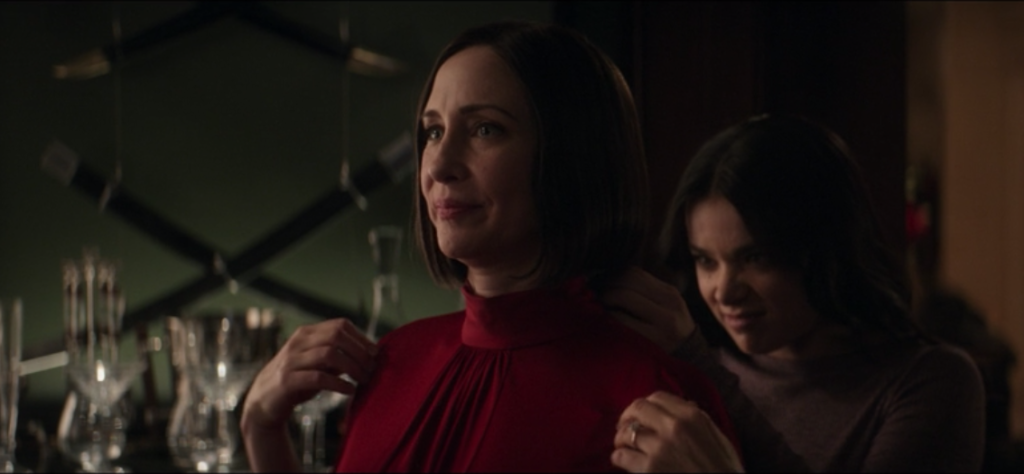 "What's up with all the swords?"
What's with all the swords, mom? –Kate
There have been a few changes while you were away this semester. –Eleanor
Kate returns home after destroying the bell tower at school to find her mom dating a man named Jack (Jacques) Duquesne. In the comics, Jack is also known as the Swordsman. A carnival performer who trained a young Clint Barton, The Swordsman eventually turned to crime and even worked for the Mandarin at one point. In the "Hawkeye" series, all we know so far is that Duquesne is a wealthy man with an affinity for and skill with swords (if you recall, he stole the Ronin sword during the explosion and fenced with Kate).
Armand Duquesne, III
We are introduced to Armand Duquesne, III, at the Gala Event at the Lotte New York Palace Hotel. Armand is Jack's uncle.
In the "Avengers Spotlight" #22 (May 1989), we meet Armand as Jack's father. Armand was a government official in Sin-Cong. On Jacques' 18th birthday, Armand told his son the story of the Crimson Cavalier and bequeathed his son a sword.

Lotte New York Palace Hotel
The Lotte New York Palace Hotel where the Gala is held in the same building that is Kingpin's home in Season 3 of Netflix's Daredevil. 455 Madison Ave. in New York City is the common address.
Lucky the Dog
Kate sees Lucky the Dog outside the Gala as she's taking a breather from the drama between her mother and Armand.
We'll come back to Lucky.
Ronin Sword and Suit
At a black market auction happening in the basement where the gala is being held, Ronin's sword and suit that were found in the Avengers Compound and seen during Avengers: Endgame are being auctioned off. Ronin's retractable sword goes to paddle #309, which is Armand Duquesne, for $475,000.
As the Ronin suit auction begins an explosion goes off. Jack steals the sword, Kate steals the suit. Kate dons the Ronin suit to help save people trapped in the explosion.
The Tracksuit Mafia run in looking for a watch. One of the mafia members finds the watch with an auction lot tag "#268 Avengers Compound Watch."
#268 on the tag is a nod to "Avengers" #268 (Jun 1986) in which Captain Marvel, Namor, and Captain America investigate the disappearance of their teammates—Wasp, Black Knight, and Hercules—who have been kidnapped. Captain America suspects Kang from the beginning.
In the comics, the Ronin alias was first used by Echo in "New Avengers" #11 (November 2005). Echo/Maya Lopez is confirmed for this series. In Avengers: Endgame, Clint used the Ronin persona anger after Thanos snapped his family, but the public doesn't know Clint was Ronin. In the comics, Clint did use the Ronin persona, but in the "Hawkeye" series, he won't be at the helm of that title.
Tracksuit Mafia /Tracksuit Draculas
We first meet the "bros" in tracksuits at the auction explosion, which are the Tracksuit Draculas (aka Tracksuit Mafia) in the Fraction/Aja "Hawkeye" comic series. Also first featured in "Hawkeye" Vol. 4, #1 (August 2012), they use an insane amount of the word "Bro" and they are Clint's nemesis, long before he adopted Lucky.
Lucky the Dog, part 2
Lucky attacks the Tracksuit Mafia member who snagged the watch, and Lucky gets kicked into the street into oncoming traffic. Kate grabs Lucky and saves him from being hit.
Lucky aka Lucky the Pizza Dog is a fan favorite from the 2012–215 "Hawkeye" comic series by Matt Fraction/David Aja. We first meet Lucky in the comic when he attacks one of the Tracksuit Mafia members while the guy is attacking Clint.
Kate takes Lucky back to her apartment and feeds him pizza.

Butterscotch?
Kate knows Armand is sus and she breaks into his home to see if she can find out what he was up to. Instead of answers, she finds a butterscotch candy with the monogram "Armand III" and then sees Armand is dead via a stab wound that looks like that of a sword.

Making headlines
Clint's kids see a "ninja saved a dog" on TV and Clint leaves to find Kate because he knows bad people will be looking for the Ronin suit.
Clint tracks down Kate just as the Tracksuit Mafia guys are about to have it out with her.
Did you catch any Easter eggs in Hawkeye Episode 1 we missed? What was your favorite moment? Leave us a comment below!
Best Movie Easter Egg Posts
Check out the Best of our Movie Easter Egg Posts.