Marvel nerds delighted in the early Christmas present Marvel Studios' gifted them when Hawkeye dropped on Disney+ on November 24. The new series—heavily inspired by the Matt Fraction/David Aja comic series—is riddled with nods to the comic run as well Easter eggs and references to other MCU properties. Here are all Hawkeye Episode 2 Easter eggs we found.
Hawkeye Episode 2 Easter Eggs – "Hide and Seek"
*SPOILER WARNING* IF YOU HAVEN'T WATCHED HAWKEYE ON DISNEY+, THIS IS YOUR SPOILER ALERT

Tracksuit Mafia /Tracksuit Draculas
We first meet the "bros" in tracksuits at the black market auction explosion in Episode 1. The Tracksuit Draculas (aka Tracksuit Mafia) in the Fraction/Aja "Hawkeye" comic series. They were first featured in "Hawkeye" Vol. 4, #1 (August 2012), they use an insane amount of the word "Bro" and they are Clint's nemesis, long before he adopted Lucky.
Ronin Suit
Clint plays 50,000 questions with Kate about the Ronin suit. Kate tells him she acquired it at an underground black market auction. Just as he's telling her that the real Ronin did things that make bad people want to hurt the person in the Ronin Suit, the Tracksuit Mafia show up and throw Molotov cocktails through the windows of Kate's apartment.
Clint, Kate, and Lucky escape but have to leave the suit behind and plan to come back for it.
Avengers Tower has been sold
We going to your safe-house? Is it in Avengers Tower? –Kate
No, Tony sold that. A few years ago. –Clint
Clint takes Kate somewhere safe and to get supplies. She asks if they are going to Avengers Tower. Clint tells her Tony Stark sold it a few years ago. This is a nod to the relocation Happy Hogan oversaw in Spider-Man Homecoming to the new compound upstate.
Safe House and a Bag of Money
I need to find a safe place. To stash you. –Clint
Stash me? Like a bag of money. –Kate
A bag of money would be useful to me right now. –Clint
I might know a place. Would a bag of money know a place? –Kate
Clint and Kate stop to get supplies, including medical supplies. Clint tells Kate he is looking for a safe house.
Kate takes Clint to her aunt's apartment in the city (she is away in Florida for the winter). As they gain access to the building, we see quite a list of names on the callbox:
Bedos/Appalaraju #2A

Benequisto/Garley #6F
Cademartori/Cagatian #5C

Bedos/Appalaraju #2A

Dean/Rodgers/Soutter #2F

Moskowitz/Beaugrand #4D

For/Raneri #6E

Moira Brandon 6D—We'll come back to this name

Jones/Gunther #2E

Treitman/Dodd #2D

Matalevich/Pisano #3B

Gonzalez #5F

Amato/Ponciano #4E

Taffet/Danzig #4F

Fulton/Bernstein #3F

Sosa/Meyers #6A

Hoover #6C

Barnhill/Hawke #3E

Brown #5E

L…Dat /Saga #4B

FDNY Helmet #54
Clint grabs a fire fighter's turnout gear from truck #88 to sneak into Kate's apartment to retrieve the Ronin suit. The helmet he grabs is #54. The Ronin suit is gone and Clint realizes one of the firefighters must have taken it. As Clint returns the suit and picks up his backpacks, he spots the NYC Larpers sticker on the firetruck.
Number 54 on the helmet is to honor Midtown Engine Company 54, Ladder 4, Battalion 9 who lost every member of their company sent to the World Trade Center on 9/11.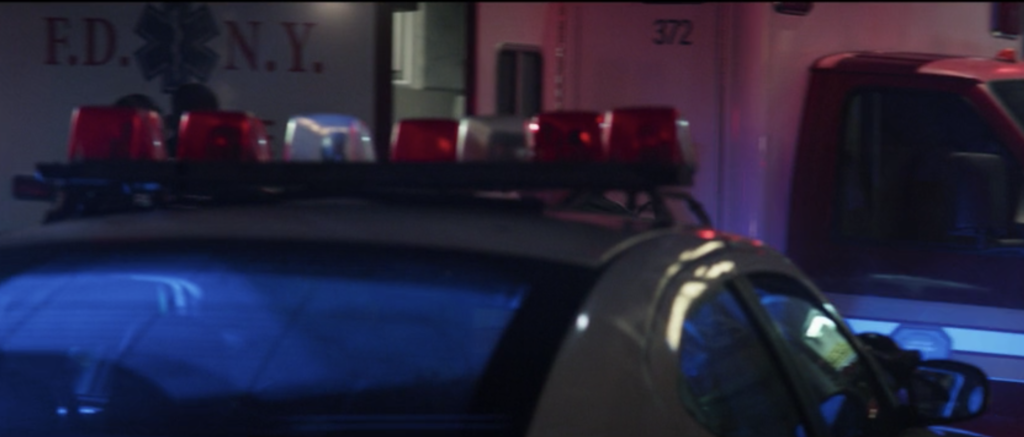 Firetruck #372
The firetruck Clint got the turn-out gear from was #372. This is a nod to "Avengers" #372 (March 1994) that ties into the Black Knight.
Moira Brandon
In the apartment that belongs to Kate's aunt, Moira Brandon, there is a theatrical movie poster on the wall, though not a real movie. The movie is titled Creature from the Dark Galaxy, and the star is actress Moira Brandon.
The film name seems like a nod to the Universal Studios' classic Creature from the Black Lagoon featuring Gill-man, but the obscure reference is that Moira Brandon was a short-lived character first seen in "Avengers West Coast" #100 (November 1993).
Originally from Chicago, when Moira moved to Hollywood, her Chicago estate was purchased by the West Coast Avengers for use as the Avengers Compound. Moira was killed after she saved Hawkeye and Mockingbird from Crossfire's attack on the Compound.
Brandon's co-star is Luke Ballard, who is a former Marvel visual artist.
NYC Larpers
Clint looks up NYC Larpers on Instagram and sees one of their members donning the Ronin suit. Clint spends some time, begrudgingly, at the LARP event in Central Square to get back the Ronin suit back.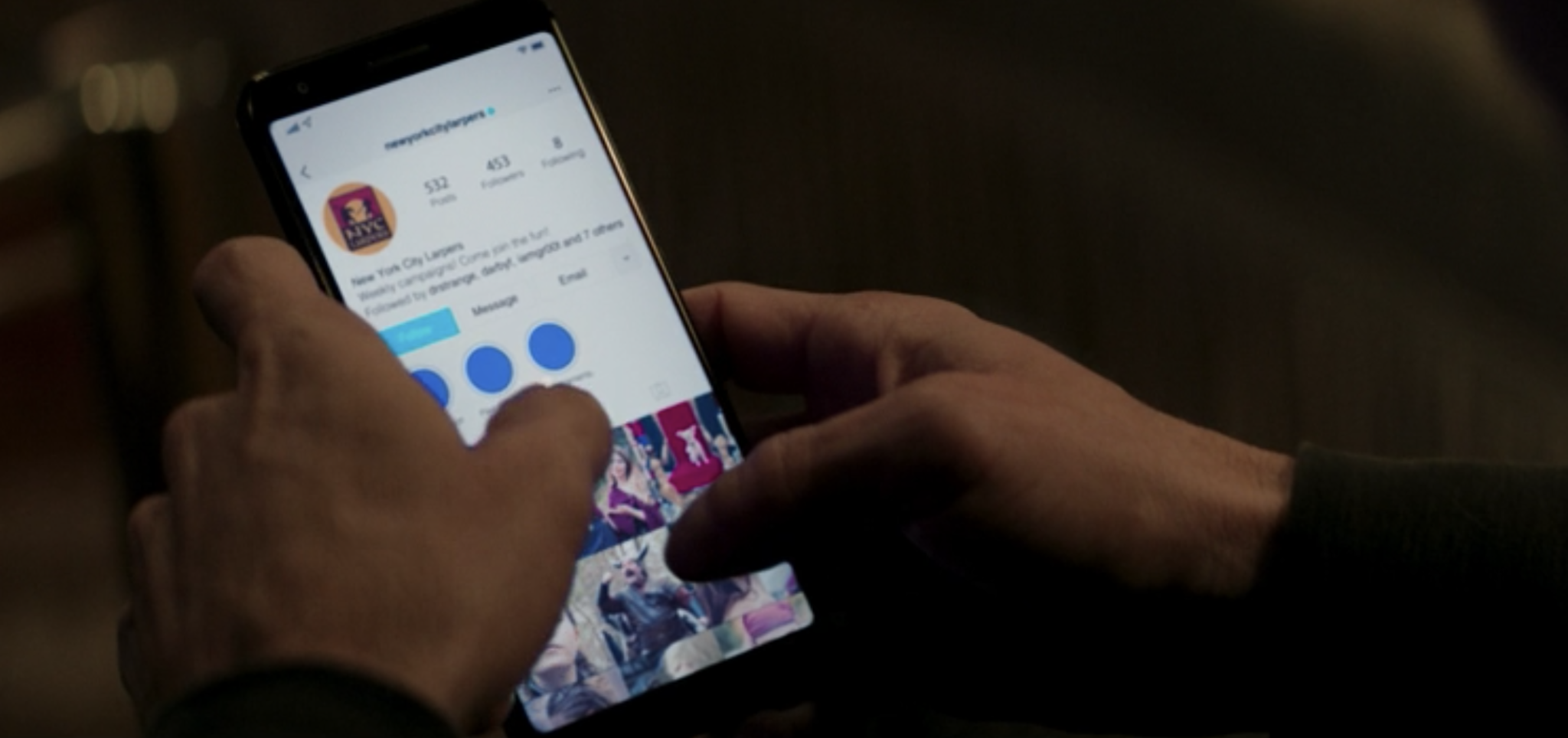 Clint gets his suit back after throwing the grand battle with a man named Grills. Grills is a nod to Clint's neighbor in the comic series: Gilbert aka Grills first appeared in "Hawkeye" Vol. 4, #1 (August 2012). Grills dies in #10, but #11 is the winning issue of this whole series—not because we get Grills' corpse in #11, but because that is the issue from the dog's point of view.
American Sign Language
As mentioned above, Nate is learning to sign and Clint is signing with him. This is a nod to the "Hawkeye" comic run and the Hawkeye comic character who is deaf for a majority of his time on panels, as discussed in the "Hawkeye" Episode 1 Easter Egg post.
Times Square Gems
Times Square is a trove of gems whatever the reason you're checking it out. Loads of stores can be seen in this scene of Times Square, including the Disney Store and everyone's favorite the Naked Cowboy.
Clint has a flashback of some of his bigger fights in the MCU and he thinks about his hearing loss. (We allude to this in the Episode 1 article.)


Janky Superheroes
No tourist hotspot is complete without janky, knock-off superheroes. We see a group of knock-off characters hoping for tourist dollars in Times Square, including Katniss Everdeen, Ant-Man, Captain America x2, Hulk, Iron Man x2, and Thor.
Trick Arrows
But what about trick arrows? –Kate
There are no trick arrows, Kate. –Clint
This is a nod to the comics where Hawkeye has multiple types of specialty arrows, including trick arrows.
Catch and Release
What's your play? –Laura
Catch and release. –Clint
One of Nat's old moves. –Laura
Time to get myself caught. –Clint
Clint checks in with Laura, and she asks him what his play is. He says he is going to use "Catch and Release" to get the info he needs, and Laura reminisces about how that is one of Nat's old moves. In Avengers, that is how we first meet Natasha.
Sword Fight?
Kate challenges Jack to a fencing match. She proves that he lied about his sword skills (remember that he is Swordsman in the comics). Eleanor thinks Kate is being extra and doesn't get what the big deal is.
Butterscotch?
Jack is unphased by Kate's anger regarding his lying. He offers her a butterscotch candy, and it's one of the monogrammed butterscotch candies from Armand's apartment.
Christmas Movie References
We get several Christmas movie nods in "Hawkeye" Episode 2.
Kate asks Clint when his heart shrunk 3 sizes, which is a nod to The Grinch.
Clint says goodbye to his kids as he sends them off to the airport to go home to their mother while he finishes the mission he is on with Kate. Clint signs "I'll be home for Christmas," to Nate, who is learning ASL—a nod to a Christmas movie of the same name.
"Put one foot in front of the other," is a line from Santa Claus Is Comin' To Town.
"She wants him alive."
The Tracksuit Mafia kidnap Clint for a woman who we learn is Maya Lopez aka Echo.
In the comics, Maya Lopez, a Native American of the Cheyenne Nation, was born deaf and was the first person to use the moniker Ronin.
Maya's father worked for Kingpin as a mob enforcer before he was murdered. Impressed with Maya's skills, Kingpin took her under his wing. Kingpin tried to have her kill Daredevil, after lying to her saying he killed her father. Daredevil told her the truth, and instead, she turned on Kingpin.
Vincent D'Onofrio, who plays Kingpin in the Daredevil series, has been trolling Twitter, so I'm hoping this means we see him even for just a brief cameo.
Episodes 1 and 2 are now streaming on Disney+.
Did you catch any Easter eggs in Hawkeye Episode 2 we missed? What was your favorite moment? Leave us a comment below!