Marvel nerds delighted in the early Christmas present Marvel Studios gifted them when Hawkeye Episodes 1 and 2 dropped on Disney+ on November 24. This week, "Hawkeye" gave us a whole new batch of comic nods, Easter eggs, and references to other MCU properties as Clint plays "catch and release" with the Tracksuit Mafia. Here are all Hawkeye Episode 3 Easter eggs we found.
Hawkeye Episode 3 Easter Eggs – "Echoes"
*SPOILER WARNING* IF YOU HAVEN'T WATCHED HAWKEYE ON DISNEY+, THIS IS YOUR SPOILER ALERT
Echoes
The episode title, "Echoes," is a nod to Maya Lopez's comic identity "Echo."
Circle Tattoos
The circular tattoo pattern Maya's father has on his neck is comprised of small triangles. Echo's comic costume in the "New Avengers" storyline is similar.
Capoeira Foreshadowing
In the opening flashback sequence, we get a double Easter egg. We see young Maya Lopez in a classroom reading her teacher's lips as she tries to keep up with her lessons. She completes her workbook page, and as the teacher comes to check her progress, we see she has written "This year, I want to learn how to play capoiera." Capoeria is a Brazilian martial art that combines elements of dance, acrobatics, and music.
Later in this episode, we see modern-day Echo's fighting style—as she battles Clint—includes capoeira-style kicks, which are drawn from her comic book character. In the comics, Maya is trained as an elite martial artist and dancer.
Dragons
Are dragons real? –Maya
Maybe they are, but dragons live in a different world. –Willie Lincoln, Maya's dad
Maya writes about wanting to be as fast as a dragon on her same worksheet in school. She also asks her dad if dragons are real. He says they live in a different world, which may be a nod to the mystical land that dragons live in as we learned in Shang-Chi and the Legend of the Ten Rings, but may be as simple as a dad explaining to his daughter the historical and cultural importance of dragons, which in most cultures have them living in the sky, mountains, and seas.
Echo Mimic
Taskmaster isn't the only Marvel comic book character with Photographic Reflexes. Echo also possesses photographic reflexes, an ability that allows Echo to perfectly duplicate any physical movement or action she sees with perfection after watching it only once. We see her do this in her martial arts class in the flashback scene.
The Owl Teased?
Maya and her dad, Willie "Crazy Horse" Lincoln are having a discussion in her bedroom during the flashback scene. There is an owl toy displayed in her bedroom, a callback to the villain, The Owl is another comic book reference. The Owl aka Leland Owlsley is a comic book villain who, like Echo, has ties to Kingpin. The Owl is predominantly an enemy of Daredevil, though shared a rivalry with Wilson Fisk and this would be a natural segue into the MCU.
During Echo's flashback karate class, Hawkeye shows her carefully watching an obnoxious kid's take-down, before perfectly countering the technique minutes later. Though Hawkeye understates her ability, Echo in the Marvel comic books is able to copy movements precisely after only a single glimpse.
Uncle
Uncle will take you home tonight after class. –Maya's dad
Maya's Uncle picks her up after karate class. As of yet, we haven't met this Uncle. However, it could be Kingpin. As discussed in the previous Easter Egg articles, Kingpin is a villain in the "Daredevil" comics, which take in the adjacent neighborhood. Kingpin is Maya's adoptive father in the comics. We've seen Vincent D'Onofrio trolling people online for weeks, so it makes the fandom wonder if he may be reprising his villainous role.
This is going to be fun. I love these @Marvel series. https://t.co/6jN9FCwIkp

— Vincent D'Onofrio (@vincentdonofrio) November 17, 2021

Prosthetic Leg
In the flashback scene, Maya wins her karate match and we see her prosthetic leg. In the current day, we see her in the boxing ring training. The actress playing Maya/Echo, Alaqua Cox, has a prosthetic leg in real life.

Fat Man Auto Repair
Maya sees a fight break out as she parks her motorcycle in front of "Fat Man Auto Repair." Lee Portman is an Australian comic character whose nickname is Fat Man. At one point, he joined with Iron Mask and others to confront the time-traveling Avengers West Coast and was knocked out by Hawkeye.

Ronin kills Maya's Dad
During the fight Maya comes upon, Maya watches Ronin kill everyone, including her father. In the comics, her dad worked for Kingpin and he was responsible for her father's death. In "Daredevil" #9-10 (2000), Kingpin adopts Maya and raised her as his own. He did send her away to a boarding school for the deaf (we see a clip about that in the flashback).

Bloody Handprint
We get a direct comic nod when Maya's father puts his bloody handprint on her face as he is dying. He does the same in the comics. Part of her iconic comic suit as Echo includes a white handprint on her face. In the bedroom scene, there is also a blue handprint on the wall.
KB Toys
Clint and Kate are being held hostage by the Tracksuits in an abandoned building. It's abandoned KB Toys, a chain that went out of business in 2009.
Imagine Dragons
Another dragon reference. One of the Tracksuits is a huge Imagine Dragons fan. Could be nothing, could be something.
Black Widow Killed Ronin
Clint tells Maya and Kazi that Black Widow killed Ronin. This is a reference to when Natasha hunted and found Clint (as Ronin) in Avengers: Endgame. Nat told Clint the team needed him to come and help the Avengers bring everyone back.

Trust a "Bro"
As Kate and Clint escape Maya the Tracksuit Mafia, you can see a van that reads "Trust a Bro." In our previous Easter egg articles, we talk about the nod to the Tracksuit Mafia's absurd overuse of the word "bro" in the Fraction/Aja "Hawkeye" comic run.

1970 Challenger
Can we take this one? Man, this thing's beautiful. –Kate
We're not smashing a '72 Challenger. –Clint
When Kate and Clint escape Maya the Tracksuit Mafia, the first two vehicles they see include a 1972 Red Dodge Challenger, which Kate asks if they can take as Clint hops into the older car to hotwire it as the getaway car.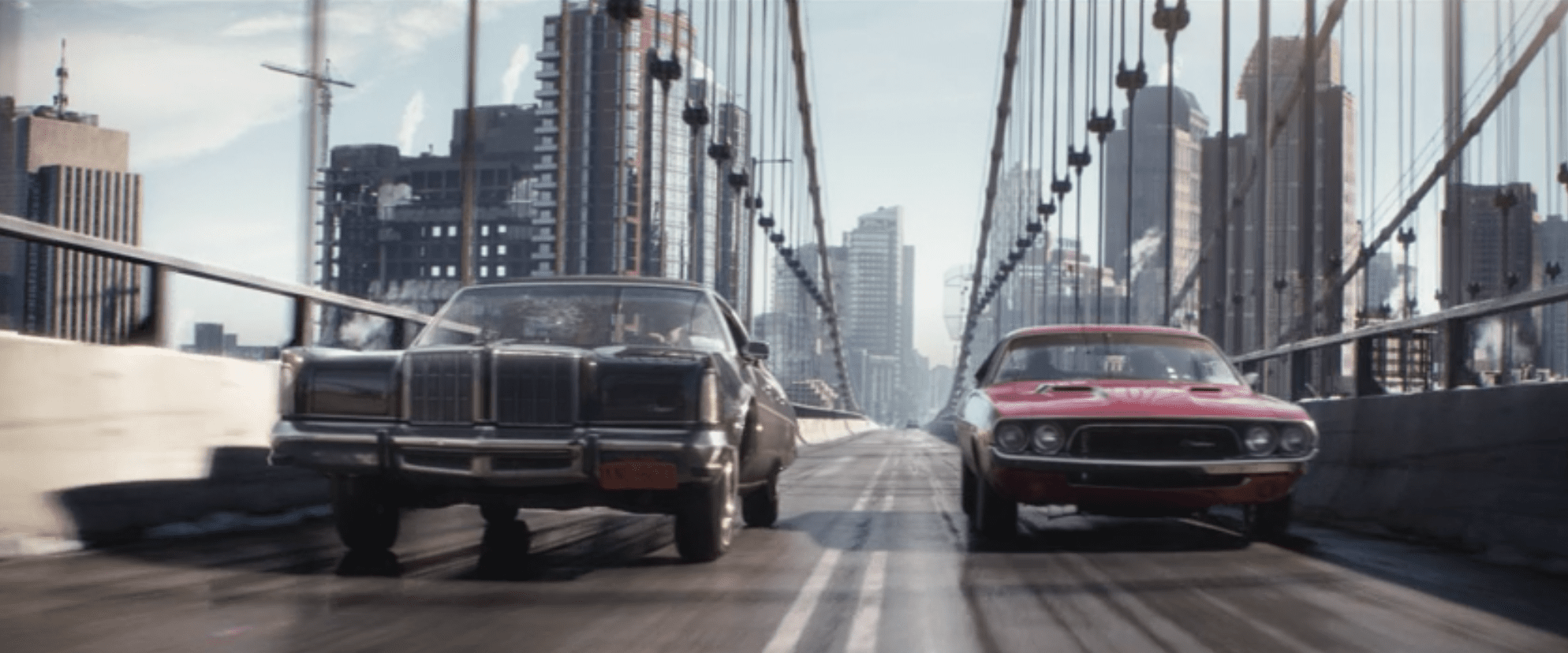 This is a nod to the 1970 Cherry Red Dodge Challenger, which was Clint's car in the Fraction/Aja "Hawkeye" comic run, and her name was Cherry. We first met Cherry in "Hawkeye" Vol. 4, #3 (October 2012) and she was continually damaged and repaired, which explains Clint's hesitancy in smashing up the mint muscle car they found outside the KB Toys.
The car chase scene in "Hawkeye" Episode 3 is a near replication of the comic panel, even down to the color palette. The car chase scene in the comic is one of the most memorable comic stories in that run.
Clint purchases the 1970 Challenger from Ivan's wife and the Tracksuit Draculas proceeds to steal the new wheels. The sequence turns to a high-speed car chase through the center of Manhattan, ending on a bridge.
In the comic, Kate drives and Clint shoots arrows. In the TV series, the roles are reversed.
If you'd labeled these stupid things like you said instead of… –Kate
After Kate hands Hawkeye a bola arrow instead of an acid arrow in the comic, Kate complains about him not labeling his trick arrows, which we see repeated in this episode as well.
Kate grabs the quiver and shoots trick arrows, just like in the comic: Play-Doh (putty), explosive-tip, suction-tip/plunger, cable, acid, and smoke bomb arrows. In the comic, the final arrow is a boomerang arrow. Here we have a USB arrow followed by a final arrow that is a PYM particle arrow. We've seen the USB arrow in Avengers and "Marvel's What If… Ultron Won?"
The duo escape by using the grappling hook arrow.

Clint spent time with Scott Lang and Hope van Dyne in Captain America: Civil War and Avengers: Endgame, so it makes sense that he may have scored some enhanced trick arrows.
Iconic Comicbook Suit Origins
Picture this…in purple. –Kate
Kate draws Clint a picture of what his new suit could look like. She draws Hawkeye's original comic outfit. Clint's comic suit look, introduced in 1964, included a winged mask and large letter "H" just like Kate's drawing.
Kate and Kazi Chemistry
At the diner where Kate draws the "new" suit for Hawkeye, Kate refers to Kazi as "the hot guy who spoke sign language."
When Kate and Kazi meet for the first time in "Hawkeye" #10, there is some serious sizzle and a fiery kiss exchanged at a dinner party. The comic Kazi iteration wears face paint and calls himself "the Clown," but so far we haven't seen a painted version of Kazi, though he did have a mask on in Episode 1.
Pizza Dog
Clint keeps pestering Kate to give Lucky a name.
Little Caesar? Dogfather? Sir Dog of Pizza? Pizza Dog. –Kate
Kate tries a series of pizza-related names before coming up with Pizza Dog. Pizza Dog is the nickname Clint and Kate's dog Lucky has in the comics. Lucky is a dog Clint and Kate adopt from the Tracksuits in the comic run: Clint saves Lucky's life and then Lucky repays the favor during a tussle with the mobsters and the dog goes with Clint.
The best part of Lucky the Pizza Dog in the comics is that in "Hawkeye" #11 "Pizza is My Business" the entire comic is told from Lucky's POV. Now that we have an official name, it would be fun to get that nod.

Sloan LTD
Kate and Clint discover that Kazi (Kazimierz Kazimierczak) is employed by "Sloan LTD." Clint mentions the name sounds familiar.
In the comics, we first meet Kazi in "Hawkeye" Vol 4, #8 (February 2013). Kazi is hired by numerous mob bosses over time—including the Kingpin, and The Owl—to kill Clint Barton.
But what is the Sloan connection? Two possible nods/tie-ins to the comics could make sense:
Jason Sloan was a partner in the law firm Broderick, Sloan, and Cranston who we first meet in "Daredevil" #91 (September 1972). Attorney Matt Murdock, whose secret identity is Daredevil, later joined the law firm. Broderick and Cranston are revealed to be evil (Cranston is, in fact, Mr. Fear).
Willie Sloan (aka Willie the Goat) was one of Kingpin's lackeys, who made a brief appearance in The Spectacular Spider-Man #67 (June 1982). He later betrayed Kingpin in exchange for witness protection in lieu of time in Attica and Kingpin had him killed.
While it's unlikely that this nod means we'll see either of these Sloans, what is more likely is it is hinting toward Matthew Murdock and maybe Kingpin showing up in the (near) future, as both have ties to Hawkeye and Spider-Man.
Episodes 1, 2, and 3 are now streaming on Disney+.
Did you catch any Easter eggs in Hawkeye Episode 3 we missed? What was your favorite moment? Leave us a comment below!