This week, "Hawkeye" blew us away as Kate and Clint continue their investigation into Sloan LTD and trying to get back that watch. We're here with a whole new batch of comic nods, Easter eggs, and references to other MCU properties. Here are all Hawkeye Episode 5 Easter eggs we found.
Hawkeye Episode 5 Easter Eggs – "Ronin"
*SPOILER WARNING* IF YOU HAVEN'T WATCHED HAWKEYE ON DISNEY+, THIS IS YOUR SPOILER ALERT
Yelena was Blipped
We have confirmation that Yelena was officially blipped during Thanos' snap.
Yelena and Sonja have broken into Ana's house to cure her. Turns out Ana didn't need curing with the antidote, but Yelena goes to the bathroom and emerges from that same bathroom 5 years later. That's a heck of a potty break.
Yelena asks about finding Natasha but the look on Ana's face tells us she already knows what we do about Natasha's fate.
Turns out, Yelena has been hired by a professional assassin when we meet her in NYC fighting Clint and Kate on a rooftop; we have no idea who…yet.
Hello, Neighbor?
Ana could be a nod to one of Natasha's neighbor's in the comics. Black Widow has a neighbor named Ana, who was a spy, who lived next door during her time in New York's Little Ukraine neighborhood. "Black Widow" Vol 5 #2 (January 2014) depicts Natasha helping her neighbor when she saw her being abused. She told Ana to leave, but she was unable to do so. Eventually, Black Widow beat Ana's husband and warned him never to hurt Ana again.
When Yelena and Sonja realize that Ana wasn't brainwashed, Ana says to them, "What, you thought I was some rich pervert's prisoner?" Yelena responds, "Well yeah, kind of."
Boxed Mac and Cheese Dinner
Kate returns to her apartment to find Yelena there, having prepared a box of mac and cheese, and wanting to talk. Yelena asks about sightseeing things in NYC since it's her first time. Yelena inquires about the Empire State Building, the Statue of Liberty, and the tree at Rockefeller Center. Kate suggests The High Line and the Christmas Market in Union Square.
Grills
Clint goes to Grills' apartment after he sends Kate home and he leaves her aunt's apartment. Just like the comics when they are neighbors, Clint and Grills hang out. However, in the comics, Grills meets a tragic demise at the hands of Kazimeierz Kazimierczak. In "Hawkeye" #10 (2012), Kazi murders Grills. Let's hope for a better ending for Grills in this series.
Grills is watching Pizza Dog for a few days and insists that Clint stay on his couch instead of a hotel for Christmas.
Jack Duquesne gets arrested
Kate returns to the house, defeated after Clint told her to go home and their mission is over. While she is there, Jack is being arrested for financial issues. Eleanor called the police after finding discrepancies thanks to Kate's tip-off. Please, sis, we all know Eleanor is sus.
"Stupid Orange Rock"
Clint stops by the Battle of New York Avengers memorial in Pershing Square to "talk" to Nat. He mentions the "stupid orange rock," a reference to the Soul Stone on Vormir where Nat sacrificed herself to get the Soul Stone to save the world from Thanos' snap in Avengers: Endgame. The memorial is a nice tribute to the Avengers who battled to save NY and lists the name of the team members who were there (note, Ant-Man is not on the list). Clint spends a few moments reflecting and then apologizes to Nat for what he's about to do.
Holiday Spirit
We see the Tracksuit Mafia members Tomas and Ivan in their Track Suit Bros truck listening to Run DMC's Christmas in Hollis. Clint sends a trick bow through the window containing a piece of paper sending a message for Maya to meet Ronin where she first met him (alone).
Watch and a phone call
That watch again. Maya has researched the watch and Clint's family, and while we still aren't 100% certain who it belongs to, what we do know is that it ties back to Laura Barton somehow. He calls home to tell her he still needs more time and he needs to end this Ronin thing tonight "before the big guy" gets involved. She tells Clint she understands more than anyone why he needs to do this and that he needs to do whatever it is he needs to do to eliminate this threat. Still leaning toward a Mockingbird tie-in here. The Big Guy is Kingpin, who is confirmed later in the episode.
Fat Man Auto Sales
Maya parks her bike at Fat Man Auto Sales as she goes to meet Ronin via his arrow invitation to meet him at his requested location, where they first met. "Fat Man" is a nickname for Daredevil's Wilson Fisk aka Kingpin in the comics.
Maya brings back up despite Clint's request. Clint is dressed in the Ronin suit and proceeds to whoop some butt and removes the Tracksuits from the picture so he can have a chat with Maya.
Clint confronts Maya as she expects he is about to kill her. He removes his mask and she is in a mix of shock and disbelief and certain he is lying about his identity and that he did not kill her father that night but that he was there and saw it happen. He explains why he was there that night—that he was tipped off by an informant who had been sent by his boss because he wanted her father killed.
He says they are the same, both weapons. Clint warns her to stay away from him and his family.
Clint has a moment of weakness as the mask is off and he is trying to convince Maya he is telling the truth. She gets the upper hand and is about to kill Clint but Kate shoots an arrow from a building in the distance saving him.
Kazi is a Traitor
As Kate has saved Clint from Maya, Maya ditches and takes off to find Kazi, who is conveniently sitting on the sidelines "oh so worried" about her thinking she got killed. Uh-huh.
Maya confronts Kazi about the night her dad was killed. Kazi wasn't at the meeting her father called. He claims he never got a call, yet he was her father's right-hand man. Kazi is clearly worried Maya knows what happened that night and that he was the informant Clint told her about. In the comics, Kazi is also known as Clown and works for a big guy named Kingpin.
Who was that masked woman?
Now that Clint is talking to Kate again, she tells him she talked to the woman on the roof in the mask. She tells Clint that she is Natasha's sister and Clint instantly knows it is Yelena.
Kingpin – Confirmed
Marvel fans hoped, dreamed, enjoyed our trolling from Vincent D'Onofrio over Twitter the past few weeks. We all know it was a possibility but certainly had no expectation, because, Mephisto.
Turns out that Wilson Fisk aka Kingpin and Eleanor Bishop are the ones who hired Yelena. Clint was right to be concerned about Maya's Uncle all along.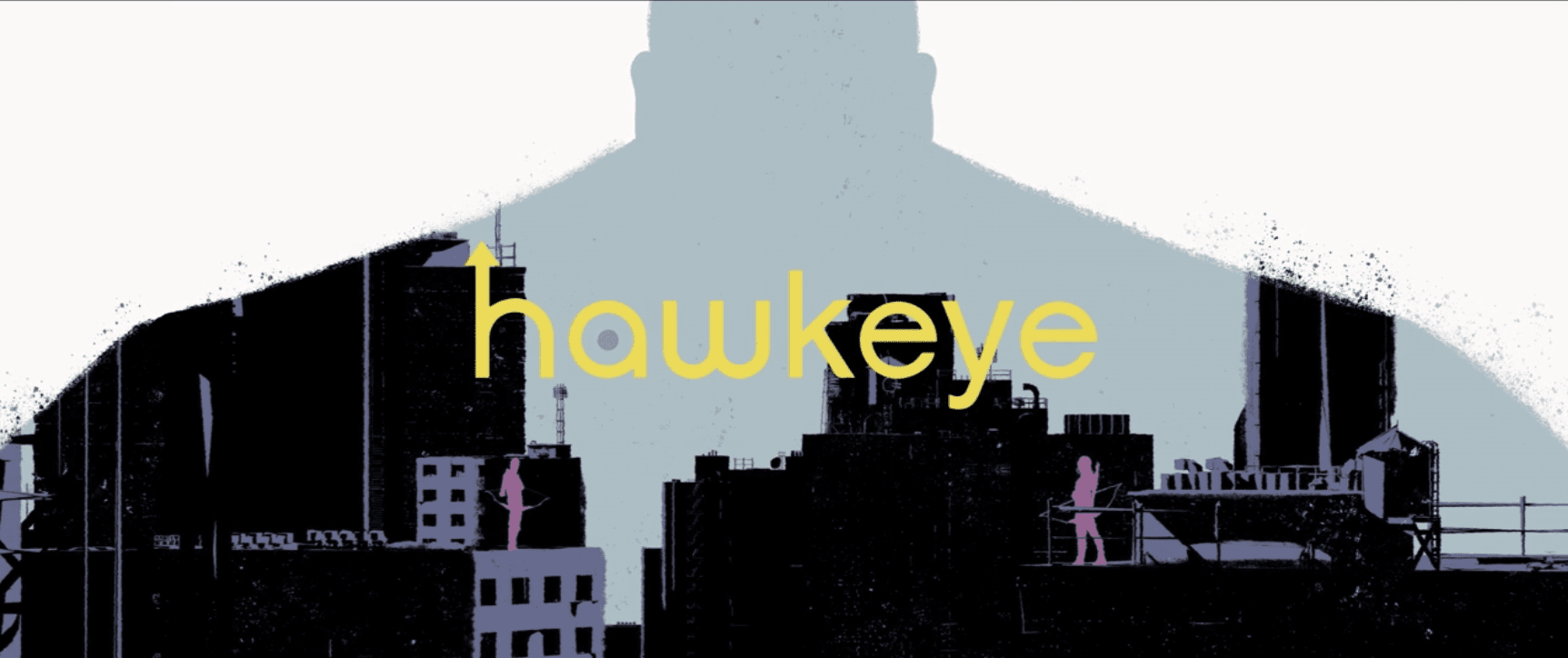 Hawkeye is now streaming on Disney+