Chatting with the cast and talent of HOLLYWOOD STARGIRL during the recent press day gave us a behind-the-scenes look at some of what goes into the making of the movie. Out June 3 on Disney+, HOLLYWOOD STARGIRL is the sequel to STARGIRL.
HOLLYWOOD STARGIRL CAST INTERVIEWS
GraceVanderWall on returning to the Stargirl character
"It was very exciting because, you know, I feel like after seeing everyone love Stargirl it really made me appreciate and be honored even more to play her character. So, it was very nerve-wracking, but I just feel like I just slowly grow more and more love for her. And just so happy to get to play her and she, you know, she's growing up. She's seeing the world, experiencing different things."
"So, she's still her, but I think that the difference in this one is she's just maturing and kind of defining that word of maturity and what it really means to her."
Elijah Richardson and Tyrel Jackson Williams on the similarities and/or differences between themselves and the characters, Evan and Terrell, they play in HOLLYWOOD STARGIRL
ELIJAH: "Honestly, I think that we're exactly alike. I think we're exactly alike. We have the same passion. Me and Tyrel actually clicked in the chemistry reading like it's nothing so, you know, he automatically felt like my brother. So, when we got on set we was just like, you know, we was just saying lines at that point."
TYREL: "Yeah, it felt so easy and seamless. Like, from the first chemistry read, from the first auditions even. As soon as we got on set, it was just like, oh, it's going to be like this? We have nothing to worry about."
Judy Greer on Stargirl's Endless Optimism
"I think the endless optimism of Stargirl was like really infectious. I bet everyone would agree with me on this panel. You can't drive home from work when you're making this movie and like, feel down at all 'cause she sees the world in a different way, which was something that really sucked me in from the first movie was the way Stargirl just like, takes in information and like, spits out happiness and love and positivity. And so, that was the message I took away. Like, it's okay to see things from a different point of view and to like, try to see the good point of view."
Julia Hart on writing the sequel as it was done as opposed to more directly adapting the sequel of the book series?
"I was really excited to have the opportunity to, 'cause I love Stargirl and I love Jerry's books, but I was excited about taking her out of Mica and into a larger world to show her journey on a grander scale."
"And I was also really excited, too. And Grace and I had a lot of fun in the development process of the sequel, talking through, like, you know, Grace was 14 when we made the first movie. And she was 17 when we made this one. That's a huge difference. And we really wanted to honor both Grace's growth as a young woman and also Stargirl's and how they're different and how they're similar."
"The most exciting thing for me about making the sequel and the most important thing to me was that the movie BE from Stargirl's perspective. Because the first movie and the first book IS obviously from Leo's perspective and it's how he sees Stargirl. And so it was really exciting to just get to have a whole movie through her eyes and her mind."
Julia Hart on the continuation of a coming-of-age story and developing Stargirl's more mature relationship in this movie with someone who's kind of going the same direction that she is?
"I think that you know, her experience in Mica has obviously peaks and valleys. And part of why we ultimately chose Los Angeles is 'cause we loved the idea of her coming into a city that was full of people like her."
"I mean, Los Angeles is one of the most diverse, eccentric, exciting cities in the world. And, you know, Stargirl, like, on her first day is already encountering people who are as zany and unique as she is. And so I thought that that was a really exciting part of bringing her out of a small-town setting and into this, like, large, crazy city that we love."
Julia Hart on the film being a love letter to LA
"It's funny, originally we were gonna set it somewhere else, and then the pandemic happened. And my husband and co-writer Jordan Horowitz and I was gonna, like, go on a trip and go to where we originally were gonna set the movie."
"And then the pandemic happened and so we were here. And the thing that we missed the most during the pandemic was our movie family. Our amazing crew who we love making movies with. I knew Grace and obviously, I knew she was gonna be Stargirl. I didn't know these other guys yet when
we were writing it."
"But we decided to write a love letter to both LA, but also all of the people we missed, you know, while we were all stuck at home. And so it was really wonderful to be able to write about them and write about the city that we were quarantined in. I'm, like, grateful that that ended up happening because I think this is ultimately the best version of the movie. And I fell in love with all of the characters and they became my friends during the pandemic. [LAUGH] You know, 'cause they were, like, the only people I was really hanging out with even though they were just words on a page. And then I got to meet all of these beautiful people who inhabit them so perfectly."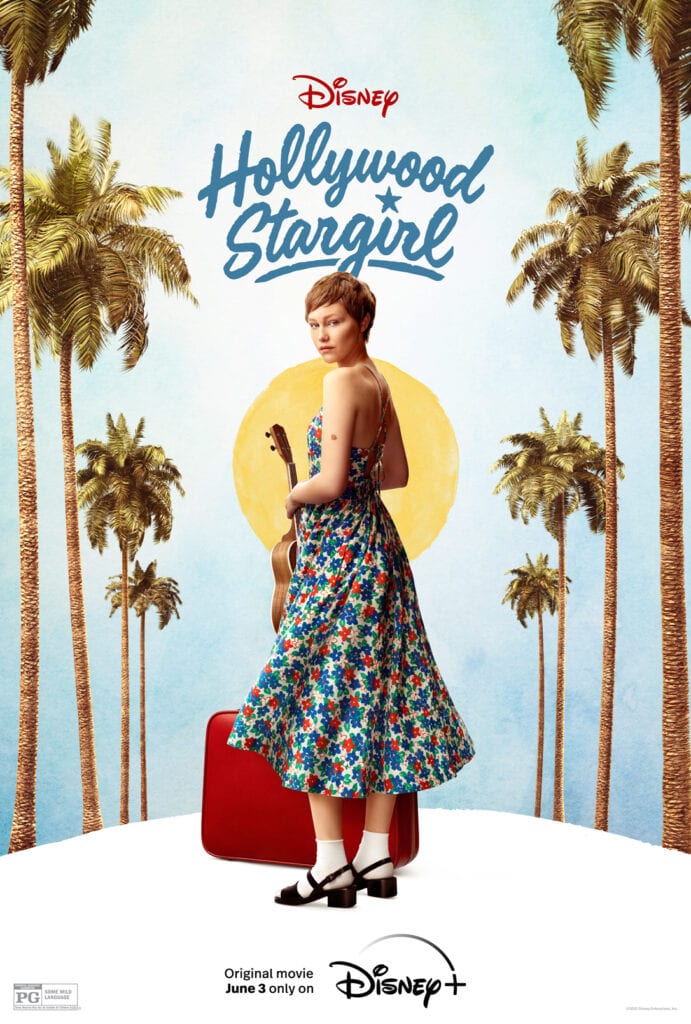 ABOUT HOLLYWOOD STARGIRL
Disney's HOLLYWOOD STARGIRL is a sequel to the 2020 Disney+ film about free spirit Stargirl Caraway (Grace VanderWaal), a silver-voiced teenager whose simple acts of kindness work magic in the lives of others, that follows Stargirl's journey out of Mica, Arizona and into a bigger world of music, dreams, and possibilities. When her mother Ana (Judy Greer) is hired as the costume designer for a movie, they relocate to L.A., where Stargirl quickly becomes involved with an eclectic assortment of characters. They include aspiring filmmaking brothers Evan (Elijah Richardson) and Terrell (Tyrel Jackson Williams); Mr. Mitchell (Judd Hirsch), one of Stargirl's neighbors; and Roxanne Martel (Uma Thurman), a musician Stargirl admires and encounters on her journey.
Returning as Stargirl, VanderWaal performs the original song "Figure It Out," which she wrote for the film. Julia Hart returns to direct. Hart & Jordan Horowitz wrote the original script, based on the original character from Jerry Spinelli's best-selling book Stargirl. Ellen Goldsmith-Vein, p.g.a., Lee Stollman, p.g.a. and Jordan Horowitz, p.g.a. are the producers, with Kristin Hahn, Nathan Kelly, and Jerry Spinelli serving as executive producers.
Rating: PG for some mild language
Runtime: TBD
Director: Julia Hart
Screenplay by: Julia Hart & Jordan Horowitz
Novel by: Jerry Spinelli
Cast: Grace VanderWaal ("Stargirl")
Judy Greer ("Archer")
Elijah Richardson ("The Falcon and the Winter Soldier")
Tyrel Jackson Williams ("Brockmire")
Nija Okoru ("The Black Emperor of Broadway")
Al Madrigal ("Dark Air with Terry Carnation")
with Judd Hirsch ("Superior Donuts") and Uma Thurman ("The War with Grandpa")
HOLLYWOOD STARGIRL is available exclusively on Disney+ June 3.