I sat down with ABIGAIL COWEN and TOM LEWIS in an exclusive interview to talk about their new movie, REDEEMING LOVE, based on the best-selling novel of the same name by Francine Rivers, in theatres January 21.
"Fate: The Winx Saga" star Abigail Cowen and "Gentleman Jack" star Tom Lewis talk Redeeming Love chemistry, behind-the-scenes, and more
Cowen and Lewis shared what drew them to the movie REDEEMING LOVE, their chemistry on set, what happens behind the scenes (making out?!), and finding levity when the material they work with as actors is very dark.

What got you involved in this movie? How did you hear about this? Was this a story you knew about before?
"I read the script, and instantly, you just fell in love with the story," Cowen said. "I was very impressed by Angel's strength and the things that she had to go through and endure in her life."
Cowen shared how she found the story inspiring yet shocking—she couldn't believe the things Angel's character had endured.
"The script did not shy away. I mean, they went there!" Cowen said. "And you know, I was very excited, because I think that it's a very important message and story to tell. And I think the way that they scripted it was in a really wonderful way."
Unlike Cowen, Lewis read the book after the audition came through to prep for the audition.
"And I was so shocked at how dark it was. And brutal. And not what I expected in the slightest," Lewis shared. "But as soon as I read the book, I was like, 'This would make a fantastic movie.' It's just, it's in there."
Lewis described how he felt reading it, how he could just feel the emotion and the story from the reading. "You'd feel it from the page."
"As soon as I read the script, and found that it was the same quality…then I met D.J. [Caruso] and spoke to him, and realized how passionate he was about telling the story in the right way—not shying away, like you said, from anything, I was just desperate to be involved."
On bringing out some of those dark things: These roles seem a bit of a departure from some of the material you do. Tom, some of the things you do are a little bit more like period, at least, but Abigail, you do a lot of fun and light-hearted stuff. Teens know you from "Fate: The Winx Saga" and "Chilling Adventures of Sabrina" is dark, but not in that same way. How do you prepare for something like this? How does that affect you, as an actor, doing this type of a role compared to something that's more lighthearted?
"It's all about stories at the end of the day, I think," Lewis said. "As long as the script is good. And as long as the story is invoking the right things, and you know, whatever period of time it's set in."
"Acting is such a weird thing, isn't it? Like, I—we—play pretend for a living, but then also we dive into people's stories and have a huge responsibility to stories, and to tell about the story," Cowen said.
Cowen explained why she was so drawn to Angel. She loves people and their stories. "I was just drawn to her, and her strength, and her hardships. And I felt a huge responsibility when I got the role to hopefully do it justice. And, yeah, it's definitely very different than the stuff I've done before."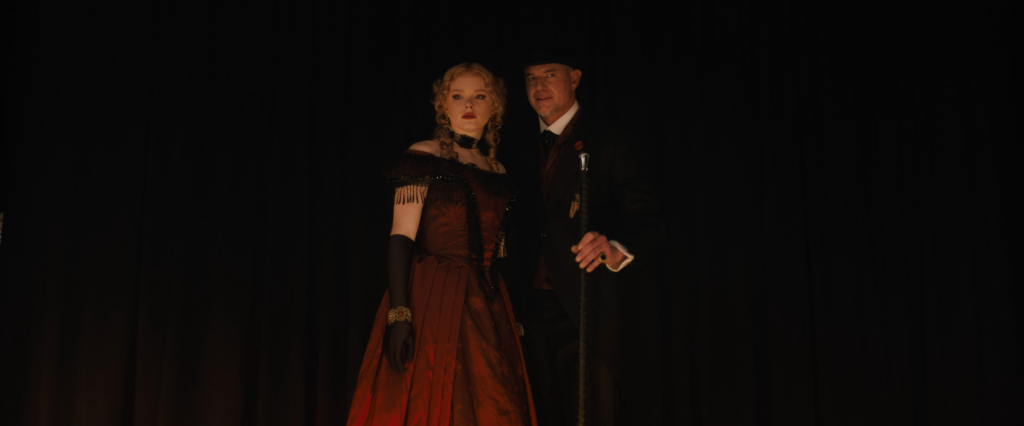 "It's such a good part, you know?" Lewis said. Such a gift of a role! That is like a part that any actor would kind of go for."
"It's a scary one," Cowen said.
"And you're perfect for it. I mean, I remember being cast and then getting told that you've got the role," Lewis said. "And as soon as I think I saw a picture of you, and I was like, 'Yeah, that is Angel'." Tom elaborated that when they first met in South Africa and started chatting he could see it. "I think this is perfect casting. So well done."
Related to that perfect casting: You guys have such intense chemistry in the scenes that you together. Tell me a little bit about that. Are there any behind-the-scenes things you did to work on that chemistry? Or in your downtime?
"We made out the entire time," Lewis quipped. "As soon as we met, we became really good friends."
Cowen explained that Tom came to visit her when he arrived at their filming location and they chatted about the film and themselves and got to know each other better.
Lewis elaborated, "As soon as long as you get on as mates, like, you can kind of go there, and not shy away from it."
Cowen shared that Lewis was constantly making her laugh. "He's hilarious. So we're always laughing, which is great. I feel like that adds to chemistry."
"Because it's such a harsh story and is a tough, tough thing to kind of go through, you have to have that kind of levity on set in order to get through the day. Otherwise, it would just be torturous to have to go through these things day in day out," Lewis said. "So because we have such a great relationship, it just made it smooth sailing, I found."
REDEEMING LOVE is in theaters January 21, 2022.
About REDEEMING LOVE
REDEEMING LOVE is a powerful and timeless love story that takes place against the backdrop of the California Gold Rush of 1850. The story centers on Angel (Cowen), who was sold into prostitution as a child. She has survived through hatred and self-loathing until she meets Michael Hosea (Lewis) and discovers there is no brokenness that love can't heal. The story reflects the redemptive power of unconditional and sacrificial love with characters and circumstances relevant to the contemporary world.
Watch REDEEMING LOVE Exclusive Interview: Abigail Cowen & Tom Lewis talk chemistry, behind-the-scenes, and more
Watch REDEEMING LOVE Trailer
Directed by D.J. Caruso (xXx: RETURN OF XANDER CAGE), it stars Abigail Cowen ("Fate: The Winx Saga," "Sabrina"), Tom Lewis (GENTLEMAN JACK), Logan Marshall-Green (UPGRADE, SPIDER-MAN: HOMECOMING, PROMETHEUS), Famke Janssen (X-MEN, TAKEN), Nina Dobrev (xXx: RETURN OF XANDER CAGE, VAMPIRE DIARIES) and Eric Dane ("Euphoria," "Grey's Anatomy," THE LAST SHIP, X-MEN).
RATING: PG-13 (Partial Nudity|Mature Thematic Content|Sexual Content|Strong Violent Content)
RUNTIME: 134 min.
STARRING: Abigail Cowen, Tom Lewis, Eric Dane, Nina Dobrev, Famke Janssen, and Logan Marshall-Green
DIRECTED BY: D.J. Caruso
SCREENPLAY BY: D.J. Caruso & Francine Rivers
BASED ON THE BOOK BY: Francine Rivers
PRODUCED BY: Cindy Bond through her Mission Pictures International label; Simon Swart and Wayne Fitzjohn, through their Nthibah Pictures production banner; and Michael Scott, and Brittany Yost for Pinnacle Peak Pictures and Vlokkie Gordon of Advantage Entertainment
#RedeemingLove #RedeemingLoveMovie