John Boyega maybe no Harrison Ford (yet), but he's certainly storming his way toward galactic fame as Finn in Star Wars: The Force Awakens. John Boyega isn't as unknown as Daisy Ridley before this film, but most of his work as been in British television and movies, so unless you're a fan of obscure British movies or you watch an awful lot of British television shows that aren't "Downton Abbey" and "Doctor Who," I'm sure you have no idea who John Boyega is. In fact, of all the things he's been in, there's only one of his movies I've ever seen, and I didn't even realize he was in it until I was researching him before our interview.
We don't know much about Finn as a character. Sure, we can Google and find out thing we don't want to know as spoilers (none of which I'm posting here because a) spoilers are the path to the Dark Side, and b) they are not allowed. All we really know about Finn right now (without spoilers and theories) is that is that he's a human male who served as a First Order Stormtrooper, designation FN-2187 and known to his fellow soldiers as "Eight-Seven." He was considered one of the group's best Stormtroopers before he defected to join the Resistance in their struggle against the First Order. In one of the trailers Finn is heard to say, "I was raised to do one thing, but I've got nothing to fight for." The struggle is real.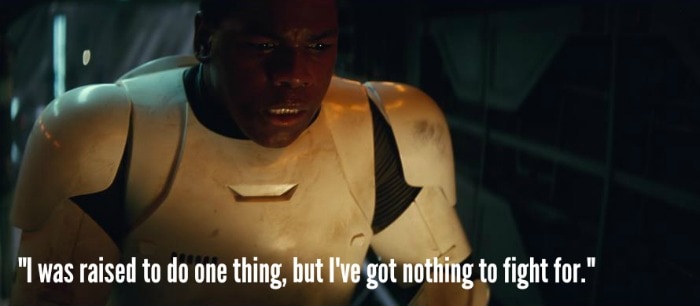 You've probably seen some posts from me over the last week that alluded to the fact that I had the amazing opportunity to attend the press junket/press conference for a little film called Star Wars: The Force Awakens that opens in theatres December 18th. That event included our intimate small-group John Boyega interview.
John Boyega was hilarious. He sauntered into the interview room, Sprite in hand, and the first thing he told us was that he was wearing the backpack for no reason. "I just felt like it. And there's nothing significant in it." He was all smiles and charm—and an incredibly sexy British accent. We had a lovely 17 minutes with John Boyega, but I could have interviewed that sassy pants all day. He was absolutely hysterical. I wish that you could hear the recording of him talking to us. The delivery in which he gave us the answers to his questions was a gas. Between his British humor and his boisterous character, it was nothing short of a comedy routine for our entire time with him. Read on to learn what John had to say about Finn, his relationship with Harrison Ford, and how it felt to wear the Stormtrooper costume.
On the day he first tried on the Stormtrooper Costume
John Boyega: I did like the way my glutes looked. All right, it was a good, it was a good experience. Because something like that kind of makes it so real that you're involved in this universe. I mean, when you put on the costume, it's the final kind step of becoming a character. You put on the costume, and you see yourself as a character that isn't you, and so that is something that was quite profound.

On the first time he wielded the lightsaber
John Boyega: Oh, that was a good day. It was in the trailers, anyway. In the ruins—in the castle—and there are these kids who actually make the technology for the lightsabers; they're quite young. And so they brought it in this black case, opened the case, I picked up the lightsaber, and I was kinda like [John made fun swooping motions and sounds as if he were actually wielding a lightsaber] "Just with a lightsaber for me." And you know, he was just looking at me, and you can see how, you know, holding the lightsaber, how that captures the imagination of onlookers, and I was definitely egotistical that day, and worse, yeah.
On whether or not he gets to keep the lightsaber
John Boyega: No. But what I am gonna do is go back and write a long list: sweet, and the Stormtrooper helmet, the rebel jacket, a leather jacket, and the saber. That's what I'm gonna go back and get.
On being a part of a franchise that stands for generations
John Boyega: It feels really cool and quite weird at the time, because I remember—you don't think about all of those specifics when you're auditioning because it's all about booking the part, and then also, you don't think about that while you're filming because it's about the reality of the scenes. But the characters don't know that they're in Star Wars movie that will change people's lives. So they're in their reality. But I remember being with my driver in the UK when we're going to set, and he was just like, "You know what, mate? When you die, you're not gonna be really dead, because you're gonna be everywhere anyway." And I just thought, "Oh yeah, that's an interesting thought." And so it's quite surprising to be a part of that.
On what he did when he first learned he got the part
John Boyega: I was in a cafe with J.J. [Abrams] and Larry Kasdan, and he told me face-to-face. I thought he was gonna tell me I didn't get the part because J.J.'s that nice. I'd auditioned for 7 months, and I feel like if he was gonna tell me it didn't go my way, he would've invited me to a dinner and just go, "You know what? At least you get a free meal." It worked out well, and I told my agent, who I've known since I was 16, and then randomly told a taxi driver. I was like, "You know what, I've just been cast in the new Star Wars," and he said, "All right, mate."
I didn't really celebrate. I don't drink. So everybody else was drinking around me, and I was like, "Hey, great." But literally the next day, we started training, and I was released into a world of work, so.
On the training that was involved for the lightsabers
John Boyega: Hand-to-hand combat. So specifically me and Adam [Driver, who plays Kylo Ren] had to do choreograph scenes together. Finn has a lot of shooting, running, especially with me and Rey. Me and Daisy had to get our cardiovascular skills up, and that was treacherous. But it was fun because now filming the scenes, you realize why the training was so intense, because the scenes are literally practical effects on the real locations, so there's no time to kind of slack.
On practical effects on location, like the explosion scene in the trailer
John Boyega: That was me. That was all me. That was all me, alright? I was fantastic. I mean, with explosions like that, there are health and safety regulations and all those things, but while we were on set, I didn't think I expected them to be that big. And I just remember J.J. coming and saying, "Okay, John, we're gonna do this scene and just run. Do the dialog, yeah. Have fun. Great. Alright. Cameras. Action." And I'm running, and I look at Daisy, and see that everyone's backing up.
J.J.'s going further and further away. They put like a plastic cloak over the camera; people putting goggles on and hats. I looked at Daisy like, "Why, how come we…?" And they called "Action!" And then I realized, "What?" And if you watch the scene, I'm actually legit freaking out. I might not have another line. I'm too young to die like this. But it was, it definitely fun, those scenes.
On how his life has changed since the first trailer has some out
John Boyega: It's so strange. This process has been so gradual. Yesterday night, I took an Uber to movie theater to see Creed. I watched Creed; loved it; I was on the streets, shopping about with my boys on Hollywood Boulevard. There was a car show last night, and I went to that, and no one recognized me.
[We all laughed, "Yeah, that's gonna change. Enjoy it now."]
I'm enjoying it now. I realize that my life is gonna be different in terms of scheduling. I'm traveling a lot and I don't get time to be at home as much as I want to. I can pass through Times Square and see my beautiful face just on the screen, but it's strange how that all works.
And I think that because I still move through public places, sometimes people recognize me, but they do this. Nah. [he demonstrates holding  something up over his right eye like the lightsaber is covering in the promo art work; I laugh and say, "Right there's no lightsaber!"]. All right, nah, that ain't him. I'd like to see him holding a lightsaber. But yes, so for now, it's gradual.
One whether or not he played with a lightsaber as a kid
John Boyega:  I did, but I was more of a Han dude. I wasn't really into Luke like that. It's not because he wasn't a good character. It's just because I like the characters that represent, human beings in these kind of projects, in sci-fi. If any of us were in the Star Wars universe, we wouldn't be Luke. We wouldn't be trying to, you know, fight against—nah, hell, nah, I'm trying to live. I'm trying to be Han. I'm trying to make money; I'm trying to survive.
And the only reason why I would be brave is to save my own life, all right? Yeah, I'm not trying to any of that stuff, and so those are the characters I really relate to, is the Hans. I would, you know, do the whole blaster thing.
On toys
John was very open about his love of the toys and how he's been scooping them up since Force Friday.
"Let's just say I went into the Disney store; I came out; there was nothing left," John Boyega said.
Sounds like when I hit the Disney Store. See? Celebrities are just like you and me. They love to shop at the Disney Store for Star Wars toys, too.
On his family and Star Wars
Initially John Boyega's dad had no idea what Star Wars even was.
"Dad had no idea of what Star Wars was, but you know, I have to do my mandatory parental FaceTime every day," John told us. "He always tells me how, how, how much, how crazy it is for him, to go onto the tube and just see his son."
"And he's just there like, 'I created him.' But for him, he's starting to realize how big it is. I mean, he's packing right now to get on a plane to Seoul to join me at the Asian press tour. And so, yeah, he's very excited."
On what color his lightsaber would be if he had one in real life
John Boyega: My lightsaber would be rainbow colors so they'd know I was there. I'd be like, "Whooo!" I was about to go to town. I'd be all over the galaxy, switching interchangeable, tease a little bit and flash modes, you know, and disco mode. I'm about peace; I'm not, I'm not trying to get into fights with no one. I like to stay. Yeah, yeah, that's all I'd do.
  
On the most inspiring thing about his character
John Boyega: I think that what's so inspiring about Finn is how complex he is. He's a Stormtrooper who has never really experienced individuality, and I think thatwe always know Stormtroopers to just be one unit, and we've never, ever had a Stormtrooper tale off his helmet for us to see who he really is. All you've ever had is the lead characters in disguise, and for me, I find that already iconic to me as a fan, to be able to actually talk to one of those.
Because I always felt sorry for those Stormtroopers, man. It's like they send them out just to be shot and I've always wanted to say, "Man, you know what? There must be a different career for you, mate." Finn is the first Stormtrooper to actually go, "You know what? I need a new job." So it's really cool to experience a Stormtrooper in that sense.

On the relationship between Finn and Poe
John Boyega: When Finn escapes the First Order, he crosses paths with various different characters and Poe is one of them. They definitely have a brother relationship. Finn finds a friend in Poe, and Poe represents what Finn wants to be. Poe is a very definite in his position of who he fights for, what side he's on, and Finn is more in limbo.
Finn is kinda like, "Okay, I don't wanna fight with the Stormtroopers; I don't wanna fight the Resistance; I kinda wanna get away, but I have to," and Poe gives him a lot of clarity on who he is as a person.

On what makes Star Wars timeless
John Boyega: In my opinion, I just think it's the continuous dialog between fans. Fans have the ability to make a whole press conference on probably 2 minutes worth of footage, like, "Who shot first?" That was a few seconds. There's a whole debate about that, and that keeps fans engaged even when the movies aren't there. There's only been six films, but if you look at the fandom, it reflects as if there's been 20. And I think it's because there are different ways in which you can experience Star Wars.
You don't necessarily have to watch the films. You can just have the merchandise and just know it from there. So there's several ways that you can be a Star Wars fan, and I think that's different than any other property.
On when he first saw Star Wars
John Boyega: I saw the film a few years after the Phantom Menace came out. I was born in '92, so I was exposed to the prequels first. As a kid, I didn't really care about story and all that kind of stuff. I just saw that green guy doing acrobatics, so I was like, "Yeah, hell, yeah, turn it on, man. Turn it on. Turn it up." I enjoyed watching it as a kid, and then when I was older, and I was more aware that I wanted to be an actor, and I liked story, I watched the originals and that just finished me and, you know, apart from death and taxes, the part that I'm gonna be Star Wars fan for life is pretty much guaranteed, so yeah.
Finn in three words
John Boyega: Conflicted; charismatic; I'll do it as a joint word: temporary-brave.
On working with Harrison Ford
John Boyega: Do you know, it's so funny. Me and Harrison are obviously best friends. He would tell you that. We go way back. It's ridiculous. We formed a really interesting relationship that really has influenced the Finn and the Han relationship because the first thing I said to Harrison when I met him, I walked up to him and it's like, "Hey, I'm Harrison Ford." Hmm, hmm, hmm. And I was like, "You look good, man." "He was like, well, what did you expect?"
And from then, that influenced the way in which Finn sees Han. It's like, "Oh man, yeah, gramps is cool." And Han is kind of like, "Dude, I'm Han Solo, like, have respect." And there's no respect whatsoever. But I think that Han sees a young, a young Han and Finn, and so they form this bond, and it's gonna be so hilarious when you see their duo, and the lack of respect for each other, but the undertone love that they have it's pretty cool. Yeah.
STAR WARS: THE FORCE AWAKENS opens in theatres December 18th.
I've been invited to LA courtesy of Disney for a media event. All opinions are my own.