We received the Deep Se Dive Building set as part of the K'NEX Brand Ambassador program. As always, all opinions are our own.
The K'NEX Mighty Makers Deep Sea Dive Building Set (#43552) has been one of my girls' favorite K'NEX sets to date. They love the STEM aspect as well as the fact that the set comes with a female deep sea diver and mermaid. The set includes over 300 pieces and accessories including fish, microscope, laptop, jelly fish, graphic panels, and lots of fun ways to play with Marissa's marine boat. The sets provide flexibility and lots imaginative play. The K'NEX Mighty Makers sets are a big hit in our house. The set includes directions for three different oceanography-themed builds. So much fun in this one set, proving hours on enjoyment and learning.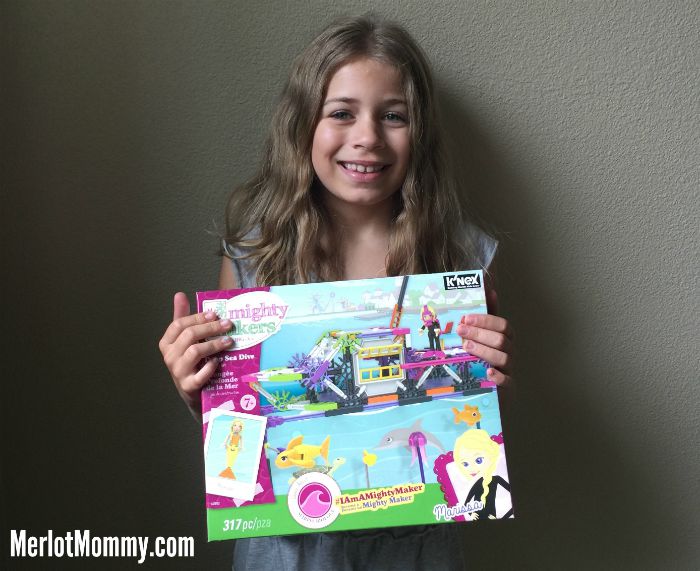 Dive deep into the ocean blue with Marissa and her fish, Queen, in the Deep Sea Dive Building Set. Marissa lives by the shore, so she loves going to the beach to explore, visiting the aquarium, and boating with her father. Scuba up to explore the deep depths of the ocean with Marissa on her marine boat, or win first prize at the school science fair while learning about the food chain. Marissa can also transform into a beautiful mermaid who can swim among the fish and ocean vegetation in the Deep Sea Dive Building Set from Mighty Makers. Most models can be built one at a time. Suggested retail Price $34.99.  Ages 7+. Available now at knex.com and toysrus.com.