Auli'i Cravalho acts more like a typical teenage girl than a 15-year-old girl whose life is about to explode with the popularity of the Disney animated film Moana sailing into theatres on November 23rd. She's the sweetest young girl and the perfect Moana. Auli'i Cravalho is the most poised yet animated young women I've had the pleasure of interviewing or meeting in this industry to date.
I interviewed Auli'i Cravalho and her mother, Puanani Cravalho, this summer while in Los Angeles. Puanani Cravalho said Auli'i is thriving and enjoying this, and that they're in good hands with Disney. Puanani said she's raised a well-balanced girl and that has helped "keep it real" in her new fame. She's steady whether she goes into this for a career or continues on the path she was on, studying science in school. Auli'i Cravalho used to put on fashion shows as a young girl and credits her strong lungs to the fact that her mother didn't believe in pacifiers when she was a baby and let her cry.
Here are some fun facts about Auli'i Cravalho, her audition, and how she became Moana.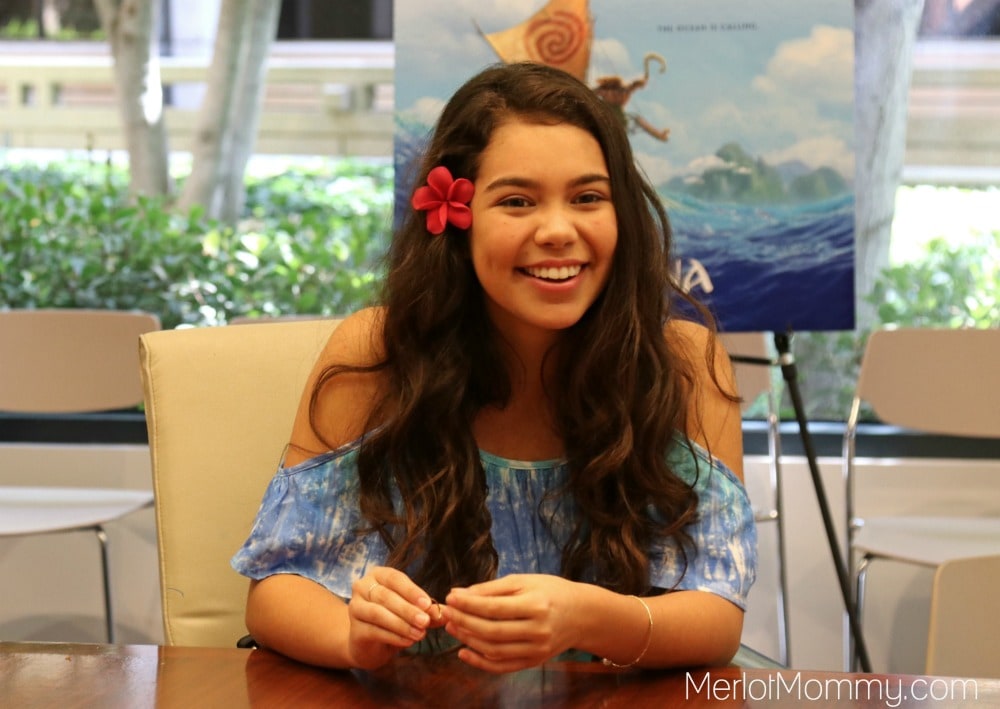 Pete's Dragon was Auli'i Cravalho's first (Green) Red Carpet Experience
Auli'i Cravalho: It was really interesting to see how it all worked and how people know my name, and they were saying it correctly, too, but they were all like saying it in sync to get me to turn to them; it was good.
Auli'i Cravalho Skipped School and Didn't Tell her Friends She was Auditioning for the Part of Moana
Auli'i Cravalho: I had taken a break, like a 2-hour break from something, I was going to a dentist appointment or something. I went, that's the truth, and we went back to school, and I remember I had a strawberry smoothie before that and so they went, "Didn't you go to a dentist appointment?" and I was like, "Did I say dentist? I meant doctor." So I wanted to tell all my friends, but. I didn't tell anyone, for a little over 3 months.
Puanani Cravalho: No you couldn't. We were sworn to secrecy. She'd come home at night, and we'd be hugging and she'd like, "Mommy, I'm Moana." I'm like, " Yeah, you sure are sweetie."
Auli'i Cravalho: And then D-23 came out and Dwayne (Johnson) was there with his camera and I wanted to shout.

All of Auli'i Cravalho's Animation Work was Done by Herself
She didn't meet any of the  talent until this past summer.
Auli'i Cravalho: I met Dwayne a few weeks ago, I met Rachel House, who plays Gramma Tala and Temuera Morrison who played my dad. Which it was interesting, because I've gotten so used to voices, but to see their faces with it and to kind of match the personality. For instance, the person who plays Gramma Tala, Rachel House, that isn't her actual voice. And she totally commits to the character but otherwise she's just a really sweet kind woman who doesn't sound like Gramma Tala.
But is just still embodies the character, which was interesting. And Temuera Morrison who has an amazing accent. It was interesting to meet him because he's an actual father. So I got to meet his daughter as well, and it was really nice to see just him as a dad. And I got to envision him more so as a dad.

On Meeting the Rock (Dwayne Johnson)
Puanani Cravalho: I did some Rock climbing for all of us. I'm just saying you know, I took one for the team, sweat and everything.
This is one of those moments in an interview, where poor Auli'i was so uncomfortable, I think she wanted to crawl in a hole and die. Let's be honest, most of the women in the room are closer in age to Puanani than to Auli'i. In fact, my husband's brother went to high school with the rock and his best friend played football with him. He's absolutely my age. She was so mortified that her mother went there and actually said that to us. The entire room busted out laughing. 
Auli'i Cravalho: What else would you like to know?
Puanani Cravalho: No it's all right, he's all right.
Auli'i Cravalho: So he was very nice. And very professional, but it was interesting, because I mean this whole process of recording without meeting someone was something, that I was not prepared to do.
I assumed that we would be in the same booth. So, he is very focused, which is interesting because he has so many different jobs just throughout the day that while we were on the content shoot, he was of course like talking to other people, and like trying to work out flights and all that stuff. So what kind of just brought to- brought to mind I suppose was just how dedicated he can be to one thing and then convert his attention to another. And he loves the character Maui so much.
Because he's Polynesian just like I am. So to see that he's so committed to the character just made it almost overwhelming just the amount of like emotion that I know I put into—I know that he puts the same amount.
Auli'i Cravalho is Very Proud of her Polynesian Culture
Auli'i Cravalho: Moana is definitely a Disney character, which is something that I totally love, because she's totally bad butt she's really awesome. So she really, I think, embodies it because I, as someone who has grown up, been born and raised on the island of Hawaii so the Big Island, I love my culture. I go to an all Hawaiian school where you have to be Hawaiian to be admitted. And I speak the language as well.
And to have such a beautiful young teen who shows that it's okay to go on a journey to find yourself, it's wonderful, because that message is universal to everyone. And also because wayfinding isn't just something they made up for animation purposes. It was truly almost lost in the Polynesian culture, which is something that not a lot of people know. So the fact that it's being shined in such a positive light and the fact that there is now a resurgence of navigation and wayfinding in real day-to-day life, it's, it's so important.
Auli'i Cravalho's Biggest Lesson While Filming Moana
Auli'i Cravalho: family, definitely. When I first got the role, there was no one that I could tell. And so we would literally have those conversations at night and like there was no one else that I kind of felt like I had to tell.
It's just been my mom and I for 3 years or so. I love being able to not have to feel like I have to share the whole everything with the whole world, which is why I'm not very good at Snap Chat, and I need help with my social media. Because I kind of like having just us, you know.
I love my family, and the fact that Moana kind of shares that, because she loves her people and I think a lot of people say when you go to Hawaii, you'll notice like the ambience and you'll notice everyone is friendly because we all kind of think for each other. And that's something that I had to kind of get used to here, because it's not like that. And I don't mean that in a negative way, but I'm not sure it can be taken any other way. It's interesting. Everyone is for themselves here, which is great, you know. If you succeed, good for you. But for everyone that I've ever met in Hawaii, it's like you made it and you made it for us. And it's I just feel so proud of that.
The Strangest Thing Auli'i Cravalho Learned While Filming Moana
Auli'i Cravalho: This being the first film, having to record a line like 10 times in a row and then having that like three or four more times, and just because there's so many different ways you can say it. You add a lilt to the end of it or you say in a question. And all of that just changes the meaning and the drive behind it.
So to get that one perfect take took forever. But it was worth it, it was totally worth it. And then I got to meet the animators, which was something that not many voice actresses or actors get to do, and the animators don't usually get to see them either. They just hear the voice and then, you know, just work but I got to animate some of it, like I did a walk like the Egyptian pose like totally awkward, like totally wrong proportions, her neck was like four heads tall but it was so much fun because they put in so much work.
They work overtime and they have overtime dinners practically every night of the week, they work on weekends. And the fact that they have families and they spend so much time on such an important film to me, it was just like we bonded in a way that I don't think either like one of us really expected.
On Support from Auli'i Cravalho's Friends and Family
Auli'i Cravalho: It's been really good, everyone is really supportive of it. I think we got like banana bread the first like week or so when everyone found out. Aside from that, it's been pretty normal. My friends are normal, they're like, "you were in a princess dress. They're still fan girling over you on the internet, but no, you still can take your own tray, thank you very much.' It's fine. Chores are like—
Puanani Cravalho: Keeping it real, you know, like I think it's about raising a well-balanced person.
On Why Auli'i Cravalho Auditioned and Her Dreams
Auli'i Cravalho: Well I didn't initially audition for it. My friends and I actually put together an audition to be the entertainment for a nonprofit event on the island. And we put together like a bunch of a capella songs, and my friend beatboxed and it was just a really fun experience, and we sent it out, and we tried our best, and we didn't get in and it was devastating for a second. But what happened was the casting director for Disney saw that audition because she was going through those auditions, as well.
So through like an intricate web, it just kind of arose and when she emailed mom and me to ask if I wanted to audition, it was fantastic. Yes please, and the rest is kind of history.
Check out these great new Moana clips:
Make sure you pre-order the Moana soundtrack, available November 18th.
I've been invited to an all-expenses paid trip to LA. As always, all opinions are my own.