How many times have you bought frozen meals in the freezer section only to be disappointed with the results? I'd given up on buying frozen meals such as lasagna because they never tasted very good. Michael Angelo's authentic and all-natural Italian prepared and frozen meals have changed my view!
Michael Angelo's Lasagna with Meat Sauce
We tried the Michael Angelo's Lasagna with Meat Sauce in the 80-oz. party tray size. It was delicious! Michael Angelo's used no preservatives and not artificial ingredients. Their meals are made in small batches from scratch and frozen daily, ensuring that when you buy an entree, you're getting the freshest frozen prepared meal possible.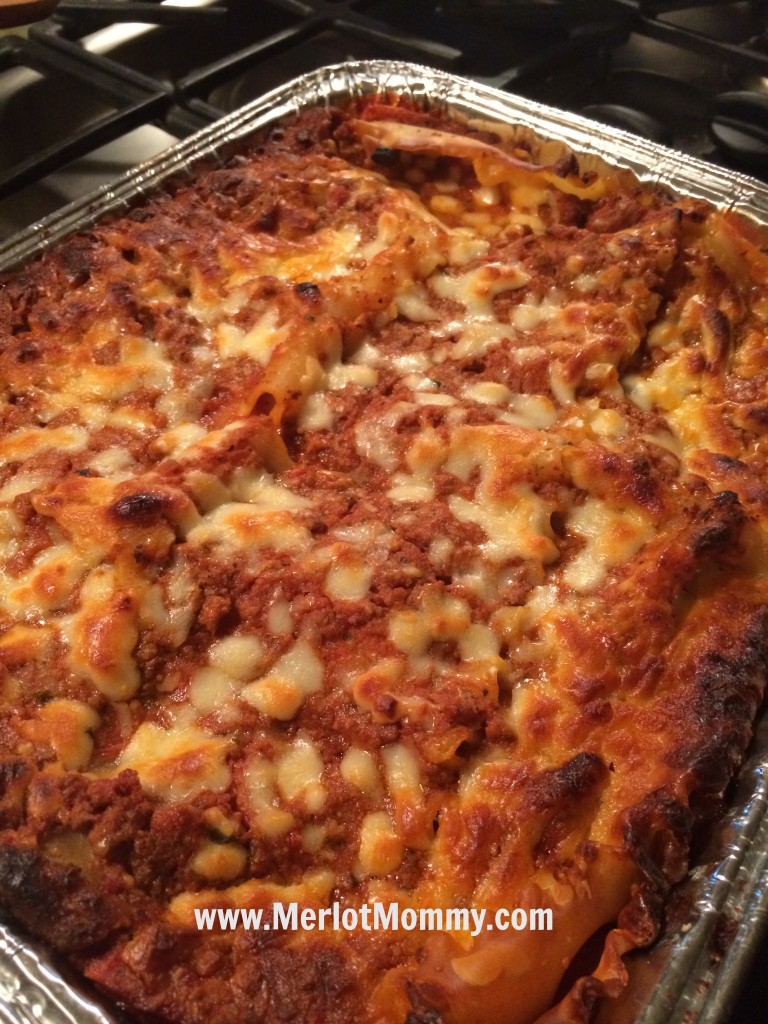 Once the oven was up to temp, this cooked beautifully and took just about the amount of time the box directed. (I did make the mistake of trying our convection oven setting for the first time when cooking this meal. I also learned that our convection setting isn't cooking properly, so overall, it took me an extra hour to bake because the oven wasn't working. Oops. Lesson learned. Note to self…call the oven repair man.)
Kids Asked for Seconds…That's a Win!
My kids loved the meal. That's a win when all four kids ask for seconds. The was surprised at just how much meat was in the meat sauce, too. I don't love beef, so when I buy things with meat sauce, they usually have so little meat that it doesn't even phase me. This is filled with big hunks of meat! My kids and husband were stoked. 
The Lasagna with meat Sauce is available in 46 or 80 ounces, and is a Michael Angelo's best-seller made with Pecorino Romano cheese, imported from Italy. Fresh beef, vine-ripened tomatoes, and a secret blend of herbs are sautéed in imported olive oil and layered with al dente, 100 percent semolina lasagna noodles and premium cheeses to make the best pre-made lasagna dish available.
I also have an Eggplant Parmesan 80-oz. party tray in my freezer for another meal. I can't wait to try it after how delicious the Lasagna with Meat Sauce was. The Eggplant Parmesan is also available in larger sizes now, 44 or 80 ounces, and is made with fresh, lightly-breaded eggplant and just the right amount of tomato sauce, topped with Mozzarella and sprinkled with a blend of imported Parmigiano Reggiano and Pecorino Romano cheeses. Michael Angelo's Baked Ziti with Meatballs is made with 100 percent semolina ziti pasta and Sara's beef meatballs, made with only ingredients found in any everyday kitchen. Combined with vine-ripened tomato sauce, Mozzarella cheese and sprinkled with Romano cheese, this Italian classic is a crowd-pleasing combination.
Where to Buy
Michael Angelo's authentic and all-natural Italian prepared and frozen meals are available in the freezer section of your local Walmart store. For more information and a store finder, visit www.michaelangelos.com. Customers can also connect with Michael Angelo's at facebook.com/MichaelAngelos or on Twitter @Michael_Angelos.
  Disclaimer: I was provided a giftcard to purchase the meals to review. No other compensation was offered or received. As always, all opinions are my own.