No backup. Just Fury. The invasion begins June 21. But if you're not up to speed, here's what you need to watch before "Secret Invasion."
Movies to Watch Before "Secret Invasion"
Trust no one in the new series Marvel Studios' "Secret Invasion" series arriving on Disney+ June 21. But if you are wondering what you should watch before "Secret Invasion" drops on Disney+, you've been granted access to that information.
Catch up on Nick Fury's previous adventures across the Marvel Cinematic Universe ahead of the release of "Secret Invasion." Fury has seen and done it all, but the Skrull invasion is going to put his skills to the test.
Set in the present-day MCU, in this espionage spy thriller Fury will learn of the clandestine invasion of Earth by a faction of shapeshifting Skrulls.
Fury will join allies, including Everett Ross, Maria Hill, and the Skrull Talos, as they race against time to thwart an imminent Skrull invasion and save the human race as we know it.
What to Watch Before Marvel's "Secret Invasion"
Iron Man
Where it all began. While we only see Fury at the very end of Iron Man, he changes the entire trajectory of the Marvel Cinematic Universe when he tells Tony Stark he's here to talk to him about the Avengers Initiative.
Iron Man 2
Fury dispatches S.H.I.E.L.D. agent Natasha Romanoff to watch over Tony Stark.
The Avengers
Fury reactivates the Avengers Initiative and brings together Iron Man, Captain America, Thor, Black Widow, Hawkeye, and Hulk in hopes of stopping Loki after he steals the Tesseract.
Captain America: The Winter Soldier
Fury is eager to get Project Insight off the ground, despite Steve Roger's disapproval. Things go south when Fury learns S.H.I.E.L.D. has been infiltrated by HYDRA and has been assumed killed, but he lives to fight another day.
Using his death as a cover, Fury begins a mission of tracking down the rest of the HYDRA cells around the world.
Avengers: Age of Ultron
Fury once again steps in to lend a hand to help the Avengers stop the bad guy—this time it's Ultron in Sakovia (and he's got a helicarrier!).
Avengers: Infinity War
Though Fury only appears at the end of the film as he is dusted by Thanos' snap, the Blip will have lasting complications for Fury.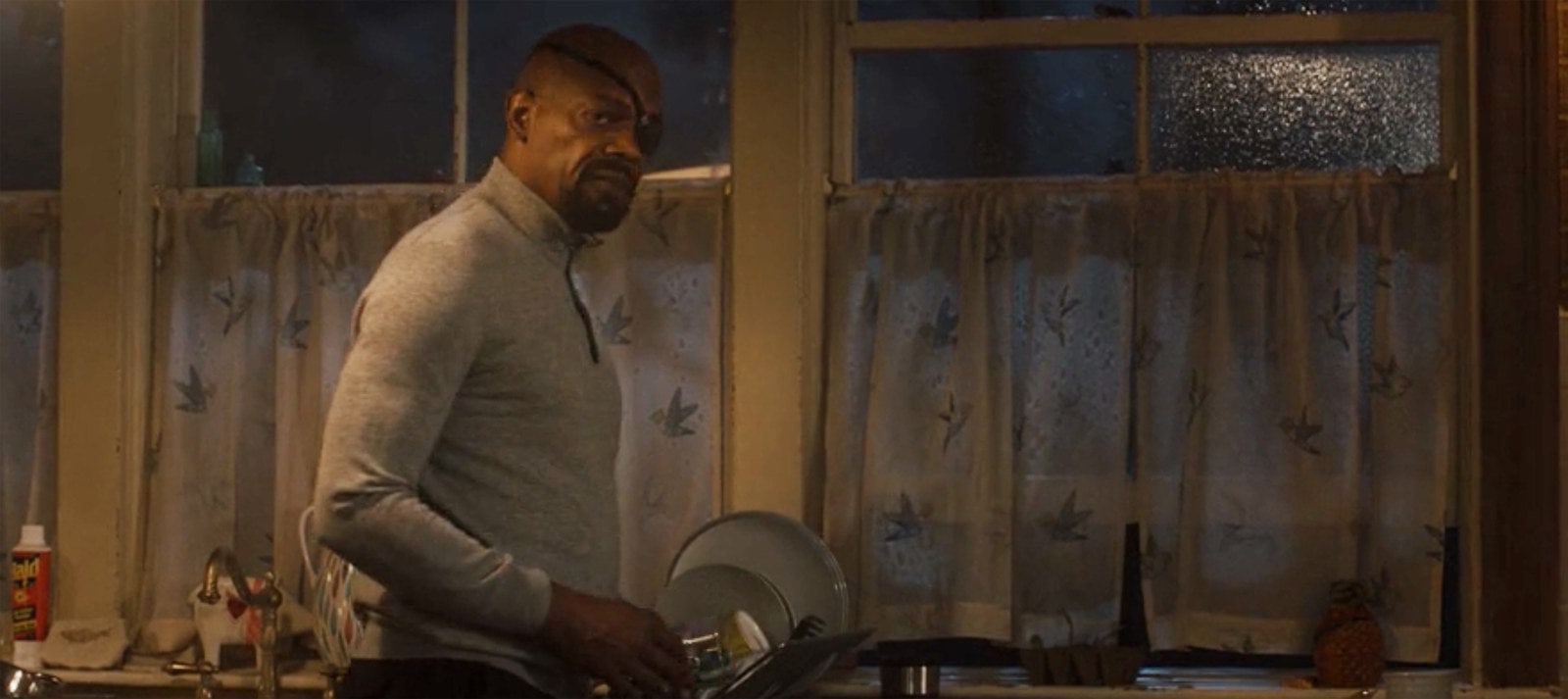 Captain Marvel
This is where it all began for Nicholas J. Fury (but only his mom calls him Nicholas).
After Veers crashes on Earth, Fury joins forces with the soon-to-be Captain Marvel to untangle a growing Skrull (and Kree) web.
Spider-Man: Far From Home
Fury or Skrull? Turns out Fury's been off-world this entire time leaving Talos to take on his duties and appearances in his place. Fake Fury.
No backup. Just Fury. "Secret Invasion" premieres June 21 on Disney+.