Have you ever visited a museum and been completely overwhelmed by the floor map and not really known where to start your walkthrough? Museum Hack is the best way to tour a new museum.
How often have you visited a museum in a new city because someone told you you should or it came recommended on a tourism site? Maybe you went because of one famous piece of art or an exhibit that was touring you were interested in.
Does the way you tour a museum matter?
Do you really know how to visit a museum? Most people don't, but there can be a science to it and it can make a world of difference in your experience. Museum curators spend hundreds of hours putting together cohesive exhibits for museum guests to give them the best possible experience, yet most visitors have no idea. There certainly are tips to help you with your visit to a museum but nothing is better than a tour guide who knows the museum well and LOVES that museum or at least one or more of the sections.

Museum Hack is the Best Way to Tour a New Museum
We sat down and interviewed Nick Gary, the entrepreneur behind the genius museum tour guide company Museum Hack.
Museum Hack is unlike any museum tour you've ever taken. Museum Hack prides themselves on their renegade museum tours, given by people who simply love the museum they are giving tours for. The tour guides are NOT museum employees; they all work for Museum Hack.
How Museum Hack Started
Nick Gray was inspired to create Museum Hack after a date at the Museum of Metropolitan Art (MoMA) in 2010.
"I didn't like museums. I didn't grow up going to museums. I didn't think they were really a place for me. It was nothing against my parents or my schools…art history was not a part of that," Gray said.
"She gave me a tour showing me some of her favorite stuff, like the art and the sculptures, and the paintings and Egyptian artifacts," Gray said. "I think just her talking to me at my level, which is like a third-grade reading level, really helped me to just feel a sense of kind of curiosity about the art and the artifacts that I never knew that I had."
Gray started to go back to the museum regularly after he realized how awesome it was. On a Friday or Saturday night, he decided that when he could go drink at a dive bar, he could also go drink at the museum instead.
"I'm gonna go drink at the museum…I would go, I worked my 9 to 5 job. I was in front of a computer all the time, but the museum became my third space, sort of."
"I just would go hang out there and look things up on Wikipedia. And I'd take museum tours and watch YouTube videos. And I just became obsessed with this weird place that had art and artifacts and history. And that's sort of how I became really curious and obsessed with going there. And I think I've been there, way more than 1,000 times now."

Museum Hack is located in 5 Major Cities
"We were really big at 5 major cities: New York, Chicago, Los Angeles, San Francisco, and Washington, D.C. Those were really kind of like our premier cities," Gray explained. There's one major museum in each city, with two in NYC.
COVID-19 set Museum Hack a little just as they were really ramping up operations in their major cities, but that hasn't stopped them from growing. They pulled back some of the new cities they had just begun to roll out (such as Philadelphia and Atlanta) but they have gone completely virtual!
Now the company is doing many of these team-building experiences that are actually really exciting because, in the past, you imagine a team-building adventure was "let's go bowling with the company." "Through Museum Hack, we started bringing these companies on team-building adventures to the museum, and to teach them about art and history and leadership and things like that."
Gray said they are trying to reach the major kind of tourist towns in America, the major cities by covering five or six cities, with a goal of at least one of those cities per year added to their list.
"Our goal is to just show a new way, especially D.C., which is absolutely crazy for the museums there, as you know, and just get so much traffic, it's great."
Every Visit Can Be a Different Experience
One of the questions I asked Gray is about the experience with the Museum Hack tour guide vs. self-guided tours.
The Smithsonian, for example, has free admission, so you're going you have the opportunity to go to any of them and multiples—which you have to d if you truly want to see everything—by the simple task of going to see everything there is to see, you'll have a different experience each visit you have.
You're going to learn something new. With a Museum Hack guide, they each do things just a little bit differently based on their interests or experience. Each tour guide gives a different tour, which is a special aspect of Museum Hack—and a necessary one. The tour guides have to be passionate about the topic in order to speak passionately about it.
It's so funny that you mentioned that because I think you're dialing into something which is really special, which is that each of the tour guides gives a different tour. And I believe when starting a company that for the tour guides to talk passionately about what they were doing. They had to write their own tour; Gray could not just give them a script.
The Museum Hack tours were designed and built so that somebody would really write their own tours to talk about their favorite things at the museum. And so each tour guide that you go on will have a different story with their different favorite things.
Why Museum Hack is Different from a Traditional Tour Guide
What's special about the Museum Hack tours is that they're not led by museum staff. They're led by people who work for Museum Hack…We hire people like Broadway actors and stand-up comedians, science teachers, and musicians, and they are the tour guides.
They're not more traditional museum tour guides; they are coming from the world of engagement.
"I think that's really what makes our tours special. It's the type of experience where you want to hang out with your tour guide, you want to be friends with them. And you're just you're learning the juicy gossip about the museum. Sometimes that can mean how much a painting costs, which on most museum tours, they would never talk about, of course, who was involved in purchasing or the donors, things like that."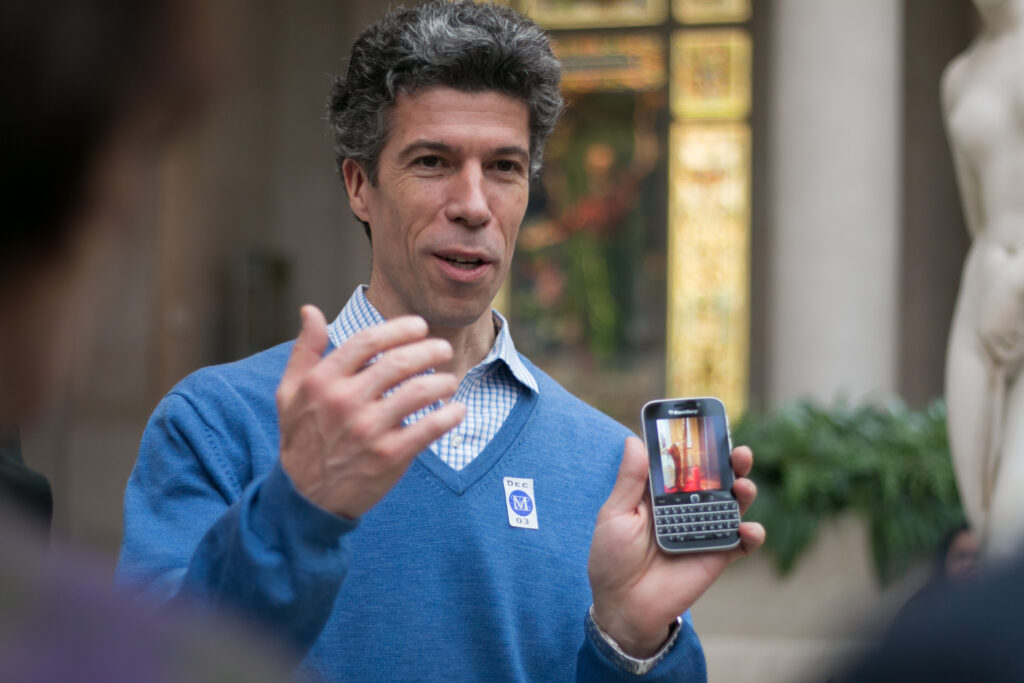 Nick Gray's Best Advice For Visiting a New Museum
Gray has a strategy for visiting a new museum. He believes everybody should do when they go to a new museum.
Grab a map.
Walk the entire floor plan.
Do not stop and look at anything, just walk the space (to get an idea of your physical boundary and how big the museum is, and a general idea of what's there).
Go to the cafe.
Have a cup of coffee, or you a glass of wine, or whatever.
Recharge rest a little bit.
Look at the map.
Now plan your strategy for what you want to go back and see.
If you simply wander around and look at whatever happens to be there without a plan you can get what is known as gallery fatigue—from spending too much time; you're tired, you're hungry, you're cranky, and you leave with this sense of guilt like you didn't get a chance to see the things you're supposed to see. And so by walking the whole space, it'll give you a sense of ownership to have a better experience.

Fun Facts about the Metropolitan Museum of Art (MoMA) in New York City
There are over 200,000 objects
It's over 2 million sq. feet. (about 48 football fields in Central Park). Have you been to the Met?
It's comprised of 17 curatorial departments; it's an encyclopedic Museum, essentially like 17 different museums all under one sprawling roof.
Nick's favorite museum in the whole world?
The Metropolitan Museum of Art in New York City.
Museum Hack: In 2013, entrepreneur Nick Gray quit his job to bring magic into museums with renegade tours that are anything but boring. He started small, showing his friends around Manhattan's famed Metropolitan Museum of Art for free. But with strategic planning, he successfully scaled his hobby into Museum Hack, a multimillion-dollar business with over 100 employees.
You can watch episodes from RAMEN PROFITABLE here.
Check out the trailer for the RAMEN PROFITABLE here
In the series, you'll learn about a number of start-up companies at various levels of success. The companies that are highlighted are:
BITE: (Bite started with two questions: Why does toothpaste come in plastic tubes and what exactly are we putting in our bodies when we brush our teeth?)
MUSEUM HACK: (Museum Hack leads renegade, small group tours for people who THINK they don't like museums.)
ELROY AIR: (a logistics company that specializes in the fields of logistics, robotics, and air transportation.)
FLIKSHOP: (sends photos delivered as postcards to any person in any prison instantly to stay connected to incarcerated loved ones.)
WEARWORKS: (created the Wayband, a wearable navigation device that utilizes haptics to communicate information through the skin.)
LIQUID DEATH: (a canned water company with the tagline "murder your thirst" and whose company aims to remove single-use plastic bottles.)
The companies are diverse and tap into an array of different business focusses. The goal of www.milionstories.com was to show that every idea can turn into a great entrepreneurial journey. New episodes are released weekly!
About Million Stories Media
Million Stories is designed to inspire, entertain, and transform money talk from boring and taboo to something compelling and socially relevant. Told in short form, bite-sized episodes, there is something for everyone. From laugh-out-loud comedy to thoughtful and relatable reality, the channel offers a broad and highly relevant array of content.
The free digital channel, powered by the Singleton Foundation for Financial Literacy & Entrepreneurship, uses the power of entertainment to break the taboo about talking about money and engage viewers to set themselves up for better financial futures. The foundation also takes the approach that everyone has the ability to be the CEO of their own lives and encourages viewers to think with an entrepreneurial mindset.