This is a sponsored conversation written by me on behalf of Pepto Bismol . The opinions and text are all mine.
Summer is here, and for me, that means even more travel than usual. Picnics with friends and travel with kids. Party foods, decadent foods, exploring new Instagrammable foods in new cities. While all of those are delectable options, they can leave your stomach a little less than pleased.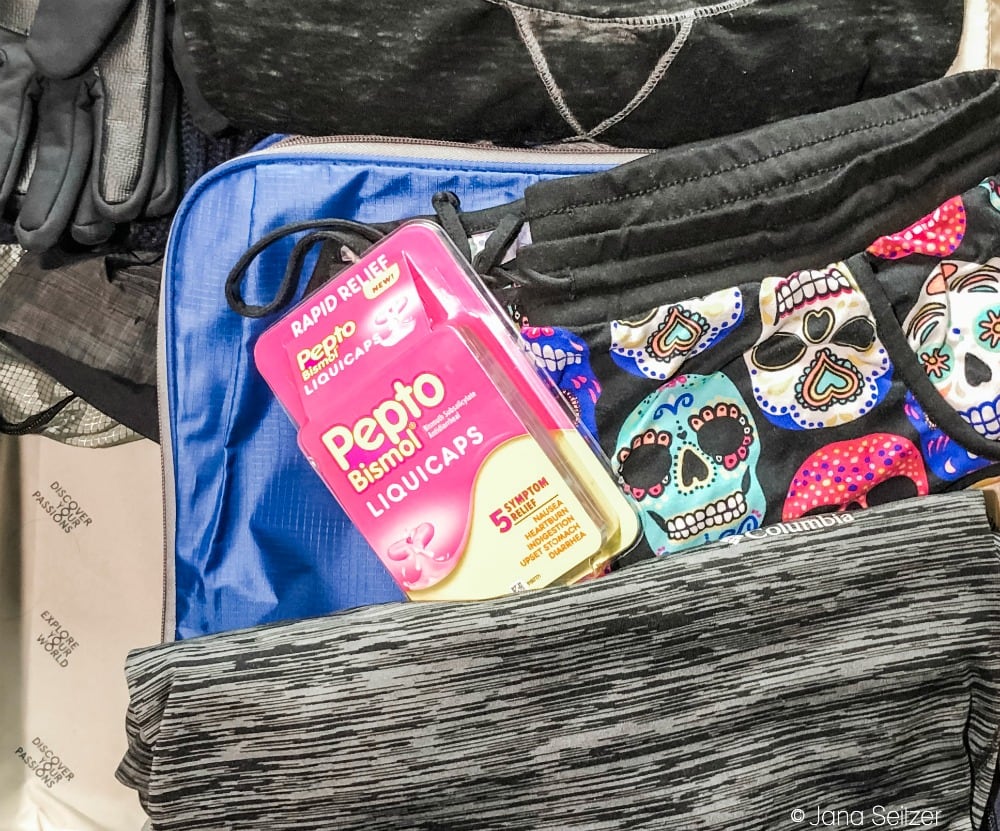 This post is sponsored by Pepto Bismol. As always, all opinions are my own.
Earlier this month I was in Chicago for a conference. I spent an entire day eating my way through the city with a girlfriend. We literally wandered through the city in search of tasty and pretty eats on a list of Instagrammable foods we wanted to sample and photograph. Believe me, the list was fantastic and delicious, but my stomach was a touch angry. Ice cream tacos, churro ice cream cones, deep dish pizza, frozen hot chocolate shakes, tacos, donuts, popcorn, to name a few. What part of that list of foods doesn't scream indigestion and heartburn? And that was just the first day of my visit to Chicago.


Personal Health Care Items for Travel
One of the things I have to remember to pack when traveling is personal health care items. Just because I love eating all the delicious foods doesn't mean my body agrees with what I eat. Thankfully, Pepto Bismol (part of the suite of digestive wellness products from Procter & Gamble) is one of the go-to things I never leave home without because it keeps my body in check and provides relief for five symptoms of stomach trouble: including nausea, heartburn, indigestion, and upset stomach, due to overindulgence in food and drink, and diarrhea.
I've been using Pepto Bismol for as long as I can remember. I was a kid the first time my parents gave me a Pepto Bismol product to relieve my upset stomach—and I've never looked back.
I generally use the Pepto Bismol liquid at home because it's fast-acting, but on the go, I don't mess with a bottle of liquid in my suitcase (and if I carry-on, well, you know the TSA rules about 3-1-1). The solution? The new convenient Pepto Bismol LiquiCaps Rapid Relief is the perfect thing to pack in your purse, carry-on, or toiletry bag in your large suitcase.
Pepto Bismol for Family Travel and Family Relief
Pepto Bismol relieves an upset stomach by providing a protective coating on the stomach lining that soothes irritation and provides fast relief from upset stomach and indigestion. It also calms heartburn and nausea, and relieves diarrhea.
Overindulging or sensitivity to certain foods can result in the release of irritants. This can lead to damage of the protective lining in the stomach and cause indigestion, nausea, and gas. Pepto Bismol's active ingredients bind to the irritants and neutralize them preventing further damage and providing relief.
Pepto Bismol LiquiCaps provide rapid relief, but they are much more convenient than the Pepto Bismol liquid version because the Pepto Bismol LiquiCaps let you take Pepto Bismol on-the-go so you can take it where you happen to be—at home, at work, or traveling! Pepto Bismol has been my go-to for ages and I love the convenience of the Pepto Bismol LiquiCaps Rapid Relief. Pepto Bismol is great for my family, too, because it's safe for kids over the age of 12, so I can give it to my older kids, which limits the number of items I need to keep in my medicine cabinet and the number of items I need to take with me on our family travels. I take Pepto Bismol at the first sign of stomach upset so I can get back to my normal self quickly.
Summer holidays and travel are the perfect time to stock up on Pepto Bismol and I suggest trying the new convenient Pepto Bismol LiquiCaps variety.
Use as directed. Keep out of reach of children.