How to Make the Most of the Oogie Boogie Bash Disneyland Halloween Party
Friends, we've been to the opening night of the 2021 Oogie Boogie Bash Disneyland Halloween Party, and we're here to tell you everything you need to know to make the most of your evening in the park—with tips and tricks you'll want to know for your upcoming visit.
Please note: The 2021 Oogie Boogie Bash parties have sold out!
The Oogie Boogie Bash Halloween parties begin September 9–October 31.
This post contains affiliate links.

Oogie Boogie Bash Disneyland Halloween Party
Halloween at Disney Parks is my favorite time of year in the parks, with the holidays coming in a close second. If you love Halloween and after-hours in the parks, this is your kind of party.

Oogie Boogie Bash Details
Where is Oogie Boogie Bash held?
Oogie Boogie Bash is the newer Halloween party that replaced the former Disneyland Resort's Mickey's Halloween Party (MHP) in 2019. This nighttime party is a separate ticket event that happens on select nights (just as MHP was, though it takes place at Disney California Adventure Park, not Disneyland).
If you are planning to be at Disney California Adventure Park (DCA) on an evening when Oogie Boogie Bash is scheduled, note that DCA will be closing early at 6 p.m. While Oogie Boogie Bash requires a separate ticket to attend, it does not require separate theme park admission or a park reservation to attend.

How to get tickets for Oogie Boogie Bash
Please note: The 2021 Oogie Boogie Bash parties have sold out!
2021 Oogie Boogie Bash special event tickets ranged from $114 to $169, depending on the day you chose to attend. Similar to regular theme park admission, every guest ages 3 and up needs a ticket, but children ages 2 and under are free. We recommend buying your ticket early as these parties often sell out. Heck, we flew from across the country (vaccinated, masked, tested) to be here and bought our ticket the morning they went on sale (and sat in a queue for hours before we were able to secure our tickets!)
Tickets for Oogie Boogie Bash can only be purchased online via the Disneyland website or app. Tickets are not available for purchase through third-party retailers like our travel partner Get Away Today, though they do have great rates available for park tickets and hotels. Parking fees are an additional fee from the event ticket price.
Although the Oogie Boogie Bash party tickets are sold out online, the three Disneyland Resort Hotels often have a limited number of Oogie Boogie bash tickets available on the day of the event for hotel guests. You can ask at the hotel check-in desk on the day of the party to see if they have any Oogie Boogie Bash party tickets available for sale.
What time does Oogie Boogie Bash start?
While the Oogie Boogie Bash parties officially start at 6 p.m. (and end at 11 p.m.), you can enter Disney California Adventure park 3 hours early with your special event party ticket. The park begins to mix in guests from the ticketed event at 3 p.m., so guests with Oogie Boogie Bash party tickets may enter DCA and enjoy the park with the guests already in the park before the party, which is the perfect way to get some great photos while it's still daylight!
For that 3-hour window, cast members will phase out the guests with admission who were in the park during the day and mix in the guests arriving for the party. Even though DCA is closed, Disneyland will be open.

Where do I check-in for the Oogie Boogie Bash?
When you enter Disney California Adventure Park with your Oogie Boogie Bash special event ticket, you'll receive a wristband and treat bag, along with a map for the evening's party with show locations, treat locations, and more.
If you enter through the main gates, you'll be greeted by cast members with wristbands and treat bags.
If you're already in the park or have a park hopper admission, you can also get your items over at the Big Sky Cellar across from the entrance to Cars Land.
Is Disneyland Oogie Boogie Bash safe for kids?
While Tim Burton's The Nightmare Before Christmas is a little scary for younger kids and the theme is named after one of the villains of the movie—Oogie Boogie—the Oogie Boogie Bash at Disney California Adventure Park is a kid-friendly Halloween event as a whole. The Villains Grove (more details below) may also be a bit much for some little kids but is kid-friendly overall.
There are lots of activities and shows throughout the evening event, but as we all know well, little kids tucker out easily and likely won't make it until the very end of the party (or if they do, they are fast asleep in their strollers).
Most of the activities that are best for the littles (toddlers and preschoolers) such as the trick or treat trails and Mickey's Trick & Treat Stage show are busiest earlier on in the evening. The lines for these activities tend to die down as the evening progresses, so if you can hold out and do them later on in the party, that's often a good strategy to be able to get more in.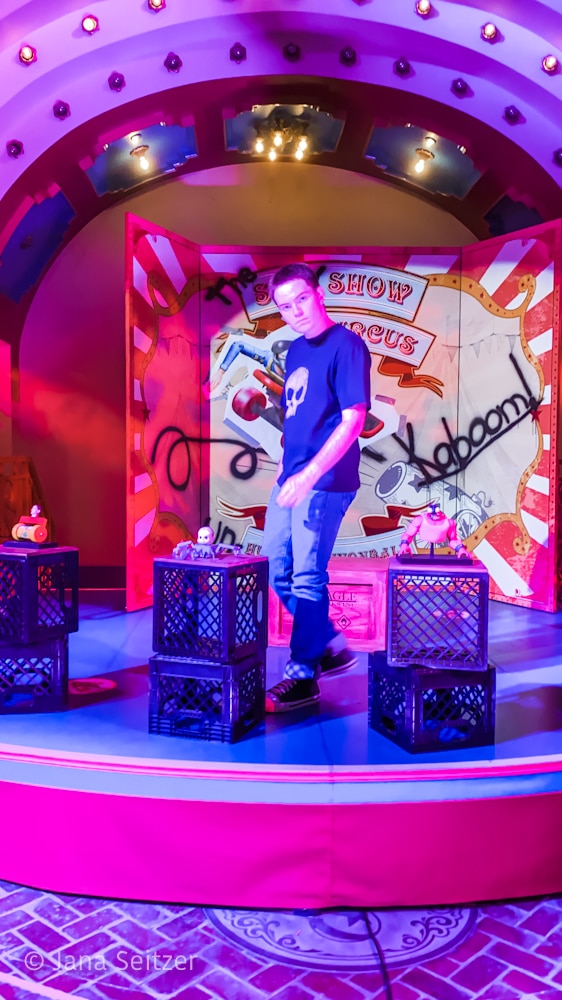 Oogie Boogie Bash Highlights
Stroll the Oogie Boogie Bash Immersive Treat Trails
Did you know that the practice of trick or treating can be traced as far back as the ancient Celts, early Roman Catholics, and 17th-century British politics? Trick-or-treating is a key element of all the Halloween parties at both Disneyland Resort and Walt Disney World Resort. And boy is there trick-or-treating at this party!
Immersive treat trails is a new iteration of trick-or-treating to Oogie Boogie Bash as of 2019. They started a new tradition and it seems to be popular! The immersive treat trails consist of interactive Villains who talk to guests from a distance—either behind a rope or on a stage, or sometimes both—as they pass by.
The immersive treat trails are back and this year, 8 of the 10 include character interactions. The immersive treat trails Villians included Agatha, Cruella, Dr. Facilier, Evil Queen, Mad Hatter, Maleficent, Oogie Boogie, and Sid.
Trick-or-treating and collecting candy during Oogie Boogie Bash is something guests of all ages may participate in. As we mentioned above, each guest receives a small treat bag after entering the gate. We recommend packing your own (backpack, canvas bag, something extra), as the small plastic bag will fill up quickly and the candy overload is real! Without even trying we filled the bag they handed out 3 times.
Pre-pandemic, both Disneyland Resort and Walt Disney World Resort Halloween parties offered allergy options. This year, Oogie Boogie Bash did not have any allergy-friendly options for trick-or-treating. As an allergy mom, my friend was a little disappointed knowing that her daughter wouldn't have been able to participate. This isn't the step forward we were hoping to see, Disney!
Transformation! Redwood Creek Challenge Trail becomes Villains Grove
For the Villian lovers and artistic types, this attraction is for you!
This walkthrough experience takes you through the winding trails of the Redwood Creek Challenge Trail as it transforms into Villains Grove. Light displays, shadows, props, fog, and sound create the spookiness and mystery of Villains Grove. They also play into the coolness factor—it screams photo opps and shots for the 'Gram with all the unique photo backgrounds and scenes.
Note about Villains Grove: In 2019, the lines were shorter toward the end of the night. This year, they were long almost all night long.
However, little kids may not enjoy this section for a few reasons. Overall, Villains Grove can be a little "dark" and a spooky Villians-esque theme can be a bit much for some kids. It's also a bit of a sensory overload with all of the themes sort of overlapping/merging over one another and the combinations of sound and lights in every scene. Use your best judgment with what your kids can handle. This area also doesn't have a treat trail, so kids won't get to collect any goodies along the way.

Selfies with Characters and PhotoPass
Since Disney Parks reopened, character meet-and-greets have changed in order to be more socially distant while still maintaining some level of fun. Oogie Boogie Bash is the same selfie-style photo set up where the characters are on a stage or behind a rope to maintain a level of social distance. Who doesn't love a fun selfie or 6? Unfortunately, autographs, hugs, etc. are not allowed at this time, but you can still get some fun photos.
Greeting characters is super popular at Oogie Boogie Bash, similar to how they were at Walt Disney World's Mickey's Not-So-Scary Halloween Party and other special events (like runDisney events and the former Mickey's Halloween Party at Disneyland) because you get to see characters rarely if ever, spotted in the park—and even the regular characters are decked out in their Halloween costumes.
As part of your Ooogie Boogie Bash Special Event Ticket, guests receive the PhotoPass digital photo downloads included in the price of tickets. This is the perfect opportunity to take advantage of the PhotoPass photographers who will be available during the event and be a little extra with your photos.
However, while these character opps are awesome, the lines are usually long the entire night (especially the ones with the super unique characters and villains over near Villains Grove), so you will likely be skipping other activities if you choose to get photos with characters.
Don't miss the special Oogie Boogie Bash shows
Frightfully Fun Parade – Oogie Boogie Bash
You know a Halloween parade will be great when it starts with Sleepy Hollow's Headless Horseman. The Headless Horseman leads the way a few minutes before the rest of the parade makes its way along the parade route, which starts up near the Paradise Garden area and ends near the Hyperion Theater.
Mickey and Minnie with their Frightfully Fun Parade float start the fun to really get you in the mood. The music will have you dancing and singing in your space. The spooky fun joins in with the Mayor of Halloween Town rolling in with his gang of Nightmare Before Christmas friends including Sally, Jack the Pumpkin King, and Zero on their own Halloween Town float. Haunted Mansion dancers and float dance their way in with Constance Hatchaway and Silas Crump. My favorite dance act of the parade is the Gravediggers.
There are a couple of dining options you can purchase that will give you reserved seating and/or a reserved section for viewing the parade route for the two showings, 7:50 p.m. and 10:05 p.m.
Mickey's Trick & Treat Stage Show – Oogie Boogie Bash
If you and your kids love the Disney Junior Dance Party, you will love this interactive stage show. You'll see Mickey Mouse and friends dressed in their Halloween costumes, dancing, and storytelling, all set to fun Halloween-themed music. This show is perfect for the littles (like toddlers and preschoolers) and is located inside the Disney Theater in Hollywood Land.
Similar to the Disney Junior Dance Party, this is a short but energetic show and it is floor seating only—great for little kids, but definitely not my knees. After the show, the kids can collect candy. This show is crazy busy early in the night so if your kids can hold out a little bit, I suggest going to a slightly later showing.
There are several shows throughout the evening: 6:15 p.m., 6:55 p.m., 7:35 p.m., 9:00 p.m., and 9:50 p.m.
Mickey's Trick & Treat Hot Tip: the theatre is air-conditioned so this is an excellent show for when you are dying of heat in your costume and looking for a break.
What's included with your Oogie Boogie Bash ticket?
In addition to the early entry to DCA, PhotoPass digital downloads, Villains Grove, Immersive Treat Trails, Frightfully Fun Parade, Mickey's Trick & Treat Show, character sightings, and photo opps, there are a few other bonuses you get as part of your special ticketed event for the Oogie Boogie Bash.
Limited-capacity access to DCA
Because the event is a special-ticketed activity, Disney caps the tickets at a limited quantity, so you'll be able to experience DCA and Oogie Boogie Bash with far fewer guests than on a day with full-park capacity. This is better for lines for special activities, but it's also great for checking out some of your favorite rides.
Guardians of the Galaxy – Monsters After Dark
If you like the Guardians of the Galaxy ride, then you HAVE to check out Guardians of the Galaxy – Monsters After Dark. This Halloween-themed version of the ride is only available after dark in the fall but we wish it was available year-round. If you love the changing scenes and music choices on the original, this layover offers you even more combinations of lively surprises.

Carthay Circle in lights
Carthay Circle's Bell Tower lights up with spellbinding effects. Every show starts with swirling bats surrounding the Bell Tower and then a spectacular display of Oogie Boogie magic.
Special decor, lighting, music around the park
Unique Halloween decorations, lighting and effects, and music set the stage for a boo-tiful day and not-too-frightfully family-fun evening.
Halloween treats galore to choose from
Disneyland Resort has seasonal treats through the end of October, and a few that are ONLY available during the Oogie Boogie Bash.
Between Disneyland, Disney California Adventure, and the Grand Californian Hotel, there are over 126 treats to taste! However, most are seasonal and available all day through the end of October, but there are 3 that can only be purchased during the Oogie Boogie Bash.
Flo's V-8 Café offers 3 specialty fries during the party, with mobile ordering available:
Loaded Buffalo Chicken Fries–Steak fries topped with cheddar cheese, chicken tenders tossed in buffalo sauce, and celery bits drizzled with ranch
Loaded Gravy Fries–Steak fries topped with chicken tenders, jack cheese, and smothered in gravy
Loaded Chili Fries–Steak fries topped with cheddar cheese, Walt's Chili, diced onions, and sour cream

Speaking of saving time, our friend Patty has suggested Things NOT To Do At Oogie Boogie Bash.
Socially Distanced Dining Options for Oogie Boogie Bash
While visiting Disney Parks can never be a people-less experience or truly socially distanced, Oogie Boogie Bash offers some dining experiences that allow you to upgrade your dining or dessert package to give you the opportunity to grab select table front seating or reserved standing area for the Frightfully Fun Parade. Both options are less crowded than much of the normal parade route. Read How to Have a More Socially Distanced Oogie Boogie Bash.