We eat a lot of salad in our house. We love our greens. They're good for us and tasty. And when I can get 4 kids to agree on a salad, I consider it winning. Recently I made a Pecan Strawberry Salad with Dijon Vinaigrette made with Marukan Organic Rice Vinegar. Everyone loved it and the vinaigrette was versatile for so many salads.
I've heard of rice vinegar but had never bought it to work with at home. I can't believe I've been missing our on rice vinegar all these years! It's light and delicate and works well in so many recipes. And they are non-GMO certified, Kosher certified, and organic!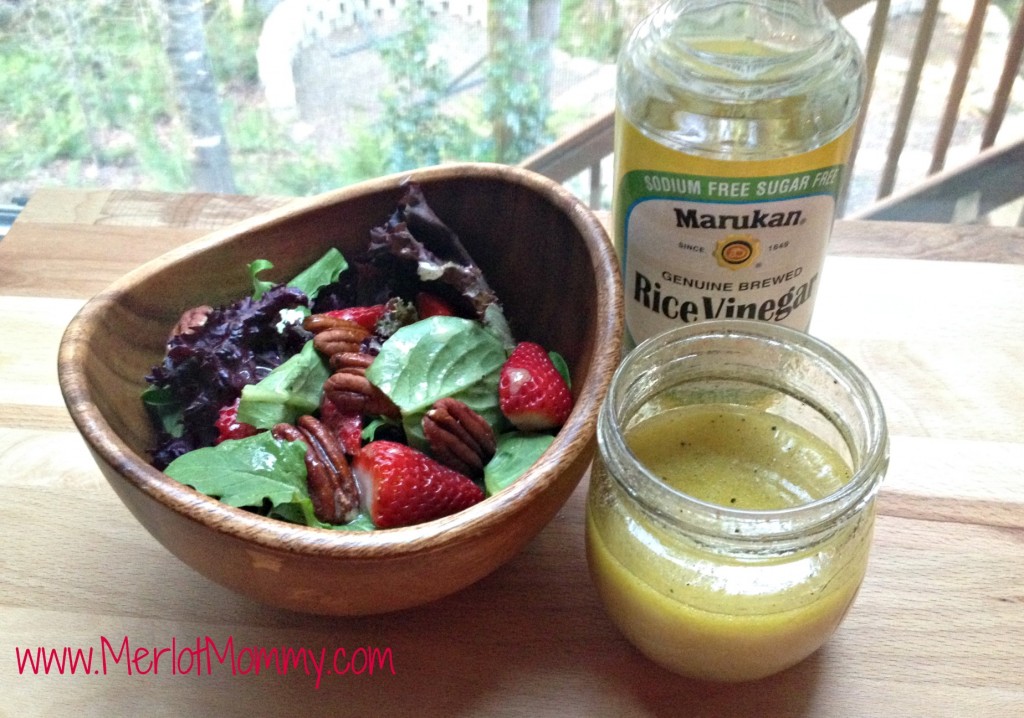 Pecan Strawberry Salad with Marukan Dijon Vinaigrette
Ingredients
Salad
1 bag of mixed baby greens salad mix
1/2 cup pecan halves
1 cup of strawberries, halved
Vinaigrette
1/4 cup Marukan Organic Rice Vinegar
1/4 cup extra virgin olive oil
2 tablespoons lemon juice
1 tablespoon dijon mustard
salt and pepper to taste
For the salad, rinse salad mix and place in serving bowls. Sprinkle top of salad with pecans and strawberries, evenly distributed among bowls.
For the vinaigrette, combine rice vinegar, olive oil, lemon juice, and dijon mustard in a lidded container; whisk until dijon is well integrated. Add salt and pepper to taste. Shake lightly and drizzle on salads.
Makes 6 servings.
Enjoy.
Win a Marukan Gourmet Gift Pack
Want to win a gift pack of your own? Enter below to win GENUINE BREWED Rice Vinegar, SEASONED GOURMET Rice Vinegar, and All Natural PONZU Marukan Vinegars.