Suzanne Todd is a film and television producer who has produced hits for nearly every major studio. Her films have been honored by the Academy Awards and Golden Globes, her television productions honored by Emmy Awards, and she has been presented with numerous other awards including Women in Film's coveted Lucy Award. Suzanne is a fearless Hollywood powerhouse and an incredible role model for women everywhere.
In 2010, Suzanne produced Disney's Alice in Wonderland, which grossed over $1 billion at the worldwide box office and won two Academy Awards (for Best Achievement in Art Direction and for Costume Design). Alice in Wonderland was also Golden Globe nominated for Best Motion Picture Comedy or Musical; won the Teen Choice Award for Choice Movie: Fight; won the Saturn Award for Best Fantasy Film; and was nominated for several other Teen Choice, MTV, and People's Choice Awards.
Suzanne is back at it having just produced Disney's Alice Through the Looking Glass, and we were lucky enough to sit down and chat with her about her work on the film. She's brilliant, versatile, and clearly has fantastic taste in shoes. Apparently she's a heck of a poker player, too, according to the internet. I think I want to be her when I grow up. She's my spirit animal: learn to say no, don't sweat the small stuff, and if it isn't productive, move on. It's like she took a chapter out of my proverbial playbook. I learned to cut the drama and the people associated with it years ago. And she has that same advice for people looking to springboard their career.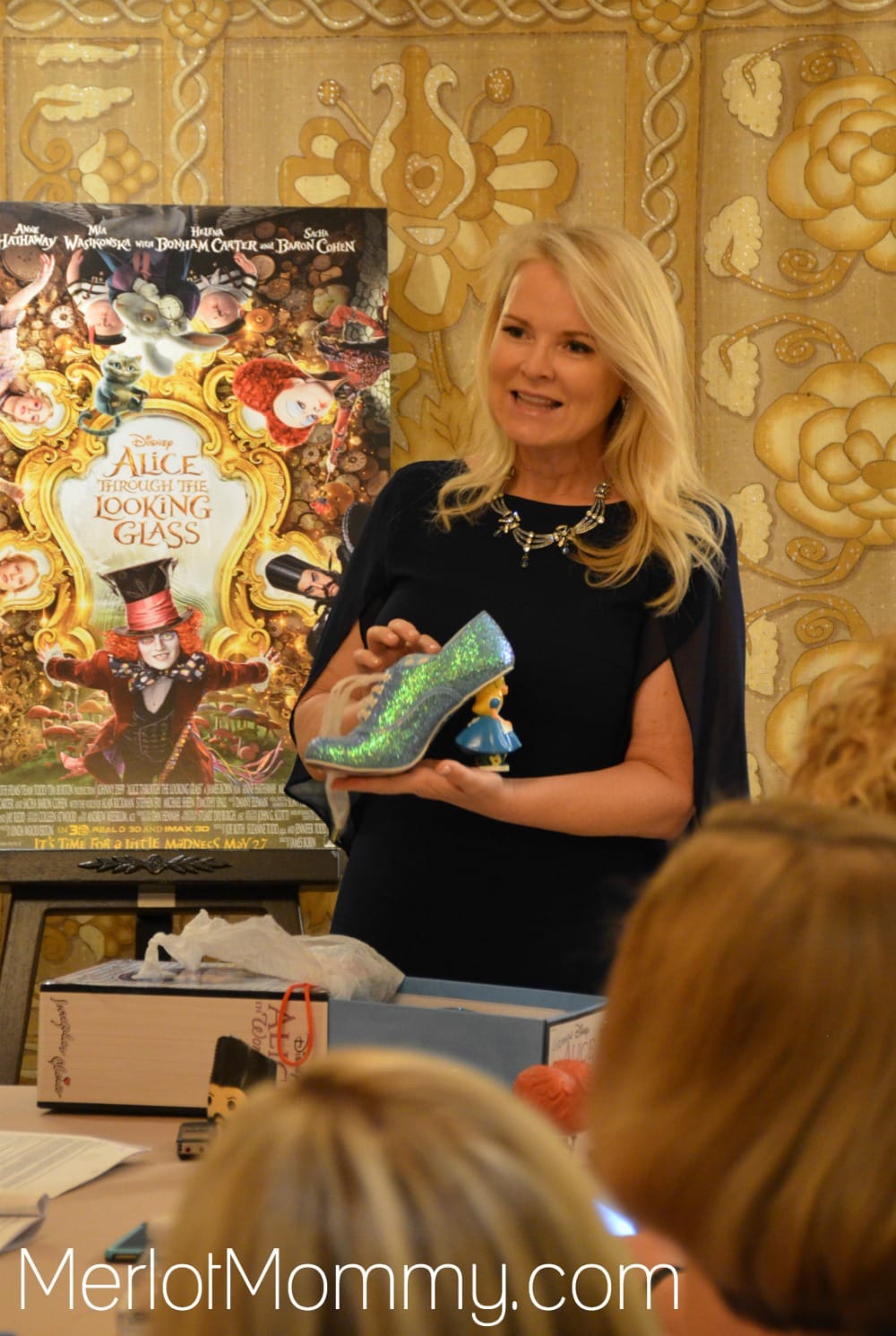 Suzanne walked into our interview with a box of gorgeous Alice In Wonderland couture shoes, the same ones we saw her wear at the recent Disney Social Media Moms Conference. We were intrigued as to why she was carrying them instead of wearing them. So she shared with us the story of the shoes and why she wasn't wearing them.
So the collection for a regular choice for Alice sold out immediately in 10 minutes. There were lines on Regent Street in London 5 hours long. There are I think 12 different styles. This one that I got, so I've only worn these twice. I brought them in the box so you could see how beautiful it looks, like the storybook, right? The detail is fantastic.

They only get better and better because even the little tissue paper has amazing Alice characters on it, inside amazing Alice fabric patter, right? Little Alice underneath, and each of them has a different design on the bottom, from the movie, and that same pattern of the little two little girls. So there's a Red Queen one that has a red part that lights up.

I am not wearing them tonight, and I'll tell you why. You guys are all really good, obviously. This internet tweeting, blogging, whatever, which I am not so much. You know, I spent 30 years making movies and I'm sort of new to all of this.

And I posted maybe last week something about a really good friend, Maria Shriver turns 60 this year, and of course instead of asking for a birthday present, because she is a Shriver and they have a life time of service, she said please just help me with my charity thing that's coming up instead of buying me a birthday present. So I said I would help her with her fundraiser, which was this past weekend that was called Move for Minds. It was raising money for Alzheimer's. She lost a parent to Alzheimer's. I had posted, but I've never done this before—'cause again I'm not like you guys way out there—for people to support the fundraiser. I just though oh, maybe someone will.

And all of my friends did, which was so nice. And there was one person that actually donated who I've never met, which I thought was so amazing, and she wrote that it was like in honor of her grandma, which was so touching, but I think she's here.
It turns out it's my friend Keri Lyn from our trip. What an amazing kind and generous things to do, to donate in the first place, but it gets better, because here's where karma and doing all those nice things get paid back 10 fold.
So I am giving you this. Yes, I am. These are for you. I don't know what size you are, but I want you to have them. I hope you're close to like a 9.

I'm giving you my special shoes, I have to apologize, but someone wrote my name on the box when they were delivering them, so thank you. I was really, really touched that you donated in honor of your grandma. We did the event on Saturday. We raised tons of money for Alzheimer's research, and I learned so much about it actually. It was a great event. So thank you so much.

And by the way, you guys all understand this much better than I do, because it's that really positive lovely good power of connecting on social media for all the bad stuff that is true and people want to talk about, that was really lovely and also, since Florida, where I got to see, some of you there, it's been really great to be reading what you guys are doing. And I had to leave Florida right away because we had our thing in London, but I really wanted to stay for the weekend. I thought what you guys were doing seemed really, really fun. And even here, I've been watching, you know, so it's fun to get to see.
So Suzanne gave Keri Lyn her amazing, rare collector's Alice in Wonderland shoes for doing a really nice thing. Keri Lyn, as of course speechless. I had to snap a photo of the two of them after our interview. The kindness of the two of them was just heartwarming. If only the world was full of more people like the two of them. Keri Lyn ended up wearing them to the Red Carpet premiere of Alice Through the Looking Glass. They were actually her size and matched her dress. What were the odds?!?
Okay, so on with the interview.
One of the things I really enjoyed about talking with Suzanne was her message for moms who are in pursuit of a career they love. Her message can obviously be directed toward anyone pursuing their passion, but she said some things that really struck home for me. I gave up listening to people tell me no and dealing with other people's drama years ago. I'm an adult and I decided years ago that as an adult, I could only react to other people, not change what they do. I learned in college to not sweat the small stuff, after reading the book (yes, I'm that old). It's something I try to raise my kids to recognize and I really appreciate that Suzanne is so down to earth in recognizing it.
I'm learning every day just like the rest of you. I think however many years it is down the road for me now, I definitely—I know it sounds like an Instagram saying, but I definitely sweat the small stuff less and I feel like in my old life, I definitely sweated it more. And maybe that's just because I don't have time for it, or the energy for it, but situations, people, things that bring drama and conflict and aren't productive moving forward things, I really stay away from or avoid or I will cross the street to get away from.

And that's very different for me than it was probably 10 years ago or 15 years ago. I'm very, very focused on what I think will be a positive outcome, and it's something I actually talk about a lot with my kids. I always think the best advice I can ever give myself is the advice I tell my kids, because I'm much better at telling my kids what to do usually than I am at telling myself. So if I pause and think about what I would tell them, then I usually do a better job, but that idea of trying to avoid the stuff that actually isn't helping you get where you need to go—including sometimes your own thought process about it, like having like negative thoughts inside or telling yourself that something is harder than it really is, because it's not really helping you.

So you can just kind of let that go. My kids and I say we just kind of floated away because I'm also a big meditator. I have been for 20 years, and I taught it to my kids now. And when people always ask me how I get so much done in a busy day, I think that's a big part of it, which makes no sense to people, because they're like what do you mean? You take 20 minutes off twice a day to meditate, but for me it really helps me focus and stay on track and gives me a lot of good things that help me get other things done. I would say focusing on what you really need and just being brutal about it.

Also a little bit of learning to say no. I'm definitely a little bit less of a "yes to everything" and people pleaser than I was probably when my kids were younger, and I think it's a good thing.
Suzanne talked a bit about feminism as it relates to the movie and her experience as a female working in a male-dominated industry in Hollywood. Much like Alice as a sea captain "that isn't a job for a girl" according to the men and women in Alice Through the Looking Glass, Suzanne deals with the biases of being a female in Hollywood.
Do you mean yet today, because for sure it happened yesterday. Like everyday? It's just part of working in Hollywood. Unfortunately, you look at these dismal numbers of female directors and female producers. I've been doing it literally 30 years now, and it hasn't really changed very much. I wish that it had changed more. I mean, it's certainly taken smalls forward, but it's not like it's hugely different. It is very difficult. I'd like to lie and say, "Oh, no, that's not true at all," but that's true. It's harder as a woman.
Suzanne works with other women in the industry to help mentor them and help them move forward with their careers. She always has a female mentee from USC each year (her alma mater), and then she also has a mentee every year from the Producer's Guild. She was also on the board of a girls' school in Los Angeles called the Archer School for Girls for 6 years and she worked with the girls there. She also speaks on panels at film festivals.
I love spending time around young people because they have so much more energy than I do. I'm old and tired, and you spend time around like your mentee and a young person and you get so much inspiration from them. I do really appreciate the mentor thing. I always tell them I can just tell them mistakes that I made more so than wisdom that I can pass along, but sometimes you can learn for other people's mistakes.
I also really love that Suzanne makes time not just for her family in her busy schedule, but for each of her kids individually. As a mom of four, that's something I can relate to. Years ago my husband and I started something we call "dating" our kids where we make a concerted effort to spend time with each of our kids individually so they get one-on-one time with their parents and we can celebrate their individuality. I was so excited to learn that Suzanne does a similar thing with her three children!
I found over the years that it's important to have time for the three of them together with me, family time, but also to have individual time with them. I didn't realize that in the beginning how important it was to carve out time for each of them, because they're all different and unique in their own way.
Just like any other busy mom, she's got a calendar with everyone's activities color-coded, and moving activities around and coordinating multiple kids' activities is a feat in and of itself.
There are so many great themes of family and feminism transcending Alice Through the Looking Glass. For the last 10 years, Suzanne has been working on Alice movies with her good friend and writer Linda Woolverton. It was Linda who came to her originally with the idea of making a movie with a heroine. Suzanne said crafting the sequel was very, very difficult.
We didn't rush to make a sequel to just cash in on the financial success of the first one. We wanted to be really thoughtful about it. So I think always at the core of it was trying to be true to Alice's story, trying to be true to the Lewis Carroll Alice and then that addition of really focusing on Time, because I am a mother. I have three kids. You guys here are all working triple duty as all moms do. I just feel like the older I get, the more precious I find my time is to me. So that for us was really important. Those two things, the idea of being able to put a movie out there that is a kind of a "we girls can do anything" movie for my little girl who is 11 now, and also just recognizing time is so precious to all of us.

The thing about technology is that it was supposed to be created to give all of us more leisure time. Remember the fax machine or a Blackberry? Now you're gonna leave work early and have extra time to spend with your kids, but really what is does in some ways is it's turned all of us into 24-hour workers 'cause there's no time of the day when you can't be doing something productive. So it's a balance that we all have to try and find for when we're gonna turn it off of put it away and really sit down on the blanket and have a picnic with our kids, 'cause it doesn't happen enough, but then when it does, I think everybody has that moment where they think, "Oh, this is what I should be doing on a Sunday afternoon." I'm hoping people will watch the movie and really come out of it and have those conversations or just be in that space a little bit more because the movie inspired them to. That would make me really happy.
Suzanne said producing Alice Through the Looking Glass was more difficult than Alice Through Wonderland in part because the response to the first film was so kind of unexpected and overwhelming. When that happens, she said there's all this pressure that you want to do something that will be commercially viable, because that's why you get to make more movies, but you also want to do something that says something that's important to you.
The older I get, the less I want to ever do a movie that doesn't feed my soul.
Suzanne is very versatile in her film producing and works on a variety of movies. While she Alice Through the Looking Glass just came out this weekend, her next movie, is kind of a 180 in terms of content and context. When I asked her how she approaches films that are so different her answer was this:
When you see it you'll see that of course there's no similarities in the R-rated movie [Bad Moms] and the Disney-like female empowerment, but the similarity that you'll see is what all of you guys feel and why you guys are so popular in the stuff that you write about, because there's a relatability to the actual experience that I hope people will see in Alice. In Alice, we're looking at a girl in her 20s. That's been a long time ago for me, but I remember that idea of trying to kind of balance career and balance a relationship.

You're redefining what's going on with your parents and all of that that we struggle with in our 20s. And in Bad Moms, those girls are a little bit older, but again it's a relatable look at what it's really like, how hard it is. And the thing that is so satisfying to me whenever I talk about Bad Moms is the thing I loved about taking it on is I feel like we're all so hard on ourselves as moms, myself included, on a daily basis, because we feel like we could have done more.

We could have done better or that girl packed a better lunch or her kids speak Mandarin or all those things. So in our script there's Christina Applegate, who's the mean one in school who tortures Mila Kunis, but when I talk about the movie or even with those six actresses, every single person had a Gwendolyn in her life, whether it was at her school or her sister-in-law or her mother-in-law. There's somebody that's putting energy everyday into making you feel bad. And that idea that hopefully you'll come out of the movie and feel like, "I don't really need to feel bad."

Because what she says doesn't really mean anything to me any more than like they guy standing next to me at Starbucks. I can just feel good about what I'm trying to do and enjoy my life with my kids rather than just trying to be this unobtainable, perfect mom. I guess maybe relatability is the theme or what attracts me to those projects that are very dissimilar.
Suzanne told us she holds a special place in her heart for the storyline between the sisters, Iracabeth and Mirana, the Red Queen and White Queen. She has two sisters, a younger one who has red hair that she often works with.
There is something about that sister story line, because I have two sisters, that's very special for me.

When you look at the young White Queen, the idea that she's not a bad person. I think all of us, my kids for sure, have behaved that way. I behaved that way when I was a kid. When you make a mistake, she just did the wrong thing and in the moment, you feel like you're on the spot and she said the wrong thing. And then when you see in the movie the trajectory of everything that happened because of that, you know, I love that scene at the end where they have a little tiny bit of reconciliation, although we'll see how long that lasts, if we make another movie.
I've been invited on an all expense paid trip to LA courtesy of Disney. As always, all opinions are my own.