I've been a music lover since a love age. I grew up in a musical household, went to a music conservatory for my first 2 years of college, and employ music in virtually every aspect of my life. It's not surprising I love to have the latest music technology as it releases. The new Sonos One is the smart speaker for music lovers. This is the best Sonos product yet! Alexa with excellent sound quality and Sonos with voice control. It's the perfect marriage!
The reviewer has been compensated in the form of a Best Buy Gift Card and/or received the product/service at a reduced price or for free.
Sonos One is the Smart Speaker for Music Lovers
Do you love Music and use streaming services? The new Sonos One lets you start and control your music with your voice with Amazon Alexa built right in. You can play songs, check news and traffic, manage smart devices and enjoy all those other helpful Amazon Alexa skills using a single Sonos speaker. Use your voice to play songs while you cook. Tell Alexa to turn the volume up while you're in the shower.
Combine voice with the Sonos app to manage all your music in one place: Amazon Music, Spotify, Apple Music, internet radio and hundreds of other streaming services.
If you love to eliminate cords like I do, you can connect wirelessly with other Sonos Home Sound System speakers to play music in any or every room and enjoy surprisingly rich, room-filling sound from a smart speaker. I've loved the sound Sonos provides; I've been a Sonos owner since Play5 in 2009. I love the simplicity and elegance of their seamless all-black or all-white color with a smooth matte finish for an appearance that fits in any home. The sound quality of the Sonos is far advanced of so many Wi-Fi speakers, so the fact that Alexa now has a great sounding speaker is great for her and audiophiles everywhere.
Sonos One connects with Amazon Alexa easily over Wi-Fi. Just set up the speaker, select the Sonos skill in the Amazon Alexa app, and you're all set to play music, get news and answers, manage your smart devices, and enjoy everything else Alexa does using nothing but your Sonos One. It takes about 10 minutes to set up a new system, including downloads and updates.
Since Alexa responds to any voice, anyone in your home can take charge of the music. Kids can call out their favorite sing-alongs. Friends can skip or replay tracks and adjust audio settings, no app required. Party guests can request their favorite songs in real-time. No matter who says it, Sonos plays it.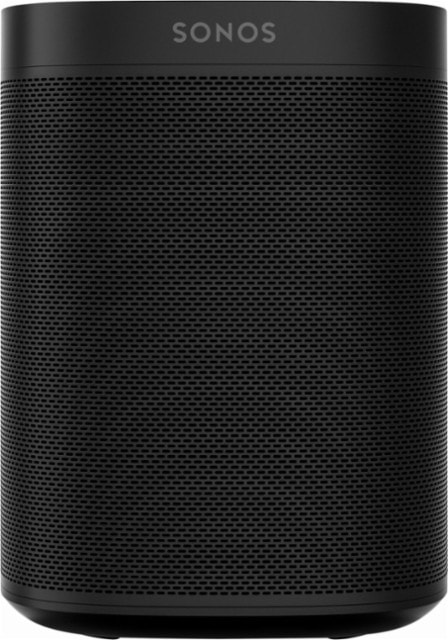 The convenient combination of your voice and the Sonos app allow you to manage everything you listen to in one place. You can start and control music using just your voice when you're listening to Spotify*, Amazon Music (Prime or Unlimited), TuneIn radio, Pandora, and iHeartRadio. Or start songs on Apple Music, Deezer or any other streaming service with your app, then use voice requests to skip or replay tracks, pause the music, adjust the volume and more. Since Sonos and Amazon Alexa are continually updating with new features, services, and skills, your music and voice options will both keep getting better over time.
Because you're getting the quality and benefits of Sonos, there are many other great features, too, such a humidity resistance (think speaker in your bathroom or on your deck) and beautiful stylish finishes to match any decor.
Sonos One Pro Tip
If you already have a system, make sure those units are plugged in when you install your new Sonos One for a more seamless install.