Welcome to the Space Jam—and the first Easter egg of the movie.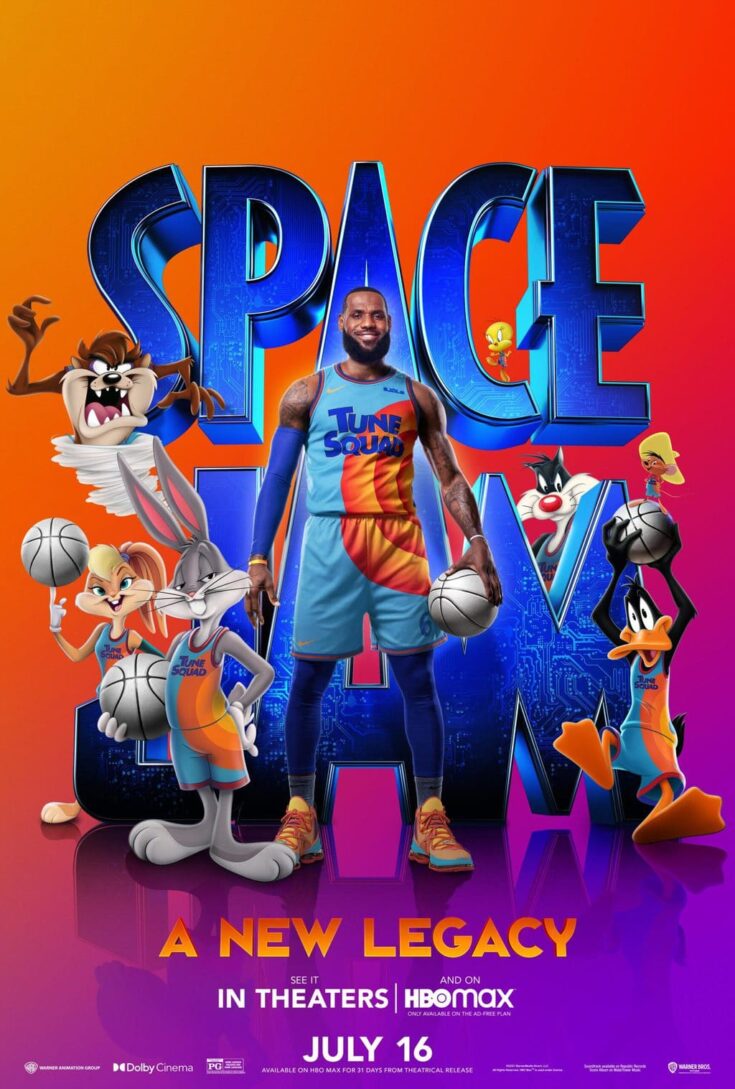 Space Jam a New Legacy is chock full of Easter eggs and callbacks to the 1996 Space Jam, as well as cameos galore from other Warner Bros./DC Comic properties. If you've seen Soul, the game scene reminds me of the Great Hall with cameo and egg after egg after cameo after egg—minutes and minutes of endless properties and callbacks.
Here are all of the Easter eggs you may have missed in Space Jam a New Legacy.
Space Jam a New Legacy Easter Eggs
Opening pep talk
Space Jam a New Legacy opens like the original, with a young to-be NBA star receiving a pep talk from an older male figure.
We get to see LeBron's NBA highlight reel in the opening credits.

A Looney Tunes childhood
During the childhood sequence of LeBron, we see him with a Looney Tunes backpack and an 8-bit Nintendo Game Boy, where he is playing "The Bugs Bunny Crazy Castle" game. When he sets the game down to get up, the end credit on the game matches Looney Tunes' "That's all Folks" cartoon logo.

Studio visit
LeBron visits the Warner Bros. Studio. At the studio, we see a cameo of Sarah Silverman as a Warner Bros. Executive sitting at a desk reading a copy of Variety magazine. On the wall behind her is a poster for the Oscar-nominated film Joker.
We also see posters for Teen Titans and Scoob. In the conference room for the "Warner 3000 Entertainment Serververse" meeting, look for an Animaniacs' Dot statue and a Batman statue, as well as Harry Potter and Game of Thrones items.
Athletes aren't good actors
If you can't laugh at yourself, who can? LeBron tells the WB execs that one of the reasons he doesn't want to accept the project is that athletes don't make good actors. "I'm a ballplayer. You know, and athletes acting, that never goes well."
While LeBron was notably better than Jordan in the acting department, it's going to be a long time before he earns an Oscar.

Wizard of Oz
AI-G Rhythm calls himself the "Great and Powerful," which is a reference to MGM's 1939 The Wizard of Oz.
The Matrix
Moments before LeBron gets pulled into the Serververse, his response to a previous moment event is, "What in The Matrix hell?"

Down the Rabbit Hole
As LeBron falls down a hole toward Tune Land, he passes several planets including Westeros ("Game of Thrones"), Kansas (The Wizard of Oz), and Casablanca.
In Tune Land, Bugs is extra Looney. He even offers treats to LeBron, echoing Gossamer in the Barber Shop.
Which Harry Potter House is LeBron in?
Well, according to this movie, Hufflepuff. LeBron James is transformed into a Harry Potter character and is wearing a Hufflepuff scarf.

Bob Bergen
Only one voice actor returns to voice a character who was also in the original—Bob Bergen.
Bergen returns to voice Tweety for a second time. In the 1996 version, Bergen also voiced Bertie, Hubie, Marvin the Martian, Porky Pig, and Tweety.
Sounds Familiar
When LeBron tells Bugs Bunny he needs help to win the big basketball game, Bugs tells LeBron, "that sounds familiar."
A-113
Bugs tricks Marvin the Martian to Tune Land to take his ship. The letters A-113 can be seen on the ship.
Disney animators aren't the only ones who reference the Cal Tech animation classroom in their movies. This might be one of my favorite Space Jam 2 Easter Eggs
#23
While not huge basketball fans, we know enough to know that #23 was Michael Jordan's number. LeBron has more than once publicly stated that he chose the #23 in high school to honor Michael Jordan (and who didn't want to "Be like Mike" as a ballplayer?). It only makes sense that he would wear his #23 jersey in the movie if he's 23 on a court normally.
Teammates from Universes
LeBron's list of possible teammates includes:
Superman
King Kong
Iron Giant
Gandalf
Batman
Trinity

Batman and Robin
In the DC Universe, Bugs Bunny is Batman while LeBron is Robin, his trusty sidekick. The classic "Batman" theme song can be heard, and Alfred (from the "Batman" cartoons) is on the runaway train.
Heroes
While Daffy Duck is dressed as Superman in the DC Universe, it's the actual Superman who shows up to save the day. Look for the Justice League to make an appearance here, too. You can hear the "Superman" theme song playing in the background.
Austin Powers
Elmer Fudd can be seen as the newest variant Mini Me in the Austin Powers properties. Sylvester has been shaved bald like Mr. Bigglesworth, Dr. Evil's hairless sinister cat.
Themyscira
We meet Lola Bunny in Themyscira competing to become an Amazon Warrior like Wonder Woman.
Mad Max: Fury Road
We see Wile E. Coyote and Road Runner in Mad Max: Fury Road with a sign that reads, "Witness Me."
Rick and Morty
Rick and Morty arrive in The Space Cruiser to drop of the Tazmanian Devil.
The Matrix
Granny and Speedy Gonzalez take on Agents LeBron James and Bugs Bunny a la The Matrix.
Animation Upgrade
When the 2D to 3D animation upgrade happens, the Looney Tunes characters complain and dislike it.

Game Time Cameos
During the game, the audience is riddled with cameos from characters in other Warner Bros. IP, Hanna-Barbera, and DC Comics properties:
Wonder Woman
Iron Giant
Pennywise from It
Flying Monkeys and the Wicked Witch of the West from The Wizard of Oz
Droogs from Clockwork Orange
King Kong
Superman
Jabberjaw
Batman and Robin
Penguin and Catwoman from Batman Returns
Joker, well two Jokers (Joaquin Phoenix's Joker and Jack Nicholson's Joker)
Flash, Aquaman, Harley Quinn, Bane, and Riddler
Gremlins
The Flinstones
Yogi Bear
Top Cat
Don Gato
The Jetsons
The Night King, White Walkers, and Drogon from "Game of Thrones"
Frankenstein Jr.
DeLorean from Back to the Future
The Nerdlucks, err, Monstars from Moron Mountain from the 1996 Space Jam
Animaniacs
Scooby-Doo and members of The Mystery Machine
The Mask
Trinity from The Matrix
Players from League of Their Own
Voldemort and some Slytherin students from Harry Potter
Gandalf, Frodo, and Gollum from Lord of the Rings
Beetlejuice
Robocop
Nun from Ken Russell's The Devils
The Exorcist
Space Ghost
Penelope Pitstop
The Great Gazoo
Dick Dastardly
Muttley
Pierre Nodoyuna and Patan
Magilla Gorilla
Yosemite Sam
Marilyn Monroe
Ilsa Lund and Rick Blaine (Ingrid Bergman and Humphrey Bogart's characters) from Casablanca
Baby Jane Hudson (Bette Davis' character) from Whatever Happened to Baby Jane?
and more
Water Bottle
During the half-time pep talk as the Tune Squad is losing, Bugs pulls out a water bottle, a nod to the 1996 Space Jam when Bugs Bunny uses Michael Jordan's water bottle to help boost the team's confidence.
Michael Jordan Cameo
Well, the wrong Michael Jordan. Michael B. Jordan. Because it's funny and because producer Ryan Coogler often works with Michael B. Jordan on projects. As the Tune Squad anticipates a Michael Jordan appearance, the Chicago Bulls' entrance music plays (Alan Parson Project's "SIRIUS").

"King Kong ain't got nothing on me"
A play on Denzel Washington's famous Training Day (2001) quote, AI-G shouts, "King Kong ain't got nothing on me!" The original is a bit more "rough" around the edges:
"Yeah, that's right, you better walk away. Go on and walk away…'cause I'm gonna' burn this motherf*cker down. King Kong ain't got sh*t on me. That's right, that's right." —Alonzo
That's all the Easter Eggs you may have missed in Space Jam a New Legacy. What's your favorite Space Jam 2 Easter Egg? Leave us a comment below!
Space Jam A New Legacy is now in theaters and on HBO Max.