Disclaimer: I received product to make this recipe. All opinions are my own.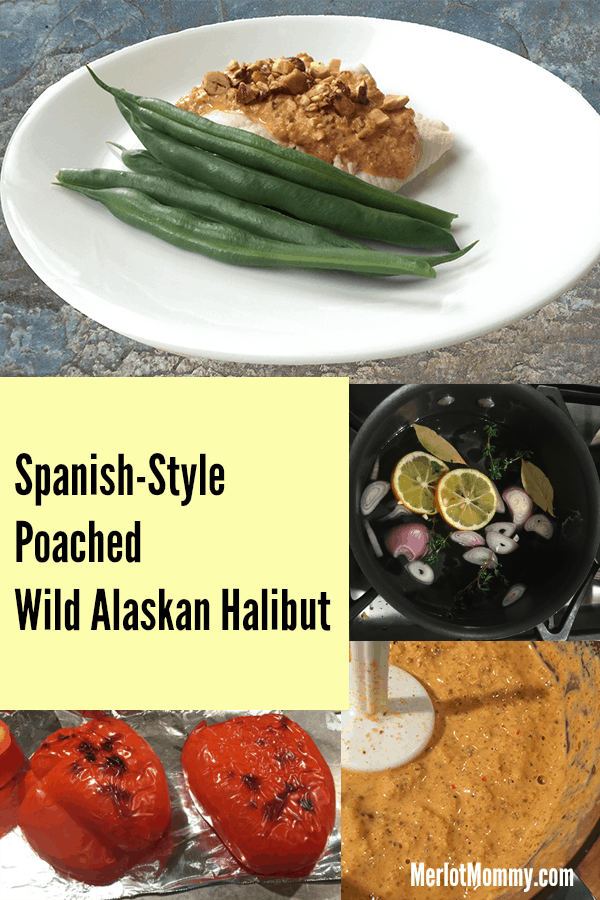 In May I had the opportunity to visit Alaska. During that trip I went Halibut fishing off Resurrection Bay with some friends. At the end of the day, I came home with 13 pounds of Wild Alaskan Halibut Filets. This Spanish-Style Poached Wild Alaskan Halibut recipe made with Santé Nuts is a delicious Halibut dish and a perfect way to prepare some of that amazing fish!
Spanish-Style Poached Wild Alaskan Halibut made with Santé Garlic Almonds

Ingredients
1 cup white wine
2 shallots, sliced
2 sprigs thyme
2 lemon slices
2 bay leaves
6 peppercorns
1 garlic clove, smashed
1 tsp. salt
4 halibut fillets (each 4 oz, 1 inch thick)
½ lb. green beans, trimmed and steamed
Romesco Sauce:
2 red peppers, halved
1 cup Santé Garlic Almonds
¼ cup extra-virgin olive oil
2 tsp. sherry vinegar
¼ tsp. smoked paprika
¼ tsp. salt

Directions
Romesco Sauce: Place pepper halves on foil-lined baking sheet, cut sides down; broil for 6 to 10 minutes or skins are charred and flesh is tender. Transfer to bowl. Cover and let stand for 10 minutes; peel skins. Add peeled peppers, 1/2 cup of the almonds, oil, vinegar, smoked paprika, and salt to food processor; purée until smooth.
In saucepan, combine 4 cups of water, wine, shallots, thyme, lemon slices, bay leaves, peppercorns, garlic and salt over medium-high heat; bring to simmer. Simmer for 10 minutes; reduce heat until barely simmering. Add halibut; poach for 5 or 6 minutes or until fish is just cooked through. Carefully remove fish and drain on paper towel to remove excess moisture.
Chop remaining almonds; sprinkle over halibut. Serve with green beans and Romesco sauce.

Notes:
The Romesco sauce recipe makes a lot of sauce. We ate it with chips and by the spoonful afterward. You could consider cutting it in half. Also, sherry vinegar was really hard to find by us. I ended up using 3/4 red wine vinegar and 1/4 cooking sherry.
Save 10% and Get Free Shipping on Santé Nuts
Want to try them? My readers get FREE SHIPPING and 10% off at SanteNuts.com using coupon code "RECIPENUTS" through July 31, 2015. No minimum. Good until 7/31 (U.S. orders only, please).