Deep diving for Easter Eggs is a favorite pastime around these parts. Spider-Man No Way Home is a love letter to the franchise, with dozens of nods to the comics, the inclusion of Spider-Men from other universes, and concurrent events with the Disney+ "Hawkeye" series. We've scoured Spider-Man No Way Home for Easter Eggs and Cameos, and while we think we've gotten them all, we've probably missed a few.
*SPOILER WARNING* IF YOU HAVEN'T WATCHED Spider-Man No Way Home, THIS IS YOUR SPOILER ALERT!
As the movie opens to the audio from the tale end of Spider-Man: Far From Home with Mysterio revealing Spider-Man's true identity as Peter Parker, the MARVEL opening marquee runs through and we span to Peter Parker reacting in horror as his no-longer secret identity is shown to the world.

A Nod To "Rogers: The Musical"
Peter Parker and MJ swing across the rooftops and in the background we see two billboards for "Rogers: The Musical." In the Earth-616 universe, this is a musical tribute to the memory of Steve Rogers, and it is featured prominently in the Marvel "Hawkeye" Series Episode 1 on Disney+.
"DITKO"
There are repeated nods to Spider-Man co-creator Steve Ditko throughout Spider-Man: No Way Home. Legendary artist Steve Ditko was the co-creator of Spider-Man, along with Stan Lee. We see a traditional Ditko image on the "Public Enemy #1″—it was one he repeatedly used to display Peter Parker's secret identity. We spotted two other instances of "DITKO" graffiti in the film—one on the rooftop of Midtown High and one on the FEAST truck.
"One More Day"
In the crowd of protestors, we see the use of devil imagery drawn over Peter Parker's face. We can make a real Mephisto connection here, given that this movie is loosely based on the 2007 "One More Day" storyline by J. Michael Straczynski and Joe Quesada.
The "One More Day" crossover storyline starts in "The Amazing Spider-Man" #544, continues in "Friendly Neighborhood Spider-Man" #24, and then "The Sensational Spider-Man" (Vol. 2) #41, and concludes in "The Amazing Spider-Man" #545.
As she lay dying from a bullet wound, Mephisto arrived and offered Peter a deal, saying that he would save May's life if Peter broke off his marriage to Mary Jane Watson. They did, May lived, and that is where "Spider-Man: One More Day" began.
Delmar's Deli Returns
Sort of. Delmar's Deli has been revamped since the destruction in Spider-Man: Homecoming as Delmar's Bodega. Delmar (Hemky Madera) has been a recurring background character in the Spider-Man movies. He doesn't appear in Spider-Man: No Way Home, but when Peter and MJ climb out of a sewer at the corner of 47th and ?, they're in front of Delmar's Bodega.
Department of Damage Control (DODC)
The DODC's job is to eliminate the superhero aftermath. In the Marvel comics and in the MCU, the DODC is seen on numerous occasions doing just this. The department also makes a brief appearance in Spider-Man: Homecoming, where it was revealed that Tony Stark founded it after The Avengers; it now seems to have been absorbed by the government. Spider-Man No Way Home is the first appearance of an actual DODC Agent, portrayed by Arian Moayed. If Moayed looks familiar it's because he's also Stewy from Succession. Theme parks nerds may also recognize the DODC from Avengers Campus in Disneyland's California Adventure Park.
Nick Fury Has Been Off-Planet "For at least a year"
As far as Peter knows, he's spent the last few weeks (end of Spider-Man: Far From Home) working with Nick Fury and Maria Hill. Unaware of the Spider-Man: Far From Home end-credit scene that reveals Nick Fury's shapeshifting Skrull pal, which is clearly a setup for Secret Invasion. Unlike Peter, however, DODC knows that Fury has been in space for at least a year, suggesting his space missions began right after Avengers: Endgame.
Matt Murdock, is that you?
Aunt May brings in a lawyer to advise Peter Parker on his alleged crimes, and that lawyer is Hell's Kitchen's very own Matt Murdock (Charlie Cox), aka Daredevil, the blind vigilante. Cox portrayed Matt Murdock/Daredevil in Netflix's "Daredevil" series, (from 2015–2018). This makes the second Netflix Marvel character to join the MCU officially, with Vincent D'Onofrio reprising his role of Wilson Fisk/Kingpin in Marvel's "Hawkeye."
Given how close Daredevil's Matt Murdock is geographical to Spider-Man, it shouldn't be a big surprise that Murdock has offered to represent Peter Parker in court throughout the Spider-Man comics. One of the most memorable times is in the "Spider-Man: The Animated Series" cartoon when Wilson Fisk framed Peter Parker for espionage, and both Daredevil and Matt Murdock took up Parker's case.
MJ's full name
MJ's name is revealed to be "Michelle Jones-Watson," but she dropped the Watson. This is the MCU version of Mary Jane Watson. In the comics, Mary Jane's father, Philip, verbally abused MJ and her mother, Gayle, and the family broke up after he moved on to physical violence.
FEAST
In Spider-Man: Far From Home, we learn Aunt May volunteered with charities such as the Salvation Army. In Spider-Man: No Way Home works with a group called FEAST. Her volunteering is here is how Norman Osborn shows up at the shelter.
In the comics, Aunt May works for the FEAST's soup kitchen, not knowing it was set up by crime lord Mr. Negative as a cover for his criminal operations. FEAST's profile has increased significantly since the Spider-Man PS4 and Spider-Man: Miles Morales games, which had Miles volunteer there as well.
But this isn't the only Miles Morales nod in Spider-Man: No Way Home.
Iron Man's Dum-E
When Happy Hogan hosts May and Peter in his condo, there are several Easter eggs. One of the most obvious is the Dum-E hydraulic arm robot Tony Stark kept in his workshop. A closer look will show a Downton Abbey DVD in the apartment; Happy was seen watching the show in Iron Man 3.
Happy in an Iron Man 3 Photo
Another Easter egg for Iron Man 3 is seen when Happy's photo is flashed on the TV screen during a newscast.
Howard Stark At Midtown High
A mural at Midtown High shows some of the greatest scientists of the past, and it includes Tony's father Howard Stark. This is both an Easter egg and a nod to continuity—Howard was seen on the same mural in Spider-Man: Homecoming.

Wong Is The Sorcerer Supreme
Peter heads to Bleeker Street to seek Doctor Strange's help. He walks into a snowstorm in the Sanctum Sanctorum. It is confirmed that Wong is the Sorcerer Supreme. According to Doctor Strange, Wong took the title by default after "Strange was Blipped out of existence"—a comment that confirms Wong survived Thanos' snap. This explains Wong's increased MCU Phase 4 presence and provides more context for his heavy presence in Shang-Chi & the Legend of the Ten Rings' end-credit scene, where he was conferring with Bruce Banner and Captain Marvel.
Doctor Strange's Memory Spell Has Comic Origins
The memory spell Doctor Strange casts to try to help Peter solve his problems is drawn from the comic. In the comics, Spider-Man revealed his identity to the world during the "Civil War" event but regretted his decision. He struck a bargain with Mephisto to create a false timeline where Strange used a memory-altering spell to make the world forget Peter Parker was Spider-Man.
The spell erasing MJ and Ned's memories of Peter Parker (as well as the rest of the world) that Doctor Strange casts is essentially what Peter and Mary Jane bargain with Mephisto for in the comics to save Aunt May's life.
Runes
Doctor Strange uses runes to cast his spell in Spider-Man: No Way Home. This is vastly different from the type of magic seen in the previous three phases of the MCU and is a perfect tie-in to the rune magic we see in WandaVision.
The Sanctum Sanctorum has a Lower Level
We get to see the lower level of the Sanctum Sanctorum. Doctor Strange didn't talk too much about the history and mythology of the Sanctum Sanctorum, just briefly. In the comics, the Sanctum Sanctorum sits at a crossroads of mystical energy that has been adulated for generations ("Doctor Strange" #2). It contains magical cells like the ones seen in the basement of Spider-Man: No Way Home, one of which has recently been part of a major Avengers Academy arc, with one of Doctor Strange's students breaking into one of the cells.
Spider-Man Wears Doctor Strange's Cape
Spider-Man briefly wears Doctor Strange's Cape of Levitation. In the Marvel's What If…? Zombies episode, Spider-Man wore Doctor Strange's Cape of Levitation.
Blade Nod
Mahershala Ali made his off-screen debut as Blade in the Eternals' end-credit scene as the voice talking to Dane Whitman's. We see Ned play with the crossbow he finds in the Sanctum Sanctorum—one loaded with a stake rather than an arrow, a design similar to the one Joss Whedon used in his Buffy the Vampire Slayer. There's also a Marvel Legends action figure of Mordo (Doctor Strange's rival sorcerer) for Doctor Strange in the Multiverse of Madness that features the same kind of crossbow without a stake.
Doctor Strange's Fridge
Doctor Strange's Fridge is a giant Easter Egg. In the Sanctum Sanctorum, Ned opens a fridge filled with magical creatures. In the comics, Doctor Strange's fridge comes with its own health warning. Because Strange has spent so much time conferring with mystical beings, and his body can't support a normal diet. He needs to eat food that is inundated with magical energy, like the creatures Ned finds inside the fridge.
Doctor Strange uses Astral Projection
During a brief argument, Doctor Strange uses Astral Projection on Peter and casts Peter's mind from his body. This is a nod to a spell that the Ancient One used on Strange himself in Doctor Strange. Interestingly enough, it's ineffective as Peter remains able to physically move his body, something Strange didn't believe possible. The comics have multiple references to the use of astral projection.
Peter Parker's Ex Liz Toomes Gets a Nod
While in pursuit of Spider-Man, Doctor Strange circles around a newsstand, and every magazine on the stand is dedicated to Spidey. The front cover of "People" Magazine shows Peter's Ex Liz Toomes with the headline, "He's a Liar!" During Spider-Man: Homecoming Peter left Liz at the Homecoming dance in order to take down her father, the Vulture, and she clearly hasn't let it go.
Mirror Dimension
The Mirror Dimension is essentially Doctor Strange's own playground. This dimension exists outside of our own reality where he (and other sorcerers) can practice magic, train others, and fight people on his own terms. As Dr. Strange says, it's where "I'm in control." This is a nod to Doctor Strange as this is where we first see this parallel dimension in the MCU. According to Doctor Strange, in order to have complete control, one has to have the power of the Dark Dimension.
So Many Villains: Who's Who?
Spider-Man No Way Home pulls in villains, many of whom are main antagonists, from the previous two series of Spider-Man movies
The Green Goblin/Norman Osborn (Willem Dafoe) from Spider-Man (2002)
Doc Ock/Dr. Otto Octavius/Doctor Octopus (Alfred Molina) from Spider-Man 2 (2004)
Sandman/William Baker aka Flint Marko (Thomas Haden Church) from Spider-Man 3 (2007)
The Lizard/Dr. Curtis "Curt" Connors (Rhys Ifans) from The Amazing Spider-Man (2012)
Electro/Maxwell "Max" Dillon (Jamie Foxx) from The Amazing Spider-Man 2 (2014)
Most of these villains died in their respective movies, but when Strange casts the spell it pulls them from the timeline before death. However, Andrew Garfield and Tobey Maguire's Peter Parkers have clearly aged, so why were they not pulled from the same point in time on the timeline?

Doctor Octopus' Callbacks to Spider-Man 2
Alfred Molina's Doc Ock drops famous lines from Spider-Man 2. When he arrives on the bridge in Spider-Man: No Way Home, he's looking for his fusion engine and assumes Peter has taken it. It's probably still in his own universe but has no idea about the multiverse. "The power of the sun in the palm of my hands," is the line Doc Ock delivers twice—on the bridge and later when Peter is fitting Max with the Arc Reactor. This is also a nod to the fact that Tony had hoped his Arc Reactor design would be used as a renewal energy source. If you listen closely you can hear the Doc Ock theme from Spider-Man 2.

Green Goblin's Callbacks to Spider-Man
Willem Dafoe's Norman Osborn gets to drop one of his most famous lines, too. "You know," Norman tells Peter Parker and his friends, "I'm a bit of a scientist myself." There's a musical nod to the original Spider-Man film when the Green Goblin tune plays as Norman Osborne makes his appearance.
What happened to Oscorp?
Norman Osborn ends up at FEAST because he saw Spider-Man on the sign and thought he could get help. He mentioned to May how he went to find Oscorp and it wasn't there—Osborn is shooketh to discover he is in a universe where Oscorp doesn't exist, his house is being lived in by someone else. Oscorp doesn't exist in the MCU, but in the comics, Oscorp is the company that Norman Osborn created.
Spell Casting
In the first teaser trailer, Doctor Strange tells Peter, "When you botched that spell where everyone forgets that Peter Parker is Spider-Man, we started getting visitors." However, the last TV spot was changed to say, "When I shut that spell down, we started getting visitors." The change is subtle, but it does alter the meaning of the original dialogue, indicating that Strange stopped the spell rather than Peter interfering.
Spidey Relationships are "Complicated"
In the lab, the Spider-Men are chatting relationships. This is a nod to how the three Peters are a representation of the different story arcs/future for Spider-Man 1 (Tom Holland) is obviously madly in love with MJ but we all know that is going to end in the next couple of hours.
Spider-Man 2 (Andrew Garfield) is single and riddled with guilt and rage, never fully recovering from the loss of Gwen Stacy. After Gwen died, he never got back on the girlfriend bandwagon and blames himself. Spider-Man 3 (Tobey Maguire) talked about how he and Mary Jane (the original MJ) have tried to make it work—they eventually work things out and settle down. Maguire describes his relationship with his MJ as "complicated." While a fun nod to social media status updates, in the original Spider-Man trilogy, Maguire's Peter struggles with whether or not to tell Mary Jane he's Spider-Man. Once he does and the cat is out of the bag, it's not so easy to be married to a superhero. In addition, it's a nod to the comic books, because, in the comics to say Peter's relationship with MJ is "complicated" is putting it lightly. Decades of changes and upheaval include being married, split up, forced to forget one another by a demon (remind you of a spell??), and one time she even exploded midflight on a plane!
Electro's Suit
Electro looks a lot different than he did in The Amazing Spider-Man 2. There's a funny line about this in Spider-Man No Way Home when the Lizard (who once worked with Max aka Electro in Andrew Garfield's Peter's timeline)—asks Max, "What's up with your new look?" Max used to have buck teeth, glasses, and a comb-over, but the conversation is interrupted before Max explains why he's much better-looking in this Universe.
Green Goblin's Powers
The Green Goblin is an alternate personality born when Nathan Osborn experiments upon himself with a super-soldier serum, which splits his personality into two halves. The Green Goblin side of him is uber-strong and murderously power-hungry. While Goblin's glider and bombs are infamously dangerous accessories, Dr. Osborn can certainly hold his own without them—which is why he's always been one of Spider-Man's most terrifying foes.
Sling Ring
Peter subdues Doctor Strange in order to kick off his plan to cure and free all of the captured villains and then he walks away with a parting gift: Strange's sling ring, you know the one that allows him to create dimensional portals to other locations or timelines. Peter hands off this powerful relic to his best friend Ned.
Peter asks Ned to use it in order to protect both himself and MJ while Peter goes off to help cure the villains. However, not just anyone can use the sling ring. Did Peter know there was something magical with Ned? At least just enough to tap into Strange's unique mystical powers, as he's able to conjure several portals while the ring is in his possession.
This could be an indicator that Ned will become the Hobgoblin like his comic counterpart.
Ned Leeds, Supervillain
We get confirmation that Ned's last name is indeed Leeds. In the comics, Edward "Ned" Leeds was a reporter for the Daily Bugle. He was brainwashed to stand in and make the world think he was the Hobgoblin. He was later murdered by the Foreigner after the actual supervillain had decided that he was no longer needed.
A nod to Harry Osborn (Norman Osborn's son), Tobey Maguire's Peter Parker makes a comment in the lab about how his best friend became a villain and died.
Aunt May Delivers the Infamous "With Great Power" Line
Every Spider-Man story has a tragic component woven in. In Spider-Man: No Way Home, Peter loses his Aunt May. May delivers the line that, "with great power, there must also come great responsibility."
Aunt May's Death is Reminiscent of the Comics
In the animated Spider-Man stories, comics, and other Spider-Man movies before Homecoming and Far From Home, Uncle Ben dies first, and even in "Amazing Spider–Man" No. 400 (1995) while Aunt May dies, she's alive again 3 years later.
In the "Civil War" storyline in the comics, Peter Parker reveals to the world that he is Spider-Man (at Iron Man's suggestion it was the right thing to do). However, as the war continued Peter switched sides and May was put in danger because now everyone knew she was Peter's aunt. Kingpin hired an assassin to take out Aunt May. As she lay dying from a bullet wound, Mephisto arrived and offered Peter a deal, saying that he would save May's life if Peter broke off his marriage to Mary Jane Watson. They did, May lived, and that is where "Spider-Man: One More Day" began.
"Amazing" Spider-Man
During the 3 Spidey bro talk pre-battle, Tobey Maguire's Peter Parker assures Andrew Garfield's Peter Parker that he is "amazing." Garfield's response? "Thanks, I just needed to hear that." Garfield's Peter Parker/Spider-Man has seemingly been the least popular over the years with fans for whatever reason, so this is a fun little nod acknowledging this.
Tobey Macguire's Back
The two older/other universe Spider-Men joke about their backs and crack them pre-battle. This is a nod to Tobey's back problems on the set of Spider-Man 2. Maguire suffered a back injury just before the filming of Spider-Man 2. An inspiration of many memes, it was well known that Tobey had back issues/pain during the filming that caused him to almost be fired. The script for Spider-Man 2 actually has a line "My back!" in it.
One frequent meme is a scene that shows Peter, whose powers have disappeared due to his existential crisis, trying to get his groove back. He jumps off a building, falls on a clothesline, and swings hard into a wall. The reaction? "My back…my back!"
Only One Spider-Man Has Organic Webs
Andrew Garfield and Tom Holland's Spider-Men are rather astounded at the fact Tobey Maguire has organic web-shooters. These were viewed as particularly controversial during the build-up to the first Spider-Man film's release in 2002, but audiences happily accepted them. The idea even made its way into the comics in J. Michael Straczynski's run, giving an indication of how they became mainstream.
New and Improved Statue of Liberty
We saw a glimpse of this in the trailer. In one of his Daily Bugle videos, J. Jonah Jameson mentions in passing that the city has recently installed an homage to Captain America on its most famous landmark. The Statue of Liberty now holds the shield of fallen hero The First Avenger. This is a tribute to the Avengers and thanks for undoing the blip
This is the same "new and improved Statue of Liberty" Yelena Belova asks to see in this week's Marvel's "Hawkeye" Series Episode 5 (December 15).

Saving MJ from Falling
Near the end of the movie during the battle on the Statue of Liberty, MJ falls off, Andrew Garfield's Spider-Man catches her and saves her from her death. This is a nod to the storyline in the comic "The Night Gwen Stacy Died," where Spider-Man spun a web to catch a falling Gwen Stacy, but the web didn't stop her from breaking her neck as she fell from the bell tower she was knocked from. Garfield is given a chance at redemption when he saves MJ. It also closely mirrors the scene in The Amazing Spider-Man 2, where Gwen Stacy dies, but this time Garfield's Spider-Man is able to save the girl. We see a visibly shaken Spider-Man as he is aware of the similarities between the scenarios.
Garfield's Peter alludes to this earlier on when the 3 Spidey's are talking about losing someone they love after Aunt May dies.

Green Goblin is (Again) Almost Impaled with His Goblin Glider
During a fight scene with the Green Goblin, Spider-Man nearly kills the Green Goblin by impaling him with his own Glider. Tobey Maguire's Spider-Man stopped him, but in both the comics and the first Spider-Man movie, Norman Osborn/Green Goblin died when his own Goblin Glider pummeled him.
Over the years, other versions of the Green Goblin have used the Goblin Glider as a weapon in a similar fashion as Spider-Man, with Harry Osborn holding it over his nemesis as an impaling instrument in "Spectacular Spider-Man" #200.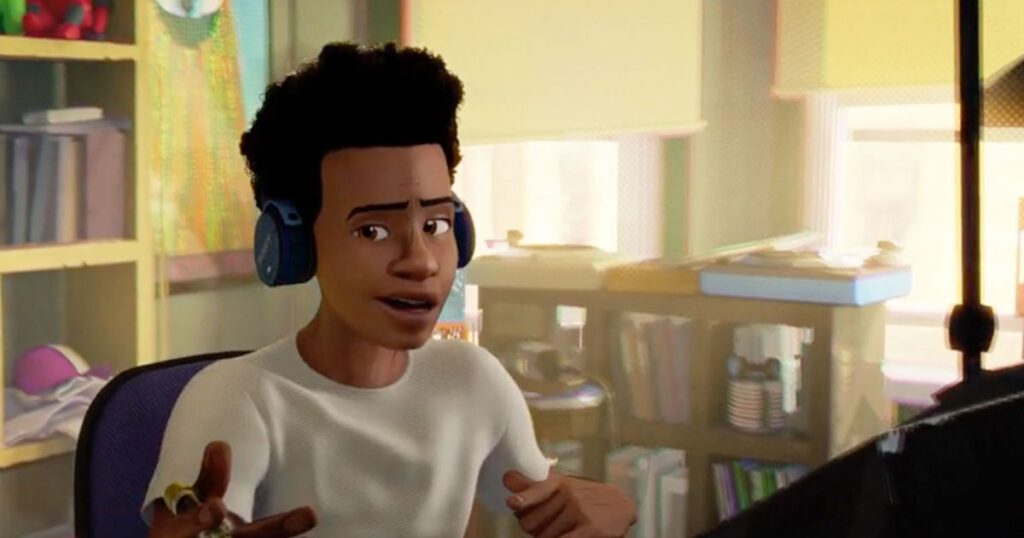 A Black Spider-Man and Another Nod to Miles Morales
Doctor Strange believes that the spell he cast pulled villains from the multiverse who all knew Peter Parker is Spider-Man in their respective home dimensions, but we learn he is wrong. Max Dillon/Electro didn't learn this in The Amazing Spider-Man 2 universe. Max is surprised to discover he's white when Andrew Garfield's Spider-Man takes off his mask. Dillon says he figured since he was from Queens and always helping people he always thought he'd be Black, but there's got to be a Black Spider-Man somewhere in the multiverse. Peter Sews a New Suit
After Dr. Strange casts the spell so everyone forgets him, Peter is seen in his new apartment sewing himself a Spider-Man suit. No Happy, no Stark nano-tech. Nothing. Back to the basics.
Classic Spider-Man Villains in the Multiverse Chasm
When we see the multiverse begins to crack open, there are silhouettes of classic Spider-Man villains in the clouds. Most shapes are faint and generic, but three that are less obtuse are a Rhino silhouette and a Scorpion tail. Rhino aka Aleksei Sytsevic is a longtime Spider-Man antagonist and a callback to The Amazing Spider-Man 2. Scorpion aka MacDonald "Mac" Gargan is another Spider-Man foe we saw briefly in Spider-Man: Homecoming. And Kraven the Hunter looks like he can be seen in the purple crack as well, which is a nod to the January 2023 Spider-Man spinoff.
Slinging and Swinging Through the Streets a la Spider-Man PS4
The last shot of Spider-Man: No Way Home is Spider-Man slinging through the streets slinging webs with a style and movement that mirrors Sony's Spider-Man PlayStation 4 game. This is a continuation of nods to the popular video game for the movie franchise. Spider-Man: Far From Home features a moment when Spider-Man pauses to make a peace sign while taking a selfie. In Spider-Man: No Way Home Andrew Garfield's Spider-Man makes a peace sign before going back to his own universe.
"Black Alien Goo"
Tobey Maguire's Spider-Man makes a reference to fighting an alien made of black goo when the 3 Spideys are having a bro moment before the Battle at the Statue of Liberty. That's a reference to Eddie Brock/Venom, played by Tom Hardy in Venom and Venom Let There Be Carnage.
Themes Callback to Previous Spider-Man Movies
We get nods to the previous Spider-Man movies with instrumental reprises of the themes in Spider-Man: No Way Home. When Andrew Garfield makes his debut through the portal, we hear the theme from the Amazing Spider-Man movies, and when Tobey Maguire's Spider-Man is offering guidance to Tom Holland's Spider-Man a bit later on we hear the theme from the first Spider-Man trilogy.
Peter's New Apartment
Peter Parker moves into a new apartment in midtown, which looks an awful lot like the apartment Tobey Macguire's Peter Parker lived in during Spider-Man 2 and Spider-Man 3.
Spider-Man's Blue Comicbook Suit
We see Peter Parker wearing his home-sewn Spider-Man suit as he swings through the streets of NYC at Christmastime. The suit looks just like the original navy blue and red Marvel Comics Spider-Man suit drawn by Steve Ditko. The suit also looks a lot like the "Vintage" Spider-Man suit in the PS4 video game.
Mid-Credit Scene
We get a mid-credit scene where Eddie Brock (and his symbiote pal) is belly up to a bar in Mexico talking to a bartender. If the bartender looks familiar, he should. You most recently have seen Cristo Fernández shouting "Football is life" on Apple TV's Ted Lasso. As soon as Eddie and symbiote Venom hears about Spider-Man, they're ported back by magic back to their own universe—though a little blob of the symbiote remains on the bar, leaving an opportunity for someone else to merge with it.
This credit is a continuation of the post-credit scene from Venom Let There Be Carnage, where Eddie Brock is pulled from the Sony Universe to the MCU. In this case, he seems to have been pulled by Doctor Strange's spell and also sent back simultaneously. Though Doctor Strange said the people pulled through were people who knew Peter Parker was Spider-Man? So how did Eddoe Brock end up in this timeline?
In the Venom Let There Be Carnage post-credit, the Venom symbiote claimed to have endless knowledge from a hivemind that it can tap into. Can the hivemind reach across multiple realities and know information from the Venom symbiote from other Spider-Man movies, such as Spider-Man 3.
End Credit Scene
The second credit is a preview for Doctor Strange in the Multiverse of Madness. Stephen Strange comes looking for Wanda. She's sure it's because of the events of Westview and in fact, he wants her help. We see Wanda/Scarlett Witch at the Dormamu casting spells and what appears to be a much darker version of Dr. Strange, maybe even the alternate universe "Strange Supreme" as we saw in Marvel's "What If…" on Disney+.
Did we miss any Spider-Man No Way Home Easter Eggs and Cameos? Let us know in the comments!
Best Movie Easter Egg Posts
Check out the Best of our Movie Easter Egg Posts.