Just under two weeks until the highly anticipated Star Wars: the Force Awakens hits theatres on the 18th. To keep you occupied, we have a new activity book for you to enjoy with lots of coloring pages and activity sheets to keep your little ones (or you, we won't judge) entertained. Download the pdf of the Star Wars activity sheets here.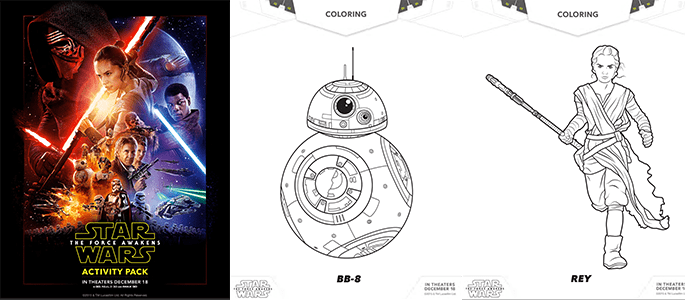 Star Wars Activity Sheets and Coloring Pages + Other Star Wars Ideas
I'm a Star Wars geek, as you all know, so I've already downloaded this whole activity book for myself and my kiddos. Here are a few more recipes and printables inspired by Star Wars: the Force Awakens that I thought you might enjoy.
Fun Star Wars Ideas!
Enjoy these delicious recipes, perfect for a Star Wars movie night in or a Star Wars party, AND a fun free printable!
Scruffy Looking Wookie Cookies from The Love Nerds
Star Wars Blue Milkshake from Sugar & Soul
Millennium Falcon Cake from Eat It & Say Yum
FREE "THAT'S NO MOON" STAR WARS-INSPIRED PRINTABLE from Merlot Mommy