Merlot Mommy is a participant in the Amazon Services LLC Associates Program, an affiliate advertising program designed to provide a means for sites to earn advertising fees by advertising and linking to Amazon.com.
Sometimes when you're looking for the perfect baby shower present it's hard to find the right gift. For instance, you have a friend who loves Star Wars and is having a baby girl. Do you know how hard it is to find Star Wars-themed baby items outside of say the Disney Parks or the Disney Store? Maybe on Etsy or Amazon, but even then you are at the mercy or someone else who has been crafty and you have to hope they have exactly whet you want and they can get it to you in the time frame you need. Here's where having your own HP printer and crafty gene (thanks Mom!) comes in very handy. I made my own Star Wars crafts: onesies and receiving blankets for my dear friend with a Star Wars theme, perfect for my Disney- and Star Wars-loving friend!
Make Your Own Star Wars "I'm The Princess" Onesie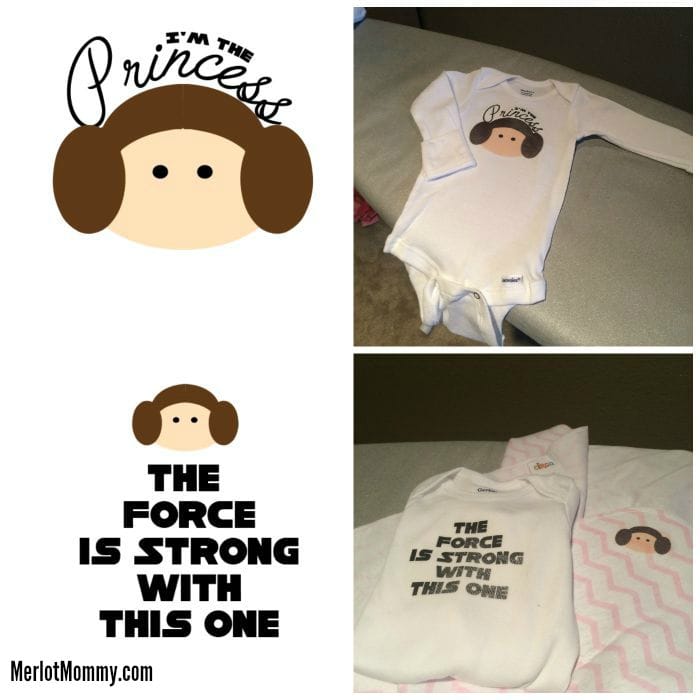 Here's what you need:
Here's what you do:
Because I'm a designer I can draw all sorts of stuff in Adobe Illustrator*. I created the artwork I wanted and tested an image on a draft paper to make sure it printed as I wanted it in the size I needed for the item I was ironing on to.
Once I had my image all set, I printed it on the transfer paper following the directions on the package (remember, when you are doing this step, you need to reverse the image because the adhesive you are heating up with the iron on is on the backside of the image you want visible as your finished product).
I trimmed around the image, again following the directions on the package for the iron-on transfers and then ironed-on the image following the directions. (Each iron-on transfer company may have directions that vary a little bit, so make sure you read the directions on your package.)
Adhere the image to the fabric following the directions on the iron-on transfer package. Sometimes they don't turn out perfectly the first try, so be forewarned that can happen. I wrecked the first onesie I ironed-on to. Oops. Thrift store bonus for someone was a brand-new onesie with a one-of-a-kind- Star Wars "second" art work on it. Crafting is always an art, not a science.
Voila! You have your own custom and unique item!
Repeat the process for additional items.
If you're interested in this artwork for your craft, just email me (jana[at]merlotmommy.com) or use the contact page and I'd be happy to send it your way!
*If you don't happen to be that crafty, you may be able to find artwork online that is useable through a Creative Commons license or find some for purchase through a designer like myself or Etsy where you can just then print a pre-purchased image.