After spending all day Sunday at the top secret press junket/press conference for the Star Wars: The Force Awakens movie that opens in theatres December 18th, we headed to experience the new Star Wars Season of the Force at Disneyland. I can always spend time at Disneyland, and what a better way to wrap up a full day of all-things Star Wars than to spend it experiencing the new Season of the Force at Disneyland?!?
The Force Awakens at Disney Parks with new, enhanced, and reimagined Star Wars experiences at Disneyland Resort in California. Celebrating all things Star Wars, these exciting experiences at Disneyland in Tomorrowland will entertain fans of the movie saga and guests who are looking forward to the future the arrival of Star Wars-themed lands.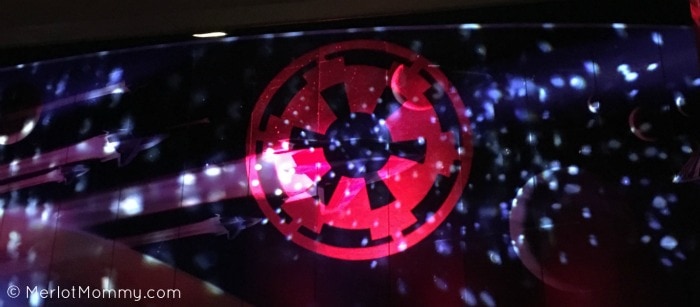 Star Wars Launch Bay
Star Wars Launch Bay is the central location within the parks for fans to celebrate all things Star Wars. In this multi-sensory space, guests will interact with iconic Star Wars characters, tour galleries featuring treasured memorabilia and detailed replicas of Star Wars props, play the latest Star Wars interactive video games and have access to special Star Wars merchandise.
Special Character Encounters: After entering a themed atrium complete with authentic replicas of Star Wars props, guests journey to the dark side and come face to face with Darth Vader in a 360-degree immersive area themed around the Star Destroyer, or they may choose the light side by stepping into a makeshift Rebel base to meet the most famous co-pilot in the galaxy, Chewbacca.
Launch Bay Theater: Guests hear directly from the creative minds behind the Star Wars saga in a short video that includes exclusive interviews with the directors, writers, producers, key movie crew members. and the Disney Imagineers who bring the saga to life.
The Cantina: This setting, inspired by the unsavory "hives of scum and villainy" in the Star Wars galaxy, is a fun place to explore and take photos near elements of the cantina, such as a holochess game table.
Star Wars Game Center: Guests will play current and upcoming video games, including new Disney Infinity 3.0 content created exclusively for this location.
Themed Galleries: Special immersive galleries featuring authentic replicas of movie props, starships, and more are located throughout Star Wars Launch Bay.
Launch Bay Cargo: Guests may bring home a variety of Star Wars merchandise, including original artwork and collector's items.

Star Wars: Path of The Jedi
Whether you are looking to relive—or discover—the stories from the Star Wars saga, or be introduced to the iconic characters, including ones from Star Wars: The Force Awakens, you'll watch an abridged, cinematic reel celebrating the Star Wars saga (episodes I-VI plus a a peek at VII) in a theater setting. The movie connects iconic scenes from the movies in fun new ways, following the journey of Luke Skywalker. This is the best 10-minute synopsis of the saga I've ever seen. You'll love it, whether you've been a fan for decades or you've just discovered Star Wars.
Star Tours – The Adventures Continue
Fans of this popular attraction will experience journeys involving new characters and adventures from Star Wars: The Force Awakens.
Based on the Star Wars movies, Star Tours takes guests to multiple Star Wars destinations where they interact with characters from throughout the saga. And it is all in Dolby 3D. With an eye-popping digital presentation leveraging Dolby 3D to deliver a vivid and realistic experience, a dramatic musical score and motion simulator-based technology, guests are immersed in the Star Wars galaxy like never before on a theme park attraction.
Jedi Training: Trials of the Temple
This popular entertainment offering is being reimagined with new characters and a new villain to battle from Star Wars Rebels, the popular Disney XD series. Younglings will be magically transported to a secret and ancient Jedi temple where they will face villains such as Darth Vader and the Seventh Sister Inquisitor from Star Wars Rebels, and discover if they have the makings of a true Jedi.

Stormtrooper Patrols
As guests enjoy the sights and attractions, they may come face-to-face with First Order Stormtroopers who patrol the area near Star Wars Launch Bay and Star Tours – The Adventures Continue.
Hyperspace Mountain at Disneyland Resort
The classic Space Mountain attraction has been reimagined as Hyperspace Mountain, thrusting guests into the darkness for an action-packed battle between Rebel X-wings and Imperial TIE fighters. This should have always been a Star Wars-themed ride. It fits seamlessly. So awesome!
Galactic Grill Dining
Adding to the fun, guests at the Disneyland Resort can enjoy tasty food and beverages inspired by a galaxy far, far away. At the Galactic Grill, order from the Light Side or the Dark Side and get your meal in a collectible Man in Carbonite Meal Bucket. Have Darth by Chocolate for dessert and be seduced to the Dark Side. Grab a drink with a light up Millennium Falcon or Death Star. Have a BB-8 Droid Crisped Rice treat. Grab a BB-8 novelty sipper with a beverage and have a super fun souvenir while you're out and about in Tomorrowland.
I'm looking forward to another trip down to Disneyland so I have more time to explore the all-new Season of the Force at a more leisurely pace. One evening wasn't nearly enough time.
The new experiences further expand the Star Wars presence ahead of the new Star Wars- themed lands coming to the Disneyland Resort and Walt Disney World Resort. Groundbreaking in California and Florida is expected in 2016.
STAR WARS: THE FORCE AWAKENS opens in theatres December 18th.
I've been invited to LA courtesy of Disney for a media event. All opinions are my own.