I was invited to enjoy the Talkeetna Beer Dinner. As always, all opinions are my own.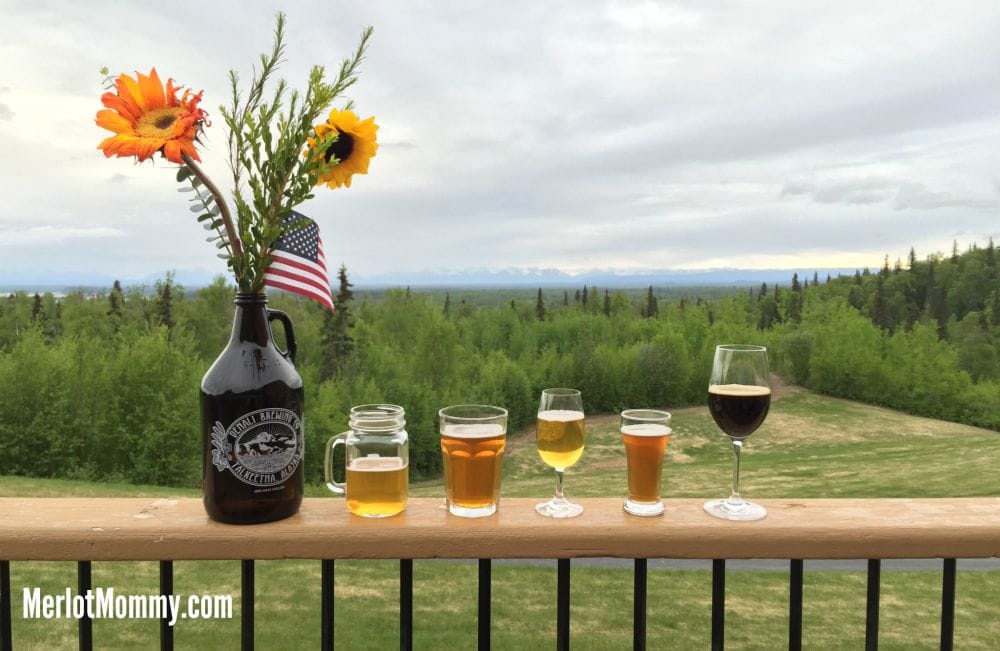 While visiting Talkeetna, Alaska, and the breathtakingly beautiful Talkeetna Alaskan Lodge, I had the pleasure of attending the Talkeetna Beer Dinner with Denali Brewing Company. It just happened to fall on the one week I was in Alaska visiting my friend Kristi of KristiTrimmer.com. Talk about great luck.
While I'm definitely a wine girl, I certainly enjoy a great craft beer, as well—and Denali Brewing Company offers some amazing craft beers. In fact, much of my extra suitcase on my return to the Lower 48 from Alaska was filled with beer from Denali Brewing Company, including their Mother Ale, Chuli Stout, Single Engine Red, Saison La Coq, and my personal favorite the Flag Stop.
Executive Chef Brad Harris of the Talkeetna Alaskan Lodge worked with Denali Brewing Company General Manager Sassan Mossanen to create a fabulous 5-course tasting menu. Each course featured a unique dish and beer pairing to complement it.
Denali Brewing Company General Manager Sassan Mossanen talked to us about their brews while Executive Chef Brad Harris talked to us about the dishes he and his team prepared.
The first course: Halibut Ceviche (Alaskan Halibut, Roma Tomato, Lime Juice, Lemon Zest, Jalapeño, Red Onion, Blue Corn Tortilla, Olive Oil, and Sea Salt) paired with Louisville Sour, Barrel-Aged Sour Beer.
The second course was a Cheddar Pale Ale Soup (Sharp Cheddar, Flattop Pale Velout, Mini Mountain High Sourdough Bread Bowl, Fried Kale, Rendered Prosciutto, with Crispy Shallots) paired with Pale Rider Pale Ale.
The third course was a Prime Rib "Beer" Sandwich (Shaved Prime Rib, Roasted Rye, Roasted Garlic, Caraway Aioli, Smoked Gouda, Caramelized Onion, Puree, and Arugula, served with Fingering Frites) paired with Saison le Coq. I'm not a beef eater, but given the nature of the tasting menu, I figured I would at least try it. I ate the whole mini sandwich. It was amazing.
The fourth course was a German Duck (Herbed Spatzle, Kolsch Braised Duck, Brown Butter, Veal Demi-Glace, Birchworks Orange Birch Mustard, Spiced Pistachio, and Local Micro Greens) paired with Kolsch. The duck was incredible; but I knew it would be, I always love duck. This was also my first Kolsch.
Quite possibly my favorite dish of the night was dessert. I mean, who doesn't love dessert anyway, but this dessert blew me away. I had two. Espresso Panna Cotta (Flag Stop Espresso Cream, bourbon vanilla, Lodge Butterscotch, powdered biscotti, and caramelized white chocolate) paired with Flag Stop #3 Belgian Dark Ale, a cross over stout-wine. I'm not sure which was more incredible, the dessert or the beer. I took two bottles home with me.
Don't miss the Fall Wine Dinner Package on August 29th.