Whether you've been waiting 15 years since the end of Season 6 of the "Teen Wolf" series or you've never seen a single episode of the show, you're going to walk out of TEEN WOLF: THE MOVIE having had some feels and ready to buy a baby blue vintage Jeep named Roscoe.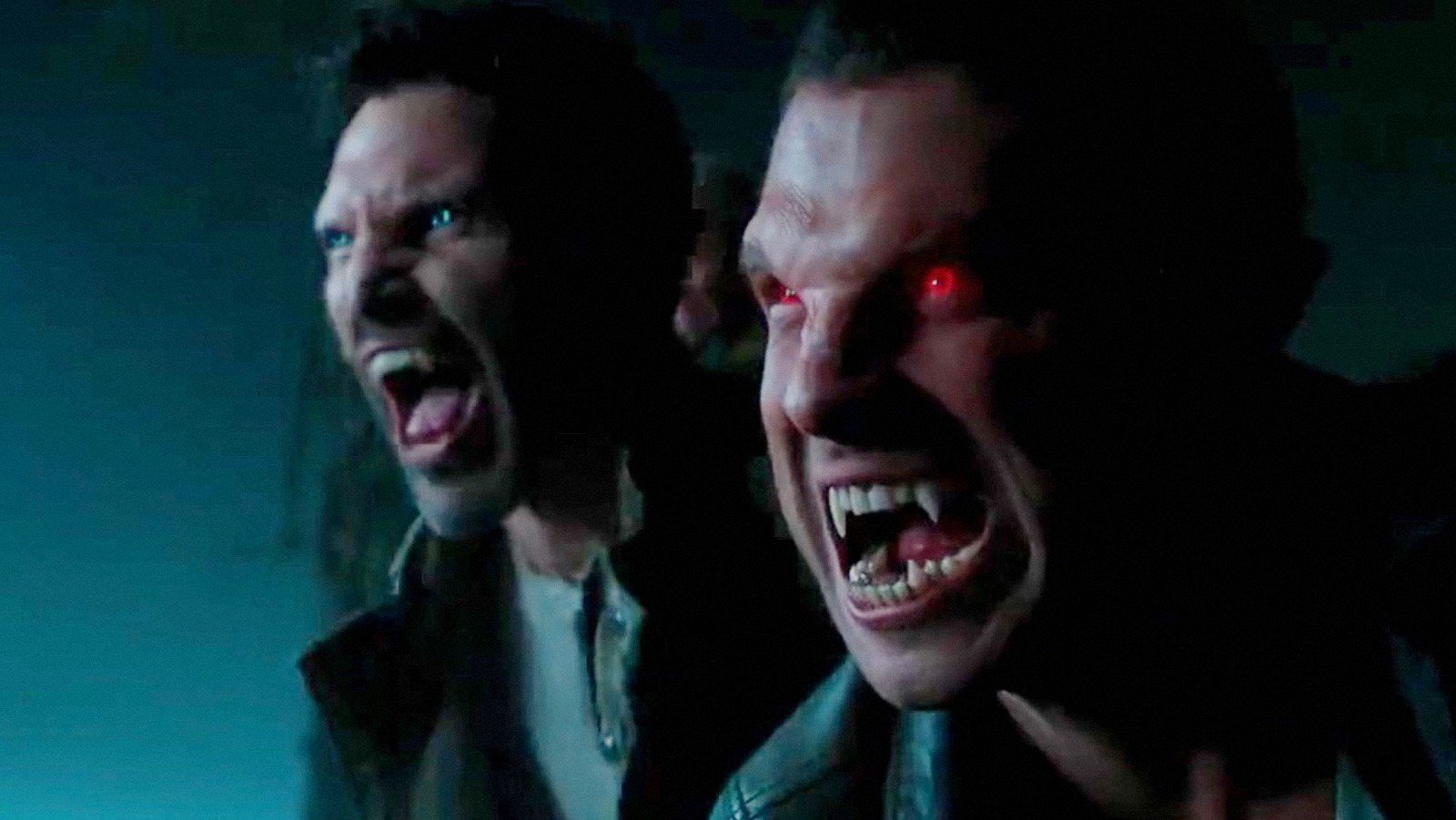 TEEN WOLF THE MOVIE Review
A full moon rises in Beacon Hills, and with it, a terrifying evil has emerged. The wolves are howling once again, calling for the return of banshees, werecoyotes, hellhounds, kitsunes, and every other shapeshifter in the night in the revival TEEN WOLF: THE MOVIE on Paramount+.
However, only an alpha werewolf like Scott McCall (Tyler Posey) can gather new allies and reunite trusted friends to fight back against the most powerful and deadliest enemy they've ever faced. Keep reading for our spoiler-free review of TEEN WOLF: THE MOVIE.
TEEN WOLF: THE MOVIE Review – Series Tie-Ins
Riddle me this: When is a door not a door?
If you've watched the series, you know the origin of the riddles seen in the movie. If you haven't, it doesn't matter. You won't be lost because of that.
However, there are a few moments in TEEN WOLF: THE MOVIE that you will pause and wonder what piece of information you are missing. A few symbols here or there that would make a little more sense if you knew the origin; same with a few characters.
While the movie is essentially a condensed Season 7 of the series, fans of the OG series will definitely notice a few small plot holes; we won't go into detail in this review to keep it spoiler free, but you'll know them when you get to them—though we do wonder if a few might be explained in the new 10-episode spin-off "Wolf Pack" series that will be coming to Paramount+ January 26.
As a whole, the movie is designed so that you don't have to have watched the series to understand what's happening, and that is one mark of a well-written movie. Despite the fact that TEEN WOLF: THE MOVIE is based on 6 seasons of a series and the characters and lore, the movie still makes sense to newbies.
The writing included well-placed details to explain lore such as the nemeton and fox tails, ever so briefly to catch up newbies without making it obnoxious or redundant for avid fans of the series.
Going in, we know Mieczysław "Stiles" Stilinski (Dylan O'Brien) won't be in the movie. His absent character is nicely explained without belaboring the point and tied in very beautifully.
And whether you've watched 6 seasons of the MTV series or haven't watched a single episode ever, you'll still walk away having had a few gut punches and get hit right in the feels.
The fight scenes are so well choreographed and executed, especially the final scene. From the framing to the cutaways, the special effects are on point with brilliant cinematography creating a realistic realm in which the supes fight for their lives.
The compelling score by Dino Meneghin, who also composed the music for the "Teen Wolf" series, only adds to the full package of the film, delivering a comprehensive fantasy cinematic experience. Accompanying the score, are some great tracks including:
"The Kids Are Back" performed by Twisted Sister
"Hunt You Down" performed by Lexxi Saal
"Victims of the Night" performed by Lee DeWyze
"Wicked" performed by GRANT
"Satellite" performed by RHODES
"And if My Heart Should Somehow Stop" performed by James Vincent McMorrow
"Lemon" performed by Tyler Posey

About TEEN WOLF: THE MOVIE
A terrifying evil has emerged, and the wolves howl once again. Only a Werewolf like Scott McCall can gather both new allies and reunite trusted friends to fight back against what could be the most powerful and deadliest enemy.
Rating: TV-MA
Runtime: 137 mins
Director: Russell Mulcahy
Producers: Tyler Posey, Tyler Hoechlin
Cast: Tyler Posey, Crystal Reed, Tyler Hoechlin, Holland Roden, Dylan Sprayberry, Shelley Hennig, Vince Mattis, Colton Haynes, Benjamin Wadsworth, Ian Bohen, Ryan Kelley, Melissa Ponzio, JR Bourne, Orny Adams, Seth Gilliam, Linden Ashby, Khylin Rhambo
TEEN WOLF: THE MOVIE is on Paramount+ January 26, 2023.
"Wolf Pack" series is on Paramount+ January 26, 2023.