If you watched Marvel's "WandaVision" on Disney+ and thought it started out too slowly, you're in for a pleasant surprise because the first episode of "The Falcon and The Winter Soldier" is anything but slow.
The Falcon and The Winter Soldier – Review
Streaming on Disney+ Friday, March 19th, "The Falcon and The Winter Soldier" is an action-packed 48 minutes (including the credits) that will exhilarate you, give you some feels, make you a little stabby, and definitely leave you wanting more. The storyline is so much more than just an action-packed buddy cop show. It's layers upon layers. Sure, Sam and Bucky are trying to save the world from the baddies (Flag-Smasher, Zemo, etc.) but we get into the specifics of the overarching motifs of race, patriotism, identity, and grief below.
Anthony Mackie and Sebastian Stan are the perfect comedic couple. They were both meant for these roles. The banter is priceless and executed as if these two are a modern-day The Odd Couple.
So we're partners? –Sam
Co-workers? –Bucky
Not necessarily a team. –Sam
No. –Bucky
But we look damn good though. –Sam
I have all of that on camera. –Sam
Get out of my face, Sam. –Bucky
Sebastian Stan is so multifaceted. He's another one of these actors who has mad skills and is so diverse—film, television, stage—he can transcend any platform and nails it. In "The Falcon and The Winter Soldier," Stan shows us a diverse range of emotions and delivers each and every one.
Anthony Mackie is no slouch, either. His background in stage, TV, and film clearly persuades his ability to express a gamut of emotions, as well.
It's nice to see these two shine in a production that is action-packed but not so laden with big-name actors that their abilities aren't able to be showcased. If episodes 2–6 are anything like episode 1, we're all in for a marvelous show.

The Falcon and The Winter Soldier – What is it about?
In the post-Avengers: Endgame world, everything is in turmoil. The world is in geopolitical unrest. New terrorist groups who preferred a unified world with no boundaries and the way things were during The Blip have popped up. It's the perfect time for Sam and Bucky to get the band back together, especially when the U.S. government decides to get involved because they feel the country needs a new "hero" now that Captain America is gone.
"The Falcon and The Winter Soldier" highlights the friendship between Avengers pals Sam Wilson/The Falcon (Anthony Mackie) and Bucky Barnes/The Winter Soldier (Sebastian Stan), as well as the legacy of Captain America's shield (portrayed by the vibranium shield itself, of course). At its core, the motif in "The Falcon and The Winter Soldier" is identity.
Shot in the style of a buddy cop action movie over 6 episodes, it tackles a lot of subjects, including both overarching societal themes such as race and patriotism, but also themes at an individual level such as PTSD and other trauma. Much like "WandaVision," "The Falcon and The Winter Soldier" is also a rumination of grief.
Sam and Bucky are both dealing with the loss of Steve Rogers. All of these explorations feed into the main question of identity: who each of these characters is and what they want to or need to become in order to move on from their losses. The human connection and personal portraits will draw you in and give you feels, but it's the action-packed sequences that will leave you dropping your jaw anxiously awaiting the next episode.

Captain America's Shield – a Character and a Legacy
Regardless of whether or not you are #TeamCap or #TeamIronMan, I think we can agree that Captain America's shield has its own legacy and is a powerful icon in the MCU. To that end, Cap's shield is, in a way, a third major character in the series. It's a symbol that means something very different to different people; it has no singular meaning. "That shield represents a lot of things to a lot of people." -Bucky

Sam Wilson's Inner Struggles
At the end of Avengers: Endgame, Steve Rogers returned from his time travels in a much older form and handed over Captain America's shield to one of his most trusted allies, passing the mantle of Captain America to Sam Wilson/The Falcon. When we see Sam in "The Falcon and The Winter Soldier," we learn that in the past 6 months after The Blip, Sam (an Air Force veteran) is working on missions for the military.
One of the themes in "The Falcon and The Winter Soldier" is the internal struggle Sam has carrying the weight of this legacy. Rather than simply accepting the honor Cap has bestowed upon him, Sam's response is, "It feels like it belongs to someone else." Sam's feeling of unworthiness is unfounded by comic book canon (in the comics, The Falcon becomes the next Captain America) but to a black man in 2021 he feels inadequate to carry the shield, and Sam is conflicted. Success and failure both have vast consequences and expectations, and Sam is trying to reconcile that.

Bucky Barnes' Trauma
If you recall from Captain America: The First Avenger, Sergeant James Buchanan "Bucky" Barnes is Steve Roger's childhood best friend and cohort World War II soldier. The next time we see Bucky in the MCU is in Captain America: The Winter Soldier, and he's not the same Bucky at all. He'd been kidnapped by HYDRA, experimented on giving him supe abilities, given a cybernetic arm, and brainwashed and manipulated to be an assassin. Long story short, Cap brought him back to humanity, he joined the Avengers, fought some baddies, helped save the earth, and now we're 6 months after The Blip.
When we meet Bucky in "The Falcon and The Winter Soldier," he's having an existential crisis and horrific nightmares. Bucky has been pardoned by the government and is working toward making amends for 50 years of being a brainwashed assassin for HYDRA. But between his army days and the days of being a trained assassin and then an Avenger, as he reminds his therapist, he's 106 years old and he's been fighting one battle after another for 90 years. He doesn't know what to do now that he has free time.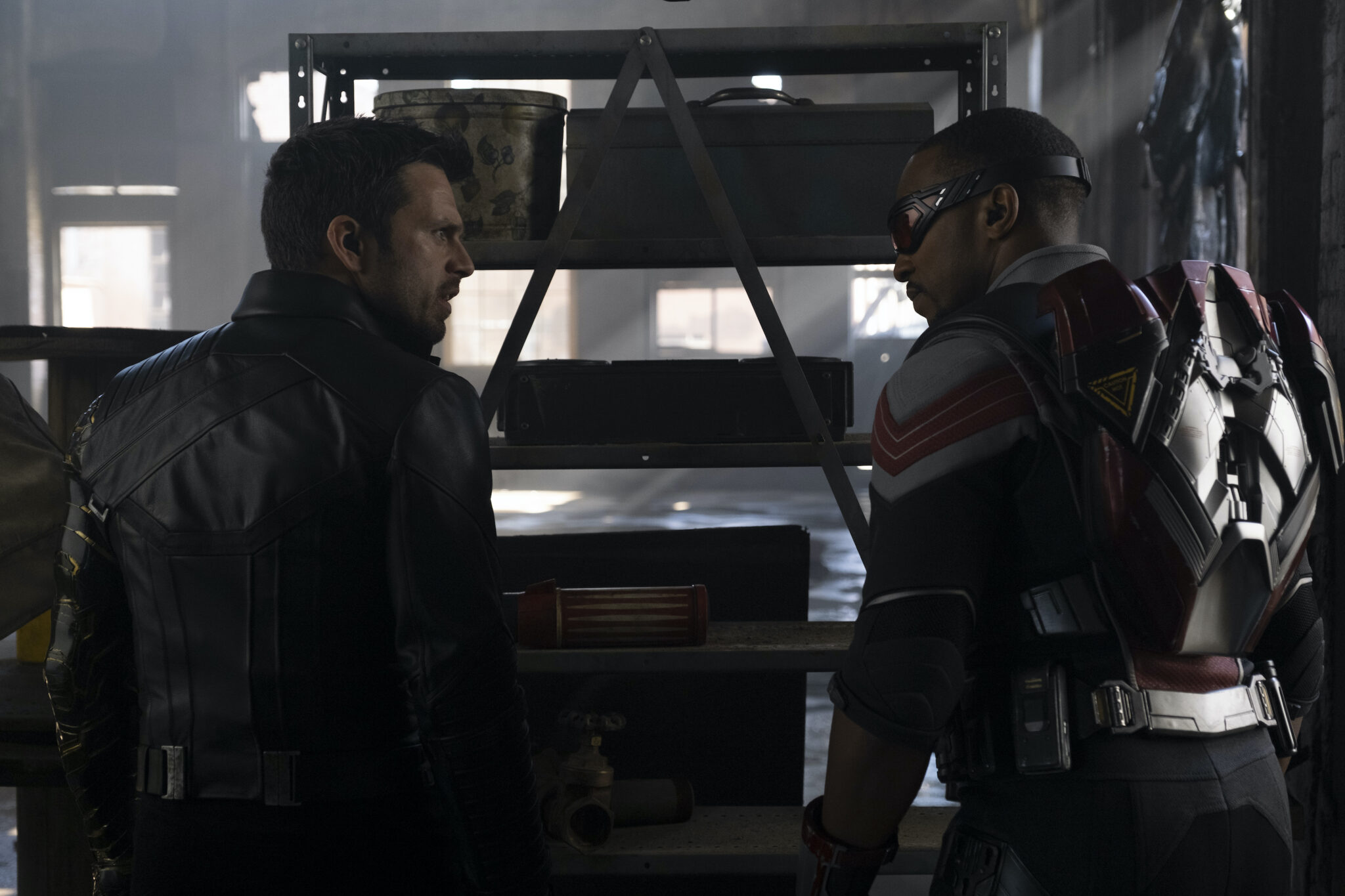 Watch the trailer for "The Falcon and The Winter Soldier"
On your left!
"The Falcon and The Winter Soldier" is streaming on Disney+ Friday, March 19.
Summary
Marvel Studios' "The Falcon and The Winter Soldier" stars Anthony Mackie as Sam Wilson aka The Falcon, and Sebastian Stan as Bucky Barnes aka The Winter Soldier. The pair, who came together in the final moments of Avengers: Endgame, team up on a global adventure that tests their abilities—and their patience. Directed by Kari Skogland with Malcolm Spellman serving as head writer, the series also stars Daniel Brühl as Zemo, Emily VanCamp as Sharon Carter, and Wyatt Russell as John Walker.